8 Best Arbonne Products (Reviews And Buying Guide) – 2023
Safe, effective, pure, and cruelty-free – the best products from a brand that cares!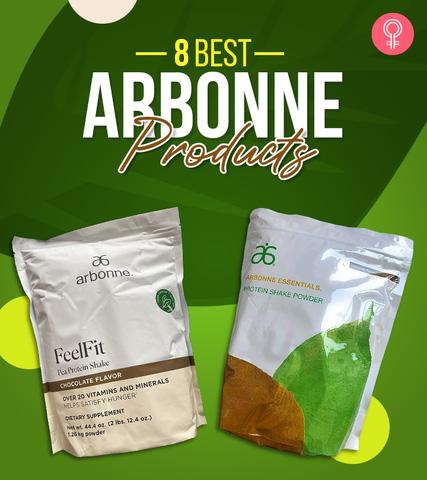 Arbonne has a wide array of nourishing and non-toxic skin care and health products ready for you, from cleansers, toner, and serums to foundation, mascara, and tanners. Their beauty products are unparalleled in quality and safety standards and promise to improve your healthy lifestyle. Plus, their nutritious and delicious protein shakes provide a healthy body without compromising on taste. To make your search easy, we have rounded up a list of 8 Best Arbonne Products of 2023. Scroll down!
Why Should We Choose The Arbonne Brand?
Our skin is porous and absorbs whatever we apply to it in just 26 seconds. Hence, it is vital to check what we apply to our face and body. Arbonne produces world-class, science-backed products that are vegan, gluten-free, and non-GMO. Moreover, their clean ingredients list is also free from artificial fragrances, colors, sweeteners, parabens, SLS, and other chemical toxins. These clean beauty products are safe for everyday use.
People are getting more vocal about protecting animals. Amidst such a scenario, even the beauty industry has taken a step forward to produce cruelty-free products. But is Arbonne one of such brands?
Is Arbonne Cruelty-Free?
Arbonne is a PETA-certified, cruelty-free brand that produces vegan products. They even refrain from selling their products to those countries that have set animal testing as a law. But, unfortunately, the parent company of Arbonne – YvesRocher – is not cruelty-free. Hence, Arbonne is not completely cruelty-free as per business standards.
Arbonne products make you healthy and fit both inside and outside. Let's check out the bestselling Arbonne products you can buy online .
8 Best Arbonne Products
This super-delicious vanilla-flavored protein shake from Arbonne satiates both your hunger and your taste buds. It is a gluten-free, vegan, and clinically tested shake formulated with 24 vitamins and minerals, including vitamin B12 and folate. It aids in muscle protein synthesis, energizes your body, and curbs your untimely cravings without triggering your milk intolerance issue. The digestive proteins in this nutrition product are extracted from cranberries, rice, and peas, and are tested for allergens to avoid any reaction.
Key Ingredients: Amino acids and Methylated vitamin b12
How To Use: Mix two spoonfuls of protein powder in cold water. Have it twice a day. Do refer to your doctor if you have any medical condition.
Pros
Easy to blend
Controls hunger
Clinically-tested
Soy-free
Dairy-free
Gluten-free
Kosher-certified
Vegan
Non-GMO
Artificial color-free
Artificial sweetener-free
Artificial flavor-free
Cons
The right balance of protein, fibers, and nutrients in the diet is essential for a healthy lifestyle. This delicious, nutritious protein shake from Arbonne helps you fill your daily protein requirements with ease. The powerful blend of digestible protein, amino acids, and 20 essential vitamins transform your overall wellbeing and improve your health without spiking your blood sugar levels. Since the protein mix is flavorless, you can add a scoop of this nutrition product to your smoothies, breakfast cereals, or juices.
Key Ingredients: Alfalfa leaf powder, Kelp powder, and Ginseng root powder
How To Use: Mix two spoonsful of the protein powder in cold or normal water and mix well. Have it twice a day. Refer to a doctor if you have any specific medical condition.
Pros
Satiating
Lower glycemic index
Non-GMO
Vegan
Cons
This plant-derived moisturizing cleanser from Arbonne gives you clean, fresh skin. Its pearlescent creme formula gently wipes out impurities and dirt from your face without stripping off the moisture. This vegan facial cleanser is enriched with orange stem cells that improve skin elasticity and enhance radiance by reducing wrinkles and fine lines. Other ingredients like brown algae extract, mondo grass root extract, red clover extract, and watercress extract replenish skin moisture. It also soothes, comforts, tones, and revitalizes your skin. It provides long-term hydration and delivers visible results. The reviews on e-commerce websites also suggest that this cleanser works amazingly well for sensitive skin types. All this makes the dermatologist-tested cleanser a must-have in your skincare arsenal.
Key Ingredients: Orange stem cells, Brown algae extract, Mondo grass root extract, Red clover extract, and Watercress extract
How To Use: Wet your skin first and apply the cleanser to your face and neck. Gently massage in a circular motion and rinse off. Apply twice a day and follow by a toner.
Pros
Hydrates skin
Antiaging effects
Dermatologist-tested
Allergy-tested
Vegan
Gluten-free
Cruelty-free
Cons
None

Set your evening or morning look just by a few spritzes of this refreshing toner from Arbonne. The RE9 Advanced Regenerating Toner is infused with orange stem cells and brown algae extract that improve skin radiance. They also boost elasticity, minimize wrinkles, and fine lines, and condition your skin. Another vital ingredient in the toner, niacinamide, accelerates brightness and evens out the skin tone. Vanessa Huerta, a cosmetic chemist with 20 years of experience, says, "Niacinamide hydrates the skin, treats pigmentation, and reduces the appearance of fine lines, wrinkles, and red blotchiness." " Conduct a patch test before you include it in your daily routine.
Key Ingredients: Orange stem cells, Brown algae extract, Niacinamide, and Witch hazel
How To Use: Take a small amount of this toner on a cotton ball and sweep it over your face and neck. Apply twice a day for better results.
Pros
Brightens skin
Vegan
Cruelty-free
Gluten-free
Cons
Rejuvenate your skin by exfoliating the dead skin cells with this sea salt scrub from Arbonne. This all-natural scrub contains moisturizing avocado and nourishing sweet almond oil that gives you healthy, hydrated skin. Other powerful essential oil blends infused in this alt scrub make it great for rejuvenating the skin's natural glow. Its chemical-free formula sloughs off dead cells without stripping the skin dry.
Key Ingredients: Safflower seed oil, Avocado oil, Sweet almond oil, Coriander seed oil, Rose flower oil, Sea salt, and Lemon peel oil
How To Use: Rinse your skin with lukewarm water. Take a small amount of seal salt scrub and gently rub it on your skin in circular motion not longer than 30 seconds. Rinse it off again. Apply a cleanser and pat it dry.
Pros
Hydrates skin
Paraben-free
Phthalate-free
Sulfate-free
Artificial color-free
Refreshing fragrance
Cons
Expensive
Can cause micro-tears
Take years out of your skin with the RE9 Advanced Corrective Eye Cream from Arbonne. The olive squalene and caffeine-based formula depuff the eyes and strengthen the lipid barriers. This eye cream seals moisture and fades wrinkles and fine lines like a pro. The effective ingredient vitamin C in these products accelerates collagen production and orange stem cells improve skin elasticity, giving you a clear complexion.
Key Ingredients: Orange stem cells, Vitamin C, Olive squalene, and Caffeine
How To Use: Take a pea-sized amount, apply it to the upper brows, and spread evenly around the eyes. Apply twice a day for better results.
Pros
Moisturizing
Vegan
Gluten-free
Cruelty-free
Cons
None
This moisturizing sunscreen protects your skin from UVA and UVB rays. Its unique formulation is enriched with a botanical complex that replenishes the skin's moisture levels and makes skin softer. Moisturizing ingredients like squalene, sea buckthorn oil, and borage oil hydrate the skin, while cucumber and aloe vera tame inflammation. Hyaluronic acid is an excellent humectant that forms a protective layer over the skin and prevents moisture loss. Vitamin E protects your skin from environmental aggressors. This dermatologist-tested product is non-allergic and provides significant improvement in overall skin health and glow. You can check out some Amazon reviews before you make a purchase of this popular product.
Key Ingredients: Sea buckthorn oil, Borage oil, Cucumber extracts, Aloe vera juice, Vitamin E, Squalene, Vitamin B5, and Hyaluronic acid  
How To Use: Apply this day cream to your neck and face and spread it evenly. Do apply 15 minutes before sun exposure for better UV protection.
Pros
Long-lasting moisturization
Suits all skin types
Dermatologist-tested
Allergy-tested
Vegan
Cruelty-free
Gluten-free
Cons
None

Besides beauty sleep, give your skin the essential nourishment to revitalize its natural appearance with the RE9 Advanced Night Repair Cream from Arbonne Essential. An ultra-hydrating blend of powerful botanical extracts enriches this product to replenish skin's moisture levels and boosts skin's reparative cycle overnight. This vegan night cream is infused with orange stem cells and vitamin C that improve skin elasticity and reduce the appearance of fine lines, wrinkles, and scars. Plus, the hyaluronic acid and niacinamide enhance skin brightness by supporting the skin's moisture barrier. Some reviewers on e-commerce websites love this cosmetic product due to its excellent hydration properties and lightweight texture.
Key Ingredients: Orange stem cells, Vitamin C, Hyaluronic acid, and Niacinamide
How To Use: Apply a generous amount of this night cream and blend it well on your face and neck until fully absorbed.
Pros
Cruelty-free
Gluten-free
Vegan
Suits all skin types
Cons
None
*The prices provided in this article are based on the latest available information. However, they may vary due to changes in pricing by the seller and/or promotional offers.
Why Trust StyleCraze?
Fitness enthusiast Aditi Naskar who authored this article has a diploma in Health & Wellness. She read several product reviews to curate a list of the best Arbonne products for her readers. These items that have been listed down are a must-buy because they are suitable for your body. They are cruelty-free and PETA-certified. Their products are nourishing and non-toxic.
Frequently Asked Questions
Do Arbonne products have retinol in them?
No, most Arbonne products contain bakuchiol instead, which is known as the plant-based alternative to retinol.
What do Arbonne serums do?
Arbonne serums reduce the appearance of aging signs while improving your skin's texture and elasticity. These serums also help you in maintaining your youthful glow.
Are Arbonne products safe to use while breastfeeding or during pregnancy?
Yes, Arbonne products are safe to use while breastfeeding and during pregnancy. However, before committing to any product, it's wise to check with your doctor.
Are Arbonne products FDA-approved?
Yes, Arbonne products are FDA-approved. They have reportedly gone through many tests before releasing on the market.
How long do Arbonne products last?
Arbonne products usually have a shelf life of two years. However, you should discard the products if they start to smell unusual or look different after a year and a half of opening it.