16 Best Argan Oils For Hair That Reduce Breakage – 2023
Discover the wonderful Moroccan hair secret to a stunningly thick, healthy mane!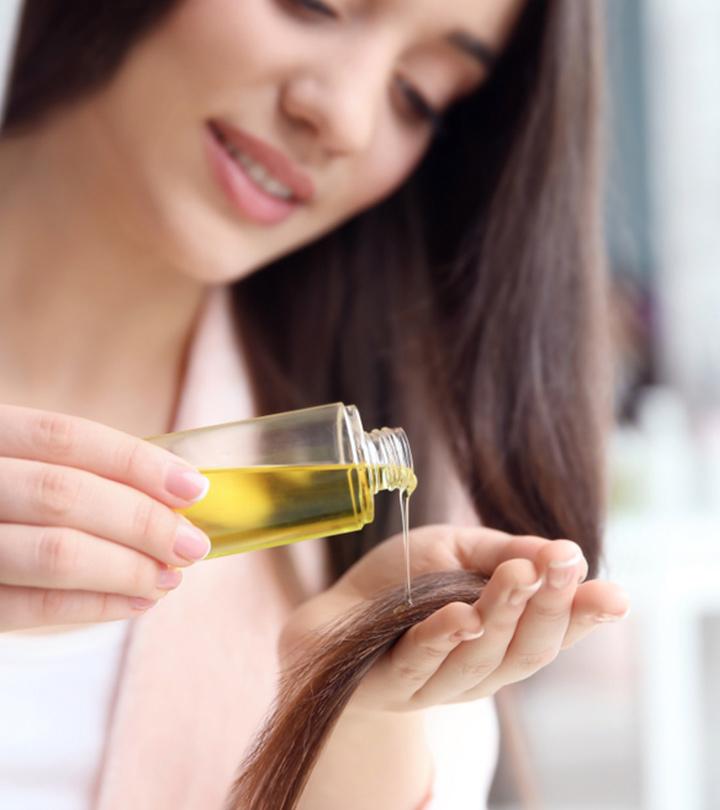 If you have been looking for the best argan oil for hair, we have exactly what you need. Moroccans are famous for their gorgeous hair, and people all over the world are obsessed with their secret to maintaining such beautiful natural mane. While you would hunt for the most expensive and luxurious products to bring shine and luster to your hair, they simply go for argan oil. Among all the natural oils that we usually choose to apply to our hair for faster hair growth, argan oil gives some additional benefits that make us stick to it once we realize its benefits. Argan oil is a pro when it comes to detangling stubborn strands and fighting frizzy hair. In this article, we have made a list of 16 argan oils that have the best ratings when it comes to keeping your hair natural and healthy. While you choose the one that suits your hair needs, you can also note the benefits of using the oil on your scalp and hair.
Why Use Argan Oils For Hair
Argan oil is a brilliant solution for all your hair-related problems and can act as more than just oil. It is an excellent source of vitamin E and essential fatty acids like Omega-6. Its antioxidant and anti-inflammatory properties make it a great oil for both hair and skin health.
How To Use Argan Oils for Hair
Using argan oil as a styling product:
Here are a few ways in which you can try using argan oil as a styling product:
The nutrients present in pure argan oil for hair make it a great conditioner. This helps in taming your unruly hair and makes it shinier and manageable.
Argan oil products can be used as a heat protectant, and it also makes styling easier.
Argan oil is one of the best oils for damaged hair. Use it as a hair mask.
Massage argan oil into your hair at least once a week for thick and healthy hair.
To get rid of dandruff or a dry scalp, apply argan oil.
Using argan oil as a hair mask:
A hair mask is a great way to ensure that you are maintaining healthy hair every day, and argan oil is an excellent oil for hair masks. You can combine argan oil with coconut oil and honey or argan oil with almond oil and avocado paste to make a hair mask. Let it sit for 30 minutes and wash it off with a mild shampoo. Argan oil hair masks promote hair growth, reduces greasiness from hair, reduces split-ends, nourishes the scalp and hair, and restores vitality in damaged hair. 
Now that we have understood the many benefits of argan oil let us dive right into the list of 16 best argan oils that we have compiled for you!
16 BEST ARGAN OILS FOR HAIR
Have you always dreamed of salon style hair without having to leave the comfort of your bedroom and also without having to burn a hole in your pocket? If yes, this is a product tailor-made for you. Arvazallia's Premium Argan Oil Hair Treatment will instantly transform your hair, leaving it soft and silky. It helps in repairing, restoring, and strengthening damaged, brittle, and lackluster hair while eliminating frizz. This oil will also keep your scalp and hair hydrated by locking in moisture while nourishing your hair. If you want a detailed review of the product, make sure to take a look at
this video
.
Pros 
Suitable for all hair types
Formulated to provide additional hair repair
Promotes natural hair growth
Cons
Strong fragrance
The bottle doesn't have a capable pump making it inconvenient to use
Price at the time of publication: $18.99
The Cliganic Organic Argan Oil has a multi-use natural formula that not only protects and strengthens your hair, but also provides your skin and nails with nourishment. This organic hair oil contains sustainably resourced and 100% natural argan oil only and does not include any artificial additives, which makes it suitable for all skin types. The cold-pressed oil provides your hair with deep hydration and makes your skin appear soft and glossy. The lightweight and fast-absorbing formula nourishes your hair without making it greasy.
Pros
100% natural
Contains only one ingredient
Cruelty-free
Vegan
Suits all skin types
Non-GMO
Cons
None

Product Link:
Price at the time of publication: $32.99
With 4.5 stars rated out of 5 on Amazon, Agadir Argan Oil Hair Treatment barely needs glorifying. Made with certified argan oil, this product is all you need for thick and luxuriant hair. This hair treatment not only hydrates and conditions your hair, but also detangles and smooths out all the frizz. It reduces drying time by 40% and sets to motion immediately by adding moisture into your dry scalp. When styling your hair, all you need is a dime-sized amount. For best styling results, apply the oil to damp hair and use a wide-toothed comb to separate all the tangles. For a thorough review of the product, have a look at this YouTuber's video.
Pros
Alcohol-free
Not oily or greasy
Suitable for all types of hair
Cons
Price at the time of publication: $34.99
If you want to be known for your silky tresses, the OGX Renewing + Argan Oil Of Morocco should be your staple hair treatment solution. Powered with the finest of argan oils from the Southwest region of Morocco, this oil smooths out and restores luster to brittle and damaged hair. It penetrates deep within to fight an itchy and dry scalp and moisturizes dry hair.
Pros
Suitable for all hair types
Helps protect from styling heat and harmful UV rays
Affordable
Cons
People with sensitive skin are advised to use it with caution
Price at the time of publication: $8.99
What do you look for in hair oil before purchasing it? It should be non-sticky, nourish the scalp, promote hair growth, be suitable for all types of hair, and should make your hair shiny and thick. That covers almost everything, doesn't it? One N' Only Argan Oil Treatment promises all of the above and more. It protects your hair from all the damage caused by harsh chemicals, excessive heat from styling, and other environmental factors. It can be used on wet or dry hair for all purposes like styling, conditioning, or to provide the finishing touch to your hairstyle.
Pros
Can be used on chemically-treated hair
Frizz-control
Instant shine
Cons
Price at the time of publication: $19.94
Desert Beauty Premium Quality Argan Oil is high-quality argan oil that is sourced from the argan tree groves in Israel. Enriched with jojoba oil, coconut oil, and other natural ingredients, this oil provides extra nourishment to your hair. It is lightweight, which means that it absorbs into your hair quickly and doesn't leave a greasy residue. A few drops will more than suffice when styling your hair. It keeps the scalp hydrated and promotes healthy hair growth. You can expect positive results right after the first use.
Pros
Antioxidant-rich formula
Free from toxic additives, preservatives, and harsh ingredients
Not tested on animals
Cons
Not very effective on frizzy hair
Price at the time of publication: $23.97
This hair serum by The New Evolution is breaking all myths about serums and offering all the care your hair deserves! This hair serum is total hair care in a single bottle. Infused with argan oil, vitamin E, and aloe vera, this hair serum keeps your hair and scalp nourished by hydrating it. This anti-frizz serum also smoothens out all tangles that you may be battling with. It revitalizes dry and damaged hair and leaves your hair smooth and shiny.
Pros
Works on all types of hair
Strengthens roots
Cons
Extremely strong fragrance
Price at the time of publication: $12.09
If you like quick results when trying out new beauty, skincare, or hair care regimes, Argan Oil Hair Treatment might exactly fit the bill. You can expect positive results in as little as a week with this fantastic product. Its intensive hydrating treatment repairs and rejuvenates, dry and brittle hair and brings limp hair back to life. When applied to the scalp, it freshens and moisturizes the skin, which in turn, naturally boosts healthy hair growth.
Pros
Works as an anti-frizz agent
Makes hair shiny and ultra-smooth
Cons
Not safe for use by children
Thick consistency
Price at the time of publication: $12.22
Why use just one hair oil when you can have the goodness of three super-effective oils rolled into one? Sun Bum's Revitalising Coconut Argan Oil is enriched with argan, coconut, and sweet almond oil. One might even call it the perfect troika! This oil is a premium lightweight hydrating treatment that takes care of your hair and your scalp. Along with the nourishing oils, it also contains sunflower seed oil, which helps protect your hair from environmental factors such as heat. Just 2-3 pumps of this miracle potion will lend a healthy shine to your hair. 
Pros
Protects hair from harmful UV rays
Gluten-free and vegan
No parabens
Cons
Shine bright like a diamond with the Hollywood Beauty Argan Oil Hair Treatment and let your beautiful hair do all the talking! This lightweight and non-greasy hair oil doubles up as a conditioner that strengthens hair from the root to the tip and prevents hair breakage and split ends. Its intense conditioning formula acts immediately to keep your hair nourished and healthy and adds a glossy sheen to your hair.
Pros
Alcohol-free
Non-sticky and non-greasy
Specially formulated to prevent hair breakage
Cons
May not work well on extremely curly hair
Price at the time of publication: $11.33
When choosing a hair care product for ourselves, we tend to reach for the natural ones, and Earth Essence's Argan Oil is as natural as it can get! Its mild, organic formula guarantees not only soft and lustrous hair but also strengthens and conditions each strand. As it is silicone-free, it leaves no residue behind and absorbs fairly quickly. To retain the quality of the oil, it is packaged in an amber glass bottle. You can trust this Moroccon argan oil with your eyes closed as it is formulated and bottled in the USA under strict quality standards.
Pros
Fragrance-free
All-natural organic formula
Protects hair from heat damage and harmful UV rays
Cons
If you are looking for just argan oil, this might be a good fit as it also contains other oils
Price at the time of publication: $12.97
This exceptional product is an elixir that keeps your hair healthy and strong from root to tip, no matter what type of hair you have. Apply 3-4 pumps of this treatment onto your damp hair before gently combing it out and wait for the magic to unfurl! It is formulated to absorb quickly so that it provides nourishment to the hair and scalp. You need not worry about it being sticky or leaving a greasy residue as it is a lightweight product. Packed with nutrients and antioxidants like omega-6, omega-9, and vitamin E, this elixir brings dull-looking hair back to life.
Pros
Formulated to penetrate, moisturize and renew dull hair
Instantly cures a dry scalp
Can be used as a deep conditioning mask
Cons
Packaging may make the oil spill when shipped
Price at the time of publication: $22.99
Reap the benefits of nutrients and vitamins A, C and E, antioxidants, linoleic acid, and omega-6 fatty acids in this one-of-a-kind argan oil hair serum. This easy-to-apply hair serum makes each strand of hair softer, more manageable, and also tames frizzy hair. Formulated using organic argan oil, this serum can work as a wonderful hair conditioner, while Morrocan oil helps reduce scalp inflammation, dry scalp, and other such issues. It is suitable for all types of hair and also works as a heat protectant and protects the hair from harmful chemicals.
Pros
Helps define curls
Sulfate, paraben, and dye-free
Gluten-free
No artificial colorants
Cons
When used in excess, it can make the hair a little greasy
Although it has a pleasant fragrance, it may be overpowering for some
A head massage with hot oil is one of the best feelings in the world, isn't it? Discover the fantastic benefits of jojoba, apricot, grapeseed, carrot seed, and tamanu oil, all thanks to this natural argan oil treatment. With Okay Pure Naturals Argan Hot Oil Treatment, you can treat yourself to salon-worthy head massages. Simply heat the oil and massage it into your scalp. Leave it on for at least an hour before you wash it off. This hot oil treatment works for all hair textures and types. If your hair is brittle or prone to damage, this little jar of magic will fix all your hair woes!
Pros
Works actively on hair cuticles to revitalize it
Non-greasy
Safe for children as well
100% natural
Cons
Might leave your greasy after a wash
Price at the time of publication: $9.99
Designed to fit all hair and skin types, Nature Spirit's Premium Grade Hair Care Argan Oil should necessarily be a permanent fixture in your vanity. This potent oil penetrates deep within to help your hair heal naturally. Just a few drops of this oil can make your hair smooth and silky. It not only moisturizes the scalp, but also renews and strengthens each strand of hair as well. If frizzy hair is your arch-nemesis, this oil can help you out! Along with these benefits, it can also add that extra volume to your hair that you've always wanted. 
Pros
Formulated especially for dry and coarse hair
Gentle enough to be used daily
Smoothens hair
Cons
The strong fragrance might not appeal to everyone
Price at the time of publication: $7.99
Do your split-ends cause you rage? Is thick, smooth, and shiny hair what you are looking for, and are you looking for a hair oil that doesn't feel sticky and greasy? If yes, try Deboro's Hair Treatment Argan Oil. This argan oil seeps deep into the hair shaft and strengthens hair, thereby reducing split ends. It is an excellent solution for dry and damaged hair due to its high levels of vitamin A and E, omega-6 fatty acids, and antioxidants. Add a few drops of this argan oil to your conditioner and rub it into your hair from the roots to the ends.
Pros
Extremely affordable
Adds elasticity to hair
Conditions and strengthens hair
Cons
Now that we have taken a look at the 16 best argan oils in the market now, let us understand the factors to consider while buying it.
Factors To Consider While Choosing Argan Oil
Here are a few factors to consider while purchasing argan oil:
Look for all-natural and organic ingredients. Argan oil contains tocopherols (vitamin E) and 80% unsaturated fatty acids (which is the healthy kind of fat). The main natural ingredients include caffeic acid, vanillic acid, and tyrosol.
Look for a clear bottle when buying argan oil as you can distinguish the color just by looking at it. If possible, choose argan oil packaged in amber bottles as it helps in retaining the qualities of the oil for an extended period.
Argan oil has a nutty scent but the fragrance should not be overpowering. Cosmetic argan oil is a lighter shade of brown as compared to argan oil used for culinary purposes.
The texture of the oil shouldn't be too thick nor too watery.
Keep in mind that most pure argan oils are ethically sourced through a painstaking process, so, the cost of the oil is marginally steeper as compared to other hair oils.
Why Trust StyleCraze?
Vaishnavi Kothuri, who penned this article, is a hair care enthusiast who believes that making hair healthy begins with choosing the right hair oil like argan oil. So, she spent hours looking far and wide on the internet, scouring through numerous reviews to bring you this curated list of the best argan oils to apply to your hair. These products were selected based on how they impact your hair and which hair type they suit.
Recommended Articles