Best Arm Tattoo Designs – Our Top 5 Picks
Tattoos are a popular means of expression for both men and women all over the world and are gaining immense popularity due to the effect of internet and television and the number of celebrities getting them inked. Getting a tattoo today is more than a fashion statement as every case has a personal connection and each and every design signifies something unique.
Arm tattoo is extremely popular among both the genders and is one of the coolest places to get a tattoo.  You can easily hide or reveal it according to your need by simply wearing a long sleeve shirt or top. This will hide the tattoo if it is unsuitable for a particular situation. tattoo on arm is also one of the least painful places to get a tattoo done because of the good amount of muscle in this area. There are different types of designs which can be marked on arms like eagle tattoos, flag, scull, animal and 3D tattoos. Some people also get the image of their favourite celebrities inked on the arms. Here are some of the best Arm Tattoo designs:
1. Half sleeve arm tattoo: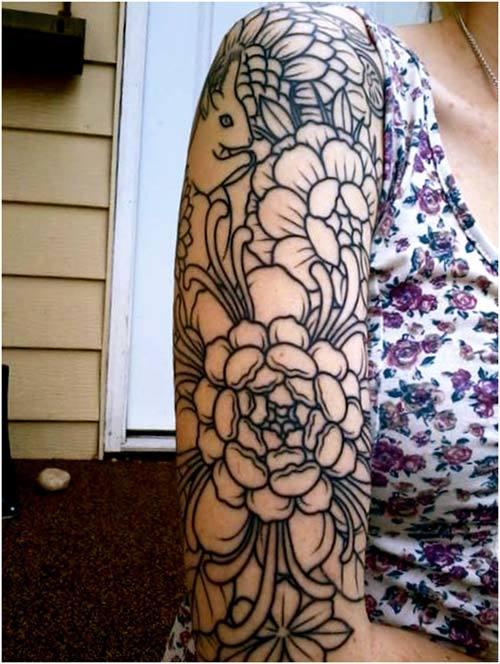 Half sleeve tattoo is not just limited to men; even women these days are getting half sleeve tattoos done and are show off their artistic ink by wearing sassy sleeveless dresses. Half sleeve tattoos are used to decorate upper arms and appear just as a sleeve. Half sleeve tattoos for women are of different kinds and are full of intricate and colourful patterns. These tattoos showcase feminine charm, sensuality and love for the body.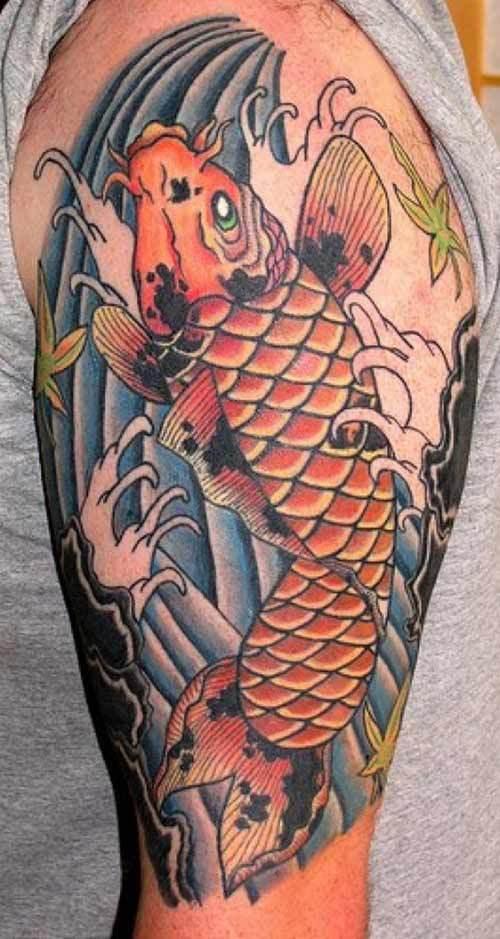 Koi fish tattoo is a traditional Japanese tattoo which is symbolic of fortune, good luck, friendship and prosperity and is one of the most popular Japanese tattoo designs. This tattoo design features beautiful colour arrangements with an orange colour fish and glittering blue water which gives it a splendid and elegant look.
2. Full sleeve arm tattoo design: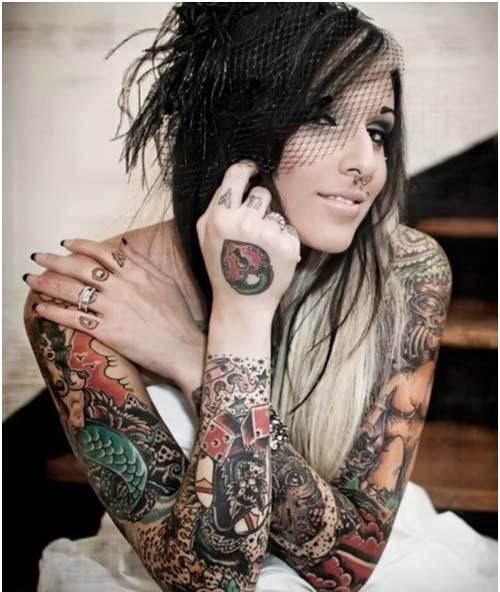 Full sleeve tattoo are also gaining immense popularity in the tattoo world. There are many designs you can choose like tribal tattoo designs, dragon tattoos, traditional celtic designs and floral designs. You have to be extremely careful before going for full arm tattoo designs, since full sleeve tattoo cover a major part of the body.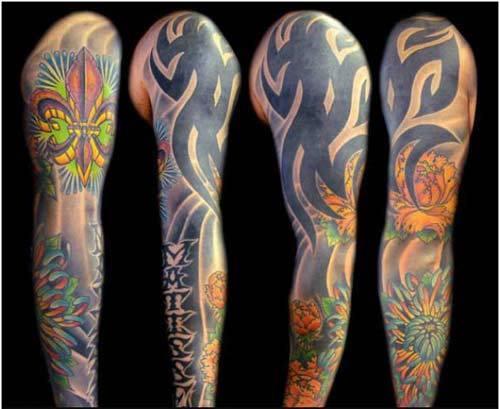 Tribal design makes for one of the best forms of full sleeve tattoo design. The muscular arms of a man go very well with the powerful lines of tribal designs which express so much with minimal strokes. The colour palette is usually restricted to black, and a hint of other colours like red or navy blue are used to highlight the tattoo.
3. Fore arm tattoo: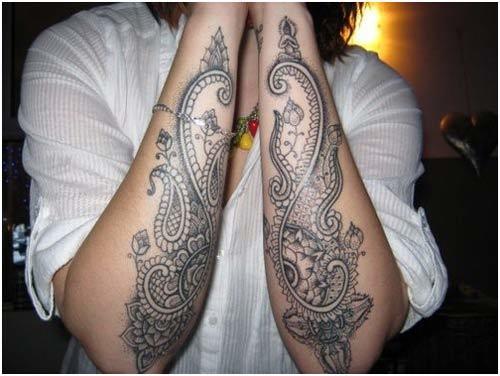 Forearm is also a popular place to get the tattoo done. Forearm tattoo is considered manly as they are majorly sported by men, but nowadays even women are trying out this design. There are several reasons why people opt for forearm tattoo. Sporting a tattoo in this place will definitely grab everyone's attention as it is the most visible part of the body. People usually opt for bold and decorative designs on their forearms which they feel proud to show off.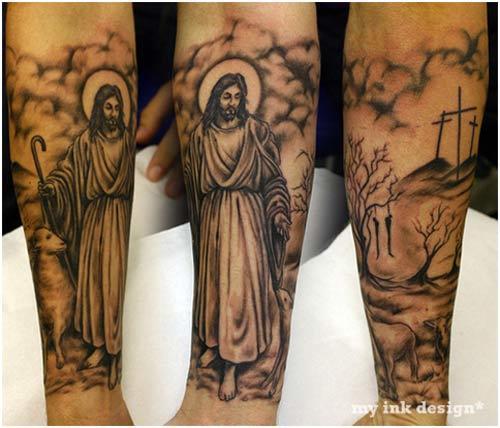 Forearm is the best place to get a religious tattoo as it is not considered an unholy place to get it as compared to other body parts. Crucifix, portrait of Lord Jesus and an image of Mother Mary are the most inked religious tattoos in the western world whereas in the east you can fine tattoos of Buddha, Om and Lord Ganesh.
[ Read: Sun Tattoo Designs ]
4. Arm band tattoo design: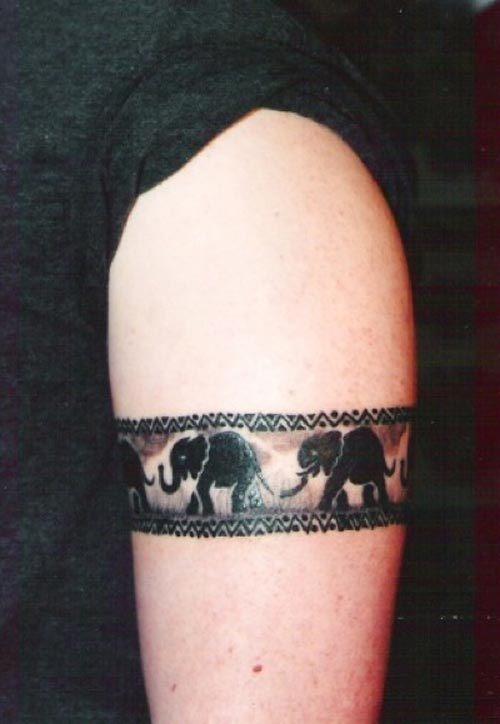 Arm tattoos in the form of bands are extremely popular among both men and women and look sexy and rebellious if done correctly. Though these tattoos look quite common, they can be made unique with our sense of creativity. The most common arm band tattoo designs are flowers, tribal scribes, heart tattoos and vines tattoos.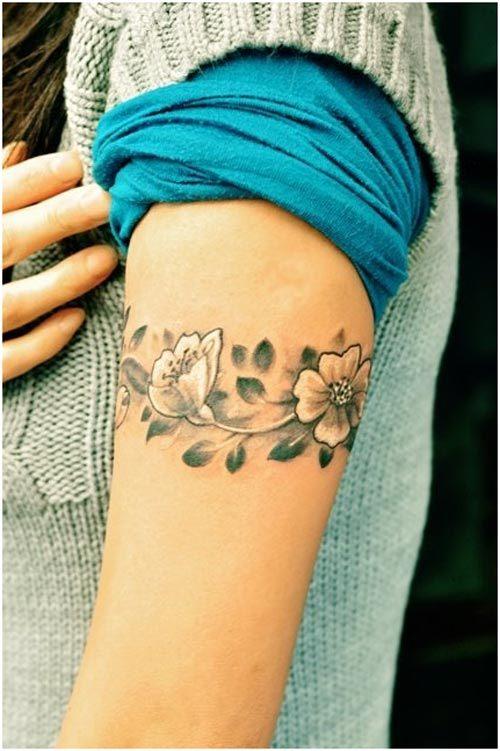 Floral armband design combined with vines makes it a very eye-catching and feminine armband tattoo design. These tattoos can be sculpted with intricate and simple patterns and is filled with bright colours. Flower armbands are fun as you can make them in a variety of different shapes and can be accentuated by combining hearts, butterflies or leaves. Adding a flower to your canvas will enhance your personality and will make a strong statement. This is a perfect tattoo design for girls on arm.
5. Wrist tattoo:

A very common place for arm tattoo is the wrist.  Most of the hand tattoos are inked on the wrist and are extended to the arms. Wrist tattoos look intricate and delicate. There is no dearth of designs for armband tattoos – Tribal tattoos, bracelet tattoos; floral tattoos are some of the most popular wrist tattoo designs.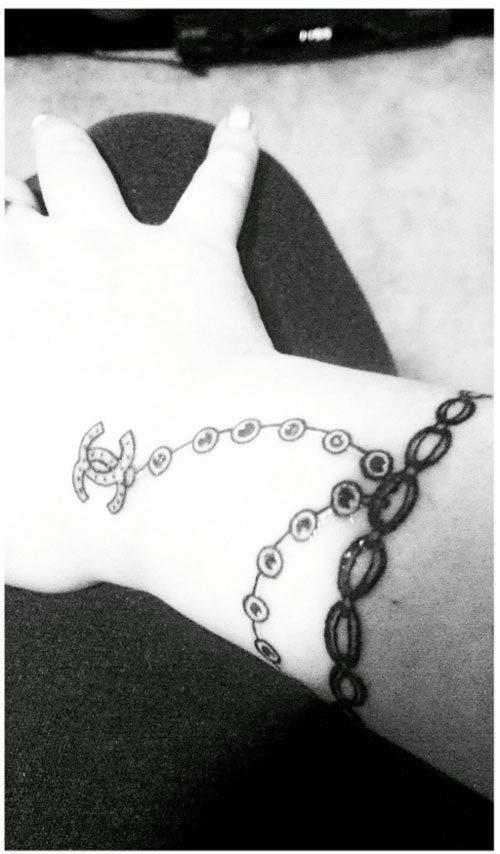 Bracelet tattoos are the most popular wrist tattoo designs and are currently in vogue in the arm tattoo designs owing to the huge variety of designs mainly. Chains and lockets are the most popular tattoo designs for the wrist; others include tribal bands, religious bands and barbed wire. The flip side however is that the wrist is the most painful area to get a tattoo done because of the presence of nerves and bones.
Need more ideas to choose from? 'Tattoos For All' is all you need!
[ Read: OM Tattoo Designs for Women ]
Are you planning to get an arm tattoo done? If so, which area and design are you going for? Let us know in the comments below.
Need more ideas to choose from? 'Tattoos For All' is just for you!
Image Source: 1 , 2 , 3 , 4 , 5 , 6 , 7 , 8 , 9 , 10

The following two tabs change content below.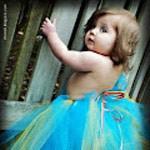 Latest posts by Arshi Ahmed (see all)