5 Best Aroma Magic Face Washes Available In India – 2023
Eliminate dullness and rejuvenate your skin with these daily cleansers.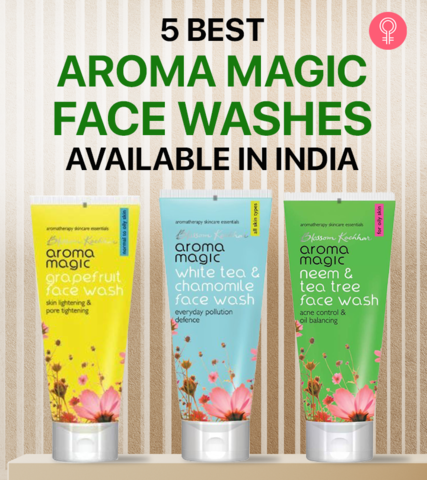 Cleaning our face is that one step in our skin care line-up that we always take for granted. But, in many ways, it's more important than we think. However, you cannot use just about any other face wash available. The wrong face wash may hurt your skin barrier and make your skin dry and dull.  This is where the Aroma Magic face washes come in. These are infused with the goodness of superior quality ingredients that keep your skin clean, fresh, and flawless.
Are you looking to add the best face wash to your skin care regimen? The Aroma Magic face washes could fit the bill. Here, we have included an exclusive list of the finest Aroma Magic face washes in India that transform a task from an everyday chore to a twice-daily treat. Keep reading.
5 Best Aroma Magic Face Washes In India
The Aroma Magic neem and tea tree face wash is formulated with neem and tea tree extracts that help fight acne. The face wash washes away excess sebum and impurities from the face and makes your skin soft and smooth. The rose extracts in the face wash eliminate the pimple-causing bacteria and lighten scars and blemishes. This gentle product gradually removes stubborn blackheads as well. Using this face wash consistently leaves your skin feeling bright and smooth.
Key Ingredients: Neem and Tea tree
 Pros
Balances excess oils
Controls acne
Prevents blackheads
Soothes skin irritation
Lightens scars and blemishes
Improves skin tone
 Cons
None
Price at the time of publication: ₹7.74
The refreshing lavender and healing powers of orange make this Aroma Magic lavender face wash unique. The blend of lavender and orange extract slows down skin aging and adds a burst of freshness to your skin. The rose essential oil in the facewash keeps your skin hydrated and nourished without making it greasy. It also soothes irritation and redness. The ultra-whipped shea butter in this face wash nourishes your skin and adds a hint of youthful glow and shine to your face. It also helps clean your pores and gives you flawless and supple skin.
Key Ingredients: Lavender extract, Rose essential oil, Shea butter, and Orange extract
 Pros
Lathers well
Artificial color-free
Soap-free
Alcohol-free
Paraben-free
 Cons
Price at the time of publication: ₹24.5
Finding the right face wash for oily skin is a huge challenge. It must cleanse your face and remove traces of dirt, oil, and grime without making the skin too dry. The blend of palmarosa and neroli essential oils in the Aroma Magic grapefruit face wash mattifies and revitalizes your skin. The face wash works perfect for oily skin. It controls excess oil secretion and evens out the skin tone. The vitamin C and beta carotene in this face wash brightens up your face and improves the overall skin texture. The aloe vera extracts work as a humectant and keep your skin hydrated and refreshed all day long. This face wash is free of harsh chemicals and protects the skin's natural barrier.
 Key Ingredients: Grapefruit extract, Lemon, and Aloe vera
 Pros
Tightens pores
Lightens skin tone
Revitalizes skin
Paraben-free
Soap-free
Alcohol-free
Artificial color-free
Fragrance-free
 Cons
None
Price at the time of publication: ₹27
The Aroma Magic white tea and chamomile face wash mainly deals with acne breakouts without stripping off skin moisture. It incorporates the goodness of chamomile oil, white tea, and soymilk extracts to soothe the skin. The formula exfoliates your skin naturally and delays the signs of premature aging, while keeping your skin hydrated. Also, it deep-cleanses the pores and protects your skin from free radicals.
Key Ingredients: White tea, Soymilk extracts, and Chamomile
 Pros
Reduces signs of aging
Protects skin from free radicals
Exfoliates
Reasonably-priced
Paraben-free
Soap-free
Alcohol-free
Artificial color-free
Fragrance-free
 Cons
None
Price at the time of publication: ₹23.23
The Aroma Magic activated bamboo charcoal face wash boasts the richness of activated bamboo charcoal that cleanses your skin deeply and sloughs away all impurities and toxins. It promotes blood circulation and cell regeneration to add a shiny glow to your face. This face wash transforms your skin in 6 miraculous ways and allows it to breathe. It has anti-fungal and anti-viral properties that protect your skin from free radical damage. It gently removes dead skin cells and tightens pores to improve skin tone. The natural ingredients added to this product make the skin lighter, brighter, and perky.
Key Ingredients: Activated charcoal
 Pros
Brightens skin
Tones skin
Paraben-free
Soap-free
Alcohol-free
Synthetic color-free
Artificial fragrance-free
Mineral oil-free
Petrochemical-free
 Cons
None
This is the complete guide to the best Aroma Magic face washes in India. Hope this list helps you make the right decision. Cleanse your skin twice a day with an exclusive Aroma Magic face wash and let your skin breathe and glow.
Our recommendation is the Aroma Magic White Tea And Chamomile face wash, which is a cult favorite. This will be a valuable addition to your skin care regimen as it exfoliates your skin naturally. However, if you are prone to breakouts, you may go for the Aroma Magic Neem & Tea Tree face wash.
Recommended Articles
The following two tabs change content below.