10 Best Arthritis Compression Gloves As Per Experts + Buying Guide
Relieve the swelling and pain from arthritis with these specially-designed gloves.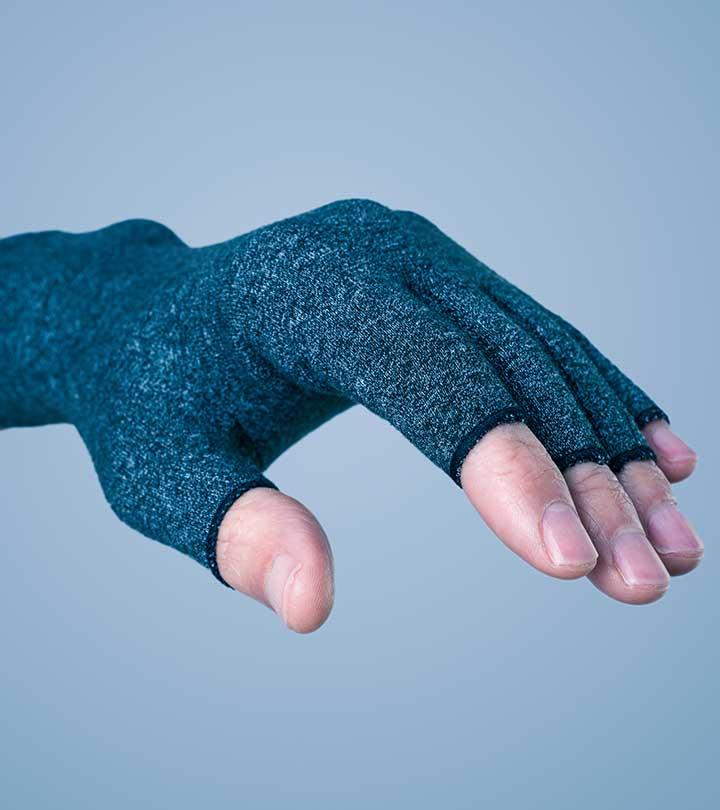 Although painkillers like nonsteroidal and analgesics are used for arthritis, consuming them often is not healthy. This is why you need the best arthritis compression gloves beside you. Rheumatoid arthritis can negatively impact your everyday life because it affects the joint lining and causes swelling and excruciating pain. Initially, you will come across it in the small joints of the hands. Apart from pain killers, people also use ice packs and sometimes analgesics to eliminate the pain. But using an ice pack is a hassle, and you cannot carry them while traveling either. And as men mentioned before, taking many painkillers frequently is not suitable for your body. In this case, arthritis gloves come to the rescue, and it has also evolved as one of the most effective alternatives to the options mentioned above. By providing drug-free and non-invasive relief, these gloves allow you to go about your everyday activities too. Therefore, knowing their immense significance, we have compiled a list of the 10 most amazing arthritis gloves available in the market in this article. We have also explained how and why they work wonders.
What Is Arthritis?
Arthritis is an inflammation of the joints that can affect one joint or multiple joints. There are more than 100 different types of arthritis, but the most common are rheumatoid arthritis, osteoarthritis, psoriatic arthritis, and fibromyalgia.
The most common symptoms of arthritis include swelling, pain, joint stiffness, and decreased range of motion. Arthritis is more common in women and old people, though it can affect people of all ages, sexes, and races.
What Causes Arthritis?
Cartilage is a connective tissue found in many areas of the body, including your joints. These firm yet flexible tissues absorb the stress and load produced when you move and put stress on your joints. Thus, they help to protect your joints. The decrease in cartilage volume and thickness can cause inflammation in the joints. This damage and deterioration of the cartilage may lead to arthritis.
Osteoarthritis, which happens to be one of the most common types of arthritis, is caused by the normal wear and tear of tissues. Your risk of developing osteoarthritis is higher if you have a family history of this disease. This form of arthritis can damage any joint, but it most commonly affects the joints in your hands, knees, hips, and spine.
The symptoms of osteoarthritis include:
Pain
Stiffness
Tenderness
Swelling
Bone spurs
Loss of flexibility
Rheumatoid arthritis (RA) is an autoimmune disorder and occurs when your immune system mistakenly attacks your own body tissues. RA affects the lining of your joints causing painful swelling that can lead to bone erosion and joint deformity.
The symptoms of RA include:
Tender and swollen joints
Joint stiffness
Fever
Fatigue
Loss of appetite
How Do Arthritis Compression Gloves Work?
Arthritis gloves may work through several mechanisms. The thermal arthritis gloves keep your hands warm and comfortable and may help to take away some of the pain. The other type of arthritis gloves uses a compression mechanism that provides pressure and helps to alleviate pain. The compression gloves help to decrease swelling and joint stiffness. They also help to improve blood circulation.
Thus far, studies have been inconclusive and do not provide any evidence that arthritis gloves improve arthritis symptoms.
Let's take a look at the 10 best arthritis compression gloves.
10 Best Arthritis Compression Gloves
Copper Compression Arthritis Gloves use genuine copper ions rather than copper oxide. This ensures the highest copper content. These copper compression gloves help support stiff and sore muscles and joints while still providing the room to carry on with your daily activities. Unlike other gloves that are big and bulky, copper compression socks are light and do not restrict your movement.
Features
Highest copper content compression arthritis gloves.
Comfortable and breathable fabric makes it ideal to be worn the entire day.
High-quality fabric will also withstand washing.
The glove is designed with open-ended fingers and flexible fabric to ensure the free movement of the hands.
Pros
Lightweight
Machine washable on gentle cycle
Uses genuine copper ions
Value for money
Cons
IMAK Compression Arthritis Gloves are the only gloves on the market that have earned the Arthritis Foundation's Ease of Use Commendation for their design. The unique design provides mild compression for warmth and helps increase circulation that aids pain relief and healing. These compression gloves are made of soft, breathable fabric that makes them comfortable to wear for long hours. If you are still confused, take a look at the detailed usage review of the IMAK Compression Arthritis Gloves.
Features
Made of 92% spandex and 8% cotton.
Open fingertips provide maximum mobility.
Lightweight and breathable cotton-spandex material will allow you to wear the gloves comfortably all day.
Available in three different sizes: small, medium, and large.
Can be hand-washed.
Pros
Warm and supportive
Lightweight material
Breathable
Hand washable
Easy to use
Available in three sizes
Cons
No silicone gripping material on the palm.
Vive Arthritis Gloves are form-fitting gloves that embrace the natural shape of your hands and provide compression therapy support. These gloves are made of breathable fabric (cotton-spandex blend) and are comfortable to wear for long hours. The open finger design makes it easy to carry on with day to day work and does not hinder your mobility. The selective stitching of the gloves ensures a higher comfort level. Watch the video to find an honest review of the Vive Arthritis Gloves.
Features
The opening is set at optimal length to provide the perfect balance between beneficial compression support and finger/thumb mobility. This helps you carry on with everyday work without interference.
The lightweight and breathable material makes it comfortable to wear for long hours.
Smart seam stitching design helps to reduce irritation and maximize comfort.
Come with a 60-day warranty.
Pros
Lightweight
Breathable
Smart seam stitching
Open finger design
Cons
Dr. Frederick's Original Arthritis Gloves are made of 88% cotton and 12% spandex. These gloves provide support and compression in the hand and lower fingers while keeping your fingertips free to carry on with your regular work. The grippy surface of the gloves makes it easier to hold objects. These gloves provide effective and non-invasive relief from aches and stiffness.
Features
Available in three different sizes: small, medium, and large.
The breathable and comfortable material gives you a snug fit that won't make you sweat all day long.
These gloves are easy to clean and can be washed with your normal laundry.
Pros
Washable and reusable
Available in three sizes
Open finger design
Comfortable to wear
Cons
Comfy Brace Arthritis Hand Compression Gloves are designed to provide strength, durability, comfort, and customization. Each pair of gloves has been crafted with intelligent and innovative design to provide maximum support and breathability. This product is available in three different sizes to fit different hand sizes. These gloves can be worn during the night or day and during everyday activities. The company provides a free e-book with the gloves that is filled with useful exercises and lifestyle tips to guide you on how to get the best out of these gloves. Check this video to see a detailed review of the Comfy Brace Arthritis Hand Compression Gloves.
Features
Open finger design allows for better grip and touch as compared to closed gloves.
Made of comfortable and flexible cotton-spandex material.
The functional design doesn't limit your daily activities.
Pros
Open finger design
Breathable
Smart seam design
Free e-book with every pair
Available in 3 different sizes
Cons
Not suitable for severe pain.
Neo G Wrist and Thumb Support is registered as a Class 1 Medical Device. This product offers serious support but is flexible enough, so you can swing those clubs and go about your other daily activities with ease. This glove is sold singly and can be worn in either of your hands. You can switch it from side to side if you like. It is available in three unisex sizes: small, medium, and large. The lightweight and breathable material of the gloves helps to keep sweat under control during activity.
Features
Lightweight and slimline support fits either the left or right side.
This product is developed by qualified orthopedic device designers and manufactured using medical grade materials.
The knitted fabric provides mild compression.
Its slimline design allows it to be worn underneath clothing without hindering performance.
Pros
Breathable material
Class 1 Medical Device
Seamless sleeve help reduce skin irritation
3 sizes for the best fit
Cons
Doctor Arthritis Gloves are crafted by medical doctors who have first-hand experience in managing pain, stiffness, and swelling related to arthritis and other hand conditions. This amazing product is made with the latest technology and material. Wearing these gloves can be beneficial for people with the following conditions:
osteoarthritis,
rheumatoid arthritis,
psoriatic arthritis,
reactive arthritis,
Raynaud's phenomenon,
soft tissue and sports-related injuries, and
Dupuytren's contracture.
These gloves are infused with copper, an element that is known to reduce inflammation and swelling. Doctor Arthritis Gloves are made with spandex material that is form-fitting. The fingerless design allows you to have full mobility of your hands and can be worn comfortably for long periods.
Features
Copper-infused arthritis compression gloves.
High-quality blend of 88% copper nylon and 12% spandex.
Pros
Available in different sizes
Open finger design
Anti-odor
High concentration of copper
Cons
Thermoskin Premium Arthritis Gloves provide relief from arthritis pain by capturing your natural body heat. The anatomical design of these gloves provides warmth, compression, and support. The outer layer of these gloves has been textured to provide additional grip. The trioxon lining and the easy to use Velcro closure makes for a great fit and provides added comfort. This product reduces the chances of swelling in the hands and alleviates the pain of sore joints. It is helpful for anyone requiring gentle heat therapy to the joints of the hand.
Features
Increase blood circulation, which facilitates fast recovery.
Provides light but firm compression to counteract tissue swelling.
Provides temporary relief from pain/soreness associated with sports injuries, arthritis, and RSI.
Increases elasticity and reactivity of the muscle.
Proprioception (support): implies perception of correct body position.
Can be used in all kinds of weather(cold or warm).
Pros
Velcro wrist closure
Trioxon advantage
Provides natural relief
Anatomical design
Cons
Avoid using these gloves if you are sensitive to smell.
NatureCure Arthritis Mittens use heat and therapeutic oils to ease arthritis pain. The heat produced helps to increase blood circulation that reduces pain, soothes stiffness, and eliminates muscle spasms. The company claims that you need to use this product for 10-15 minutes for effective therapy.
Regular use of these gloves for a month will leave you with stronger, more energized hands with improved dexterity. Heat the gloves in the microwave for one minute and then massage the product to gauge warmness accurately. If you need additional warmth, heat the gloves in 30-second intervals. Keep massaging or flipping the product to distribute heat evenly. Due to the differences in the heating strength of different microwaves, the heating time of the gloves will vary.
Caution: Do not overheat the product as overheating may result in skin burns.
Features
Employs heat and therapeutic oils to provide pain relief.
The gel lining of the gloves covers the whole hand with flax seeds.
The microwaveable flax seeds activated gel lining of the gloves provides a soothing moist heat through the hands.
The fabric of the mittens is soft and easy to wash.
Pros
Easy to wash
Microwaveable flax seeds
Soft fabric
Covers entire hand for maximum coverage
No mess mittens
Cons
Not suitable for people with latex allergies.
Brace Master Arthritis Gloves provide mild compression to support the wrist, fingers, thumbs, and knuckles. The ergonomic design gives you complete freedom to feel, touch, and grip objects. The lightweight and soft fabric of the gloves makes them comfortable to wear for long hours. They can be worn during the day or at night. These gloves provide symptomatic relief in cases of osteoarthritis, rheumatoid arthritis, Raynaud's phenomenon, carpal tunnel syndrome, Dupuytren's contracture, psoriatic arthritis, and soft tissue and sport-related injuries.
Features
Open finger design allows you to use your hands freely.
Can be worn during the day or night.
Made of 45% cotton, 45% polyester, and 10% spandex.
Available in three different sizes.
Pros
Ergonomic design
Mild compression
Multi-use gloves
All-day wear
Lightweight and breathable
Cons
Compression gloves can help ease the symptoms of arthritis but should never be mistaken as a substitute for a doctor's advice and medication. After due consultation with the doctor, you can wear these gloves to make your daily chores a bit easier.
The type of arthritis compression gloves that you choose to buy will depend on how severe your arthritis is and your budget. The different types of compression gloves available on the market are listed below.
Types Of Arthritis Compression Gloves
Copper-Infused Gloves: Copper is known to reduce swelling and inflammation. A lot of companies selling copper-infused compression gloves claim that it is one of the best ways to deal with arthritis pain. They can help relieve pain and swelling without any painkillers.
Fingerless Gloves: Fingerless compression gloves provide pressure to ease arthritis pain and swelling without inhibiting your daily chores. They provide you the comfort to carry on with your daily work while working on to ease arthritis pain and swelling.
Cotton-Spandex Gloves: Cotton-spandex gloves are the most common type of arthritis gloves. They are comfortable to put on. The only disadvantage with these types of gloves is that they are restrictive and less breathable than other materials.
Heated Gloves: Heated gloves are good for people with more chronic conditions. These gloves are not ideal for day-long use. These gloves use infrared lights and thus don't need electricity. Heated gloves are bulky and are best to use when you are resting at home.
Wearing arthritis gloves can offer you the following benefits.
Benefits Of Wearing Arthritis Gloves
Pain Relief: Arthritis gloves help relieve chronic pain and enable people to carry on with their normal life.
Improves Blood Circulation: Rheumatoid arthritis leads to narrowing and inflammation of vessels. This condition is known as vasculitis and can impair the hand function. The arthritis gloves may help improve the circulation, provided they fit well and don't constrict your hands, nor are they too loose.
Easy To Use: Arthritis gloves are lightweight and easy to use. Just put them on and continue with your day's work.
No Side Effects: Unlike drugs, arthritis gloves do not pose any risk of side effects.
Here's what you need to look for while buying arthritis compression gloves.
Buying Guide – Factors To Consider While Buying Arthritis Compression Gloves
Fabric: When buying arthritis gloves, make sure to buy ones that have breathable fabric. Some fabrics lock the moisture in your hands and can give you an icky feeling. This could make wearing them all day long an uncomfortable experience.
Size: The size of the gloves is an important consideration. Gloves that are tight will constrict your hands and inhibit the blood circulation, while those that are too loose will not provide the required compression.
Grip: The material of the gloves should be anti-slip. It will help you maintain a good grip while holding items and carry on with your day to day activities.
Latex-Free: If you have some kind of allergies, make sure to check that the gloves you buy do not include latex.
Guarantee: The guarantee period offered by the seller is an important factor to consider. It reduces the risk of the buyer. If you are not satisfied with the product, you can return it and get your money back. This factor is helpful when you are unsure about the product you are purchasing. Do review the guarantee offered by the seller on the product before clicking on that buy button.
Stitching: Arthritis gloves are compression fitted. Hence, the stitching seams can be uncomfortable if not correctly placed. Look for a pair of gloves with minimal stitching.
Length Of Gloves: Arthritis gloves are available in different lengths. From open fingertips to those covering your complete fingers and hands, the market has it all. Select the length of the gloves based on your comfort level.
Why Trust StyleCraze?
The author, Sakshi Bahal, is a wellness enthusiast. She talks about the best arthritis compression gloves that may effectively eliminate the pain in this post. All the products mentioned in the list have been carefully picked after thorough research and review so that her readers can make the best choice and get relief from the excruciating pain.
Frequently Asked Questions
How long should one wear compression gloves?
Compression gloves are designed to be worn for 8 hours. You can wear them during the daytime or while sleeping at night.
Do I need a prescription for using compression gloves?
Compression gloves are ready to wear and can be bought from the market without any prescription. If you are planning to use compression of 20mmHG or higher, it is better to take the advice of your physician.
Can people with carpal tunnel syndrome wear compression gloves?
If you have carpal tunnel syndrome, it is better to consult your doctor once before using compression gloves. Compression gloves could make the symptoms of carpal tunnel syndrome worse if worn at night.
Does copper-infused gloves really help relieve the symptoms of arthritis?
Though companies selling copper-infused gloves claim that the gloves provide relief from the symptoms of arthritis, there is no scientific evidence to back this claim.
How tight should arthritis compression gloves be?
Arthritis compression gloves should be tight enough to offer consistent pressure around joints. It should feel snug but not restrictive.
Can you sleep with compression gloves on?
Compression gloves are designed to be used for eight hours approximately – the length of your sleep. If you wear them overnight, you can feel the beneficial difference in swelling and puffy fingers.
Which is better for arthritis – copper-infused gloves or regular compression gloves?
Copper-infused compression gloves are more effective than regular compression gloves. They help relieve joint inflammation and give pain relief.
Recommended Articles