The 11 Best Press-On Nails For A Foolproof Manicure – 2023
Beautify your nails with trendy products without spending hours at the salon.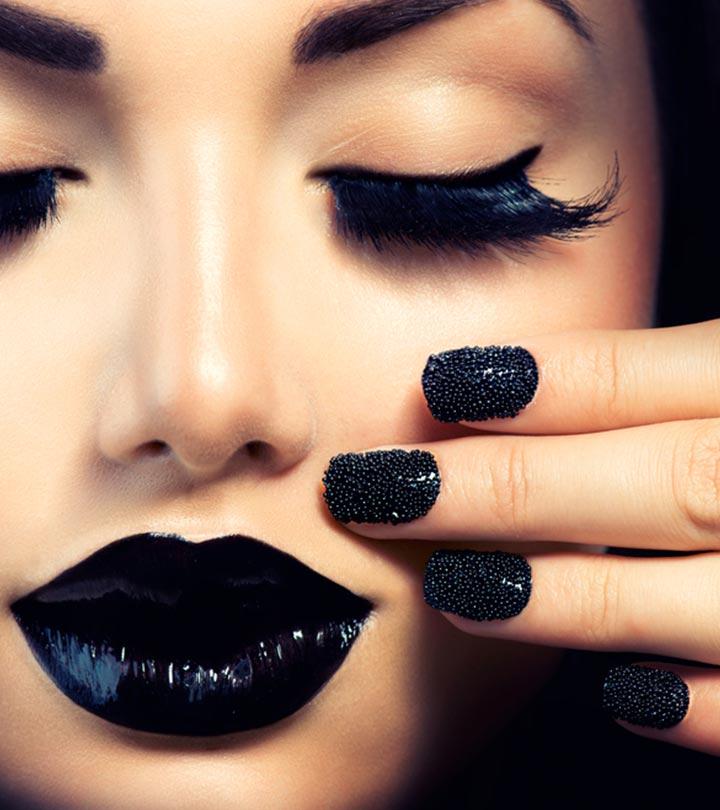 Whether it is a date night or a night out with your gang, your nails deserve attention. And there is no better way to enhance them than with the best artificial nails. Any big event, be it during the day or after nightfall, is exciting and offers you an opportunity to flaunt your makeup skills. However, it is rightly said that the devil is in the details. Therefore, your designer clothes and high-end makeup may turn out to be bland if you do not have properly designed nails. It may look like a minor part of your makeup regimen, but trust us, nails can make or break your look.
Get a handbag to complement your outfit, but do not forget to prep your nails. Remember, moisturizers are important, but so is your manicure. If you want long nails that Billie Eilish often flaunts, go for the artificial nails. They allow you to create different designs and patterns and are easy to paint on. You can also experiment with acrylic nail extensions as they offer proper care and makes your fingers look stunning. And if you are ever in need of some inspiration, YouTube and Instagram have more than enough content to help you out. But getting your hands on the right artificial nails can be a challenging task. That's where we come in. In this article, we have curated a list of artificial nails that received positive reviews and top ratings from users. These fake press-ons will protect your natural nails and make them look gorgeous. Swipe up for the deets!
11 Best Artificial (Press-On) Nails For Women In 2023
1. Aoream Lady French Acrylic Style Artificial Nails
Receive genuine compliments wherever you go with a little help from these dainty false nails. These nail enhancements look exactly like real nails as they are made with top-notch ABS material (a common thermoplastic polymer), and are made to last for extended periods. With extremely strong nail tips, you never have to worry about them breaking easily. These high-quality artificial acrylic nails come in different sizes and are pre-numbered from 0-9, which makes it easier for you to keep track of them. These fantastic nails are easy to trim, paint, and apply on the fingernails. Similar to a French manicure, these artificial nails are designed with lighter colored artificial nail tips.
Pros
U-shaped design
Lasts for up to three weeks
Environment-friendly material
500 pieces
No smell
Great price
Cons
The adhesive gel may not be strong enough
Price at the time of publication: $5.59
2. Markatt Press On Nails
Discover the finest of nail technology with these thick and sturdy artificial nails by Markatt's nude Press On Nails. They are plain in color, which means that you can use both gel nail polish and regular nail polish on them to achieve fashionable nails. Made with ABS material, these artificial fingernails are perfect for nail extension using a poly gel as well. These artificial nails come in full-cover coffin design and look quite striking when decorated with nail enamel or colorful patterns. Durable, thick, and easy to use, these artificial nails can also act as the perfect gift for the fashionistas in your life. You can also achieve salon-grade nails at an affordable price with these products. These are the best longest lasting press on nails that are loved by nail experts.
Pros
Lasts for up to 2 weeks
Non-toxic
Easy to shape, file, and paint
Suitable also for professional salons
Cons
Not everyone may find the coffin nail shape attractive
Price at the time of publication: $9.99
3. ECBasket Fake Nail Tips
It's a great time to be alive as one has so many fantastic options to choose from when it comes to beauty, make-up, and skincare products! One of these amazing products is ECBasket's Fake Nail Tips. These press-on nails are extremely easy to use and last for a long time. The ABS material it is made from, makes these nails durable, breathable, and won't harm your natural nails at all. Perfect for the DIY artist, these artificially long nails fit well on your natural nails. Typically available in a coffin nail shape, one can easily cut it and trim to suit their style preferences as these nails are slender on the top.
Pros
500 pieces
Pre-numbered (0-9)
Eco-friendly
Lasts for 3 weeks
It is non-toxic, so, it will keep your natural nails healthy
Cons
Strong smell of adhesive gel
Price at the time of publication: $9.99
4. Kiss Everlasting French Artificial Nail Kit
If you are someone who doesn't enjoy having their nails painted but still prefers to have their nails kept neat and clean, these false nails might be precisely what you are looking for. When applied onto the nails without any nail enamels or patterns, it renders an attractive glossy finish. However, if you do enjoy going all out and trying different variations of nail patterns, this kiss artificial nails can still be of great use to you as they are durable and strong. It's worth mentioning that this French manicure lasts longer than a salon manicure. For a thorough review of the product, have a look at this YouTuber's video.
Pros
Affordable
Light, rosy-pink tone
Chip-free wear for up to a week
Flexi-fit technology for comfortable and natural wear
Nails are sized by number
Cons
Not very easy to peel off
Price at the time of publication: $4.97
5. BTARTBOX Clear Acrylic Ballerina Nails
Nail extensions have become one of the best ways to get a manicure at home and not have to worry about the hassle of going to a salon. With BTARTBOX's clear acrylic nails, you can customize your false nails to any size and shape you want, along with the color and design. These ballerina-shaped nails (also known as coffin nails), are made with natural/clear color and also come in two optional lengths (long and short). The square shape lends an elegant grace to your nails. Rather than spending your hard-earned money on disreputable nail salons that could potentially give you a nail infection, try these eco-friendly nails at home and keep your natural nails out of harm's way.
Pros
Durable and natural
Sticks on easily
Clear-finish
500 pieces
No smell
Keeps your real nails safe
Cons
Price at the time of publication: $16.99
6. BTARTBOX Oval-Shaped Fake Nails
Long artificial nails tend to chip or crack after a week if one doesn't take good care of them. So, for those who dislike long nails and aren't a fan of coffin/ballerina-shaped nails, these oval press on nails by BTARTBOX will be perfect for you. It will give your hands a graceful look and provides a very natural finish. It comes in two optional sizes and has a round end. These false nails are least damaging artificial nails. Due to its small size, broken and damaged nail tips won't be a problem, and you can achieve short well-manicured round nails instantly with these nails. It can also act as a cute gift for your friends and family members. Check out this YouTuber's review of the product if you require more details.
Pros
Oval nail tips
Easy-to-apply
Non-toxic
Eco-friendly
500 pieces
Different-sized nails are separated in individual cases
Cons
Some might find it slightly long
Price at the time of publication: $13.97
7. ECBASKET Stiletto Acrylic Fake Nails
Channel your inner Rihanna with these stiletto acrylic fake nails by ECBASKET. These false nails are easy to apply and equally easy to peel-off as well. With pointed ends, these nails offer an edgy appearance. With these durable nails, one can expect a home-style manicure to last for up to three weeks. The best thing about these nails is that although they are thick and sturdy, they can be easily filed or clipped off to get a coffin nail shape. If a perfect fit is something that worries you, these artificial stiletto nails will never pose a problem. The best advice we can give you for stiletto nails is to visit an experienced nail technician. Due to the shape of these nails, it may sometimes lead to nail damage when applied by yourself.
Pros
Non-toxic
Made of eco-friendly material
Breathable
Light or no pressure on your real nails
500 pieces
Cons
Needs a powerful glue to set well
Price at the time of publication: $9.96
8. IMPRESS Press-On Manicure With Ultra Gel Shine
Another celebrity-inspired product that we've been positively crushing on is the imPress press-on manicure set. It's chic, ultra-trendy, and easy to use. The tab of these press-on artificial nails aligns perfectly with your cuticles. The package contains 30 durable pieces along with six accents. These fake nails are easy to apply and can be peeled off in a matter of seconds. The best part is that it comes with a patented super-hold adhesive that makes these press-on nails one of the best false nails available. If these qualities aren't enough to get you hooked, check this out – these nails are chip-proof and smudge-proof. As these artificial nails designs already come with ultra-gel shine, gel nail polishes work best with them. You can also check this YouTube video for a complete idea about the product.
Pros
No glue required
Gel shine
No damage to your real nails
Strong hold
Dries almost instantly
Cons
Your hands should not come in contact with water for 30 minutes after applying these nails
Not safe for children
Price at the time of publication: $5.99
9. Glamnetic Press On Nails
Highlight your spunky personality with these 24 reusable nails in 12 different sizes from the Glamnetic Press On Nails. Perfect for versatile wear, these nails feature different trendy and modern designs in pink, green, and purple shades. The nail art lasts up to two weeks post-application and is easy to clean with warm water in 10 minutes. The high-quality nails offer a protective UV and waterproof coating to avoid any nail damage. The vegan kit also includes nail glue, a double-sided nail file, a cuticle stick, and alcohol pads.
Pros
24 nails in 12 sizes
Lasts up to 2 weeks
Easy to clean
Easy to wear
Reusable
Damage-free
Protective UV coating
Vegan
Full coverage
Waterproof
Cons
None
Price at the time of publication: $14.99
10. CoolNail Ballerina Chrome False Nails
Let all things shiny come your way with these ultra-cool and eye-catching iridescent chrome false nails by CoolNail. Perfect for special occasions, its one-of-a-kind holographic finish gives off the green, blue, purple, and pink colors along with a cool magic-mirror effect. These long-lasting, efficient and sturdy fake nails come in ballerina shape but can be trimmed and filed to achieve your desired shape. This salon-grade kit comes with 24 pieces and is easy to apply, use, and remove as well.
Pros
Affordable
Lasts for more than a week
Fits perfectly
Can be used with both glue and double-sided stickers
Double-sided stickers included in the kit
Cons
Price at the time of publication: $6.2
11. Kiss Revolutionary French Nails
Comfortable to wear and extra-durable, these innovative acrylic artificial french nails by Kiss will give your hands an instant salon-style uplift. These quick application nails are ultra-flexible, fit seamlessly, and you never have to worry about them chipping away. It's at least 25% thinner at the cuticles, which means it will have a snug fit. These low maintenance nails are made especially for those who like to keep their nails short, trimmed, and proper. The natural looking artificial nails acrylic tip is also incredibly strong compared to other false nails.
Pros
Long-lasting comfort
10 times stronger
28 pre-designed nails
Black-tip nails
Glue included
Cons
Some may find the size smaller than desired
Price at the time of publication: $14.49
A Helpful Buying Guide To Pick The Best Artificial Nails
Before you buy a set of false nails, it's always a good idea to understand which one would be right for you:
1. Different types of artificial nails
While there are many types of artificial nails available in the market, let's take a look at the most common ones:
These customizable false nails are made of fiberglass. They are expensive as the installation costs are high, so is the aftercare. We recommend you go to a nail salon and have them applied by a professional.
These nails use gel-based polish and require a UV or LED light to dry the polish and lock it into your nails. Gel nails are sturdy and last for close to two weeks.
SNS stands for Signature Nail Systems and operates on a powder-dipping system. It is accompanied by a brush-on or gel polish. The nail professional will apply the polish to your nails, dip in powder, and repeat the process.
Simply put, nail wraps are stickers for your nails. Nails wraps are made of materials like silk, linen, fiberglass, and thin paper. They come with acrylic or gels so they can be used on your real nails and also artificial nails. As they do not have a semi-permanent hold like artificial or fake nails, they are less likely to damage your real nails.
2. How To Choose The Right Fake Nails
Ensure that they are made with ABS material as they are eco-friendly. The false nails should sit perfectly in your cuticles and not jut out. Choose the shape you want and carefully trim or cut it to your size of liking. It is always a good idea to check its durability, sturdiness, and its locking technology before purchasing any false nails.
3. How To Wear Fake Nails Without Damaging Real Nails
Before you apply any false nails on your real nails, make sure you have washed your hands properly and clipped your nails and cuticles. Moisturize your hands well in advance to remove dirt and grease. Wipe off any nail polish you may have on. Lay out all the nails in front of you and make sure they fit your real nails properly. Apply glue on your nails (but not too much), press the false nail down for 10 seconds and you're done. If you do not follow these instructions properly, it could lead to damaged nails, skin fungus, skin infections, and sometimes, as a worst case scenario can lead to skin cancer. Make sure the tools you are using or your nail technician is using are of high-grade quality and properly sanitized before every use. Unsanitary tools can cause a lot of minor and major skin problems in the long run. If the false nails feel highly uncomfortable or itchy, remove them immediately.
4. How To Put On Fake Nails Without Glue
Nail care should be the No.1 concern when removing the nails. Always use a nail buffer on your nails after you wash your hands properly. You can use fashion tape or double-sided adhesive tape if you don't have glue.
5. How Long Do Artificial Nails Last
Depending on how much you work and how well you maintain your nails, fake nails can last anywhere from one to three weeks.
6. How To Remove Fake Nails
First, trim down artificial nails from the top. Then, use a nail file to thin out the acrylic or top gel coat. Soak cotton balls in acetone and wrap these balls around your nails. Use a second layer of aluminium foil to cover the nails. Let it sit for 20 minutes. Now, it will be easier to peel off your fake nails.
Why Trust StyleCraze?
The writer of this post, Srijani Roy Chowdhury, is a fashion enthusiast who covers fashion-related articles. She has scoured different websites and analyzed numerous product quality reviews to bring you this list of the best artificial nails to enhance your look. In addition, she has included a detailed description of each one highlighting its features and unique aspects. Moreover, she has also added a helpful buying guide to help you have a hassle-free shopping experience.
Frequently Asked Questions
Which press-on nails are least damaging?
As mentioned above, nail wraps are the safest as they are basically stickers that can be applied and peeled off any time. Along with those, gel-based press-on nails are said to be the least damaging ones. Gel nails lend a more natural-looking glossy finish. Unlike with acrylics, if the gel-based nails are primed correctly, there will be no damage on the nail bed. They cure faster than acrylic nails, as they are cured under a UV light and are more flexible than acrylic nails.
Are press-on nails bad for you?
No, press-on nails aren't necessarily bad for you. But how you use them, for how long you use them, and how you take care of them can make all the difference.
Do nails grow under press-on nails?
Yes, in about two weeks, you will see your natural nails growing from the cuticles. It takes the natural nail about 3-6 months to grow from the cuticle to the tip of the finger. The press-on nails don't hamper the growth of your real nails.
How can you put on press-on nails without glue?
Nail care should be the no.1 concern when removing the nails. Always use a nail buffer (a double-sided buffer) on your nails after you wash your hands properly. You can use fashion tape or double-sided adhesive tape if you don't have glue.
How long do press-on nails last?
Depending on how much you work and how well you maintain your nails, press-on nails can last anywhere from one to three weeks.
How to remove press-on nails?
Soak your fingers in a bowl filled with an acetone-based nail polish remover for 10 minutes. Once they loosen, they will be easy to puff off. If you don't want to use acetone, you can soak your nails in warm water mixed with a few drops of hand/body soap for 10-15 minutes. Remove your fingertips from the bowl and try to peel off the nails. You can also remove press-on nails with a good cuticle oil. All you need to do is pour a few drops under and around the press-on nails and leave it on for 10-15 minutes. Once the nails have loosened up sufficiently, you can remove them easily.
Which brand of press on nails lasts the longest?
The Markatt Press On Nails lasts for around two weeks, making them the best long-lasting brand that sells amazing natural-looking whole nails.
Which is better: press-on nails or gel?
Press-on nails are preferred over acrylic or gel nails as they are easy to apply, do not damage natural nails, and last longer with good care.
Why do my press-on nails keep falling off?
Regular falling off means either your press-ons are not correctly attached to your nails, or there is some dirt keeping your nails away from sticking to them. Wash your nails properly and try to place them on with some glue.
How do you stop press-on nails from lifting?
You can apply additional glue to your nails, so the press-ons do not come out easily.
How long do press-on nails last without glue?
Press-on nails last longer than two weeks without glue, and if you want to reuse them, apply glue to stick them back, making them more durable.
Do press-ons ruin your nails?
No, press-ons are safe to apply to your natural nails and do not damage them.
Can you shower with press-on nails?
Yes, you can shower with press-on nails, but keep in mind to avoid a hot shower as it can loosen up the glue quickly.
Do press-on nails come off easily?
No. With proper care and lesser physical activity involving hands, press-on nails stay intact due to good glue. And they can easily last for more than a week.
What is the safest type of press-on nails?
Every press-on nail is safe and reusable. But if you use your hands more, you should go for short-length press-on nails.
Recommended Articles