19 Best At-Home Chemical Peels To Try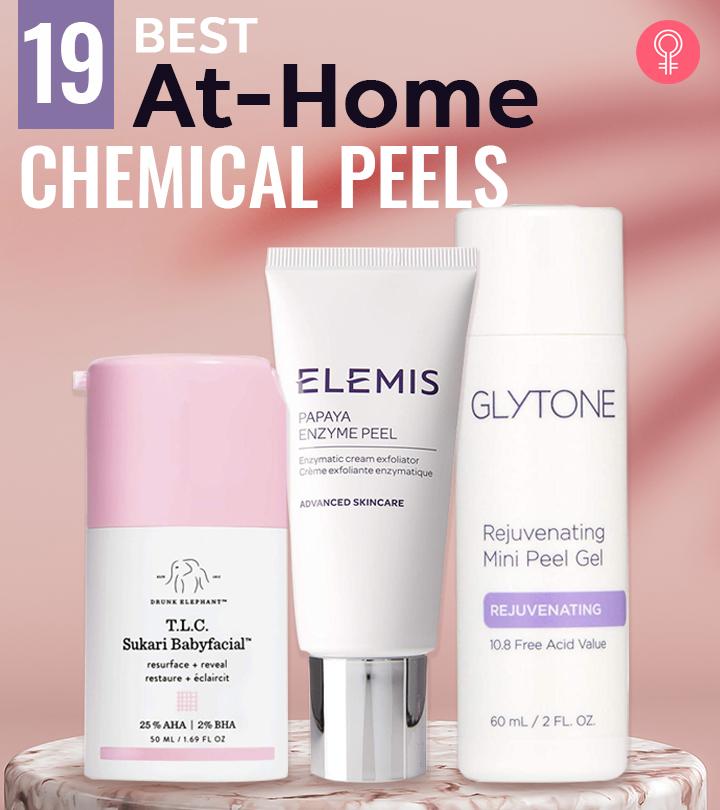 Gone are the days when you had to visit a dermatologist or an esthetician to get a chemical peel done. Today, you can easily get a chemical peel at home. Chemical exfoliators or chemical peels are fast replacing physical exfoliators (like scrubs). They provide deeper exfoliation than physical exfoliators and improve skin texture. Compared to professional peeling, at-home chemical peels are mild and easy to use. If you are contemplating diving into the world of at-home chemical peels, here are the 19 best products to begin with. Scroll down to know more!
19 Best At-Home Chemical Peels For A Glowing Skin
The QRx Labs Glycolic/Lactic Acid Gel Peel contains two best Alpha Hydroxy Acids (AHAs) that stimulate collagen production. It has 30% glycolic acid and 20% lactic acid that provide skin resurfacing without any irritation.
This chemical peel also contains antioxidant and anti-inflammatory ingredients such as calendula, green tea, and chamomile extracts. It reduces the appearance of photodamage, scars, wrinkles, fine lines, and hyperpigmentation. This product accelerates cell regeneration, hydrates the skin, fades age and sunspots, and evens out your skin tone.
Pros
Lightweight
FDA approved
Clinically proven
Silicone-free
Paraben-free
No artificial fragrances and colors
Cons
Not suitable for sensitive skin
This is a cult favorite and a holy grail for all those who swear by chemical peels. This 30% AHA and 2% BHA formula combines three acids – lactic, salicylic, and glycolic acids. It is a 10-minute exfoliating peel that reduces spots and blemishes and the appearance of lines and improves your skin texture with continued use. It is suitable for normal, oily, and combination skin types.
Note: This product does not come with any safety seal or plastic wrap. None of The Ordinary products have any safety seal.
Pros
Paraben-free
No formaldehyde or formaldehyde-releasing chemicals
Mineral oil-free
Phthalate-free
Vegan
Cruelty-free
Gluten-free
No harmful chemicals
Safe for the skin
Cons
None
This daily peel formula targets three signs of aging – uneven texture and skin tone, fine lines and wrinkles, and open skin pores. This product is a combination of five acids that nourish your skin and deliver anti-aging benefits. These are pre-soaked pads and ideal for anyone new to at-home chemical peeling.
Pros
Paraben-free
Sulfate-free
Phthalate-free
Cruelty-free
Vegan
Suitable for all skin types
Cons
None
This gentle cream exfoliator is enriched with natural fruit enzymes extracted from papaya and pineapple. Papaya enzymes exfoliate the skin, and pineapple enzymes calm your skin. These ingredients clarify your skin and keep it smooth. This rinse-off exfoliating cream also contains vitamin E, milk protein, and marine algae. Apart from exfoliating the skin, it also moisturizes, repairs, and protects it. It is perfect for sensitive and mature skin.
Pros
Paraben-free
Dermatologically tested
No artificial colors
SLS-free
SLES-free
Mineral oil-free
DEA-free
Cons
Want radiant skin in just 10 minutes? Try the Caudalie Glycolic Peel. It claims to brighten your skin and make it smooth and glowing in 10 minutes. It contains glycolic acid that exfoliates your skin gently and refines its texture. This dermatologically and ophthalmologically tested formula contains 85.7% natural origin ingredients and refines the skin texture.
Pros
Cruelty-free
Hypoallergenic
Safe for all skin types
Gluten-free
Paraben-free
SLS-free
SLES-free
Formaldehyde-free
Vegan
Non-toxic
Cons
None
This is an extra-strength 10% glycolic acid anti-aging skin resurfacing peel. It is a towelette containing the peeling solution. It claims to rapidly exfoliate the dead skin cells and impurities from your skin and promote resurfacing. It gives you smoother, softer, and more youthful skin. This resurfacing peel contains licorice root extract that makes your skin bright and soothes it to minimize irritation. Vitamin C helps fight free radicals and prevent skin damage caused by environmental aggressors.
Pros
Paraben-free
Phthalate-free
Gluten-free
Sulfate-free
Petrolatum-free
Oxybenzone-free
Mineral oil-free
Formaldehyde-free
Cons
Contains alcohol denat
Contains PEG
This product contains 10.8 Free Acid Value (PFAV) glycolic acid. The PFAV system shows you the amount of bioavailable glycolic acid. This amount of glycolic acid causes significant improvement in the cell turnover rate and helps to exfoliate your skin, improve its texture, and make it smoother. It also helps in clarifying your complexion by reducing uneven skin tone and dullness, giving you a youthful glow.
Pros
Fragrance-free
Non-comedogenic
Oil-free
Cons
Contains alcohol denat
Expensive
This is not just a peel but a skin treatment. These skin pads deliver a powerful dose of vitamin C extracted from kakadu plum, which is one of the richest natural sources of vitamin C. This intensive formula also features seven AHAs and BHAs, along with ferulic acid, vitamin E, and Australian lime caviar. These treatment pads help to brighten your skin and make it smooth, firm, and even.
Pros
Allergy tested
No animal testing
Dermatologist tested
Non-drying
Non-irritating
Formaldehyde-free
Paraben-free
Mineral oil-free
SLS-free
SLES-free
Phthalate-free
No synthetic fragrances
Oxybenzone-free
Triclosan-free
Triclocarban-free
Cons
None
This chemical peel is a blend of 10% AHA and fruit enzyme. It contains glycolic, malic, and lactic acids that remove dead skin cells, improve surface dullness, and hydrate your skin. It also evens out the skin tone. Phytic acid, pumpkin, papaya, and pineapple enzymes in the product brighten your skin, and the peptides, honey, and tea extracts prevent irritation and soothe the skin.
Pros
Clinically tested
Safe for sensitive skin
Paraben-free
Sulfate-free
Phthalate-free
Cruelty-free
Cons
This overnight facial peel can be your "shortcut" to glowing skin. It helps to resurface and renew your skin. It contains a blend of lactic and glycolic acids and vitamin A (a powerful anti-aging ingredient). These ingredients exfoliate, brighten, and hydrate your skin. It also contains allantoin, rosehip seed oil, and vitamin E that condition and calm your skin. This product is also pH-balanced and will not dry your skin.
Pros
Vegan
Cruelty-free
pH-balanced
Non-irritating
Non-drying
Paraben-free
Silicone-free
SLS-free
SLES-free
Talcum-free
Petroleum-free
Dye-free
Mineral oil-free
Nonylphenol ethoxylate-free
No added fragrance
Cons
None
This professional-grade, maximum-strength chemical peel contains a complex of phytoactive AHA extracts, lactic acid, and fermented plant enzymes. This speeds up the cell renewal process to make your skin firm and reduce fine lines and wrinkles. It contains pumpkin fruit enzyme and rice bran extract that help even out the skin tone by skin resurfacing. The Australian caviar lime extract brightens your skin and makes it radiant.
Pros
Paraben-free
Gluten-free
Cruelty-free
Vegan-friendly
No artificial fragrances and colors
Cons
None
This intensive, at-home chemical peel contains a combination of lactic and salicylic acids and Mucor Miehei extracts (mushroom enzyme). These ingredients exfoliate your skin and improve its texture. This product also contains kaolin clay and activated charcoal that absorb dirt, oil, and impurities and further clarify your skin. This is a non-abrasive and extra-strength exfoliating peel.
Pros
Paraben-free
SLS-free
SLES-free
Formaldehyde-free
Mineral oil-free
No synthetic fragrances
Phthalate-free
Triclocarban-free
Triclosan-free
Oxybenzone-free
Alcohol-free
Petrolatum-free
Gluten-free
Nut-free
Vegan
Nano-free
Cons
This professionally formulated chemical peel contains glycolic acid, an AHA that exfoliates and brightens the skin. It also helps to diminish wrinkles and fine lines and promotes collagen production. It improves the skin texture and makes your skin appear rejuvenated and even-toned. This chemical peel also contains green tea, cucumber, and chamomile extracts that have antibacterial and anti-inflammatory benefits.
Pros
Paraben-free
Gluten-free
Phthalate-free
SLS-free
Cruelty-free
GMP certified
Reduces dark spots
Cons
None
This is a 70% AHA (glycolic acid) peel and is prepared with the assistance of American dermatologists to give you the desired results. It is a mix of vitamins A, C, and E and CoQ10, which claims to remove dead skin cells, boost collagen production, and support skin renewal. It helps to keep the skin firm, reduce the appearance of wrinkles and fine lines, and makes the skin smooth and toned. It also claims to clear acne lesions by clearing the skin pores.
Pros
Developed with dermatologists
Paraben-free
Phthalate-free
Alcohol-free
Non-GMO
100% natural
Cruelty-free
Cons
None
This chemical peel helps to remove excess oil and dead skin cells. It resurfaces your skin and reduces wrinkles, fine lines, blemishes, and acne scars. This pure 7.5% AHA chemical peel contains a blend of glycolic, lactic, and pyruvic acids. The peel is a mild formulation with a pH of 1.5 and can be used daily to keep your skin clean and reduce breakouts.
Pros
Paraben-free
Manufactured in GMP and FDA approved facilities
No fillers
Cruelty-free
Sulfate-free
Cons
None
Lactic acid is the mildest of all AHAs. This at-home chemical peel comes in four different strengths, and you can choose as per your skin tolerance levels. It removes the outer layer of your skin gently and reduces excess oil. It goes deep into your skin pores to unclog them, breaks down the cellular bond between the dead skin cells, and pushes the blackheads out. It also helps to reduce blemishes and makes your skin clear. 
Pros
Non-toxic
No artificial colors
Fragrance-free
No fillers
Reduces pigmentation
Cons
None
This at-home chemical peel by Boscia works in three ways – as a physical peel to slough off the dead skin cells, as a chemical peel that penetrates deep into your skin and provides deep exfoliation, and as a skin treatment to make your skin healthy. It is a lightweight peel with multi-fruit AHAs and pomegranate enzymes that make the skin bright, firm, and youthful. It also contains jojoba extracts to prevent free radical damage and willowherb to calm inflammation.
Pros
Paraben-free
SLS-free
SLES-free
Vegan
Cruelty-free
Gluten-free
Phthalate-free
Mineral oil-free
Formaldehyde-free
No harmful chemicals
Non-irritating
Cons
This is a 2-step skin resurfacing treatment. The kit contains a vitamin C skin resurfacing mask that helps to renew your skin and an AHA peel activator that removes dead skin cells, clears impurities, and brightens the skin. It contains hydrated silica that removes and dissolves excess oil production so that you don't have to scrub your skin. This gentle formula can be used once or twice a week to get smooth and soft skin.
Pros
Paraben-free
Pleasant fragrance
Easy to use
Cons
Contains artificial fragrance and color.
This at-home chemical peel is a blend of glycolic acid, lactic acid, vitamin C, and hyaluronic acid. These ingredients boost the cell turnover rate, exfoliate the skin, and keep it hydrated to prevent irritation. It improves skin texture and reduces hyperpigmentation, acne spots, and scars. Vitamin C helps to tighten the skin pores and brightens the skin.
Pros
Paraben-free
SLS-free
SLES-free
Mineral oil-free
Formaldehyde-free
PEG-free
DEA/MEA/TEA-free
Synthetic dye-free
Petrolatum-free
Cruelty-free
Cons
None
Wondering which at-home chemical peel is the best for you? When it comes to picking a chemical peel for your skin, consider the ingredients as they have different functions, and not all peels will suit every skin type. Stick to these ingredients while choosing one, depending on your skin issue.
How To Pick The Right Chemical Peel For Your Skin
Glycolic and lactic acids are the most common AHAs available. These two AHAs are gentler than BHAs and help to remove dead skin cells without irritating the skin. They are commonly derived from sugary fruits and are beneficial for mild hyperpigmentation, wrinkles, fine lines, and enlarged pores.
You may also check out Trichloroacetic Acid TCA) peels. TCA is related to acetic acid and helps improve your skin texture.
2. Beta-Hydroxy Acid (BHA)
Salicylic acid is the most common BHA. Unlike AHAs, it goes deep into your skin pores and clears dead skin cells, sebum, and dirt. It helps to clear acne and is most suitable for combination and oily skin types.
3. Fruit Enzymes
Fruit enzyme peels help to slough off dead skin cells. They contain fruit enzymes derived from pumpkin, pineapple, and papaya.
It is important to be careful before experimenting with skin acids and chemical peels. Not all acids will suit your skin. Hence, a patch test is recommended. Chemical peels and skin acids increase the sun sensitivity of the skin, so using sun protection is non-negotiable. Also, if you are new to chemical exfoliation, it is better to consult a dermatologist before going ahead with it. Choose a suitable peel from our list of the 19 best at-home chemical peels for smoother and radiant skin.
Frequently Asked Questions
Who is suitable for a chemical peel?
Those with skin issues like pigmentation, freckles, fine lines, and sun damage can try chemical peeling.
Are at-home chemical peels effective?
They are less intense than in-office chemical peels but very effective.
Which chemical peel is the strongest?
Phenol peel is the strongest chemical peel and is meant for deep, severe wrinkles and photo-aging.
Recommended Articles
The following two tabs change content below.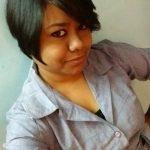 Ramona is a journalist-turned-content writer. She holds a Master's degree in English Literature and has been writing for the digital world for over five years. She specializes in writing for Skin Care. She has done a certificate course titled 'Dermatology: Trip To The Skin', offered by Novosibirsk State University. She believes that beauty begins with a good skin care regimen and is on a mission to eliminate all toxins from her routine. She helps and guides readers in selecting products and ingredients specific to their skin type/issue. When Ramona is not working, her books and passion for music, good food, and traveling keep her busy.