10 Best At-Home Hair Glosses In 2021 For Incredibly Shiny Hair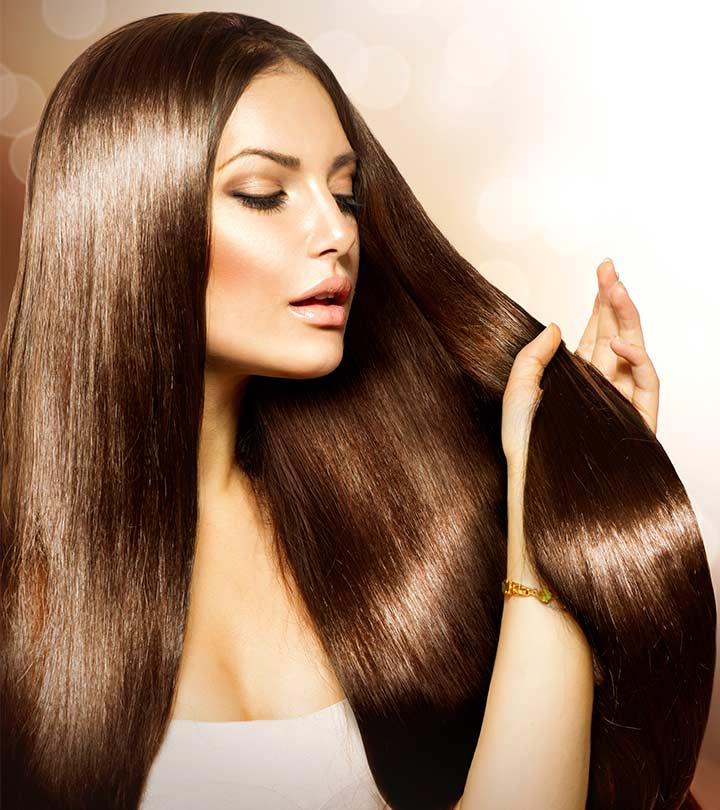 Who doesn't love to flaunt and flick glossy hair? If you are someone who stares in the mirror and cries over dull and boring hair, here's a product that can turn your sorrows into joy – hair gloss! This amazing product is making people all over the world go gaga. Curious to know more about the treatment? Read on.
What Is Hair Gloss?
Hair gloss is a semi-permanent treatment that is often applied between hair dyeing to ensure your color lasts long and stays vibrant. It is used to eliminate dull and brassy tones and calm flyaways and frizz. The formula can be clear or tinted and helps enhance your current hair color.
Hair gloss seals the cuticles and adds a smooth surface with intense shine. It revitalizes dull hair makes it frizz-free that lasts up to 6 weeks. These treatments prevent your hair color from fading and tone it to a darker shade. For example, if your hair color is blonde, a hair gloss adds a golden hue to it and eliminates the grayish overcast.
Let's now look at the 10 best at-home hair glosses you can lay your hands on.
10 Best At-Home Hair Glosses
Pacifica Coco Gloss Shine Serum is enriched with coconut, hemp seed oil, aloe juice that moisturizes and nourishes the hair. It controls frizz and adds shine, making hair look smooth and gorgeous. The gentle formula doesn't weigh hair down, and its coconut smell uplifts the mood instantly. It is free from chemicals and suitable for all hair types.
Pros
Vegan
Cruelty-free
Silicone-free
Paraben-free
Phthalate-free
Suitable for all hair types
Cons
Similar Products

This luxurious in-shower hair gloss enhances your hair color and creates long-lasting shine. This gloss is perfect for enhancing your hair's natural brilliance – whether it is wavy or straight, kinky or curly hair. It comes in five diverse shades that suit your hair color perfectly. The formula is infused with panthenol, pro vitamin B5, and silk proteins that help moisturize and condition your hair. It also claims to keep the brassiness away. Make your hair glitter and glow with this mess-free, color-revitalizing hair gloss.
Pros
Easy to apply
Works on non-colored hair
Delivers quick results
Free of parabens and sulfates
Cons
Similar Products

This hair gloss claims to add long-lasting shine to brown hair in just one use. It replenishes lost shine and gives your hair a fresh look. This gloss treatment adds just the right amount of sheen that you desire without lifting or lightening your hair color.
Pros
Ideal for rough and dull hair
Makes your hair soft and manageable
Does not damage your hair
Free of ammonia and peroxide
Cons
Similar Products

dPHue Color Boosting Gloss claims to deeply enhance your current hair color. It hydrates your hair and leaves it looking soft, shiny, and illuminated. The formula provides you with salon-finish gorgeous hair in just 3 minutes. It contains active pigments that add vibrant and long-lasting color to your hair. This conditioning hair gloss adds sheer golden tones to blonde hair.
Pros
Free of ammonia and peroxide
Adds long-lasting shine
Instant results
Ideal for dry and frizzy hair
Cons
Similar Products

Schwarzkopf's Igora Vibrance Gloss & Tone is a semi-permanent gel color. It is formulated with multi-care technology that helps condition your hair while imparting a mirror-like shine to it. The formula gently tones your current hair color without lifting or lightening it. It is infused with vitamins B3, B5, and C that help deliver intense care and shine for multi-tonal results. It claims to cover 50% of gray strands.
Pros
pH-balanced formula
Protects your hair against damage
Suitable for all hair types
Lasts up to 20 washes
Cons
Similar Products

No products found.
This luminous hair gloss adds instant shine and dimension to your hair. The formula is infused with s-complex, argan oil, and slip mix that help soften each strand, leaving behind a glossy look. This glossifying treatment neutralizes brassy tones and revives your highlights or lowlights in a single process. It claims to add prismatic shine that lasts up to three washes. The formula is light and non-messy.
Pros
Suitable for all hair types
Free of parabens and sulfates
Boosts your hair color to the right amount
Cruelty-free
Cons
This hair gloss is loaded with a lubricating humectant that works inside out to repair and rejuvenate each strand and make your hair silky and shiny. The product claims to restore elasticity and suppleness into the core of your hair when applied. The serum wraps around the exterior portion of hair and forms a crystal clear layer. Intense high gloss is imparted to the sheath to lock down the cuticles and seal the lubricants. This way, your hair color pops, and the texture is transformed.
Pros
Ideal for dull and damaged hair
Reduces breakage and split ends
Tames frizzy hair
Requires less product per use
Cons
This all-in-one hair styling product is a wax, a conditioning treatment, and a pomade that promises to leave your hair incredibly soft and shiny. It adds long-lasting sheen and texture while protecting your hair from humidity and UV rays. This versatile styling product is light and non-greasy. It protects your strands against damage and claims to leave your hair feeling featherlight.
Pros
Deeply conditions your hair
Nice fragrance
Makes your hair more manageable
Doesn't weigh your hair down
Cons
TIGI Color Radiant Gloss is a high-performance demi-permanent crème that claims to deliver tone-on-tone look. It imparts high-intensity shine that lasts up to 20 shampoos. The formula is infused with micro-pigments and oxidation modulars that help you to achieve a blended look. The cream spreads evenly and imparts a vibrant, reflective finish. It a 100% balanced neutral base that masks the smell of ammonia perfectly.
Pros
Allergen-free formula
Nice fragrance
Can be mixed with an activator
Processes quickly
Cons
AG's Hair Texture Gloss is enriched with sea complex technology, an infusion of three naturally derived extracts and seaberry oil. These ingredients are rich in proteins, nutrients, and amino acids. The giant sea kelp strengthens hair and reduces split ends and breakage. Bladder seaweed, Irish moss, and dulse seaweed create a naturally soft texture and help fight dryness and brittleness. The formula contains vitamins A, B, and C, which naturally condition your hair and help maintain a healthy scalp.
Pros
Strengthens hair
Protects hair from environmental toxins
Adds volume to thin hair
Cons
Make people stop in their tracks and look at your hair with these amazing hair glosses. Pick your favorite product, try it out, and let us know how it worked for you in the comments section below.
Recommended Articles