10 Best Hair Glosses For Shiny Hair That You Must Buy In 2023
Get a long-lasting shimmer in your hair instantly with this impressive haircare essential.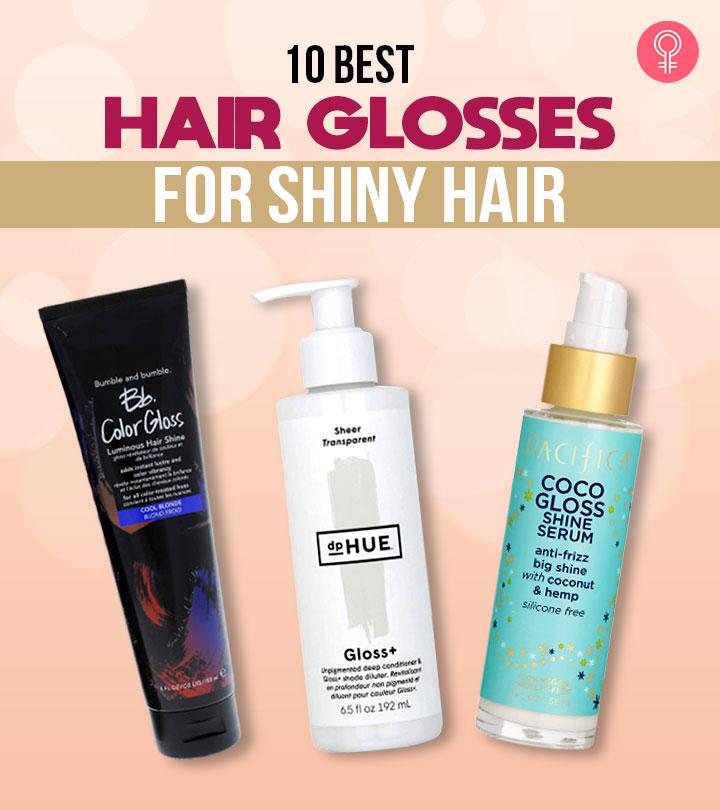 Glossy hair is every girl's life dream but sometimes may feel unattainable. Especially if you love coloring your hair, this dream tends to drift further away as we know how quickly it loses its shine, requiring a salon visit every month. But don't worry, because the best hair gloss for shiny hair is here and has come as your knight in shining armor! They are an easy fix to all your hair woes. Artistic, technical director, and product consultant Steve Waldman, who has been in the beauty industry for more than thirty years, loves hair glosses. He says, "Hair gloss treatments are great to seal the cuticle, lock in moisture, and create a shiny reflective surface to bring your hair color to life." Here is a list of the top hair glosses out there to keep your hair lovely and shining!
10 Best Hair Glosses For Shiny Hair
The New Le Color Gloss by L'Oreal Paris enhances the hair color and tone, boosts shine, and offers deep conditioning. It works on all hair types and textures. The formula has a coconut oil-infused deep conditioning base, which is safe for color and keratin-treated hair. It beautifully enhances and refreshes your hair color tone, and the results last for about 10 days. This toning gloss is an in-shower treatment and takes only 15 minutes to show results and neutralize brassy tones. It is best for refreshing your hair color between salon visits and eliminating red-orange tones to maintain and restore color vibrancy. Go through this video review for a detailed understanding of the product and to know about the reviewer's experience with it.
Pros
Vegan
Sulfate-free
Paraben-free
Phthalate-free
Mineral oil-free
Cons
None

Price at the time of publication: $4.06
The dpHUE Gloss+ is an at-home treatment available in 11 shades – from light blonde to black and strawberry to copper. If you can't find the exact hue of your choice, you can mix a few shades to personalize the color tones. The product contains hydrating ingredients and works as a deep conditioning treatment for natural and color-treated hair. It revives highlights and lowlights and keeps your locks soft, nourished, and shiny.
Check out this video on a tester's experience of using the gloss for a detailed review of the product.
Pros
Paraben-free
Vegan
Ammonia-free
Phthalate-free
Sulfate-free
Gluten-free
Peroxide-free
Cons
May leave your hair brassy
Price at the time of publication: $37
Finish the look of your styled hair with the Giovanni Shine Of The Times High Gloss Hair Mist. It is suitable for all hair types and will not dull or strip color or damage your hair. The formula has a proprietary blend of vitamins, antioxidants, and omega fatty acids that leaves your hair with a gorgeous shine and helps tame frizz and flyaways. Take a look at this video of a reviewer's experience with the product to learn more about it.
Pros
Vegan
Cruelty-free
Sulfate-free
Paraben-free
No artificial colors
Cons
May make your hair greasy
Price at the time of publication: $8.99
The Glaze Sheer Glow Transparent Clear Conditioning Super Gloss is ultra-lightweight and promises to give your damaged hair a makeover! The product is infused with naturally-derived babassu oil and offers irresistibly soft and glossy locks. The formula is transparent and sheer which helps in boosting the color vibrancy for all hair tones, types, and textures. It is suitable to use on blonde and highlighted hair, and also adds instant luster and a brilliant shine. A consumer test demonstrated the product's efficacy with smoother, glossier, and healthier hair. This at-home color treatment instantly adds shine to your hair that lasts for up to ten washes.
Pros
Lightweight
Repairs damaged hair look
Long-lasting shine
Easy to apply
Sulfate-free
Silicone-free
Paraben-free
Ammonia-free
Cruelty-free
Vegan
Cons
May change hair tone slightly
Price at the time of publication: $18
The Kristin Ess Signature Gloss is an in-shower, shine-infusing treatment that boosts hair shine and color vibrancy. It is developed with vibrancy boosting technology that neutralizes warm tones in your color-treated hair by forming a protective shield. In addition, the antioxidant complex in the formula improves manageability, and the alkaline neutralizing system prevents color fading by protecting the hair from water minerals deposits. This hair gloss by Kristin Ess is free of chemicals like ammonia, silicone, and phthalates, is suitable for all hair types, and offers long-lasting results. However, a skin allergy test before applying the product to hair is recommended.
Pros
Ammonia-free
Vegan
Silicone-free
Paraben-free
Phthalate-free
Cons
None
Price at the time of publication: $15
Try the Kenra Platinum Silkening Gloss to get rid of frizziness, flyaway, and coarseness. This shine-enhancing, ultra-lightweight formula instantly adds glossy finish to your hair and tames down baby hair and flyaways. Its gentle formula doesn't weigh the hair down. The gloss offers salon-finished results at home and protects your hair from humidity. Multiple reviewers on Amazon agree that the product makes the hair feel like silk and tames the flyaways to give a sleek finish.
Pros
Tames frizzy hair
Promotes optimum shine
Conditioning formula
Anti-humidity formula
Cons
Not suitable for fine hair
Price at the time of publication: $21.19
The Alterna My Hair My Canvas Glow For It Universal Gloss is lightweight and helps condition your hair. It seals moisture to combat frizz, improve shine, and make your hair appear nourished. It helps in color-enhancing and works for most hair types and offers heat protection up to 450°F. The formula is enriched with prickly pear oil that leaves a silky finish and white charcoal that protects your hair from pollutants, as revealed in laboratory testing using pollution particles.
Pros
Lightweight
Vegan
Offers heat protection
Tames frizz
Sulfate-free
Animal test-free
Cons
Price at the time of publication: $26
The XMONDO Hair Super Gloss Intensive Glossing Treatment helps in boosting shine, strengthening hair along with restoring and revitalizing hair's texture. This hairdresser-tested product delivers high-impact shine along with bond building technology for healthier and glossier hair.
It contains protein blends along with photoluminescent components that help revitalize hair and boost shine. Protein blend strengthens and revitalizes dry and damaged hair, while bond builders help in supporting and restoring damaged hair fibers. It also contains passion fruit and kiwi extracts that are rich in antioxidants to improve shine and prevent hair from splitting and breaking. Several reviews online mention the product gives the hair a silky smooth texture and incredible shine.
Pros
Boosts shine
Strengthens hair
Revitalizes hair texture
Controls damage
Prevents breakage
Antioxidant properties
Gluten-free
Sulfate-free
Paraben-free
Cruelty-free
Vegan
Easy to use
Cons
Price at the time of publication: $25
Just like a top coat does for your nails, the IGK Expensive Amla Oil Hi-Shine Topcoat adds intense color and shine to your hair. It nourishes, strengthens, and softens your hair after color treatments. The nourishing formula is enriched with amla oil, a natural hair conditioner that strengthens your hair and controls frizz, making your tresses smooth and gorgeous. It also contains sea kelp extract to prevent damage caused by external aggressors, sunflower seed oil for long-lasting softness, and glycerin to revive your hair. The gloss is suitable for all hair types.
Pros
Safe for chemically treated hair
Color-safe formula
UV protection
Vegan
Cruelty-free
Mineral oil-free
Paraben-free
Sulfate-free
Gluten-free
Cons
None
Price at the time of publication: $32
The Maxxam High Tech Hair Gloss helps enhance the natural shine of your hair. This thermal protectant gloss has silicone that boosts shine and protects your hair from environmental and heat damage. This gloss helps tame frizz and minimize flyaways without leaving any sticky residue.
Pros
Residue-free
Cruelty-free
Works well on wigs
Cons
None
Price at the time of publication: $16.99
Hair glosses help to add shine and vibrancy to your strands. They also boost hair's health and protect its actual color. Here are the important points to consider before buying the best glosses for shiny, smooth, and silky hair.
Things to Consider Before Buying Best Hair Glosses for Shiny Hair
Your hair gloss should impart shine to the strands. It should also protect hair from sun rays, UV radiation, external pollutants, and dust. The hair polish should hydrate the hair, keep strands smooth, be gentle and not cause any irritation. The gloss should eliminate frizz, split ends, and roughness to give you shiny, smooth, and gorgeous-looking hair.
The best hair shiners come with rich natural components. These include vitamins, glycerin, omega fatty acids, aloe vera, and shea butter to moisturize and nourish your hair and scalp. The serum should also contain essential oils like amla, sunflower, argan, and coconut that give long-lasting shine. In addition, some hair glossers include sea kelp extract and fenugreek that protect the scalp and strands from external polluters and thermal damage.
Avoid hair gloss containing chemical additives. They can result in irritation on your scalp and thinning of hair strands. Instead, go for serums and gels that don't contain paraben, SLS, silicone, phthalate, sulfate, and aluminum. Many glosses are also free from mineral oil, peroxide, and ammonia, ensuring no side effects after regular use.
The hair shiner should offer deep conditioning and moisturization to your hair. Moreover, the hydration should be long-lasting. The hair gloss must suit all hair types. Ensure that your hair shiner is safe for chemically treated and keratin-treated hair. It should also work well on wigs without harming their textures. Finally, it should give salon-like results in the comfort of your home.
Many people prefer hair glosses that come in multiple shades. It helps to enhance the natural hair color while adding shine to your strands. Use hair shiners that are budget-friendly, easy to apply, and give natural-looking results. In addition, it should have a pleasant scent that uplifts the mood instantly and delivers instant shine.
Read on to know more about them and pick one from our list of the best hair glosses.
What Is Hair Gloss?
Hair gloss is a semi-permanent treatment often applied between hair dyeing to ensure your color lasts long and stays vibrant. It is used to eliminate dull and brassy tones and calm flyaways and frizz. The formula can be clear or tinted and helps enhance your current hair color.
Hair gloss seals the cuticles to smoothen the hair surface and make it shiny. It revitalizes dull hair and makes it frizz-free that lasts up to six weeks. In addition, this treatment prevents hair color fading.
Types Of Hair Gloss
Hair glosses are of two types:
Clear Gloss: This type of hair gloss has a sheer or clear formula. It aims to boost shine and not to deposit or retouch the existing hair color.
Tinted Gloss: Colored hair glosses have a subtle tint and are available in different shades. They remove brassiness, enhance the color intensity of your hair, and boost shine.
Hair gloss treatments are beneficial when you miss your salon appointment or don't have time for it. Some other significant benefits are mentioned in the next section.
Benefits Of Hair Gloss
Maintains color and improves results over time
Prevents color fading
Corrects brassiness
Adds shine
Condition the hair
Here are some tips on how to apply a hair gloss.
How To Apply A Hair Gloss
Shampoo your hair and rinse it thoroughly.
Take the required amount of your favorite hair gloss and apply it evenly throughout your hair.
Waldman suggests, "After applying your treatment according to the manufacturer's instructions, wrap your hair in a towel or use a cap to retain body heat. This will help the treatment penetrate your cuticle layers more effectively. Before rinsing, remove the towel or cap and allow your hair to cool to room temperature. This will lock in all the beneficial ingredients, ensuring amazing results."
Leave the product on for the period mentioned by the manufacturer.
Wash off the hair gloss and condition your hair.
Rinse your hair thoroughly with water.
Dry your hair and style as usual.
Why Trust StyleCraze?
Oyendrila Kanjilal, the author, is a hair care enthusiast who loves to try various products that promote hair appearance and shine. She has gone through several reviews and extensive customer feedback in various health and beauty forums to curate this list of the best hair glosses for smooth and shiny hair. These hair glosses not only add that silky, smooth shine to your hair but also help protect it from various environmental stressors.
Frequently Asked Questions
Does gloss change hair color?
No. A hair gloss can help revive the shade of your hair color and make it vibrant and shiny.
Is hair gloss good for your hair?
Yes, hair glosses deep condition and nourish your hair to minimize damage and improve your hair texture.
Is a gloss different from a glaze?
Yes. A hair glaze is a semi-permanent color or dye, while a hair gloss is a treatment to remove brassiness, improve vibrancy, and extend the life of your hair color.
How long does a gloss last on hair?
At-home hair gloss treatment lasts between one to four weeks on your hair.
When should I use hair gloss?
Use a hair gloss when your hair color is starting to fade. Apply the gloss every four to six weeks.
What do hair glosses do for your hair?
Hair glosses penetrate your hair shaft and condition it. They tame the frizz, protect the color from fading, and neutralize brassy tones.
Recommended Articles