13 Best At-Home Keratin Treatments For Frizz-Free, Smooth Hair
Get rid of those frizzy strands in a professional way from the comfort of your home.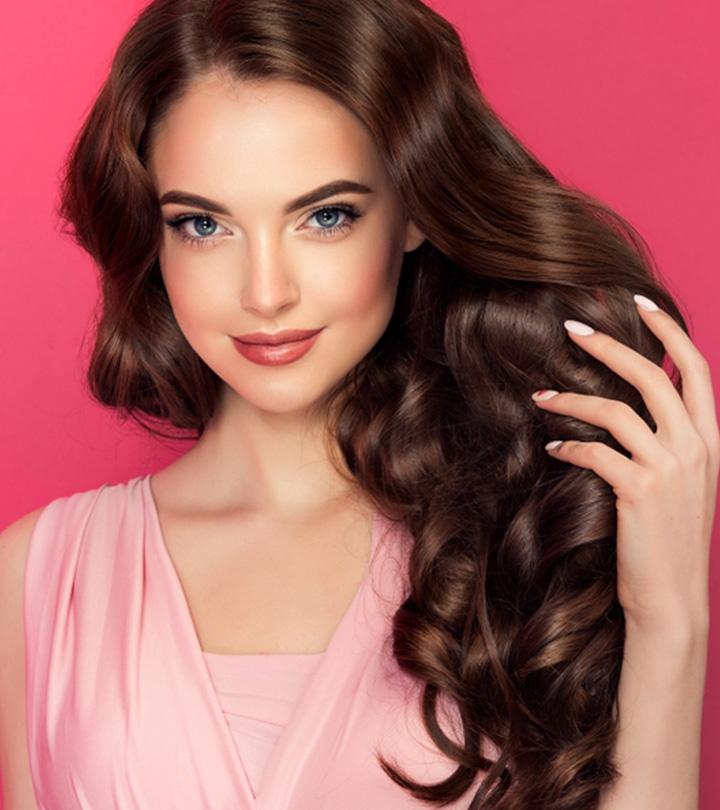 Keratin treatment is a godsend to people with frizzy and unruly hair. However, a professional salon-based keratin treatment is sure to cost you dearly. So what is the next best thing to do? Look up the internet for the best at-home keratin treatment products. Because let's just wrap our heads around the fact that you're not going to go running to the salon and spend hundreds of dollars every time you have a bad hair day.
Thanks to scientific advancement in the beauty and personal care sector, major brands can now make keratin-based products in the form of serums and shampoos that you can use at home. With so many brands advertising to you, it is easy to become confused. To help you out, we've made a list of the top 13 at-home keratin treatment products for you to choose from.
Top 13 Best At-Home Keratin Treatment Products To Buy In 2023
Tired of frizzy hair and split ends? Give yourself a keratin hair treatment at home with this hair mask that is perfect for dry, damaged, and fine hair. Its moisturizing properties will make your hair static-free and silky without the split ends. This hair mask also prevents hair breakage and works on chemically-treated hair, including permed and relaxed hair. The result is fuller, bouncy, and beautiful tresses. Keratin adds a layer of powerful protein on each strand, making your hair more flexible. Additionally, this mask has not been tested on animals, which makes it ideal for those looking for cruelty-free options. Apply this hair mask on damp shampooed hair and massage thoroughly before wrapping your hair with a towel. Rinse with lukewarm water after 5 to 10 minutes.
Pros
Non-oily
Cruelty-free
Long-lasting hydration
Suitable for both men and women
Free of alcohol, paraben, and sulfate
Cons
Some may not like the strong odor.
Get silky, smooth, and healthy hair with this easy-to-use leave-in keratin spray that works great as a hair straightening treatment. Once you begin using this spray, you will experience the benefits of keratin instantly. This formula seeps deep into your hair's roots and helps rebuild your damaged, dry tresses. It also restores the hydration balance and replaces the lost protein while defrizzing and adding shine to your hair. This keratin hair treatment revitalizes your unruly hair and makes it healthier with every application. Use this spray on damp hair or shampoo-washed hair for better results. This is the best and quick way to detangle and treat your hair at home. To understand the nuances of the product in detail, you can check out this review. detailing a tester's experience.
Pros
Lightweight
Sun protection
Travel-friendly
Value for money
Suitable for all hair types
Cons
Is your hair damaging from the effects of heat? Try this keratin smoothing hair treatment that protects your hair from heat damage and smoothes your hair cuticle. This thermally activated smoothing hair treatment seals in moisture and locks out humidity to lend you silky and strong hair. This protein releasing method eliminates scalp and hair impurities and balances the oils to strengthen your hair. Its frizz-free and smooth results have made it a must-buy for many reviewers.
Pros
Portable
Affordable
Gluten-free
Free of paraben and sulfate
Tea tree and peppermint scent
Cons
May make your hair slightly greasy
Get instant shine and silkiness with this keratin hair spray that treats weak, over-processed, and fragile hair. If your hair is prone to breakage and lacks smoothness, this leave-in spray will revitalize your tresses and provide moisture. Also, this formula will make your scalp clean, and give you nourished and manageable hair. Apply this spray on damp conditioned hair and style it as you desire. You can use a blow dryer or styling iron without worrying about the heat damaging your tresses as this keratin hair treatment spray is thermal-activated. Thus, the heat will not have any adverse effect; instead, it will give your hair a smooth, shiny finish.
Pros
Durable
Lightweight
Paraben-free
Frizz-free hair
Easy application
Cons
Hair may feel stiff if applied on unwashed dry hair
Enhance the effects of keratin with this hair mask that contains pentanol, which helps in achieving 3 times better straightening results and protects your hair from heat, breakage, and chemical or environmental changes. This keratin hair treatment smoothens your tresses on application, adding protein to each strand and restoring the elasticity, moisture, and natural shine of your hair. Reviewers recommend this hair mask for people whose tresses have undergone straightening treatments and who frequently style their hair using a blow dryer or ceramic hair straightener. Give your hair the required structure by applying this mask after hair wash. It will also help detangle and style your tresses effortlessly.
Pros
Cruelty-free
Easy to use
Paraben-free
Long-lasting result
Sodium chloride-free salt
Cons
May have an unpleasant smell
Want to give your hair a professional keratin treatment at the comfort of your home? Then this Brazilian keratin hair treatment is perfect for you as it instantly smoothens, straightens, conditions, repairs, and strengthens your hair for 4 to 6 months. It is a deep conditioning solution that restores your hair's elasticity and natural shine. This keratin treatment also includes coconut oil, argan oil, amino acid complexes, and protein that help lock in moisture to achieve shinier and healthier tresses. The application process may take up to 90-150 minutes and should be done in a well-ventilated area. Also, you need a blow dryer, flat iron, shampoo, and comb for the process. Check out this YouTuber's review to know more about the tester's experience of using this product.
Pros
High-quality
Fast-drying
Easy to style
Removes frizz
Suitable for all hair types
Cons
Tame your frizzy hair with at-home keratin treatment using this keratin oil that provides nourishment to your hair, making it bouncy and voluminous. This hair product will make your hair smooth and silky, thanks to the powerful protein, keratin. It also contains acai fruit oil, babassu kernel oil, Abyssinian flower oil, and coffee seed oil, which adds sheen and wonderful fragrance to your hair. Now you can achieve salon-like hair at home with this easy-to-use keratin oil, which is also packed with antioxidants. It smoothes your hair cuticle, locks in moisture, and protects your beautiful tresses from heat or pollution. Furthermore, the product is favored by ethically conscious consumers because it has not been tested on animals. You can also check this video out for a brief review of the tester's experience of using this product.
Pros
Durable
Lightweight
UV protection
Travel-friendly
Super drying power
Cons
Treat your damaged, dry, color-treated, unmanageable hair with this keratin hair treatment that intensely conditions, repairs, and protects your unruly tresses. This hair mask adds keratin protein and awapuhi extract to each strand, delivering shine, moisture, and hydration while also improving your hair texture in no time. With an irresistible fragrance of floral, ginger, and lemon, this keratin treatment brings life to your hair. Apply this mask weekly, leave it on your hair for 3 to 5 minutes after shampooing your tresses, and then wrap a warm towel for deep conditioning.
Pros
Portable
Lightweight
Easy to use
Long-lasting
Thermally activated
Cons
Some may find it slightly sticky.
Protect your hair against humidity and frizz with each blow-dry using this keratin hair treatment cream that moisturizes every strand. Recommended and used by professionals, this hair cream smoothens and hydrates your hair, making it easier to heat style. Along with keratin, this hair product also contains nourishing ingredients like rosemary leaf extracts, hydrolyzed wheat protein, and soy proteins, which remove frizz and strengthen your tresses.
Pros
Lightweight
Travel-friendly
Convenient to use
Suitable for all hair types
Cons
Want a formaldehyde-free hair treatment? Go for this incredible keratin hair treatment that locks in moisture and repels humidity, giving your hair a strong, smooth, and shiny appearance. With thermal protectant properties, this hair product protects your tresses from the effects of heat styling tools. It contains argan oil, Trametes versicolor extract, and hydrolyzed keratin protein that protect your locks from harmful UV rays, smooth out the cuticles, and seal the hair shaft. This lightweight keratin hair cream can be applied after hair wash to achieve detangled silky soft hair.
Pros
Frizz-free
Non-greasy
Lightweight
No harsh chemicals
Perfect for all hair types
Cons
May not work properly if you let your hair air dry
Get salon-like smoothing treatment in just 24 hours with this keratin-enriched product that removes curl and frizz instantly without weighing your hair down. You can now flaunt your shiny, soft hair for 4 months as the effect after a single application of this hair conditioner lasts that long. This amber-infused formulation conditions, strengthens and relaxes your locks while smoothing the cuticles and eliminating humidity. Suitable for all hair types, you can apply and wash this formula on the same day to achieve stronger and rejuvenated hair.
Pros
Lightweight
Non-greasy
Easy to use
No harmful chemicals
Suitable for both men and women
Cons
Protect your hair against heat damage for 7 days with this keratin hair treatment product equipped with thermal technology. It smoothes your hair cuticle, locks in moisture, and keeps out the humidity, helping you achieve stronger and shinier tresses. This keratin-enriched hair product balances the oiliness and eliminates hair impurities. This treatment works best on damp hair, and after the application, you can blow-dry or use styling iron on your strands for long-lasting results.
Pros
Portable
Frizz-free
Easy to use
Value for money
Suitable for all hair types and textures
Cons
May not be entirely lightweight
Restore the natural shine of your tresses with this keratin hair mask that will lend your hair its structure in 10 minutes. Now you can style your hair effortlessly without any hassle or wasting time and money on salon treatments. This hair treatment will give you the same result as you would have achieved by a professional. Infused with collagen, keratin, and biotin, this hair treatment will revitalize your dry and heat-damaged hair, and prevent split ends. This treatment keeps the natural nutrient intact, providing nourishment to your scalp. Apply it on shampooed hair, leave it for 5-10 minutes, and rinse off with warm water to achieve flawless results.
Pros
Non-greasy
Sun protection factor
Paraben-free
Sodium chloride-free
Perfect for all hair tones and types
Cons
You may not be able to wash off the entire product in one go.
Before making a decision, go through our buying guide to pick the right one.
How To Choose At-Home Keratin Treatment Products
Thermal activated: While choosing an at-home keratin treatment product, choose ones that are thermally activated. These smoothing treatment products will not damage your hair when you use a blow dryer or any heat styling iron.
Sun protection: You always need protection against the harmful UV rays, whether for your skin or hair. These keratin treatments protect your tresses from the sun and other harmful environmental effects.
Locks in moisture: Pick a product that nourishes and hydrates your hair. Also, the product should keep out humidity while locking in the moisture.
No harsh chemicals: Your at-home keratin treatment products should not contain any harmful chemicals as they may damage your hair and make it worse.
Why Trust StyleCraze?
The author of this article, Kirtana Divakar, is a hair care enthusiast who loves to try out new products. This list has been put together by her after carefully researching for the best at-home keratin treatment products. She has browsed through many online reviews and user feedback to curate the perfect list for her ardent readers. The list includes non-oily and cruelty-free keratin treatment products, which are perfectly suitable for everyone.
Frequently Asked Questions
Is keratin treatment good for your hair?
Yes. Keratin treatment is good for your hair as long as it does not contain any harmful chemicals.
Does keratin cause hair loss?
Keratin is a powerful protein that nourishes your hair and does not generally cause hair loss.
Does keratin thicken hair?
Yes, keratin thickens hair. The keratin amino complex strengthens the hair and adds volume to your hair to make it fuller and bouncy.
Does hair grow after keratin treatment?
When you add keratin to the already existing natural oil in your hair, then yes, keratin treatment can aid in hair growth.
Is keratin bad for curly hair?
No, keratin is suitable for all hair types and textures, straight, wavy, curly, and coily hair or African American hair, including even 4C hair. It will not damage your natural hair no matter whether you have straight or textured hair; instead, it will make them firmer and smoother.
Can keratin treatment damage hair?
No. Keratin treatment is done to repair your damaged hair.
How long does an at-home keratin treatment last?
An at-home keratin treatment should last for 4 to 6 months. The staying power varies from brand to brand.