15 Best At-Home Microdermabrasion Kits & Products Of 2023
Skincare tools for flawless skin that makes heads turn and gets you endless compliments.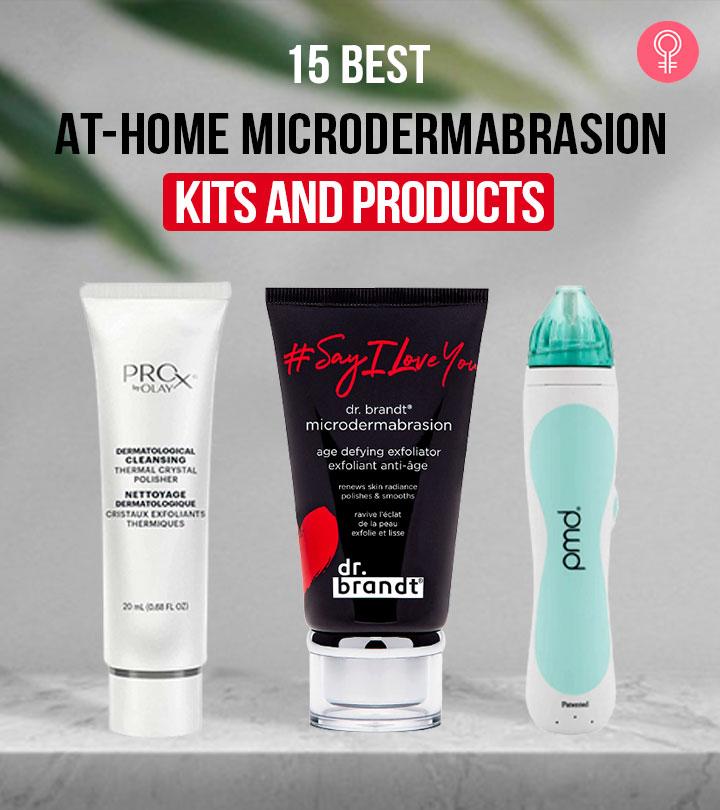 Gone are the days when you needed to book several appointments at the salon for a microdermabrasion treatment. Now that you can get your hands on the best at-home microdermabrasion kits, what's the use of such hassle? Leveling up your exfoliation game has never been more convenient. When your skin is not healthy and clean, no amount of concealer or foundation can make up for it. That's why microdermabrasion is a must to achieve that glowing skin! A popular treatment that gets rid of dead skin cells from the surface of your skin effectively, microdermabrasion is simple, easy, and cost-effective. Most salons have a professional aesthetician to do the job, but you can quickly get it done at home with the help of a kit. Easy-peasy, right? We have lined up some of our top picks for microdermabrasion kits for you to choose from. Take your pick and get glowing skin at home!
What Is Microdermabrasion And How It Works?
Microdermabrasion is a practical, quick, machine-assisted, and painless cosmetic treatment for your skin with minimal risks. It gently exfoliates the surface layers of the skin using abrasion and suction. This non-invasive skin rejuvenation procedure uses micro-crystals or minute diamond-studded tips to rub your skin and vacuum suction to eliminate the dead skin cells. The recovery is rapid compared to other invasive methods like dermabrasion, chemical peeling, and laser resurfacing.
As the device runs on your skin to remove the uppermost layer, your body interprets it as an injury. To quickly help that area recover from injury, your body tries to produce new and healthy skin cells so that you get fresh and vibrant skin. The whole process takes around 30 minutes. Microdermabrasion improves skin conditions like early photoaging (sun damage), reduces pore size, age spots, fine lines, and acne. Your skin becomes noticeably smoother after just one treatment. You can repeat this treatment every 3-4 weeks for optimal results.
Before getting any skincare products or treatment, the most crucial question to ask is whether it is appropriate for your skin. Read on to see if microdermabrasion is safe for your skin.
Is Microdermabrasion Safe For Your Skin?
Microdermabrasion is a safe and effective procedure for all skin types. The treatment uses exfoliating crystals that are very fine and won't cause any damage to your skin. In addition, microdermabrasion requires no incisions or anesthesia, so there's no risk of scarring or infection.
It is a painless treatment and takes less than an hour. You can see visible results right after your first treatment. However, additional treatments may be necessary to help you maximize the benefits of this procedure.
So, if you're looking for a safe, effective way to boost your skin's vibrancy, get your at-home microdermabrasion treatment kit now!
Now, let's have a look at the 15 best microdermabrasion kits and products!
Best At-Home Microdermabrasion Kits And Products
If you are a beginner on a budget, this microdermabrasion kit by Neutrogena is the best in the market. The kit includes a microdermabrasion applicator and 12 rejuvenation single-use puffs. Each puff is pre-dosed with ultra-fine crystals. The applicator uses micro-vibrations to boost skin renewal, leading to firmer, brighter, and healthier-looking skin over time. Use it thrice a week to see a noticeable improvement in your skin. This video will provide you with added insights about the product.
Pros
Easy to use
Affordable
Suitable for sensitive skin
Clinically proven
Travel-friendly
Cons
None
Price at the time of publication: $19.99
The Microderm GLO is created by award-winning dermatologists. It is an easy-to-use and clinically proven device. It comes with two interchangeable tips – one is the premium blackhead remover suction tip, and the other is the fine blackhead remover suction tip. The kit also includes a cleansing brush and 20 filter replacement packs. It helps to unclog and clean enlarged  pores and to minimize their sizes. This tool also helps to rebuild collagen and elastin and minimizes the appearance of wrinkles. In addition, it offers medical-grade diamond exfoliation and makes your skin tight and healthy.
Pros
Created by dermatologists
Easy to use
Easy to clean
Safe for all skin types
Waterproof
Portable
Cons
Might not be long-lasting
Might not be effective for some
Price at the time of publication: $39.99
The Olay Prox Microdermabrasion Kit includes a Facial Cleansing Brush, Microdermabrasion Foam Head, Thermal Crystal Polisher, and Exfoliating Renewal Cleanser. It claims to exfoliate 700% better and visibly brightens the skin. The Thermal Crystal Polisher helps eliminate dull skin and reveals smooth and radiant skin. The 3-speed settings deep cleanse your skin gently. The Facial Cleansing Brush is made of soft fiber that removes stubborn makeup. You can use this 2-in-1 system for daily facial cleansing. Use the slowest speed for daily gentle cleansing, or try the daily deep cleansing speed for a deep clean. For microdermabrasion treatment, pair the Thermal Crystal Polisher with the Foam Brush head. Use the microdermabrasion set up twice a week on non-consecutive days.
Pros
Designed by dermatologists
3-speed settings
Water-resistant brush
Claims to show results in 5 days
Cons
Price at the time of publication: $27.77
This at-home microdermabrasion machine by Newdermo diminishes scars, pores, blackheads, and wrinkles. It comes with five replacement tips – diamond tip to exfoliate the delicate facial areas and promote cell regeneration; fine diamond tip to exfoliate small areas of the face like nose and mouth; large suction tip to unclog pores, helps oily skin by removing excess oil, impurities, and blackheads; small suction tip to remove a small amount of oil and impurities; and elliptical suction tip to massage and lift your skin. Its one-button design has three adjustable suction levels.
Pros
Offers clinically proven results
Easy to use
Portable
Safe for all skin types
Cons
Price at the time of publication: $45.99
The Personal Microderm Classic reveals your vibrant and radiant complexion through an easy series of treatments. Instead of a conventional diamond-tipped style handset, this design features spinning disks with calibrated vacuum suction. There are two caps – one meant for facials, and the other is the larger one designed for your body. Weekly treatments efficiently reduce fine lines, wrinkles, blemishes, and pores. If you're new to microdermabrasion, this one by PMD is the one you should go for. It shows results in about 8-12 weeks. Also, this is one of the best home microdermabrasion kit for beginners
Pros
Easy to use
Compact
Value for money
Suitable for sensitive skin
Cons
None
Price at the time of publication: $119.25
If you want to get rid of all the dullness, roughness, wrinkles, and acne spots from the comfort of your own home, try out the Derma. E Essentials Microdermabrasion Scrub. It is enriched with detoxifying Dead Sea Salt and a fine-textured crystal blend that eliminates the look of fine lines, wrinkles, and acne scars. In addition, natural astringents like lime, lemon peel, and antioxidants like grape seed and vitamin E re-textures skin, leaving it soft, smooth, and younger-looking. This scrub is gentle enough for everyday use.
Pros
For everyday use
Vegan
Cruelty-free
Non-GMO
Cons
None
Price at the time of publication: $19.97
Are machines and tools intimidating for you? Then get this microdermabrasion treatment. It is a lightweight, age-defying exfoliator that buffs away all the dead skin cells. It has skin brightening and smoothing properties that helps the skin feel rejuvenated and nourished. In addition, the formula is infused with pharmaceutical-grade crystals that help to smooth the appearance of wrinkles and fine lines.
Pros
Lightweight
Suitable for all skin types
Hypoallergenic
Sulfate-free
Paraben-free
Phthalate-free
Dermatologist tested
Cons
Price at the time of publication: $35.0
Prevent sudden embarrassing breakouts with the Vanity Planet Exfora Facial Microdermabrasion Wand at home. The wand reduces wrinkles and fine lines while focusing on an even and bright skin tone. The at-home microdermabrasion system is designed to exfoliate your skin, promote blood circulation, and remove impurities that clog your pores. It also helps acne-prone skin by controlling acne and blackhead breakouts. It comes with a charging base, USB cord, normal head, fine head, body head, massage head, upkeep brush, filters, and rubber gaskets to use and keep it in its best condition. The heads of the wand are made of medical-grade, diamond-encrusted material, making it suitable for all skin types. The kit comes with a smart screen that displays the time left in the 4-minute treatment process, along with the status of the 3 types of suction strength, battery charge, and time per zone for better exfoliation.
Pros
Even exfoliation
Brighten dark skin tones
Controls acne breakouts
Easy to use
Portable
Suitable for every skin type
Cons
None
Price at the time of publication: $80
If you want to try microdermabrasion for the sole purpose of treating clogged pores, you need to try this skin resurfacing tool. This rechargeable microdermabrasion device by Spa Sciences is perfect for skin rejuvenation. It effectively improves the appearance of fine lines and wrinkles. The kit includes a rejuvenating tip to remove dead skin cells and rough patches. The extraction tips, available in different sizes, detoxify pores on the chin, cheeks, and forehead. It also includes a USB rechargeable battery which makes this device travel-friendly. In addition, it has five-speed settings so that you can customize the treatment according to your convenience.
Pros
Travel-friendly
Ergonomic design
Recommended by dermatologists
Cons
None
Price at the time of publication: $29
With the Appolus Professional Microderm,you don't need to go to your spa professionals anymore! Created with high-quality materials, this is the closest you can get to spa-like results at home. It exfoliates your skin gently and removes all the pigmentation, dead skin cells, and blemishes. The device includes six heads – one diamond head for exfoliation; a large diamond head for body, knees, and elbows; a precise diamond head for the under-eye area; a round head for easy suction of blackheads and whiteheads; an oval head to get rid of fine lines; and lastly a blu-ray head to shrink pores and reduce blackheads. This professional dermabrasion machine has three suction levels, and you can choose a level depending on the thickness of your skin. Use it once or twice a week to get the desired results.
Pros
Customizable suction force
Professional-grade results
Reduces hyperpigmentation
Cons
Price at the time of publication: $49.0
This revolutionary tool combines gentle microdermabrasion exfoliation with vacuum stimulation to fix all your skin concerns. The tool is lightweight and easy to handle. It has three diamond tips- precision diamond, fine diamond, and coarse diamond. It is excellent for age spots, blemishes, and acne scars. The gentle exfoliation improves your skin texture and elasticity in no time.
Pros
Easy to use
Suitable for all skin types
Dual voltage
Value for money
Cons
None
Price at the time of publication: $99.0
The Diamondbuff Facial Microdermabrasion is the ultimate secret to give you younger-looking skin. It works like a magic wand to eliminate all skin imperfections and leave your skin feeling smooth and radiant. It helps in stimulating the production of new skin cells, collagen, and elastin. This microdermabrasion tool helps to minimize the appearance of fine lines and wrinkles while improving the texture of your skin.
Pros
Easy to use
Dermatologist recommended
Travel-friendly
Cons
None
Price at the time of publication: $69.99
This handheld microdermabrasion machine by Kelly West has two diamond caps and a 360° swiveling head so that you can use it on the hard-to-reach areas. This lightweight device has two intensity levels demonstrated visually by LEDs. It provides the best skin exfoliation and rejuvenation to reduce dry skin. The two attachments have diamond tips – the finer one is meant for your face and the large, coarser one for your body. The coarser tip can also be used to remove calluses from your feet. The kit includes a thin travel pouch, replacement filters, a set of beauty tweezers, comprehensive instructions, and good aftercare advice.
Pros
360° head rotation
Comes with a travel pouch
Lightweight
Easy to use
Cons
None
Price at the time of publication: $59.99
This product by NuBrilliance is one of the most popular microdermabrasion machines in the market. Along with a diamond tip, this machine also has five different levels of suction power and three types of tips. In addition, you can customize your treatment based on your skin type and sensitivity. On the flip side, although you get a 3-year warranty, the machine looks and feels very plasticky and fragile.
Pros
Easy to use
Diamond tip
Lightweight
Suitable for sensitive skin
Cons
Price at the time of publication: $224.1
Younger and smoother-looking skin is easily achievable with the Trophy Skin Mini MD Microdermabrasion System. This tool buffs away all the dead skin cells, improves skin texture, tone, and helps to reveal a youthful complexion. Continuous use of this device also minimizes the appearance of age spots, wrinkles, and fine lines. In addition, it has diamond tips for safe exfoliation with two suction levels so that you can focus on the areas of your face and neck.
Pros
Easy to use
Fixes uneven skin tone
Compact design
FDA-approved
Cons
None
Price at the time of publication: $64.99
These were the top 15 microdermabrasion kits and products that you can use at home. However, before making the right purchase, you need to know the correct way to use an at-home microdermabrasion tool. Here are the steps!
How To Use An At-Home Microdermabrasion Tool
Cleanse your face thoroughly with a gentle cleanser before starting the microdermabrasion treatment.
Prepare your microdermabrasion tool. Choose the appropriate tip and the suction level that would exfoliate your skin properly. If you have sensitive skin, it is recommended that you go ahead with the lowest speed setting.
Hold your microdermabrasion tool like a pencil, press the flat tip, and smoothly glide it across your face.
After completing the microdermabrasion treatment, you'll notice dead skin particles on the device. Remove the diamond tip, remove the filter, dust off any dead skin particles, and put in a replacement filter to prep your tool for the subsequent treatment.
Splash your face with water to get rid of any remaining dead skin particles. Avoid using harsh cleansers because your skin might already be irritated from the treatment.
Soothe your freshly exfoliated skin with a calming serum and a thick moisturizer. This will keep your skin nourished and healthy.
When it comes to at-home microdermabrasion machines, there is not one-size-fits-all. What suits your skin type may not work for someone else. So, before picking one, consider the following things!
What Should You Look For When Buying A Microdermabrasion Machine – Buying Guide
Quality
The primary factor you need to consider before buying an at-home microdermabrasion kit is to make sure that it is of good quality and is durable. Consider the materials it is made from, whether it is travel-friendly, if the treatment caps are made of durable stainless steel, and if it has a hard case to protect it.
Suction Power
Choose a microdermabrasion machine that has at least two suction settings. This is because some areas require gentler treatment, such as around your eyes, while places like your nose may require a bit more pressure. Therefore, a machine with only one setting may not be suitable for every area of your skin.
Tip Material
Microdermabrasion tips with diamond heads are the most popular tip design because it is straightforward to clean while giving you gentle exfoliation. In addition, there are some types of crystals, for example, aluminum oxide crystals, which can also offer effective exfoliation. Most microdermabrasion tools have more than one tip size for different areas or a selection of other tips which you can use for additional requirements.
Display
Do you want your microdermabrasion machine to guide you through the procedure? Microdermabrasion machines with LCD screens may be more extensive and bulkier than those without, but they can help you get the best results.
User-Friendly
All the machines in our list are user-friendly. So whether you want a chunky handheld device or you prefer a pen-sized wand, pick the one that you find best suited for your needs.
Results
Before buying a machine for your microdermabrasion at home, do consider the results you want. It can significantly improve your complexion and tone up your skin. But you need to be patient because even the best microdermabrasion machine won't eliminate wrinkles and scars overnight. It will take some time to show visible results.
Why Trust StyleCraze?
The author, Oyendrila Kanjilal, is a certified skin care coach. She has conducted thorough research to highlight different aspects of microdermabrasion in the article. She carefully reviewed the products to prepare the list of the best at-home microdermabrasion kits available on the market.
Frequently Asked Questions
How often should you use PMD Personal Microderm?
You can use PMD Personal Microderm once every 7 days.
How long do PMD discs last?
Each PMD disc should last for at least 3-4 uses.
Does PMD microdermabrasion remove blackheads?
Yes, PMD microdermabrasion can effectively remove blackheads.
Can I use my PMD Clean in the shower?
PMD Clean is waterproof, so you can easily use it in the shower.
How long does PMD Clean last?
The PMD Clean should last for at least 2-3 months.
Can you use a PMD Clean Body on your face?
Yes, you can use a PMD Clean Body on your face.
Who shouldn't use microdermabrasion?
People who have severe skin issues or diseases should refrain from going for a microdermabrasion treatment. It should also be avoided if you are on acne medications.
Which is better: crystal or diamond microdermabrasion?
Though both offer effective exfoliation, diamond microdermabrasion is a better option. Diamond microdermabrasion is best for soft skin, while crystal microdermabrasion shows better results for the hard-to-reach areas.
What should I put on my face after microdermabrasion?
You should use a thick moisturizer or a facial serum after microdermabrasion.
Is it OK to wear makeup after microdermabrasion?
No, you should not wear makeup immediately after microdermabrasion treatment. Instead, allow your skin to heal for at least 24 hours before applying makeup.
What should I avoid after microdermabrasion?
Avoid scratching or picking at the treatment area, using any harsh chemicals, rubbing, or tanning your skin for at least one week after the procedure. Also, avoid facial waxing, the use of depilatory creams, electrolysis, IPL, or any other laser procedure for at least two weeks after your treatment.
Recommended Articles
Microdermabrasion For Acne Scars: Everything You Need To Know