11 Best Athlete's Foot Creams That Are Antifungal – 2022
The most soothing and comforting formulations to treat this painful foot condition.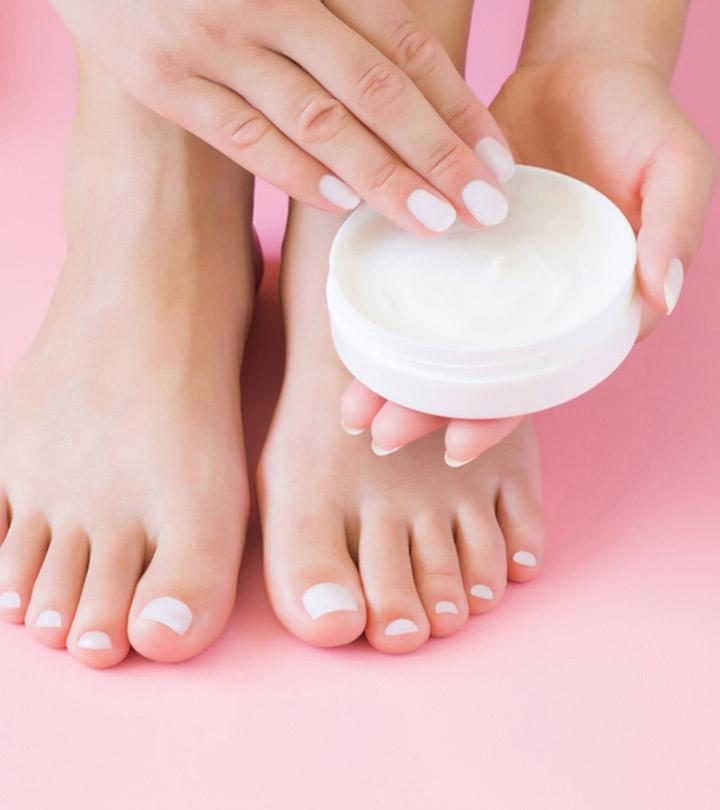 Athlete's foot is a common skin condition that can be off-putting. It is also known as tinea pedis in the medical community, and it is caused by a fungal infection that can cover your foot with rashes and make it swell. As it is painful and serious, the quickest and safest way to treat this condition is to use the best athlete's foot cream.
Athlete's foot is highly infectious, and it can be contracted from the swimming pool, gyms, and any moist place that allows the fungus to thrive. Yup, your sweaty shoes in sneakers are the perfect breeding ground for the fungus to grow! It is highly recommended that you clean your feet and let them dry out to avoid this infection. But if the infection develops and causes serious pain, consult a doctor and buy an athlete's foot cream to get rid of the fungus swiftly and efficiently. Here is our list of the top athlete's foot creams you can purchase online. Scroll down to check them out!
What Is An Athlete's Foot?
Athlete's foot is a skin condition associated with fungal infection. It begins between the toes and turns into a scaly rash causing burning and itching. In severe cases, the problem is accompanied by blisters or ulcers. There is another form of this foot infection called moccasin that usually involves dryness and scaling of soles. People who have sweaty feet are susceptible to this infection. The condition is contagious and should be treated as soon as possible. Other than this, coming into contact with contaminated surfaces like shoes, towels can also cause athlete's foot.
11 Best Athlete's Foot Cream To Treat Dry, Itchy Skin In 2022
With butenafine hydrochloride 1% as its active ingredient, the Lotrimin Ultra Antifungal Foot Cream is one of the strongest antifungal creams available in the market. It starts showing results from day one and offers relief from initial itching, redness, and cracking of skin. Other than the athlete's feet, it also helps you get relief from other infections like ringworm and jock itch. Lotrimin athlete's foot cream is easy to apply and must be applied twice daily between the toes.
Pros
Non-greasy
Odorless
Non-staining
Cures scaling
Cons
May not be safe for children under 12 years
When looking for an effective medication for athlete's foot, this is a product you can rely upon with your eyes closed. It helps you get rid of the fungus and lends freshness to your feet. Not only does it target athlete's feet, it is also great at relieving skin fungus, ringworm, jock itch, and nail fungus. It has clotrimazole as its active ingredient, which is known for its effective defense against fungal infections. The cream tackles itchiness, cracking and scaling. For best results, use it after cleansing the affected area with warm water and patting it dry. Apply a thin layer of this cream on the affected area twice a week for quick results.
Pros
Easy to use
Quick absorbing
Tackles skin irritations
Reduces burning sensation
Cons
May not be effective for nail fungus
Itchy, cracked skin infections can cause dreading discomfort. Soothing dry skin and healing an athlete's foot simultaneously is the solution we all look for. This Remedy Tea Tree Oil Balm is a potential formula enriched with essential oils and other organic, natural ingredients to reduce your athlete's foot symptoms like dryness, redness, rashes, inflammation, etc. Tea tree, eucalyptus, and lavender deeply cleanse the skin, soothe it, and moisturize it, leaving it itch-free, supple, and healthy. It is also effective at eliminating odor. With no harsh chemicals, it is suitable for all skin types and conditions.
Pros
Non-greasy
Paraben-free
Alcohol-free
Sulfate-free
Suitable for various skin types and conditions
Cons
Change conclusion before "How To Choose An Athlete's Foot Cream?" – Now that we've taken a look at the 11 best athlete's foot creams available in the market in 2022, it's time to take a quick look at this buying guide to make an informed choice.
Are you someone who is always looking for products with natural ingredients for all your body issues? If yes, this is one of the most powerful natural athlete's foot creams that you need to give a try. It contains aloe vera, turmeric, apple cider vinegar, grapefruit seed extract, and licorice extract that counter fungus and keep your feet squeaky clean. The cream serves as a mild skin treatment that is nourishing and soothing. The Bioveco Antifungal Cream acts on the fungus and provides relief from any sort of cracking, itching, or scaliness. It has no side effects and is suitable for all types of skin.
Pros
Organic ingredients
Non-greasy texture
Fast-absorbing formula
Suitable for sensitive skin
Cons
Needs to be applied frequently
Emuaid brings to you the ideal homeopathic ointment that offers quick and effective results. It is a cream that penetrates your nails and skin deeply, forcing bacteria and infections to leave your skin, while calming inflammation and redness. Thus, it offers relief from both the symptoms and the main fungal infection. It contains tea tree oil, vitamin E, and bacillus ferment that is highly effective at fighting infections. Since the product shows no harmful side effects, it is considered one of the best athlete's foot treatments.
Pros
Contains plant-based oils
No side effects
Powerful healing ingredients
Safe and natural homeopathic formula
Cons
May not show results instantly
A strong formula that helps you get rid of athlete's foot fast is something we all look for. This foot finish ointments is one such formula. It is one of the best antifungal creams for athlete's foot that fights fungus and accelerates the healing process and also takes care of common bacterial infections. The cream is formulated with a blend of essential oils like tea tree oil, rose oil, eucalyptus oil, and lavender oil that beat the fungus naturally. Tea tree oil helps fight infections, lavender oil soothes irritations, eucalyptus oil and rose oil works as natural antiseptics. Altogether, these ingredients help in relieving pain and eliminating foot odor.
Pros
Soothes discomfort
Natural antiseptic
Refreshes feet
Moisturizing ingredients
Cons
May not be ideal for all types of fungal issues
Made with organic ingredients, this tea tree balm is an all-natural formula for combating infectious athlete's foot. It contains tea tree oil that moisturizes the skin and helps treat toenail fungus and athlete's foot. The formula is ideal for preventing numerous fungal infections. Other ingredients of this unique formula include vitamin E, aloe vera, jojoba oil, glycerine, and olive oil that keep the skin fresh. Jojoba oil is immensely moisturizing and aloe vera softens the dry scales on the skin. Tea tree oil also helps in reducing fungal infections and reducing skin irritations.
Pros
Tackles foot odor
Quick action
Nourishes the skin
Hydrates damaged skin
Cons
Some may find the scent slightly overpowering
Say goodbye to itching, inflammation, and burning sensation with the RX Skin Care Rx Anti-Fungal No. 1. This cream provides quick relief from jock itch, cracked feet, athlete's foot, ringworm, nail fungus, dermatitis, and irritation. It has antiseptic and antimicrobial properties that protect your skin and offer relief from swelling and itching. The vitamin C and vitamin E infused in the cream protect your feet against blisters and bruises. In addition, the cream is effective in dealing with dryness, flakes, rashes, and itchiness.
Pros
Dermatologically tested
Moisturizing
Non-sticky
Cons
May have an unpleasant scent
Getting a reliable treatment for an athlete's foot can be a challenging task. People usually look for a prescription-strength cream so that the results are attained at a faster rate. One such powerful cream for an athlete's foot is this one from Lamisil AT. It helps in reducing the symptoms of athlete's foot like redness, inflammation, and burning, etc. It contains terbinafine hydrochloride, which is believed to be a strong ingredient in countering fungal infections. With no steroids in it, this cream works really well if you use it consistently.
Pros
Effective formula
Heals skin
Reduces itching
Relieves cracking
Cons
Not meant for nails or scalp
As the name suggests, this cream for athlete's feet contains tolnaftate in it, which is considered a fantastic antifungal agent. It can reduce redness and burning sensation and also helps you get rid of the dry scales on your feet and minimizes itchiness. You can also use it to deal with jock's itch and ringworm. The application is really simple. Just wash your feet and pat them dry. Apply the cream on the affected area and repeat the process for best results.
Pros
Softens skin
Long-lasting formula
Budget-friendly
Absorbs quickly
Cons
Some may find the formula slightly sticky and messy
This is a unique blend of tea tree oil, peppermint oil, aloe vera, and vitamin E. It helps you get rid of fungal infections like athlete's foot and also tackles skin irritations effectively. The cream soothes damaged skin and heals blisters, sores, or split skin. The tea tree and peppermint oil eliminates sweating, foot odor, and reduces fungal infections. Aloe vera in the formula keeps the skin soft and nourished, while vitamin E improves the quality of the skin. It also helps in making the feet free of any sort of dryness or itchiness.
Pros
Quick results
Gentle formula
Lightweight
Doesn't clog pores
Cons
Some may find the smell slightly unpleasant
Now that we've taken a look at the 10 best athlete's foot creams available in the market in 2022, it's time to take a quick look at this buying guide to make an informed choice.
How To Choose An Athlete's Foot Cream?
Always look for the product that suits your infection appropriately. For example, if your infection is severe, choose powders that can keep your feet dry for longer durations. Creams on the other hand relieve symptoms immediately and can be easily absorbed in the skin. Such products are useful when applied before going to bed. So, keep these points in mind before choosing athlete's foot cream so as to suit them as per your schedule.
Ingredients like terbinafine hydrochloride, clotrimazole, and miconazole nitrate are highly effective at countering athlete's foot. So, whenever you choose the best cream for athlete's foot, make sure to check these ingredients in the formula. Natural ingredients like tea tree oil, aloe vera, and neem oil are also effective at relieving symptoms of athlete's foot. If you are someone who likes naturally formulated athlete's foot cream, check for these ingredients.
How To Use An Athlete's Foot Cream?
Using a cream for athlete's foot is really simple. Follow these steps daily for healthy and soft skin:
Wash the affected area with soap and water
Dry your feet completely before applying the foot cream
Apply the cream on the affected area
Wash hands after use
Always wear well-ventilated shoes
Change your socks daily
Why Trust StyleCraze?
Kirtana Divakar has a passion for reviewing skincare products. She has checked through numerous athlete's foot creams online to shortlist the best available options. She based her choices on user reviews and product formulations. While reviewing each cream on the shortlist, she has included the pros and cons of the product and discussed in detail why and how the cream works.
Frequently Asked Questions
How long does it take for an athlete's foot cream to work?
It typically takes 4 to 7 days for an athlete's foot cream to work. If the infection is severe, it might take longer than the usual period.
Is an athlete's foot cream good for ringworm?
Athlete's foot and ringworm both are results of fungal infections. A cream that suits an athlete's foot cream is good for ringworm as the infection is the same but in different body places. However, not all creams formulated for athlete's feet are well-suited for ringworm.
Recommended Articles