15 Best Athletic Socks For Women For Every Kind Of Workout – 2023
Let's be honest, if the socks are not comfortable and cushiony, you can't exercise happily.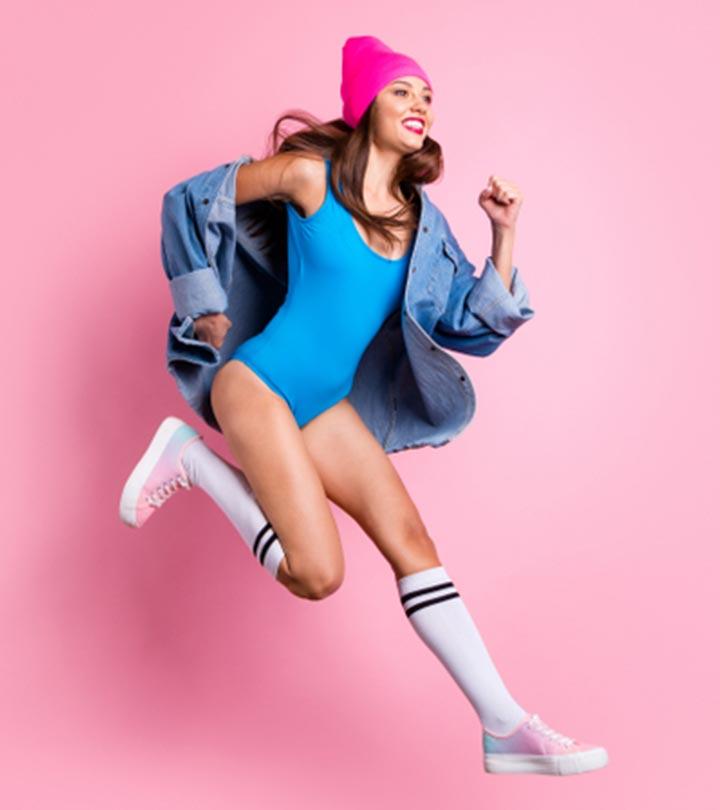 Women athletes curate their wardrobes based on comfort. The best athletic socks for women are one of the must-have essentials. These socks protect the feet from blisters while keeping stinky, sweaty, or itchy feet at bay.
Buying a pair of athletic socks is a challenging task as it depends on various factors based on fit, cushioning, and material. And no doubt, if the rest of your sports gear is trendy, make no room to let yourself down by your socks.
Even if you aren't an athlete, you surely know how important it is to keep your feet soft and supple. These socks prevent you from slipping, getting you blisters, and untidy calluses on your feet. These socks provide utmost comfort, solid grip, stability, and moisture control in the shoe. Today, there is a wide collection of athletic socks available in the market that claim to keep your feet safe and soft. If you want to enjoy the benefits of the best athletic socks without compromising on your style quotient at all, then check out the reviews of the 15 best athletic socks for women below!
What Are Athletic Socks?
Athletic socks are socks that are used for physical activity, like gym workouts, sports, running, or any other form of exercise. These socks provide support, moisture control, cushioning, comfort, stability, and provide a good grip within the shoe. To a large extent they decide how long you can continue your workout without succumbing to a blister, having your feet slip in your shoes, or having stinky feet. They have cushioning on the high-impact areas of the foot like the heel and toe so that you can comfortably complete your workout.
15 Best Athletic Socks For Women In 2023 For Comfort And Style
These women's no show athletic socks not only look fabulous but feel great too.They are made from 98% polyester and 2% spandex and are a perfect combination of comfort and support. Great for the toughest training sessions, their heel tab design gives added protection and comfort while the reinforced tabs help with arch support for an improved and snug fit. The socks are also made with air mesh ventilation technology for breathability that helps control foot sweat and odor. Their targeted zone cushioning in the high-impact areas prevents injuries, and its toe seam reduces irritation. They are washable in a machine without losing their shape. These athletic socks for women do a great job of accommodating the female athlete's foot. They don't slip down and prevent blisters caused by repeated impact. The thickness of the sock is suitable for all weathers and maintains a good fit. So great ready for that workout!
Pros
No-show socks
Machine washable
Made from 98% polyester and 2% spandex
Air mesh ventilation technology
Targeted zone cushioning
Cons
Might only fit larger feet
Price at the time of publication: $27.99
If you have been searching for the best athletic socks, this product comes in a pack of 6 pairs of athletic ankle socks for women, and is made of 88.3% combed cotton, 10.7% polyester, and 1% spandex. They have good air permeability and moisture wicking performance which keep your feet dry and protected all day long. The sole is cushioned and the toes are seamless, made of thicker yarn for extra durability and comfort. Mesh ventilation enhances breathability and prevents sweating and odor. They feature compression in the arch to offer protection when you walk, jog, and run, and the elastic cuff tab prevents the socks from slipping down.
Pros
Seamless toes
High density knitting
Sweat ventilation
Machine washable
Arch support
Cons
Price at the time of publication: $14.95
The Amazon Essentials Women's Athletic Crew Socks are made of superior-quality 30% polyester and 62% cotton fabrics, suitable for all athletes and gym enthusiasts. It supports the arch to provide a cloud-like feeling to your toes and heels, preventing foot fatigue. It is lightweight and comes in versatile colors and sizes to suit all feet sizes. The 6-pair socks are designed for superior ventilation while retaining feet moisture.
Pros
Lightweight
Machine washable
Good arch support
Breathable
Cons
Price at the time of publication: $15.2
Do you keep running out of socks before laundry day? This product comes in a 10-pair value pack of women's athletic crew socks that offer you comfort, softness, and value. These athletic socks for women are a blend of 83% cotton, 16% polyester, and 1% spandex. They have a reinforced heel and toes for extra durability and are made to last. A full cushioned sole provides all day comfort, and spandex throughout means a superior fit while their seamless toes add to the comfort quotient. Their moisture wicking fabric helps to keep your feet cool and dry. They are available in shoe sizes 5 to 9 and 8 to 12 and can be washed in a machine. These EcoSmart socks are sustainably made with a portion of recycled fibers, so what's stopping you?
Pros
Cushioned sole
Seamless toes
EcoSmart socks
Moisture wicking fabric
Reinforced heel and toes
Cons
Some may find the texture too thin
Price at the time of publication: $6.59
Spend a lot of time on your feet comfortable with the FORMEU Cushion Socks' extra cushion and elastic arch support. The low-cut quarter socks are made of 16% polyester, 80% cotton, 1% spandex, and 3% nylon, making them suitable for repeated machine washes. These are breathable and moisture-wicking to keep your feet dry for a prolonged period, especially during outdoor activities. The ribbed cuff lets you feel secure by preventing the sock from sliding down.
Pros
Machine washable
Breathable mesh
Moisture-wicking fabric
Elastic arch support
Ribbed cuff
Durable
Cons
None
Price at the time of publication: $11.99
The white and gray Airacker Athletic Socks are made of 67.7% polyester, 18.8% rubber and 13.5% spandex. They have moisture-wicking functions that keep your feet moisturized, odorless, and dry. The breathable socks offer better support, durability, and softness through soft plush sole cushion, mesh top design, and elastic arch support. Wear these socks daily and feel comfortable and secure during your fitness activities without worrying about them slipping down.
Pros
Moisture-wicking function
Breathable
No skin irritation
Elastic arch support
Soft plush sole cushion
Cons
None
Price at the time of publication: $19.99
If you like colorful socks to brighten up your workout clothes, these are just the socks for you! These low-cut athletic socks come in a set of 12 pairs of socks and are made of 95% polyester, 3% elastane, and 2% spandex. The cushioned sole of these socks provide extra comfort and enhance performance. The elastic in the arch gives added support, and stability for a good fit. They also come with a mesh insert for moisture management to improve breathability and help your feet keep cool and fresh. The heel tab gives extra comfort and protection to the Achilles tendon and prevents the socks from slipping down.
Pros
Cushioned sole
Arch elastic
Heel tab
Air mesh ventilation
Cons
Might fray at seams after washing
Price at the time of publication: $17.99
Run mile after mile comfortably with the Balega Athletic Running Socks, made of extra-fine yarn. The pair offers a protective plush cushion with high-volume impact resistance. It is made of moisture-wicking fabric, keeping your feet dry throughout the workout routine. The unisex socks are made of 84% drynamix polyester, 3% neofil, 11% nylon, and 2% elastane. The running socks maximize comfort with reinforced toes, high heel tab, and extra-deep heel pockets that prevent slipping inside your shoes and reduce the risk of blisters.
Pros
Moisture-wicking fabric
Available in different colors and patterns
Extra-deep heel pocket
Unisex
Non-slipping
Cons
None
Price at the time of publication: $15.99
These athletic socks for women can definitely brighten up your day as they come in a pack of 12 multicolored pairs and are made of 95% polyester and 5% spandex. They fit shoe sizes 6 to 10 and have a thickly cushioned sole for ultra comfort. They also come with a mesh insert for moisture management and breathability, and help to keep your feet cool and non-smelly. The arch compression provides added support and stability for a comfy fit. These socks are ideal for workouts, runs, and all kinds of athletic and sports activities, so it's time to get going!
Pros
Cushioned sole
Arch compression
Made of polyester and spandex
Mesh insert for ventilation
Cons
Don't have a no-slip cuff
Price at the time of publication: $19.99
If you are looking for a pair of comfortable and quality everyday socks, the adidas Women's Athletic Cushioned Crew Socks are perfect. The sporty ribbed cuffs offer a secure fit while cushioning your toes and heels, preventing socks from slipping down. These are made of 97% polyester and 3% spandex, which makes them just the right amount of stretchable and feet-hugging. The moisture-wicking yarn helps you keep your feet dry and prevent sweaty, stinky feet.
Pros
Machine washable
Moisture-wicking yarn
Secure fit
Adequate arch compression
Cons
Price at the time of publication: $16
Boost your athletic performance with the high-knitting technology of the MONFOOT Running Athletic Cushioned Socks. The fabric contains a blend of 98% polyester and 2% spandex with run-dry moisture control properties. The ultra-soft cushioned sole, heel tab, and arch support offer you stability and moisturized feet for a prolonged period. It gives you the feeling of fresh new socks after every machine wash. In addition, the seamless toe seam prevents foot fatigue, blisters, and friction during running or walking.
Pros
High-knitting technology
98% polyester and 2% spandex
Run-dry moisture control
Ultra-soft cushioned sole
Unisex
Arch support
Cons
None
Price at the time of publication: $19.97
Get all-day comfort with the Nautica Women's Athletic Low Cut Socks made of 95% polyester and 5% spandex. They have dri-motion moisture-management properties that keep your feet sweat-free and dry. Hence, they prevent any malodor from developing inside your shoes. The reinforced seams, breathable mesh, and stay-up cuffs let you feel free and comfortable during any movement.
Pros
Breathable mesh
Dri-motion moisture-management
Machine washable
Stay-up cuffs
Comfortable grip
Cons
None
Price at the time of publication: $21.99
If you want to add to your sporty look, these no-show tab socks are durable and suitable for all kinds of sports activities. These athletic no-show socks feature zone specific, targeted compression, and an anatomical design, creating a unique, custom fit that reduces the risk of blisters. The tab at the back of the socks protects the heel cup, and the seamless toes prevent irritation, and ensure a comfortable blister-free and moisture-free experience. Superior and advanced synthetic moisture wicking fibers are used in these socks which keep your feet cool and dry. The lycra in the socks may contract when exposed to water and heat in the wash, but they have incredible recovery and stretch back to their original size after the wash.
Pros
Anatomical design
No-show socks
Zone specific compression
Seamless toes
Moisture wicking
Cons
Some may not be satisfied with its cushioning.
Price at the time of publication: $18
These athletic socks for women are made of state-of-the-art, blended synthetic, moisture wicking fabrics that allow your foot to breathe, provide necessary support, and contour to the shape of each specific foot. They contain 50% nylon, 14% lycra spandex, 23% wick poly, and 13% cotton to make them extra comfy. Its seamless toe closure and padded instep allows for complete range of movement and provides abrasion protection. The moisture wicking, lightweight mesh which has hydrophobic nylon provides superior ventilation and comfort. Extra cushioning on the heel provides extra relief to pads and heel while supporting the Achilles tendon and metatarsals to help prevent bruising and pain during high impact activities.
Pros
Moisture wicking
Synthetic blended fabric
Seamless toes
Padded instep
Cushioned heel
Cons
Some may find them tight around the ankles
Price at the time of publication: $7.95
Look no further as these athletic socks for women come in a pack of 6 pairs, and are made with high quality moisture management, blended wicking yarn for maximum softness and comfort. These soft, thick, and luxurious socks provide the perfect balance of cushioning and comfort. Made from 80% cotton, 18% polyester, and 2% spandex, they stay fresh and dry through all your workouts. They are designed with a top mesh ventilation for maximum airflow to keep your feet cool and dry, and their targeted arch compression keeps your arch stable and secure. The heal tab protects your feet from chafing and blisters. Its soft terry cushioned sole is designed for maximum comfort.
Pros
Easy machine wash
Heel tab to prevent blisters
High performance yarn blend
Elastic support band
Soft terry cushioned sole
Moisture wicking
Mesh ventilation
Arch compression
Cons
May get fuzzy after a while
Price at the time of publication: $13.95
Now that you have been through our review of the 15 best athletic socks for women in 2023, let us summarize the styles of athletic socks that are available for your choosing.
Women's Athletic Sock Styles
These socks are generally not visible when worn with shoes as they just cover the base of your foot.
Ankle or low cut athletic socks
These socks end close to the ankle and are helpful in preventing blisters from forming during your workout.
They are generally 6 to 8 inches in length and are in a unisex style. These types of socks are generally preferable during winters.
Calf length athletic socks
Calf-length athletic socks are longer than crew length athletic socks and offer more protection and coverage than them.
Now that you are clear about the styles available in athletic socks for women, let us give you a few tips on what to keep in mind while choosing them for yourself, so that your workout becomes an experience in itself.
How To Choose Athletic Socks For Women
Moisture absorption and breathability are essential for socks that are used for any kind of sportswear. If you are the kind who sweats a lot, do avoid 100% cotton socks and instead go for a synthetic material like polyurethane, polypropylene, or wool to help wick moisture. Cotton socks trap sweat and odor while synthetic fabrics or wool keep your feet cool and dry as they wick moisture. Acrylic socks are known to be better than cotton ones while running, as they keep blisters away. Wool socks preserve heat even when wet, making it ideal for hikers. Also, cotton socks are made of absorbent hydrophilic fibers, which cause them to lose their shape and may lead to skin irritation.
Your athletic socks need to fit tight enough so that they don't slip, and yet should be loose enough that they don't leave marks on your skin or restrict your toes. Also, switch up the height and thickness of the sock, depending on the weather and what you are most comfortable with.
Cushioning provides support and makes the socks more comfortable. Cushioning in the forefoot, arch, and heel, will push your through everything from running to spinning to lifting.
Supportive, comfortable workout socks are essential to keep blisters away and also prevent stinky, sweaty feet. Seamless socks or those with a well-designed seam will reduce friction and prevent chafing and blisters. Tabs are also great for protection from slipping, blisters, and chafing.
Why Trust StyleCraze?
Priyam Gupta, the author, is an ardent fashion enthusiast. She knows that finding comfortable athletic socks does not mean they cannot be fashionable. This is why she browsed through many product reviews to bring you the list of recommendations. These stylish socks have been selected based on cushioning support, durable material, ventilation, arch support, and more. Say goodbye to nasty blisters, stinky feet, and slippery socks with these athletic socks.
Frequently Asked Questions
Are workout socks and athletic socks the same?
Yes, they are considered to be the same, but it's also true that some socks that are more suited for a specific type of workout or running.
Can athletic socks be too tight for a runner?
When using athletic socks, you shouldn't rely on shoe or foot size but buy what feels comfortable. Socks that are too tight would prevent blood flow. On the other hand, socks that are too loose won't offer any of the benefits for which they are bought.
What are athletic socks called?
Athletic socks are also known as sports socks.
Why are athletic socks so thick?
Athletic socks are thicker to provide the athlete with better cushioning and arch support.
Is it better to run with thick or thin socks?
If you want your legs to be comfortable and protected, then wear thick socks and for better breathability, wear thin socks.
Are athletic socks worth it?
Athletic socks are worth it for every sport where players need to wear shoes and protect their feet from injuries. These socks are breathable and keep your feet from stinking after heavy exercises.
Should you wash socks before first use?
Yes, you can wash these socks before wearing them for the first time to reduce the chemical scent from them.
Recommended Articles