8 Best Attars Available In India – Top Picks For 2021
Indulge yourself in heavenly fragrances for the ultimate dose of confidence.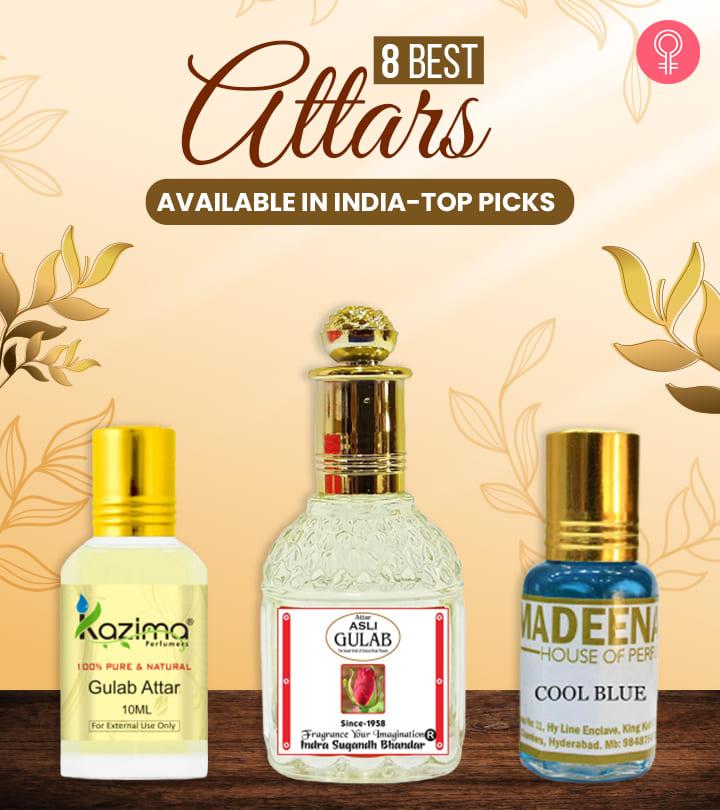 Attar, also known as ittar, refers to a sweet perfume oil from botanical sources. This prized scent of tradition from the Orient traces its history to the Persian physician Ibn Sina, who first used the hydro-distillation method to create enchanting fragrances. If you want to indulge in this mesmerizing aroma, then you have arrived at the right place. In this article, we have curated a list of the 8 best attars available in India. Scroll down and take your pick!
8 Best Attars In India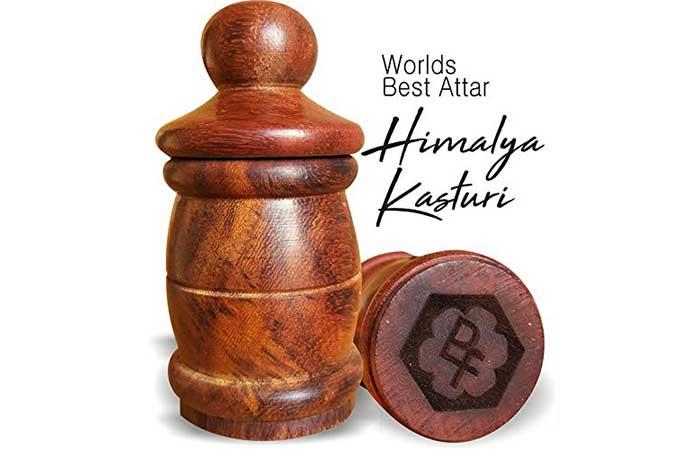 The Himalayan Kasturi Attar by Parag Fragrances comes in a beautiful wooden handcrafted bottle. It is double filtered and is processed with natural extracts. The scent stays on for up to 8 – 10 hours. It has a sweet, pleasant scent, ideal for summers.
Pros
Long-lasting
Alcohol-free
Soothing
Value for money
Cons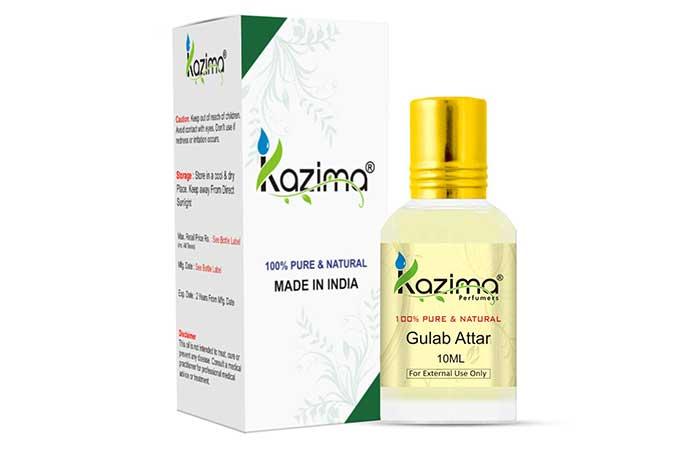 The Gulab Attar by Kazima Perfumers is made with 100% pure and natural ingredients. This charming, sensual, and warm fragrance brings vibrancy with a spicy floral quality. The divine notes of this attar uplift your mood and are perfect for both men and women. This long-lasting scent lingers for up to 12 hours.
Pros
Long-lasting
Sweet fragrance
100% natural
Non-toxic
Alcohol-free
Cons
None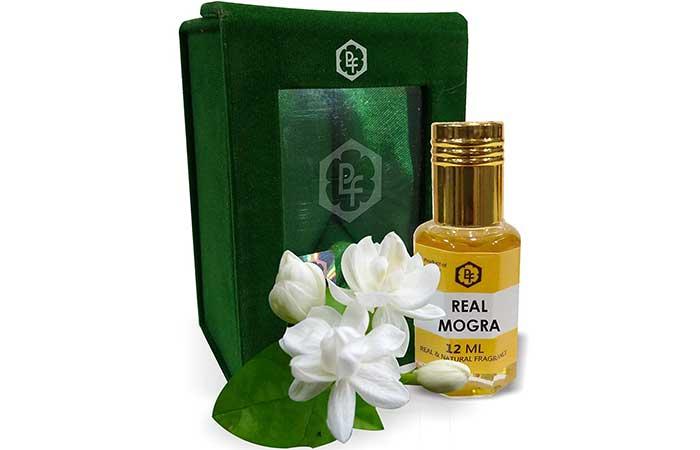 The Real Mogra from Parag Fragrances keeps your mood refreshed and offers a pleasant fragrance. This premium quality attar has a delightful jasmine scent with woody undertones. It comes in a beautiful see-through crystal container encased in a velvet box, ideal for gifting.
Pros
Long-lasting
Alcohol-free
Value for money
Cons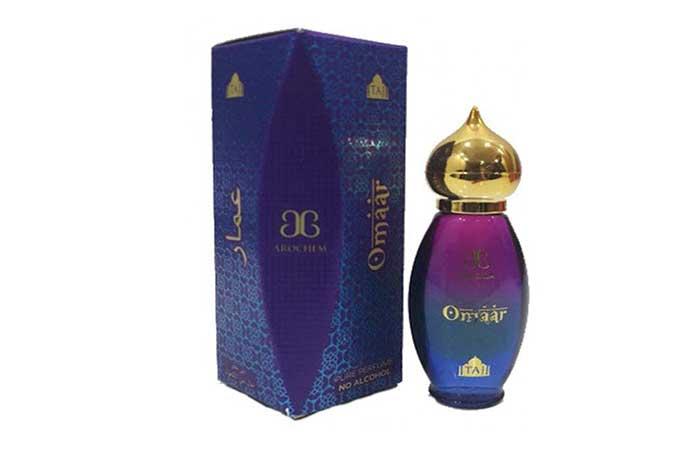 The Arochem Omaar Attar looks like a statement piece right out of an Aladdin movie! The freshness and warmth of this attar makes it suitable for all occasions. It is filled with the aromatic scent of spices, flower essence, herbs, musk, and sandal oil that leaves your senses revitalized. This concentrated attar is safe on the skin and does not contain alcohol.
Pros
Non-toxic
Alcohol-free
Unisex
Cons
Not long-lasting
Overpowering musk smell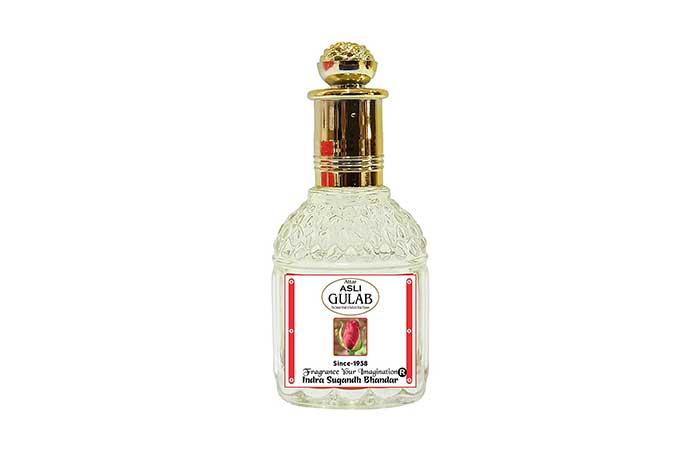 The Asli Gulab Attar by Indra Sugandh Bhandar is a long-lasting divine fragrance enriched with real roses. This formulation is a mixture of ayurvedic and herbal scents that refines your senses. It is encased in a beautifully engraved crystal bottle with a golden topper for an added touch of royalty.
Pros
Long-lasting
Non-irritating
Value for money
Cons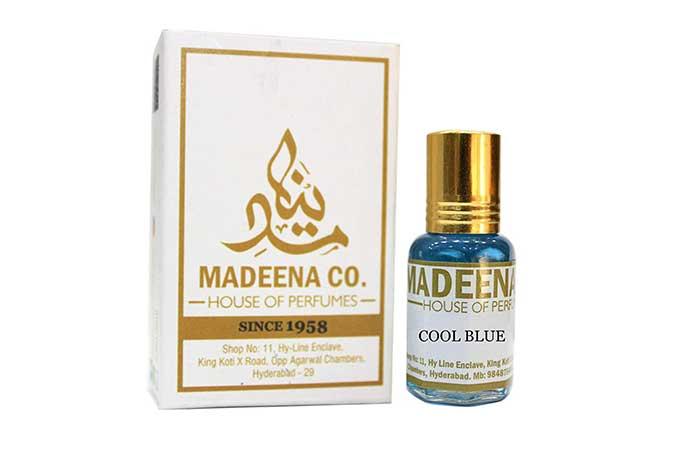 Madeena Co. House of Perfumes – Cool Blue offers a sweet and woody scent that lingers throughout the day. The brand has been one of the leading manufacturers of attars for over 60 years. The attar is slightly blue-hued and is ideal for both men and women.
Pros
Non-staining
Long-lasting
Non-irritating
Alcohol-free
Cons
None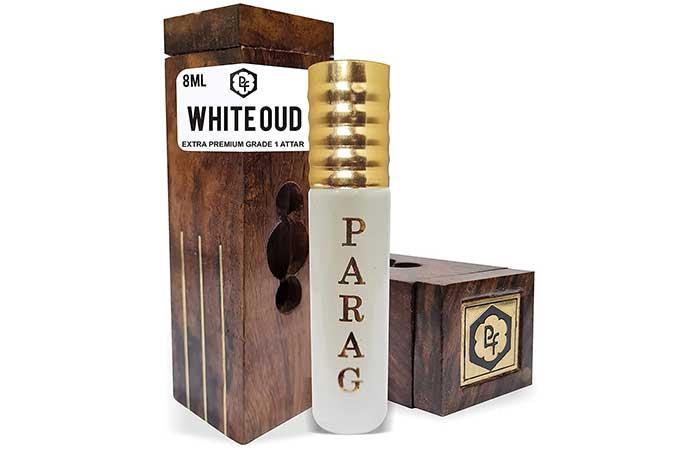 The White Oud Attar from Parag Fragrances is a grade 1 perfume that looks premium and has cosy, woody notes. The 100% genuine product has a delightful scent that lasts for a long time. This high-quality attar comes in an elegant handcrafted wooden box, which makes it perfect for gifting.
Pros
Alcohol-free
Long-lasting
Value for money
Cons
None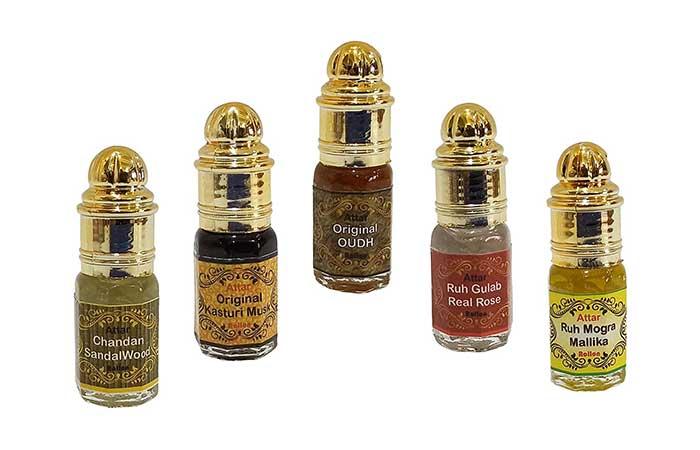 The Indra Sugandh Bhandar Attar Combo is perfect for those who love experimenting with different perfumes. This 5-piece set comes in various classic and premium scents like Ruh Mogra Mallika, Chandan, Kasturi Musk, Ruh Gulab, and Original Oud.
Pros
Alcohol-free
Unisex
Long-lasting
Cons
Choosing the best quality attar in India can be intimidating, especially if you are new to it. Here are a few factors that you can keep in mind to ensure you choose only the best! 
How To Choose The Best Attar
Authentic Sellers
Not all sellers that you find online are genuine. When you want to buy Attar, it is always best to buy them from authentic sellers as they are high in quality and are the real deal. The ideal choice is to get an Attar from a reputed brand or the ones sourced from Kannauj, the perfume capital of India.
Price 
The prices of attar can be quite intimidating. If you come across a cheap one that claims to be pure and natural, it is more likely to be chemically processed. Genuine attars are a bit pricey as they are concentrated and produced rarely.
Season
Choose the right kind of other that suits the season. Henna, shamama attar, saffron attar, dehn al oud attar, and shamamatul attar are ideal for winters, as they can make you feel warm. andalwood, rose, mitti attar, and ruh kus attar are best for summers, as they contain cooling properties.
Gender
The fragrance component of attars can be broken down into three categories – top notes, middle notes, and base notes. The bass notes play a major role in the outcome of the final aroma. Floral base notes with the scent of musk and wood are the best attars for women as they exude an elegant and feminine appeal. Consider attars with a strong aroma and notes of wood, spices, and oud for men.
Attars are made with natural ingredients like sandalwood, jasmine, roses, spices and have no traces of alcohol. They are super long-lasting and have a revitalizing scent. These attars that have made our list have distinct fragrances that you are sure to fall in love with. What are you waiting for? Take your pick from our list of the 8 best attars in India!
The following two tabs change content below.