11 Best Automatic Espresso Machines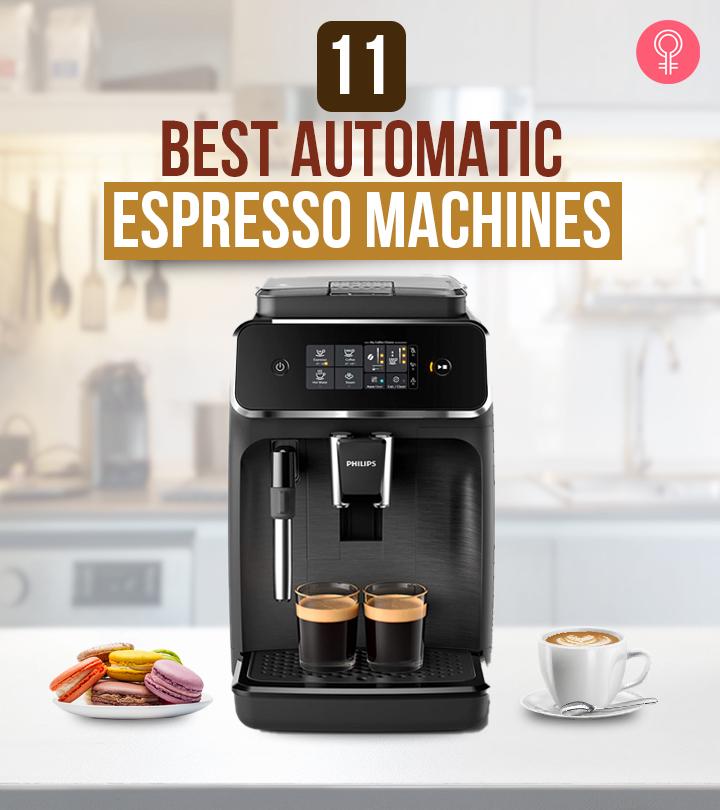 A good shot of espresso can make everything feel brighter. It is the purest form of coffee and also easy to prepare.Despite its simple preparation method, one can easily mess up an espresso. This is why having an automatic espresso machine is worth it.
An automatic espresso machine forces pressurized hot water through ground coffee to give you a thick, black, concentrated espresso. It might be confusing for you to decide on the right product. Worry not!Here's a list of the 11 best automatic espresso machines available online. Read on to know more.
How Does An Automatic Espresso Machine Work?
An automatic espresso machine quick-brews coffee with water near the boiling point to give you a shot of espresso. The machine is equipped with:
Hopper
Grinder
Brewer
Boiler
Pressure gauge
Portafilter
Spout(s)
The process starts with feeding the hopper with roasted coffee beans. These beans are ground using steel or ceramic grinders to receive a fine or coarsely ground coffee powder.
Meanwhile, the water inlet sends in mineral water to the boiler, where it is heated to near boiling point. It is subjected to high pressure before entering the brewer group.
In the brewer, the freshly ground coffee mixes with hot, high-pressure water and brews. Through the portafilter and spouts, you collect this thick concoction into your mugs/cups.
An automatic espresso machine also lets you customize your coffee. You can select how fine or coarse you want the coffee ground. You can also adjust the heights of the spouts to accommodate various mugs or glasses.
Lets now go through the 11 best automatic espresso machine that will save your time and effort.
11 Best Espresso Machines For Everyday Use At Home
The De'Longhi Magnifica Espresso Machine is a compact and professional addition to your kitchen. It makes espresso, cappuccino, and lattes with its patented cappuccino system. This machine comes with a high-performance burr grinder that provides fresh and aromatic coffee consistently. The instant heating system and double boiler keep its temperature ideal for quality brewing. It also has an automatic decalcification indicator that tells you when it is time to clean.
Features
Dimensions: 72.39 x 95.25 x 91.44cm
Material: Stainless Steel
Weight: 10.5 kg 
Pros
Easy to clean
Easy to use
User-friendly
Energy-saving
3-hour automatic shutoff
Cons
The Breville Barista Express Espresso Machine gives you full-bodied coffee with all its complex notes and aroma. It takes just a minute to make your coffee from bean to cup. The built-in conical burr grinder grinds the coffee beans just before brewing at the right temperature. It allows you to taste and tweak the grind size and dose. The steam wand creates the best micro-foam milk to enrich milk-based coffee drinks and latte art. The integrated conical burr grinder grinds coffee directly into the portafilter, while the digital temperature control delivers water at a precise temperature for optimal espresso extraction. 
Features
Dimensions: 30.48 x 27.94 x 34.29 cm
Material: Stainless Steel
Weight: 10.4 kg
Pros
Easy to clean
High-quality extraction
Compact
Digital temperature control
Cons
Expensive
Takes time to configure
The Mr. Coffee Café Barista Espresso System is semi-automatic and comes with a 15-bar pressure pump to offer you a rich and aromatic brew. You can toggle between single and double-shot modes using the single-touch control panel. It can automatically froth milk with a single touch – ideal for espresso, cappuccino, and lattes. The water and milk reservoirs are detachable, and the cup tray can be adjusted to fill various mugs and glasses. This machine also comes with a recipe book filled with unique, popular, and impressive drinks/beverage recipes. 
Features
Dimensions: 28.5 x 22.5 x 32 cm
Material: Plastic
Weight: 4.7 kg 
Pros
Easy to use
Easy to clean
Ideal for small spaces
Elegant design
Detachable water reservoir
Single-touch control panel
Includes recipe book
Cons
The Jura Super Automatic Coffee Machine is a single-serve machine that uses pulse extraction to make fine and aromatic coffee. It can be used to prepare perfect ristretto and espresso at the touch of a button. The 15 bar pump and thermo block heating system deliver coffee of two strengths, instantly and consistently. This single-serve machine grinds coffee freshly just before brewing with limited waste. It features unique elements, such as adjustable spout height, auto-shutoff for safety, and a self-clean option with periodic reminders. The self-cleaning option reminds you after 180 preparations or 80 switch-on rinses, making your task easy. 
Features
Dimensions: 52.07 x 32.26 x 47.24 cm
Material: 18/8 Stainless Steel
Weight: 10.4 kg 
Pros
Sleek design
Easy to clean
Less bean wastage
Self-cleaning
Cons
Scratch-prone body
Expensive 
The Philips Fully Automatic Espresso Machine comes with a smart touch panel, 12 grinders, and three temperature and strength settings. The intelligent brewing system and classic milk frother allow you to make your favorite styles of espresso, cappuccino, macchiato, and latte. The ceramic grinders, Aqua Clean filters, and removable brew group make washing and cleaning a breeze. This machine has a large bean hopper and water reservoir and can make up to 5000-20,000 cups without reloading and descaling. The aroma seal keeps the coffee beans fresh for a long time. 
Features
Dimensions: 51.05 x 51.05 x 32 cm
Material:>95% recycled material
Weight: 9.23 kg 
Pros
Easy to clean
High blending power
Automatic descaling
Touchscreen display
3 aroma strength settings
Detachable brew group
Touch display
Cons
The Espresso Works Espresso Machine Set includes everything you need to be a pro-barista at home. It comes with a 15-bar pump espresso machine, a measuring spoon, tamper, a plug-in bean grinder, stainless steel filters, ceramic cups, and a milk frothing cup. All you need to do is add coffee beans of your choice, and your beverage will be ready within 45 seconds. This espresso machine comes with unique, built-in overheating and overpressure protection mechanisms. The front-view water tank allows you to monitor the water level while the built-in handle makes it easy to refill. The stainless steel portafilter baskets provide you with the option of a single shot or double shot during each extraction.
Features
Dimensions: 24.8 x 22.9 x 29.2 cm
Material: Steel and Plastic
Weight: 6.8 kg
Pros
Easy to use
Easy to clean
Sturdy
Long-lasting
Value for money
Includes milk frothing cup
Cons
Inconsistent espresso shots
Takes time to install and configure
This automatic coffee machine has programmable modes for lattes, cappuccinos, macchiatos, and espressos with single-touch brewing and frothing options. It comes with a Bypass Doser that allows you to brew pre-ground coffee for various drinks instantly. The milk carafe can be detached after drink preparation and stored in the refrigerator. This makes the Gaggia Anima an ideal choice for frappes and cold beverages. It is equally equipped to make hot beverages with 177.5°, 182.9°, or a maximum of 184.5° temperature settings.
Features
Dimensions: 43 x 22.1 x 33.99 cm
Material: Plastic and Steel
Weight: 7.26 kg 
Pros
Multipurpose
Energy-efficient
Easy to clean
User-friendly
2-year warranty
Easy to use
Cons
Inconsistent water addition
The Saeco Xelsis Automatic Espresso Machine allows you to create six user profiles in which you can store up to 15 customized drinks. This smart machine brews your drink with a single touch. You can customize the strength, volume, temperature, taste, milk foam amount, volume, and even the coffee and milk order using the touch panel. The ceramic grinder retains the flavor and aroma of the coffee beans by grinding them at the right temperature and speed. The Hygie Steam and Aqua Clean filter system clean the milk and water channels of the machine automatically.
Features
Dimensions: 59.51 x 36.8 x 51.99 cm
Material: Plastic and steel
Weight: 11.7 kg
Pros
User-friendly
Customizable drink options
Convenient to use
Value for money
Touch screen control
Cons
The KRUPS Espresso Machine prepares perfectly brewed seven espresso drinks, five milk-based coffees, and three gourmet teas. It lets you customize the strength, flavor, and amount of coffee to be used. You can use the 'extra shot' button to add a second shot of true espresso. This fully automatic machine comes with a removable milk frother to make cappuccinos, lattes, and other milk-based coffee drinks. The height-adjustable spout allows you to make drinks in mugs and drinkware of your choice.
Features
Dimensions: 38.1 x 28.7 x 48.41 cm
Material: StainlessSteel
Weight: 8.4 kg 
Pros:
Sleek design
Easy to operate
LCD control panel
Cons
Touchscreen might be faulty. 
The COSTWAY Super Automatic Espresso Machine has a powerful pressure system that brews coffee beans quickly to give flavorful and rich shots of espresso. You can also create delicious cappuccino, americano, and lattes using the LCD touch panel. This product allows you to use pre-brewed instant coffee powder. It comes with an adjustable coffee spout and cup volume for making small to large drinks (30 ml to 200 ml). The removable water tank and drip tray make it easy to maintain the machine.
Features
Dimensions: 26.67 x 46.99 x 36.83 cm
Material: ABS, HDPE, and Stainless steel
Weight: 23.5 lbs
Pros
Easy to clean
Value for money
Compact design
Easy to store
Ideal for traveling
Cons
The hopper and grinder might malfunction.
Might cause leakage. 
The Jura D6 Automatic Coffee Machine grinds whole beans, tamps and brews each cup freshly to pack maximum flavor and aroma. It makes espressos and cappuccinos with equal ease in less than a minute. The Intelligent Water System (I.W.S.) detects the Smart water filter status and alerts you when the filter needs to be changed. These filters feed in clear, mineral water so that your coffee tastes superior and rich. The optional Smart Connect feature enables your smartphone and tablet to operate this machine.
Features
Dimensions (WxHxD): 28×34.5×41.5cm
Material: Stainless steel
Weight: 8.7 kg
Pros
Easy to clean
Simple operation
Quick dispensation 
Cons
Two-piece drip tray
Shallow hopper
Beans might stick in the hopper.
This was our round-up of the top 11 automatic espresso machines to help shortlist your pick. Before finalizing the best one, you should look at a few important features. Check out the buying guide below to know more.
What To Look For While Buying An Automatic Espresso Machine
Easy To Clean: Coffee machines have a lot to do with water and milk. It is imperative to keep the reservoir, pipes, and surroundings clean to avoid corrosion, hardening, and infestation. Choose a machine with a removable water tank, milk carafe, and frothing wands as it will be easy to remove, clean, dry, and replace.
Low On Maintenance (Descaling): With water and milk passing through the system, it accumulates milk solids, chemical residue, coffee grounds, and debris. Hence, you need to 'descale' the machine regularly. One of the most important aspects to consider is how often the coffee machine needs descaling. The latest models of automatic espresso machines offer you 5000-20,000 cups of coffee between descaling cycles. They also come with alarms to remind you when it is time for an auto-clean cycle.
Material: It is recommended to buy espresso machines made of steel because they are sturdy, chemically inert, and temperature-resistant.
Dimensions: Invest in a compact and efficient machine as itis easy to use and travel-friendly. However, do not compromise on function – small does not mean inefficient.
Grinding Control: Although the espresso maker is automatic, you should be able to customize your coffee. Some like dark roast, finely ground coffee, while others prefer a medium roast, coarsely ground drink. Your espresso machine should have grinding control so that you can have your drink the way you like it.
Brew Group: Some automatic and super-automatic coffee machines offer a removable brew group while others run programmed auto-clean procedures. Since the primary function of brewing takes place in a brew group, pick a machine that lets you clean and maintain it. It is vital to keep this part in good condition to run your machine smoothly.
Style And Design: Look for an espresso machine with a sleek design. Black and steel combination never gets out of fashion. If you want the espresso maker to be the highlight of your kitchen space, pick contrasting or bold colors. Minimalistic, limited-edition machines in pastel shades are currently taking Pinterest by storm.
Programmability: Automatic espresso machines run on heavy automation. However, technological advancements let you program these machines to brew customized drinks and/or personal favorites. Invest in the latest espresso machine models if you are tech-savvy. You can create user profiles and store your drink choices and recipes in such models. Some high-end machines also let you operate using smartphones, tablets, Bluetooth, and voice assistant devices.
One important and critical feature that decides the price of your machine and the quality of coffee is the boiler type. Boilers keep the water and milk from roll boiling and spilling out. Moreover, they produce steam, dispense water near boiling temperature, and impart the rich texture to milk – all of which are mandatory for a delicious coffee. That's why automatic espresso machines can come with different types of boilers: single boiler, dual boiler, and heat exchanger.
What Are The Types Of Boilers In An Espresso Machine?
Single Boiler: In single boiler espresso machines, the boiler has one heating element with two thermostats. One thermostat is set at a temperature range for brewing coffee, and the other is set at a temperature for boiling water and producing steam. These simple machines are relatively cheap. However, you cannot pull shots and steam milk at the same time. You have to wait for the water to come to the correct temperature while changing from espresso to steaming and vice versa.
Dual Boiler: In these machines, the pump sends water to two separate boilers. One heats water to boil and the other heats water to brew temperature. Most dual boiler machines have a Digital Temperature Controller so that temperatures for both boilers can be fully controlled. These machines are expensive but have a higher control and consistency of espresso and steam. Thus, they are a common sight at coffee places and cafes.
Heat Exchanger: This is a work-around solution to get milk and espresso at the same time. Instead of using a boiler to heat water for both brewing and steaming, the water in the boiler is used only to make steam. An additional water line is run from the pump, which connects to a copper tube, or heat exchanger, and passes through the body of the boiler.
The steaming water in the boiler heats the water in the heat exchanger without bringing it to a boil. The brew water will never come in direct contact with the boiler water. This makes it easy for you to pull shots and milk/steam simultaneously. One drawback is that the water in the pipe/coil can get overheated while brewing. This can be solved by purging out a small amount of water immediately after brewing.
Each type has its unique advantages and drawbacks. Since boilers serve a specific purpose, it should not get difficult to decide which type works for you.
Using an automatic espresso machine saves time and effort. Once you feed the beans, just collect your drink! Choose an automatic espresso machine that fits your needs and budget the best. Do a test run to check for hardware and technical issues. Pick your favorite from our list of the 11 best automatic espresso machines, and enjoy your homemade morning or midnight cuppa – just the way you like it!
Expert's Answers for Readers Questions
How do you clean an automatic espresso machine?
Empty the drip tray, hopper, and dregs box daily. Clean the milk frothing and cappuccino system parts thoroughly. Wash the brew group weekly once if it is removable. Wipe the body with clean cloth.
Scrub the internal chambers with soap water. Descale your machine monthly, quarterly, or annually based on the water content and usage. Keep the surroundings free of coffee, milk residues, and water all the time.
How often should you descale an espresso machine?
This depends on how much the machine is used and the hardness of the water in your area. Most modern espresso machines have an indicator to show when to descale. If not, descaling once every two months is a good practice.
What happens if you do not descale your coffee machine?
Hard water consists of high levels of minerals. Their accumulation hinders the water flow in the machine and prevents water from reaching its optimal brewing temperature.
Therefore, if you do not descale your coffee maker regularly, it is impossible to extract the full flavor from coffee beans. Your coffee may also not get hot enough. And in extreme cases, not descaling might cause the machine to stop working.
Recommended Articles
The following two tabs change content below.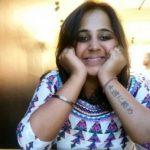 Latest posts by Swathi Handoo (see all)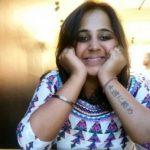 Swathi Handoo
Swathi holds a Master's degree in Biotechnology and has worked in places where actual science and research happen. Blending her love for writing with science, Swathi writes for Health and Wellness and simplifies complex topics for readers from all walks of life.And on the days she doesn't write, she learns and performs Kathak, sings Carnatic music compositions, makes plans to travel, and obsesses over cleanliness.