10 Best Automatic Hair Curlers 2021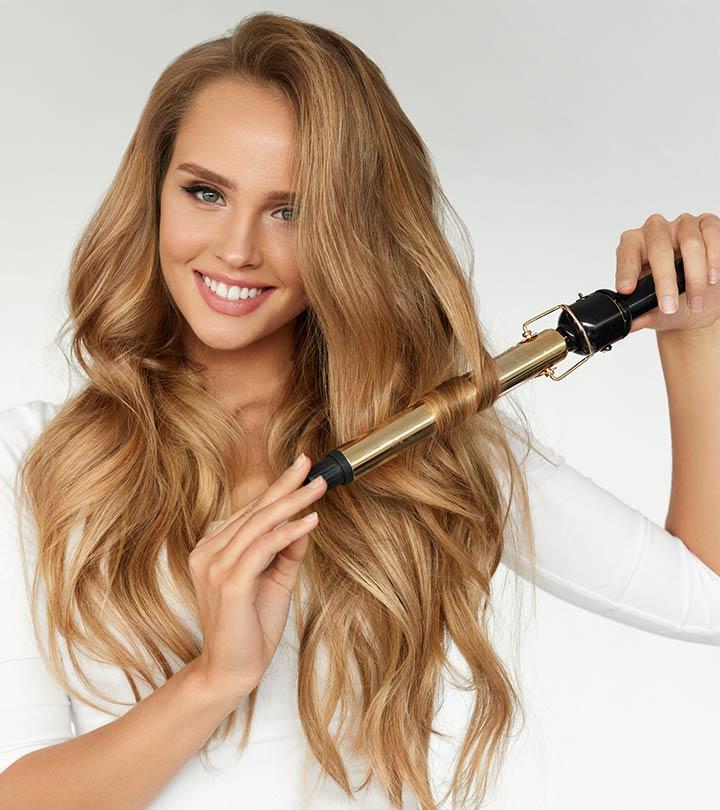 The quirky protagonist of the hit series Fleabag said, "Hair is everything!" And we could not agree more! A woman's hair is a symbol of power. It is the crown that we adorn every day, and switching things up once in a while always makes things exciting. Curls have been a hit ever since the Victorian eras, but doing them in those times was a cumbersome task. Automatic curling irons, however, have saved us the trouble and made styling hair, a walk in the park.
Whether a night out with the girls, prom or a first date, curls are always a good idea. That's why we have listed the 10 best automatic curlers in the market, so you don't have to fuss over boring hair ever again.
Read on to find the perfect curler for you.
What Is An Automatic Curler
Gone are the days when women would section their hair in curling rolls and go to bed, to achieve ringlets in the morning. The beauty industry has evolved, and thanks to technology, we now have curling machines or automatic hair curlers. Although many designs are available, the most common one is the barrel curler. The wand heats up when connected to power and curls the strand of hair wound around it. This, in turn, leaves you with those soft waves, that everyone has been raving after.
What Is The Difference Between A Curling Iron And A Curling Machine
Curling Iron
While using a curling iron, you have to twist your hair around the heated wand manually.
Hold it in place until the curl is ready.
The tricky thing about these curlers is that the high temperature can damage or even burn your hair.
Curling Machines
Insert a strand of hair into the curling chamber.
After a few seconds, it automatically releases your newly curled section of hair.
This can be time-consuming as it curls a small strand at a time.
Now that we know the difference between the two, let us take a look at the 10 best curlers in the market.
10 Best Automatic Hair Curlers
Curling your hair with Infiniti Pro by Conair Secret is a piece of cake. Your hair goes in the machine and voila! It comes out curled. Its Tourmaline Ceramic Technology reduces frizz and adds gloss. Its brushless motor creates for you, instant curls without tangling your hair. With a maximum heat of 400°F, this super machine allows you to have long-lasting curls or the classic beach waves. Regardless of whether you have naturally straight, curly, or wavy hair, this curler can be used on all hair types.
Pros
Suitable for all hair types
Creates curls without tangling your hair
Maximum heat of 400°F
Cons
Difficult to use on long hair
Similar Products
The Kiss Ceramic Instawave's patented Curl Dial combs out your hair and detangles it as it curls. How awesome is that! Its ceramic ionic technology imparts a healthy, salon-like shine to your hair after every use. It comes with a Curl Direction Control that rotates left and right to achieve both inner and outer-facing curls. The distance between the handle and iron ensures that you don't accidentally burn your hand.
Pros
Its smart design allows you to maintain a safe distance from the curling wand
Maximum heat of 420°F
Curl Direction Control available
Cons
Not suitable for thin and silky hair
Similar Products
The CHI Spin N Curl Curling Iron leaves you with beautiful waves and curls with just the click of a button. This curler has a digital temperature display and a 1-inch ceramic rotating barrel that allows you to curl your hair inwards or outwards. This machine works on a timer, so you don't have to worry about overheating or burning your hair. It does so by drawing the hair into its curl chamber for a few seconds until the curl is ready. All this with no heat damage to your hair!
Pros
Tangle protection
Curl direction buttons and timed beep alerts
Digital temperature display
Cons
You can only use small sections of hair at once
Similar Products
All girl bosses have a hectic life, and looking good while on the run is a challenge we all want to master. The Kiss Instawave 101 Rotating Curling Iron helps you glam up on a tough schedule. This curler heats upto 400°F in less than 60 seconds and saves you time on busy mornings. Its Ceramic Ionic Technology ensures that your hair is not stripped of its natural oils. This Ionic technology also prevents hair cuticle damage and frizziness. It comes with a display setting that turns blue when ready for use. The rotating curling iron is suitable for all hair lengths and textures. The patented curl dial protects your fingers from exposure to the heated barrel, reducing the chance of burns.
Pros
Can heat upto 400°F in under 60 seconds
Easy to use and perfect for beginners
Patented curl dial that protects from burns
Cons
Similar Products
The SexyBeauty Professional Curling Iron's state-of-the-art ceramic body makes it a durable and long-lasting option. Its ceramic glaze rod and anti-scalding spiral casing ensures heating in just 15 seconds. The tip of the curling iron comes with a 360-degree, anti-winding tail that prevents the cord from tangling. This product is available in 6 vibrant colors. So what are you waiting for? Go ahead and recreate that chic Hollywood red-carpet look you always wanted!
Pros
Can heat up in 15 seconds
Available in 6 colours
360° degree anti winding tail
Cons
Constant temperature of 200°C
Preheat for a minute
Similar Products
The Plazala Cordless Automatic Hair Curler is portable with no cord feature. It works on a rechargeable battery and comes with a professional tourmaline ceramic barrel. The ceramic coating provides a healthy shine to your hair and also protects it from heat damage. The device features a 150 to 200℃ adjustable temperature setting and a 10 to 15 seconds curling timer. You can obtain smooth, shiny, and bouncy curls without damaging your hair.
Pros
Cordless
Rechargeable battery
6 adjustable temperature selections
Quick heating
Curl direction control
Cons
The Conair Unbound Cordless Auto Curler is perfect for amateur home stylists, as it is incredibly easy to use. Since it is an automatic curler, all you have to do is insert your hair strand and wait for it to create the perfect ringlet! This curler can work upto an hour on a full charge. Its anti-tangle protection technology makes sure your hair doesn't get knotted. The curler can heat upto 400°F and comes with 3 heat settings and 4 preset-timer settings. Its compact size makes it perfect for frequent travelers.
Pros
3 heat settings and 4 timer settings
Compact size
Comes with a USB cord
Cons
Most girls with long hair struggle with finding a curling iron that works for their lengthy locks. The IVI Automatic Tourmaline Ceramic Hair Curling Iron is the answer to your prayers! With a 1-inch curling rod, you will have ample space to coil your long locks around the wand. This curling iron comes with a comb and bag to store the curler. Just 10 inches in size, this device does not take up much space in your suitcase.
Pros
Designed especially for long hair
Comes with a comb and storage pouch
Compact and travel-friendly
Cons
Not suitable for short hair
The Melophy Automatic Curling Iron Wand is ergonomically designed with a large U-shaped barrel and slot that makes curling your hair a smooth and faster process. You can push a button to turn it in the opposite direction in case your hair gets stuck. It comes with a temperature range of 325 to 430℉ to offer a salon-like hairstyle for even coarse and wiry hair. The device has an auto timer feature that beeps every 8 seconds, 12 seconds, and 16 seconds.  Keratin coating ensures that it provides 4x protection to your hair and makes it frizz-free. Moreover, the ionic technology locks in moisture and minimizes damage to your hair.
Pros
No snagging
No tugging
Anti-scald coating
4 heat settings
Worldwide voltage
Cons
None
This AMAREISBE Auto Hair Curler is an easy-to-use curling wand that gives you the perfect beachy waves for long and short hair. It is a 1-inch curling iron equipped with personalized temperature adjustments for different hair types and styles. It is made with a double layer of heat insulation housing to ensure safety. This quick curling device heats up in 5-15 seconds and provides long-lasting curls that last for 1-3 days. It heats up to 450°F, giving you salon-like loose or tight curls in no time.
Pros
Personalized temperature adjustment
Fast curling
Auto-shut off feature
Long-lasting curls
Cons
Might not curl long hair properly
Why Should I Consider Buying A Curling Machine?
Curling machines are a great option if you are looking to up your style game.
They are easy to use, as they are fully automatic.
They are a much quicker option when compared to using curling creams and curling rollers.
They decrease the chances of hair damage and hair getting burnt.
Many curling machines come with a direction control.
Will An Automatic Curler Work On My Hair Type?
Automatic curlers suit most hair types. If you have thick hair, then it is a good idea to brush it to remove any knots before using the machine. Women with thick or frizzy hair are also advised to partition their hair in sections before putting them into the hair chamber. If your hair is bone straight, then find a curl machine with fast heat-up so that you get a curl that will last longer. As each automatic curler is different from the other, it is crucial to read the features of the curler to make sure that it will work on your hair.
Buying Guide – Tips For Choosing The Best Automatic Hair Curler
Buying a hair curler might seem like a daunting task if you do not know a lot about styling devices. We have listed below the major points or criteria to keep in mind, to help you make a smart choice.
1. Multiple Heat Settings
As different hair textures require different temperature levels, picking a hair curler with multiple heat settings is always a good idea. If you have thick or bushy hair, then using a high-temperature curler will prove beneficial. If you have thin, straight hair, then a lower temperature curler will work just fine for you. A good curler should ideally be able to heat up to 400°F.
Warning: Subjecting hair to very high temperatures might cause heat damage.
2. Automatic Hair Curler
Using an automatic hair curler can prevent excessive heat damage. Automatic hair curlers work by sucking in a section of hair into a chamber. When turned on, it automatically curls your hair. This is a much easier option as opposed to using a curling iron.
3. Barrel size for different sized curls
The barrel size of your curling iron affects the size and shape of the curl. The basic rule to follow is that the larger the barrel, the more waves you can create, the smaller the barrel, the tighter the curl. If you are going for a soft or loose curl, then using a 2-inch barrel would work best. If you want to add more defined curls, then make sure to pick a 1 to a 1.5-inch wand.
4. Technology
We have already discussed how curling machines work. All curling machines come with an automatic rotating technology, that makes it convenient to use. Additionally, some machines come with a curl direction button which lets you style your curl inwards or outwards.
5. Weight
The weight of your curler is a point that is often overlooked. The lighter your curling device, the more convenient it is. If you are a frequent traveler, then a lightweight option is the way to go.
The ideal power of a good curling iron would be 200V to 240V. Also, keep in mind to pick a curling machine that comes with a lasting warranty on its motor.
From Marilyn Monroe's iconic curls to Sarah Jessica Parker's ringlets, curls are a sure favorite around the world. With the curlers mentioned above, curling your hair is no more a dream but a reality. Switch up your look, experiment with your hair, and have fun because curling your hair just got so much easier! We would love to hear your thoughts on curling and styling hair, so be sure to leave your comments, tips, and tricks below.