11 Best Ayurvedic Hair Oils For Hair Growth To Try In 2023
Experience the incredible hair growth benefits of Ayurveda with these herbal oils.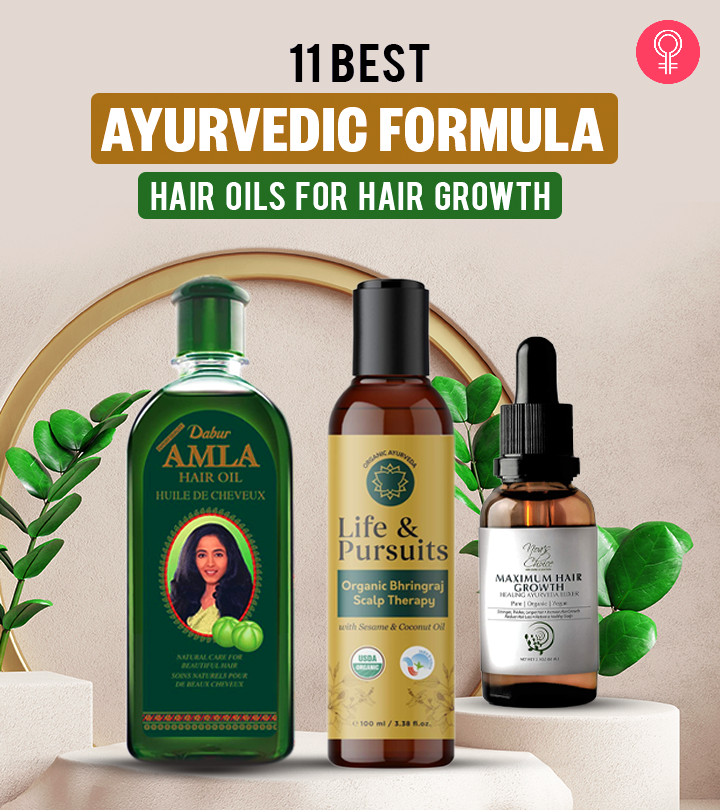 If you are looking for the best ayurvedic hair oil for hair growth, this is the right place. Ayurveda is celebrated worldwide for its holistic healing that answers almost every problem we can possibly come up with. No matter what hair problem you are dealing with, Ayurveda cannot heal and reverse. Be it scalp problems, hair loss, or dandruff, a stronghold on the knowledge of Ayurveda can help you heal yourself internally. Here are 11 hair oils recommended in Ayurveda that helps you fight all hair problems and keep your hair strong from within.
Top Picks
11 Best Ayurvedic Hair Oils For Hair Growth
Pros
Lightweight
Anti-frizz
Value for money
Cons
Price at the time of publication: $6.99
Pros
Non-sticky
Paraben-free
Synthetic-free
Mineral Oil-free
Artificial colour-free
Artificial fragrance-free
Cons
Does not suit sensitive scalp
Price at the time of publication: $399.0
Pros
Cooling sensation
Paraben-free
Value for money
Cons
Price at the time of publication: $7.08
Pros
Non-greasy
Anti-dandruff
Value for money
Cons:
Price at the time of publication: $5.93
This oil from is an ayurvedic formula made from naturally sourced pure castor seed oil and rosemary essential oil. It is a natural moisturizer for the hair and scalp. The ingredients provide deep nourishment for long and thick hair while controlling premature greying of the hair. It also improves hair texture affected by climate change and pollution while making dull hair lustrous again. Castor seed oil in the formula is a natural emollient that conditions hair and scalp while restoring damaged hair.
Hair Type: Thin
Key Ingredients: Rosemary and Castor oil
Pros
Lightweight
Cold-pressed
Mineral oil-free
Sulfate-free
Paraben-free
Phthalate-free
Cruelty-free
Eco-friendly
Cons
Price at the time of publication: $18.39
Pros
Reduces hair loss
Strengthens hair roots
Repairs damaged hair
Manages dandruff
Deep nourishment
Cons
Price at the time of publication: $25
Pros
Mineral oil-free
Preservative-free
Value for money
Cons
Price at the time of publication: $19.98
Pros
Lightweight
Non-greasy
Sulfate-free
Paraben-free
Preservative-free
Artificial color-free
Mineral oil-free
Alcohol-free
Cons
None
Price at the time of publication: $15
Pros
Fragrance-free
Preservatives free
Chemical-free
Certified organic herbs
Cruelty-free
100% plant-based
Supports color and shine
Cons
None
Price at the time of publication: $18.99
Pros
Sulfate-free
Paraben-free
Mineral-free
Silicone-free
Gluten-free
Vegan
Cons
None
Price at the time of publication: $24.99
Pros
Mineral-oil-free
Clinically proven
Reduces hair fall
Curbs dandruff
Trusted by doctors
Fight premature graying
Cons
None
Price at the time of publication: $14.03
To make the best choice from the aforementioned list, ponder upon the following points before you make an investment. Keep scrolling to read ahead.
Things To Consider Before Buying The Best Ayurvedic Hair Oil For Hair Growth
The most important thing to keep in mind when buying an Ayurvedic oil is your hair type. Ayurvedic hair oils work differently on different hair types. For example, if you have dry and frizzy hair, choose a hair oil that specifically prevents dryness and frizz, while promoting hair growth.
Ayurveda comprises a lot of herbal ingredients that work for various hair types. For example, if you have dry or frizzy hair, ingredients like onion and rosary pea are beneficial. If you have scalp inflammation and dandruff, then ingredients like neem, methi, and licorice are most effective. If you have an oily or itchy scalp, chose ingredients like camphor and brahmi for oil balancing, scalp nourishment, and enhanced blood circulation.
Ayurvedic oils are made of natural ingredients and contain no preservatives. They have a shorter shelf life than regular oils. So, avoid purchasing products that are close to the expiry date.
The cost of Ayurvedic oil is higher than regular products due to its purity. Avoid buying cheap products to avoid unauthentic knock-offs.
Why Trust StyleCraze?
Shiboli Chakraborti, the author, is a certified skin care coach with a passion for finding natural and safe skincare and haircare products. She reviewed some of the best Ayurvedic hair oils to resolve issues with hair growth, taking a close look at the formulations of each. While curating the list, she has also thoroughly looked at product reviews and analyzed the pros and cons of each product so that you can find the one best suited for you. The products on this list can heal and reverse scalp problems, hair loss, and dandruff issues with natural and safe ingredients.
Frequently Asked Questions
Can Ayurveda oils help hair growth?
In synergy with ancient wisdom, even contemporary scientific research has confirmed positive results with Ayurveda. Ayurvedic herbs like bhringraj, brahmi, and amla have shown the best results in renourishing and revitalizing the scalp and hair with increased growth and thickness.
Does bhringraj regrow hair?
Yes. Bhringraj improves blood circulation in the scalp and revitalizes hair follicles for increased hair growth.
Can I use ayurvedic oil on my hair every day?
No. Do not apply ayurvedic oil to your hair every day to prevent making your hair greasy. Daily oiling attracts dirt and causes hair breakage.
How long do Ayurvedic hair oils last?
The shelf-life of Ayurvedic hair oil is one to two years. Always check the expiry date on the label and use it before the date.
Should I sleep with Ayurvedic hair oil on my hair?
Yes. Apply Ayurvedic hair oil to your hair before going to sleep. Then, cover your hair with a satin hair wrap and wash the hair the following day. Leaving ayurvedic hair oil in the hair overnight turns your hair shiny and strong. It also prevents split ends.
Is Ayurvedic hair oil better than coconut oil?
Yes. Ayurvedic oil and oil treatments holistically heal your scalp and hair issues while relaxing your senses. The potent mixture of various herbs in the oil strengthens your hair and reduces split ends while calming your stress levels. On the other hand, coconut oil, also very nourishing for your hair, does not cater to managing stress or headaches.
Should we comb hair after oiling?
No. Do not comb your hair after oiling to prevent hair breakage. The scalp relaxes after you oil your hair, so the harsh movements of combing may disturb the hair and cause hair fall.