Best Ayurvedic Hair Oils – Our Top 10
Who doesn't want healthy hair? With all the damage our hair goes through on a daily basis from pollution, heat, chemical treatments, and poor nutrition, it is hard to find a balanced hair care routine. That is unless you have the right ingredients and oils. To help you out, I've put together a list of our top 10 ayurvedic hair oil picks. But first, let's look at how you can adjust your hair care routine to improve hair health.
Steps To Building The Perfect Hair Care Routine
Step 1 – Identify Your Hair Type
There are four basic hair types – Oily, Dry, Combination, and Normal. The key to maintaining healthy hair is to adjust your hair care routine to suit your hair type.
Step 2 – Use Oils And Masks
Oiling plays a crucial role in hair care. It is a common misconception that oiling only helps people with normal or dry hair type. On the contrary, oiling can also help balance oil production in the scalp for people with oily hair, while keeping the hair conditioned and healthy. It is essential to oil your hair at least 2 times a week. Using nourishing hair masks at least once a week can also contribute towards greater hair health.
Step 3 – Shampoo
Shampooing more than three times a week can dry out your scalp and hair. People with oily hair often end up having to shampoo on alternate days, but this only worsens the problem. While shampoo removes the dirt and grease from your hair, it also pushes your sebaceous glands into overdrive, making them produce excess oil. In the long term, the excess production of oil will weaken your follicles and exhaust your sebaceous glands, leading to problems such as hair fall and brittle hair.
Step 4 – Condition
Conditioning your hair is essential as dehydration is your hair's worst enemy. Oiling your scalp and hair will not only provide your hair with much-needed extra conditioning, but it can also balance oil levels in your scalp. Keep reading to find the right ayurvedic hair oil to suit the needs of your hair type.
Top 10 Ayurvedic Oils for Strong and Healthy Hair
1. Parachute Ayurvedic Hot Oil
This Parachute oil comes with a head massager. Massaging your scalp with this oil on a regular basis can help improve scalp health, boosting healthy hair growth and normalized oil production. For better results, warm the oil before massaging it in.


2. Kama Ayurveda Bringadi Intensive Hair Treatment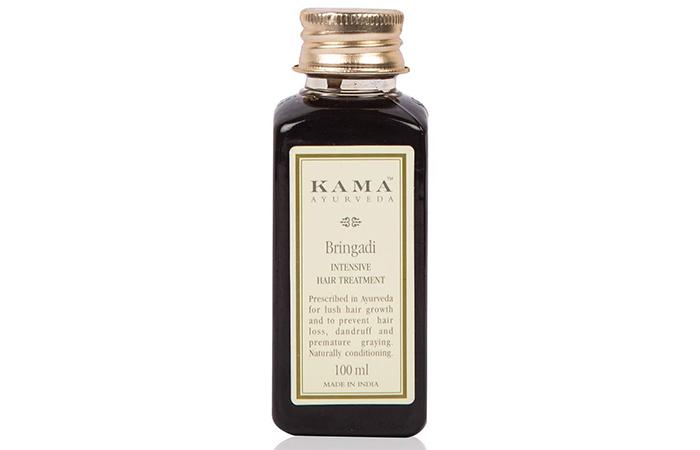 It promotes hair growth and also helps curb scalp infections. The regular use of this oil can make your hair glossy and much easier to manage.


3. Kesh King Scalp and Hair Medicine Ayurvedic Hair Oil
Kesh King stops hair fall and encourages new hair growth. It comes with a revolutionary Deep Root Comb that stimulates the roots for deeper oil penetration. Kesh King claims to be two times more effective than other Ayurvedic oils. Prepared with 21 rare and precious Ayurvedic herbs using time-tested Tel Pak Vidhi as prescribed in the Vedas, this oil promises to take care of all hair problems like hair fall, dandruff, and rough and dry hair.


4. Forest Essentials Ayurvedic Herb Enriched Head Massage Oil- Bhringraj
This amazing oil blend contains Bhringraj, coconut oil, sesame oil, goat's milk and other herbal extracts. This oil helps arrest hair fall, improve the overall health of your hair and calm your head and scalp.


5. Khadi Ayurvedic Hair Oil
This light Ayurvedic oil has the goodness of rosemary and henna. It helps strengthen hair and promote hair growth. It also helps with relaxation and helps soothe depression.


6. Aroma Magic Hair Oil
This 'magical' hair oil is enriched with the goodness of plant oils and herbal extracts. This is a non-sticky oil blend and massaging your scalp with a few drops of it can help improve hair growth, condition dry hair, and reduce dandruff.


7. Biotique Bio Bhringraj Fresh Growth Therapeutic Oil
Biotique brand is renowned for its natural and safe remedies. Bhringraj oil makes the hair feel silkier. It's like having an expensive therapy at home. It is a bit oily but its restrorative properties are extraordinary.
This oil from the house of Biotique promises to treat hair problems of
Weak hair,
Hair loss, alopecia (baldness).
Premature grey hairs.

8. Shahnaz Husain ShaLocksAyurvedic Hair Oil
This oil includes natural ingredients like brahmi extract, shikakai and amla.Frequent use of this oil promotes healthy and lustrous locks .The only drawback is the slightly strong odor. It is extremely beneficial for
Curbing premature greying of hair
Cure dandruff and promote healthy hair growth.
Strengthening hair from deep within.

9. Just Herbs Bhringraj Tail
This oil is a scalp energizing and revitalizing oil with the goodness of Bhringraj. Its beneficial for
Stimulating hair growth
Maintaining general health of the hair
Reduction in dullness of hair. Hair shines with a healthy glow.
To get the maximum benefit out of the oil you need to warm it up for a hot hair oil massage


10. Omved Thailam
This oil contains a mix bhringraj and amla.  It is chemical free. A little of the oil goes a long way and hence a bottle will last you 2-3 months. You can warm up the oil
This oil mainly targets
Premature greying of hair.
Softening the hair and strengthening the roots.


So which is your favouriteayurvedic oil for hair regrowth of the lot?
*Subject to Availability
All these oils can help you achieve healthy and shiny hair. You should identify your hair type and then start application of oils. A warm oil massage followed by a hot towel application is doubly beneficial. If you apply oil regularly, you will see a difference soon.
Recommended Articles

The following two tabs change content below.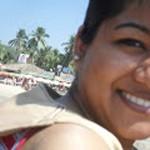 Latest posts by Ritu Rajput (see all)