8 Best Ayurvedic Night Creams Available In India
Kiss your fine lines and dark spots goodbye with these rejuvenating formulas.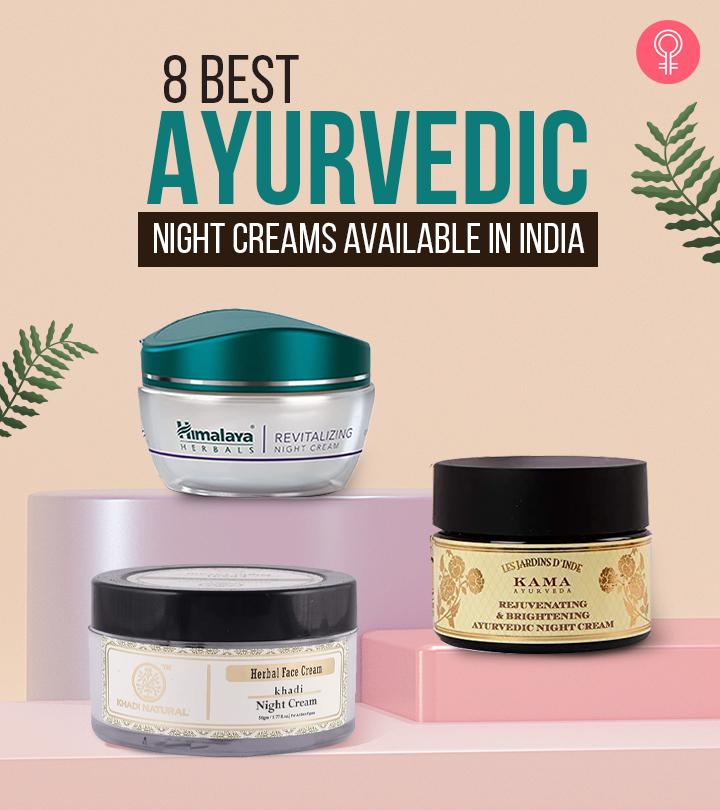 Ending your night skincare routine with an ayurvedic night cream packed with rejuvenating ingredients gives your skin a fresh and supple feeling the following day. These ayurvedic creams are infused with natural ingredients like turmeric, vetiver, and sandalwood. They are not likely to cause side effects like regular creams loaded with artificial colorants, parabens, sulfates, and preservatives.
With the rise in the demand for ayurvedic skincare products, many brands have come up with their version of ayurvedic night creams that can revitalize your skin and make you look younger. To make your day easy, we have reviewed and listed the 8 best ayurvedic night creams in India that we consider are worth your buy.
8 Best Ayurvedic Night Creams Available In India
The Bio WheatGerm Youthful Nourishing Night Cream by Biotique is infused with pure wheat germ, almond oil, sunflower oil, and carrot extracts that nourish your skin from within to give it a youthful appearance. Almond oil is rich in vitamin E, which helps reverse sun damage. Sunflower oil retains your skin's natural moisture and forms a protective barrier over your skin to avoid dryness. Carrot is rich in vitamin C that nourishes your skin with its anti-aging properties. The cream helps soften your skin, improves skin tone, and gets rid of spots and blemishes. Wheatgerm helps remove excess sebum, thus preventing pimples and acne. This overnight cream strengthens and nourishes your skin and gives you youthful and glowing skin with regular use.
Key Ingredients: Sprouted wheatgerm, carrot seed, almond oil, kulanjan, apricot seed oil, and sunflower oil
Pros
Lightweight
Pleasing fragrance
Mild on skin
Reasonably priced
Cons
May cause irritation in some
Price at the time of publication: ₹11.7
The Revitalizing Night Cream from Himalaya is the perfect choice for anti-aging benefits. This lotion maintains skin elasticity and prevents breakouts. This overnight cream, formulated with natural ingredients like tomato and white lily extracts, provides antioxidants and alpha hydroxy acids to the skin. It also contains lemon and crab apple that tone down breakouts and inflammation. This night cream is lightweight and doesn't leave a greasy residue.
Key Ingredients: White lily, lemon, crab apple, and tomato
Pros
Absorbs quickly
Non-greasy
Hypoallergenic
Alcohol-free
Paraben-free
Cons
Price at the time of publication: ₹9.99
The Shubhr ayurvedic anti-aging night cream from Blue Nectar is ideal for sensitive skin and has 14 vital herbs. The high-quality botanical ingredients like saffron, sandalwood, manjistha, and aloe vera brighten the skin. Saffron and sandalwood delay the signs of aging, while aloe vera soothes your skin and helps prevent acne, irritation, and redness. This cream helps soften your skin and reduces fine lines and wrinkles.
Key Ingredients: Saffron, sandalwood, manjistha, and aloe vera
Pros
Lightweight
Sulfate-free
Paraben-free
Mineral oil-free
Cons
Price at the time of publication: ₹25.95
Shubhr Night Repair Cream from Blue Nectar is a herbal blend. The cream tones the skin and reduces skin dullness. It contains almonds that hydrate the skin, kokum promotes cell regeneration, turmeric prevents breakouts, and cow ghee stimulates natural skin glow. The overnight cream repairs skin damage while you sleep. The night cream replenishes the lost moisture to your skin and keeps it firm with regular use.
Key Ingredients: Kokum butter, turmeric, jasmine, cow ghee, and patchouli
Pros
Quick absorbing
Non-greasy
Sulfate-free
Paraben-free
Mineral oil-free
Cons
Price at the time of publication: ₹26.45
This Night Glow Repair Cream from Bella Vita is formulated as an alternative to retinol-based skincare products. This overnight cream restores skin balance and rejuvenates the face. Saffron adds radiance and improves complexion. The blend of shea butter and sandalwood paste seals moisture and heals blemishes and breakouts. Babchi extracts, a natural retinol alternative, help reduce wrinkles and fine lines. Regular application of this cream makes skin firmer.
Key Ingredients: Saffron, shea butter, sandalwood paste, and babchi
Pros
Lightweight
Non-greasy formula
Chemical-free
Cruelty-free
Paraben-free
Sulfate-free
Mild fragrance
Cons
May cause breakouts in some
The Rejuvenating & Brightening Ayurvedic Night Cream by Kama Ayurveda contains natural ingredients like aloe vera, vetiver, licorice, and saffron. They help soothe your skin while reversing and preventing acne, irritation, and redness. Licorice combats hyperpigmentation and protects your skin against fungal and bacterial infections. This night cream will leave your skin naturally radiant and youthful with regular use.
Key Ingredients: Saffron, aloe vera, vetiver, and licorice
Pros
Non-greasy formula
Lightweight
Mild fragrance
Cons
The Cellular Restorative Balancing Night Face Cream from Bioayurveda is an organic night cream made from 100% pure ingredients. The face cream repairs and hydrates the damaged skin overnight. It boosts collagen production and bestows a healthy glow to the face. The cream is infused with amla, lemon, and grapeseed extracts that are rich in antioxidants and vitamin C. These ingredients slow down the aging process. Chamomile and lavender have anti-inflammatory and antiseptic properties that help fight bacteria that cause acne, itchiness, and inflammation. Rosehip seed oil has astringent properties that help tighten pores and brighten the skin. The cream moisturizes and improves blood circulation, thus enabling natural skin renewal and luminosity.
Key Ingredients: Amla, lemon, chamomile, lavender, rosehip seed oil, and grapeseed
Pros
Boosts Collagen production
Reduces tan
Anti-aging properties
Reasonably priced
GMO-free
Paraben-free
Suits all skin types
Cruelty-free
Cons
Might lead to black spots in some
This Night Cream from Khadi Natural restores the skin's natural defense mechanism. Infused with a blend of apple and green tea extract, this cream evens out the skin tone and gives you a youthful appearance. Aloe vera, turmeric, and olive oil help brighten your skin and combats dark spots, blemishes, and hyperpigmentation. Ashwagandha helps exfoliate the dead skin cells and makes skin clearer.
Key Ingredients: Aloe vera, apple extracts, green tea extracts, turmeric, and olive oil
Pros
Quick absorbing
Non-greasy texture
Mild fragrance
Toxin-free
Cons
None
These are the 8 best ayurvedic night creams available on the Indian market. But how can you pick the right one for you? The following buying guide can help.
How To Choose The Best Ayurvedic Night Cream?
While looking for an ayurvedic night cream, here are a few things to consider.
1. Skin Type
Always choose a night cream based on your skin type. For instance, if you have oily skin, opting for a night cream meant for dry skin can trigger breakouts or make your face more oily. Hence, choose appropriately.
2. Skin Concerns
Your skin is prone to dryness, dark spots, fine lines, and puffiness. Depending on these issues, choosing the correct night cream with specific ingredients will give you optimal results. Here are a few ingredients to look for:
Retinol For Fine Lines: Retinol helps stimulate collagen production and helps in cell regeneration. It reduces fine lines and wrinkles and reverses sun damage and dark spots.
Natural Soothing Ingredients For Puffiness: To reduce swelling and irritation, look for cucumber, chamomile, caffeine, green tea, aloe vera, and coconut oil.
Skin Lightening Ingredients: The best ingredients for lightening pigmentation are vitamin C, vitamin K, caffeine, turmeric, sandalwood, cucumber, and kojic acid. These ingredients help reflect light and brighten up your dull face.
3. Age Factor
A teenager can opt for a simple and light night cream that hydrates the skin. But for matured skin, this is not enough. You must look for a night cream with anti-aging properties.
4. Ingredients That You Have To Avoid
Many ingredients can cause allergic reactions, irritate, or even damage your skin. While choosing a night cream, pick up the products that are free from the following ingredients
Alcohols are used to add that weightless inclination to beauty and skin care products that practically dry your skin out. They strip your skin of their natural oils and may cause irritation or inflammation.
Sodium Lauryl Sulfate/Sodium Laureth Sulfate, Parabens, Phthalates, Silicones
These ingredients are mainly used as foaming agents and preservatives, but can be extra harmful to sensitive and delicate skin types.
Artificial/Synthetic Fragrances
These may also cause allergic reactions in those with sensitive skin. Try to steer clear of products containing these ingredients.
Manufactured Colors and Dyes
That splendidly hued cream may contain coal, tar, or oil-based pigments. These pigments are comedogenic (pore-clogging) and are extremely unforgiving on sensitive skin.
Takeaway
Ayurvedic night creams are an essential step to add to your regular skin care routine. They provide nourishment, moisturization, and freshness while reversing skin damage overnight. Now that you have an idea of the various night creams available on the Indian market, choose your favorite and start using it today!

Recommended Articles
The following two tabs change content below.