11 Best Baby Food Makers You Need To Check Out Right Now!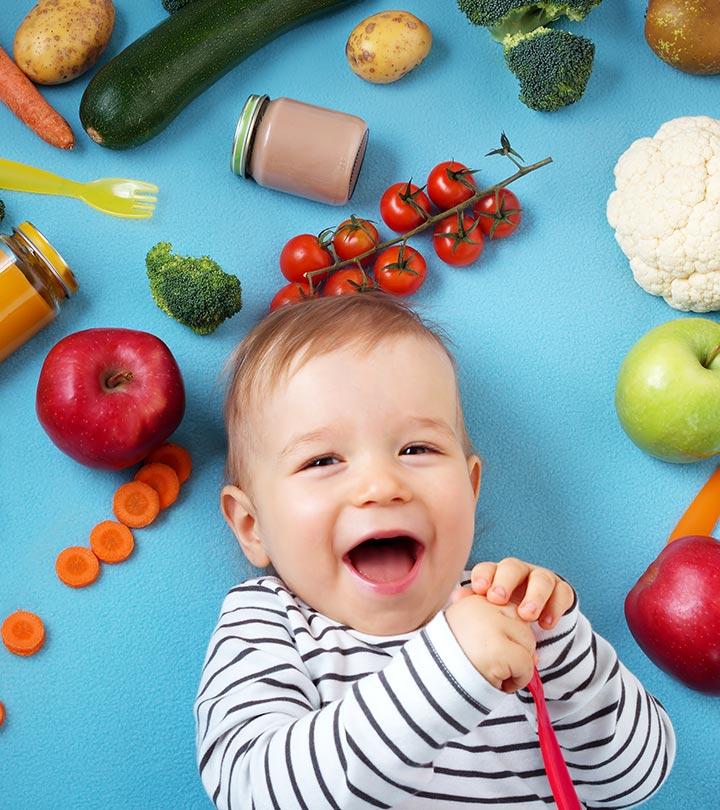 As soon as your baby crosses the 6-month mark, you can introduce him or her to a host of fruits and vegetables in a pureed form. Fruits like bananas, peaches, apples, and vegetables such as potatoes and squash can now be an everyday occurrence in your baby's mealtimes apart from breastmilk. However, pureeing food for a baby can be time-consuming. It may sound as simple as chopping fruits and vegetables, boiling them and mashing them thoroughly, but we know that it's not as quick as it seems.
That is why a baby food maker is a necessity for new parents and newborn babies. With a baby food maker at home, all you need to do is add the ingredients to one unit and let it do the hard work. We've compiled a list of the 11 best baby food makers of 2020 for you right here and a helpful buying guide. Why don't you check it out and pick one that's best for you?
Top 11 Baby Food Makers Of 2020
With this easy-to-operate squeeze station, preparing baby food is just a 4-step process. Start by inserting the Squeeze Pouch into the Squeeze Station, pour the puree you have prepared for your baby from the top, gently press it down, and the squeezy pouch is ready for your child. Simple, isn't it? This squeezing station comes with 3 clear tubes with soft rubber lids that offer an excellent grip. It includes 3 squeeze pouches that are food and freezer safe. Each pouch holds up to 4 oz. of homemade puree and the squeeze station itself features a non-skid base for easy control and a mess-free experience.
Pros
BPA-free
PVC and phthalate-free
Non-slip base
3 clear tubes
3 squeeze pouches
Stackable for easy storage
Cons
You may not believe this, but something as basic as 5 buttons can change your life. Don't believe us? Try this baby food maker first, and you'll understand what we are talking about. In less than 10 minutes, this food processor prepares your baby's food like a pro. The unit features buttons that allow you to 'Steam', 'Steam+Blend', or 'Blend' and also a 'Start' and 'Stop' button. The glass bowl helps you monitor how well the fruits and vegetables are being processed, and you can rest assured that no harmful chemicals are seeping into your baby's food. The bowl accommodates 4 cups, so that you can prepare a large batch at one go.
Pros
3 settings
Dishwasher-safe glass bowl
Easy to operate
Easy to use
LCD-control panel
BPA-free
Removable water tank
Cons
When cleaned in a dishwasher, water may get trapped between the base of the glass and the plastic base of the container.
A quick way to make baby food in a matter of minutes while saving a ton of money is by bringing home this innovative baby food maker. An award-winning patented design; this baby food processor can steam, blend, defrost, and reheat. Do you know what the best part is? It's a self-cleaning processor. It's incredibly uncomplicated to use too. Start by filling the water tank, fill the processing bowl with chopped fruits and vegetables, choose your selected mode of setting on the touch screen setting, and you're good to go. This food maker preserves all the nutrients of the food and comes with 6 reusable food pouches.
Pros
Self-clean option
Touch screen control panel
Anti-rust water tank
Customizable puree consistency
BPA-free
Lead-free
Phthalate-free
The stirring cup is dishwasher-safe.
Cons
The size of the stirring cup may be small for some.
Another award-winning baby food processor, this one offers 8 functions in one user-friendly unit. It purees food, steams it, warms it up, chops it, sterilizes it, defrosts it, and can also help you make juice. It features a unique 3-tier basket design in different sizes (5, 12, and 25 oz.) to accommodate different types of food. With the help of its Smart Touch LED panel, cooking for your baby is a piece of cake. The processor comes with a Tritan Stirring Cup made of shatter-proof material and is completely BPA-free. The base of the processor houses a hidden drawer inside which you will find a splash cover.
Pros
Phthalate and lead-free stirring cup
Touch control panel
3 sizes of stirring cups
Pyramid-stack design
8 functions in 1 processor
Heat insulation cover
Detailed user manual and recipe book included
Cons
Slightly expensive
The cups don't lock but rather stack on top of each other.
If you're looking for a baby food maker that is noiseless and won't wake your sleeping baby up with a start, you should consider this one. A 4-in-1 processor, this compact yet effective baby food maker steams, blends, reheats, and defrosts food. Constructed with food-grade stainless steel and Nano Coating, this wear-resistant processor offers 360° uniform heating to preserve the nutrients of your baby's food. It features a rotary dial on the unit for function selection and a see-through stirring cup.
Pros
4-in-1 baby food maker
Takes only 15 minutes
Quiet motor
BPA-free
Lead and phthalate-free
Cons
It is not dual-voltage.
The compact size may make enough food for only a meal or two.
Once your baby crosses the 9-month mark, you can introduce him to finely chopped fruits and veggies along with purees and breastmilk. This blender kit grows along with your baby. It's everything you will ever need to feed your growing toddler. It comes with a 3-piece batch bowl, a power base, a steaming basket, a cup with lid, a milling blade, a blending blade, and other necessary elements to prepare food for your baby. You can use different blades to make different types of food for your baby, corresponding to his or her age. If you're confused about what to cook, you can take inspiration from the cookbook provided.
Pros
22-piece set
6 food storage jars
Microwave steamer
1-lid freezer tray with many cups
1 spatula
2 long handle spoons
Nutrition pocket guide included
Cons
The steaming basket may see some staining.
Looking for a baby food maker that also heats your baby's bottle? If yes, you need not look any further. This baby food maker comes with a 4-cup stirring bowl, so you can steam, chop, and puree a large batch of food. When your baby wants to drink milk, simply pop the bottle in the warming compartment and let the bottle warmer do its job. The unit comes with a dial control with an LED light.
Pros
Baby food maker and bottle warmer combo
4-cup capacity
Dial control
Includes a recipe booklet
Comes with a bottle adapter ring
Measuring cup included
Cons
It may take a long time to steam food.
What are you preparing for your little one today? Some mashed potatoes, a healthy banana and apple puree, or some other blend? No matter what's on the menu, this handheld immersion blender will do the trick. With this blender and food processor, you can make as much as 2 weeks supply of baby food in just 10 minutes. Ideal for all feeding stages, this 2-in-1 blender and food processor helps achieve different consistencies and food textures. It comes with stainless steel blades ensuring food safety and non-rusting qualities. As the unit is lightweight, compact, and dual-voltage, it's the perfect companion for your travels. When you're not using it to make baby food, you can whip up a delicious glass of smoothie or a fresh bowl of homemade ice cream for yourself.
Pros
Dual-voltage
2-in-1 immersion blender and food processor
Dishwasher-safe attachments
Noise-free
BPA, phthalate, and PVC-free
Lightweight
FDA-approved
Cons
The power button should not be pressed continuously for 30 seconds while blending.
Fifteen minutes is all you need to prepare a healthy meal for your little one. This 8-in-1 baby food maker can perform tasks like steaming, mixing, blending, and reheating, to name a few. It also features a 2-tier basket so that you can cook different foods simultaneously. With just 3 6-second intervals of grinding, your baby's meal will be ready. However, you can control the time of steaming and reheating or the timer will remind you when it's ready. You can either make use of the self-cleaning option or toss the attachments into a dishwasher. The blades are removable for ease of cleaning.
Pros
8-in-1 food maker
BPA-free
Dual-layer steamer basket
Safety switch
Self-cleaning
Dishwasher-safe attachments
Cons
The water tank may show signs of rusting if not taken care of.
Equipped with 360° rotating steam heating, this multipurpose baby food maker keeps the nutrients in your baby's food intact. Ideal for prepping and cooking all sorts of fruits and vegetables along with seafood and poultry, this food processor comes with 18/8 stainless steel blades for different food textures and consistencies. It features a 1000 mL blending bowl in which you can prepare a large batch of food and is easy to clean. An ideal choice for steaming and blending food and also to warm milk, this baby food maker has a user-friendly LED digital panel.
Pros
Rotary cover for water tank
Stainless steel blades
3.1-inch diameter water tank
Multi-texture blending
Cons
The containers and lid tend to get hot when steaming.
Enjoy a blackberry smoothie and prepare an apple puree for your baby with this smoothie and baby food maker combo. This unit comes with everything you need and more for a mess-free and hassle-free time in the kitchen while making baby food. It comes with a blender and a blender bowl made of high-quality, durable Tristan plastic along with 6 stackable cups that you can use for storing food and keeping it fresh. It also includes a 12 oz sippy cup that attaches to the blender.
Pros
20-piece set
Smoothie blender and baby food maker combo
250 W blender base
1-touch blending
Spill-proof sippy cup
Comes with a recipe book
Dishwasher-safe bowls, sippy cups, blade, and storage cups
Cons
It may take a long time to blend.
If you're finding it hard to settle on a single baby food maker or processor, the following points will make the task easier for you.
Things To Keep In Mind When Buying A Baby Food Maker
What Are The Advantages Of A Baby Food Maker?
A high-quality baby food maker may seem like an expensive buy, but on the grander scheme of things, you will realize how much money you can save in the long run. Having a baby food maker at home means healthy, homemade food for your baby throughout the day and never having to spend a dime on store-bought food.
As mentioned above, making food for a baby can be a time-consuming process. It requires quite a few vessels and utensils and many steps involved, including cleaning up. A baby food maker is a one-stop solution to preparing and cooking your baby's food in one unit.
Steaming your baby's food helps in preserving all its natural nutrients while enhancing the taste. So, we can wave goodbye to store-bought, preservative-filled baby food.
There are many variations of baby food makers available in the market, but even the most basic ones are equipped with functions like steaming, blending, and heating. Some are even designed to make juices and smoothies.
How To Store Baby Food
Before you put any food for storage in zip lock bags, containers, or jars, ensure that it is thoroughly washed and dried.
To store baby food in a fridge, keep it in an airtight container or jar and store it up to 3 days. However, before feeding your baby, check the food for bad odors, discoloration, and foul tastes. When in doubt, it's best to discard it.
To make small, well-proportioned meals, fill your baby's purees into ice molds. Keep it covered in the freezer till it becomes solid and transfer it to a freezer-safe pouch. You can store it for 3 months.
Always label the jars and pouches with the names of the foods prepared and the dates in which they were stored.
Things To Keep In Mind When Using A Baby Food Maker
Always keep the baby food maker or processor out of the reach of children.
Some stirring bowls and lids tend to heat when used for steaming purposes. To avoid burning your hands, let the vessel cool down or use mittens while opening it.
Secure the blending blades firmly on the base before using the baby food maker. Be extra careful when washing it.
Ensure that the lid is tightly closed when using the baby food maker to avoid spillage and mess.
When using the unit for blending and grinding, take as many intervals as you need. Don't keep the blades running for more than 30 seconds at one go.
After every use, wash each and every part properly and wipe down the exteriors with a soft cloth.
Things To Consider When Buying A Baby Food Maker
The primary task of the baby food maker is to puree food for a baby. Additional features include steaming and blending. As the market is wide, you'll find many variations of a baby food maker that offer reheating, defrosting, and smoothie making capabilities. At the same time, while some have a dedicated slot of warming a baby bottle. Depending on your requirements, pick one that's best for you. Sometimes, too many functions could even be overwhelming for some. Don't assume that just because a particular baby food maker has many capabilities, it will be the best one for you.
As small babies have underdeveloped immune systems, they are susceptible to falling ill with even the slightest of mistakes. So, avoid such mistakes when buying a baby food maker. Invest in one that is BPA, lead, and phthalate-free. Ensure that the plastic and steel parts used in making the baby food maker are 100% food-grade.
One of the most important things to keep in mind when using a baby food maker is to ensure its overall cleanliness. Check each and every part properly to see if it is easily accessible by hand for a deep clean. If you own a dishwasher, look for attachments that are not only food-grade but also 100% dishwasher-safe.
The size of the baby food maker depends on how you like to prepare your baby's food. If you like to make large batches and keep it frozen, choose a large one. However, if you don't mind making several small batches of food, choose compact and portable ones. A compact baby food maker will also come in handy when you are traveling.
After a long tiring day or weeks off binge-eating Chinese takeout, we quickly learn that there's nothing as comforting, healing, healthy, and nutritious as a hot plate of homemade food, do we? Home-cooked meals are all the more important for your growing baby, and a baby food maker can help you prepare countless meals throughout the day. We hope that this comprehensive buying guide helped you select a baby food maker that's right for you and your baby.
Expert's Answers For Readers' Questions
Do I need a special blender for baby food?
No, you don't require a special blender for baby food, but a blender designed especially for baby food can make a world of difference.
How long do babies eat pureed food?
You can start introducing pureed food to your baby after he or she crosses the 6-month mark. However, you can give small doses of finely chopped, chunkier food after 9 months.
Can babies eat raw pureed vegetables?
It is best to feed your baby boiled or steamed pureed vegetables as they may not be able to digest raw vegetables.
Do I need to peel apples for baby food?
Apples should be peeled for babies under 1 to avoid stomach aches and diarrhea.