11 Best Baby Hair Brushes – 2021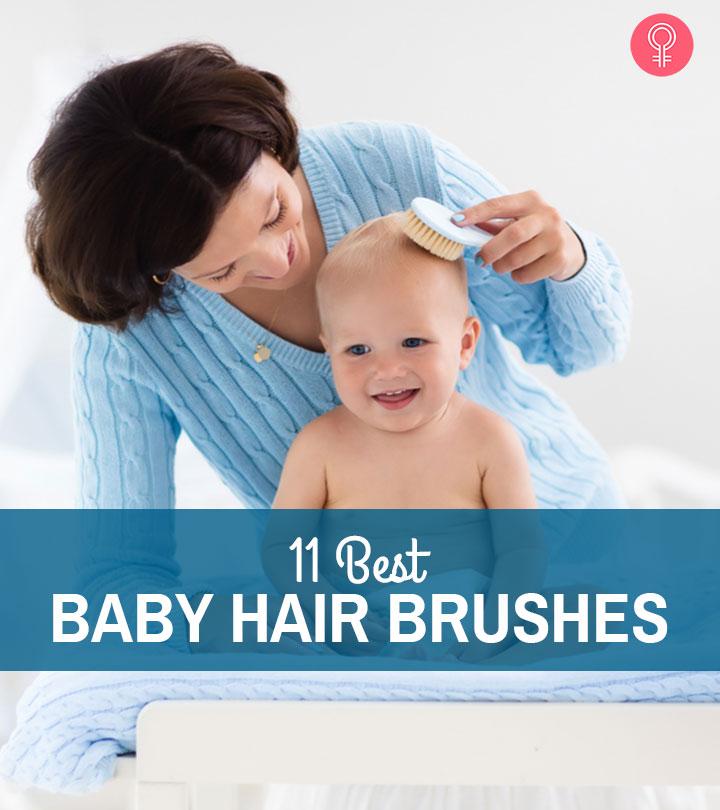 Using a delicate hairbrush for a toddler is very important. Young parents are always concerned about using the right personal care products for their babies. As they are new to parenthood, it worries them that using the wrong product may harm their child. Baby hair brushes play a vital role in maintaining the proper texture of your kid's hair. As babies have a tender scalp, one should use the right brush to comb their soft hair.
Some babies have good hair growth, while others have less hair. Whatever the case, it is the parents' responsibility to take the utmost care of it. In this article, we will help you choose the right hair brush for your child. Just keep scrolling!
11 Best Baby Hair Brushes Available Right Now
FridaBaby Cradle Cap System is one of the best baby hair brushes. It is exclusively designed to take care of your baby's hair. This hair tool is designed with a three-step Cradle Cap System that comes with a sponge, a brush, and a comb. Use the foam sponge to lather up your baby's head with baby shampoo or oil. Next, use the brush in a gentle, circular motion to get rid of cradle cap flakes. Finally, use the wide-toothed comb to lift the chips from the scalp. You can brush their hair with the brush after washing it.
Pros
Super soft and gentle bristles
Treats cradle cap
Gentle on the baby's scalp
Cons
Sponge may come off the base
Summer Brush And Comb Set is a combo that consists of a hair brush and a comb so that you don't have to compromise on your baby's grooming. This set is highly recommended by doctors. The comb has fine bristles that gently remove all the tangles and knots from your baby's hair, while the soft bristles of the brushes help in grooming it.
Pros
Soft bristles
Round-toothed comb
Gently detangles the knots
Ergonomic handle
Cons
Brush feels a little hard on the scalp
Safety 1st Easy Grip Brush And Comb Set is a lovely combo that perfectly suits your baby's gentle scalp. Its soft bristles are perfect for your baby's sensitive scalp. The thick ergonomic handle makes it easy to grip while combing. The comb has dual-density teeth that you can switch between, depending on the thickness and dampness of your baby's hair.
Pros
Soft bristles
Dual-density comb teeth
Ergonomic handles
Gentle on the baby's scalp
Cons
The Chibello 4-Piece Wooden Baby Hair Brush And Comb Set is the best organic hair brush set that is ideal for preventing cradle cap. The bristles of the two hair brushes in this set are 100% natural and extremely gentle on your baby's scalp. The bristles evenly distribute the natural oils throughout the scalp and reduce static. The set consists of a natural goat hairbrush, a wooden massage brush, a wooden comb, and a silicone massager.
Pros
Prevents cradle cap
Made of beech wood
Gentle on the baby's scalp
Increases circulation
Gently detangles the hair
Comes in a unique gift box
Cons
Bristles may be a little stiff
This is the perfect grooming brush for newborn babies. It is entirely natural, handmade, and perfectly safe for brushing toddlers' and infants' hair. Its soft goat bristles smoothly condition your baby's hair and finely distributes the natural oils on their scalp. It also prevents cradle cap build-up and protects your baby's soft spot. Its soft bristles massage your baby's scalp to boost blood circulation and promote relaxation. This hair brush can be used to brush both wet and dry hair. If you are planning to shop for a baby shower gift, this is undoubtedly the perfect gift as it comes in a cute gift box.
Pros
Prevents cradle cap
Handmade and natural
Improves blood circulation
Suitable for wet and dry hair
Soft bristles
Comes in a gift box
Cotton string for easy hanging
Cons
Not suitable for all hair types
Camryn's BFF Gentle Edges Brush is a baby hair brush for smoothening the edges. It is a double-sided edge brush and comb that keeps the tips of your baby's hair smooth. The 100% pure and soft boar bristles gently comb the baby's hair and give the edges a beautiful polished look. This brush works well on all types of hair.
Pros
Soft boar bristles
Double-sided brush/comb
Keeps the edges smooth
Suitable for all hair types
Cons
MolyLove Baby Hair Brush has a natural wooden handle and soft bristles that are ideal for a baby's gentle scalp. The soft goat bristles prevent any kind of build-up and gently detangle the knots while brushing. This baby hair brush sufficiently serves the needs of all those concerned parents. It is naturally crafted with beech wood and goat bristles.
Pros
Comfortable to use
Promotes relaxation
Durable
Prevents cradle cap
Recommended by doctors
Hypoallergenic
Cons
Natemia Baby Hair Brush And Comb Set is the perfect combo that contains three accessories – a soft scalp brush, a wooden comb, and a hard bristle brush. The fine bristles of the scalp brush gently groom the baby's brush. They also gently massage the scalp and relax the baby. This brush also prevents the cradle cap.
Pros
Natural wooden hair accessories
Promotes hair growth
Prevents cradle cap
Gently massages the scalp
Cons
Not suitable for curly hair
Ullabelle Wooden Baby Hair Brush Set is the best grooming set consisting of a soft goat hair bristle brush, a detangling brush, a wooden comb, and a silicone cradle cap brush. The cradle cap brush can be used to gently massage your baby's scalp. This brush set is safe for use on babies. Its daily use prevents cradle cap from building up.
Pros
Prevents cradle cap
Distributes the natural oils of the scalp
Gently massages the scalp
Ideal baby shower gift
Cons
The brush goat hair brush may shed initially
The Joyful Baby Baby Hair Brush And Comb Set truly is a pack of joy for newborn babies and their parents. It consists of a hard wooden bristles brush, a soft goat hair bristles brush, a wooden comb, and a wooden rattle for the baby to play with. The natural goat hair bristles feel smooth and gentle on the baby's scalp. They also prevent cradle cap. All the accessories are crafted from beech wood. This adorable four-piece set makes for a very thoughtful baby shower gift.
Pros
Prevents cradle cap
Detangles knots with ease
Made of beech wood
Comes with a rattle toy for the baby
Ideal baby shower gift
Cons
The Avenor Baby Hair Brush Comb Set is a premium-quality set with two brushes, one comb, and one silicone scalp brush. The brushes delicately massage the baby's scalp and distribute the natural oils on it. The silicone scalp brush helps get rid of cradle bap build-up.
Pros
Massages the scalp
Stimulates blood circulation
Made of beech wood
BPA-free
Suitable for both wet and dry hair
Cons
Goat hair bristles shed quickly
Not suitable for curly hair
It is always essential to give the right parental care to your baby from the very first day. Choosing the right grooming products will aid the healthy growth of your child's hair. All these brushes are made with high-quality materials and suitable for your baby's hair. Pick one from this list to groom your baby the right way!
Frequently Asked Questions
Is it okay to comb a baby's hair?
Yes, it is okay to comb a baby's hair. You just need to make sure that you use a brush with soft bristles. Newborn babies shed their hair during the first six months, so you must use a wide-toothed comb during those initial days.
Does brushing a baby's hair stimulate growth?
Brushing your baby's hair stimulates the hair follicles and increases blood flow in the scalp. Thus, it promotes healthy hair growth.
Recommended Articles