8 Best No-Harm Hair Oils For Babies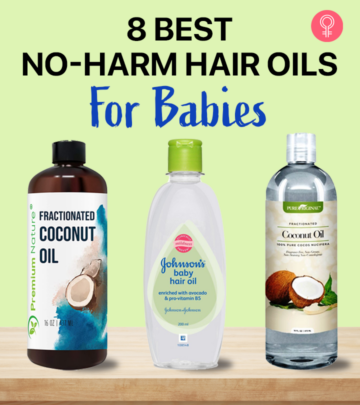 Shopping for your toddler is always a hard task. You have to be very careful about the products you use on your child, given the delicate skin. While choosing baby oils, some may contain harsh fragrances and additives that may irritate your baby, while others may be way too diluted to get any actual benefits. Don't worry! We have put together a carefully curated list of hair oils that are absolutely safe and effective for your child's scalp and hair. Check out our list of the 8 best hair oils for babies. Scroll down and read on.
Before you choose a baby oil for your little one, read on to find out why you should use a baby hair oil on your infant.
Why Use A Baby Hair Oil?
A baby hair oil is specially formulated without harmful chemicals to condition an infant's delicate and tender scalp and hair. Oiling your baby's hair ensures that your child has a healthy and faster hair growth. A gentle massage of the hair oil on your infant's scalp will also aid in proper blood circulation and boost new hair growth. We all want to give the best to our little ones. Safe, natural products, which are specially formulated keeping in mind the fragile skin of a baby, are necessary for their effective hair care routine. Moreover, a suitable hair oil also helps in reducing cradle cap and flaky skin, so common to infants.
Before you buy a baby hair oil for your child, find out the things to look for and consider in a baby hair oil.
Things To Consider Before Buying A Baby Hair Oil
Go Through The Ingredients Cautiously
Read the ingredients list cautiously and avoid buying products that contain colors and synthetic substances as they may cause irritation and skin damage to your child. Avoid ingredients like parabens, sulfates, mineral oils, phthalates, additives, artificial preservatives, silicone, etc., as these will harm and dry out your baby's skin.
Check For Allergy Inducing Ingredients
Your baby's delicate skin is not accustomed to synthetic compounds. Search for indications of hypersensitivities in your child before trying out the product on them. To ensure no harm comes your child's way, check whether the products are safely tested for a baby's skin or not. Also, do not forget to do a patch test for added safety.
Choose Natural Ingredients
The safest option is to get products with natural and organic ingredients that are free from unsafe synthetic compounds so that your child's skin remains unharmed, and you remain stress-free. Products with natural ingredients contain no additives, chemicals, additional flavors, etc. Look for oils that include olive oil, sweet almond oil, coconut oil, and other such oils with 100% natural ingredients.
Check For The Viability Of Items
Choose products that are dermatologically tested and endorsed by pediatricians as well as other mothers. Any item that gets a 'thumbs up' from a specialist is generally safe for children. If you are still unsure of what the brand claims, consult with a doctor.
Avoid Artificial Fragrances
Artificial fragrances can disturb your little one's skin and cause respiratory issues as well. Unfortunately, many baby products today contain artificial perfume added to hide the awful scent of the synthetics in them. To ensure safety, search for items that have gentle to neutral fragrance.
Check the packaging of the oils and make sure they are not slippery and are easy to hold. This will save you from the risk of any accidents.
8 Best Safe Hair Oils For Babies
The Fractionated Coconut Oil by Premium Nature has a 100% pure and natural composition that is safe for your baby's delicate scalp. Coconut oil is rich in antioxidants and, thus, excellent for treating dry, flaky skin. The saturated fat content in the oil helps to ensure a faster and thicker hair growth. This colorless oil is packed with vitamins D, E, K, and omega-3 fatty acids, that form a protective skin barrier. It can also be used as a body massage oil on the baby's sensitive skin.
Pros
Organic
Non-greasy
Absorbed quickly
Calms itchiness
Non-staining
Longer shelf-life
Promotes hair growth
Preservative-free
Fragrance-free
Dyes-free
Toxin-free
Value for money
Vegan
Cruelty-free
Cons
None
The avocado & pro-vitamin B5 enriched Johnson's Baby Hair Oil is a mild and gentle formula It is lightweight and does not cause stickiness or greasiness in your baby's hair. The pro-vitamin B5 and avocado oils provide intense hydration and possess soothing properties. The mild yet effective ingredients in the formula are devoid of any harsh additives that could damage your kid's scalp. A daily gentle massage using this mildly fragrant hair oil calms and stimulates your child's senses.
Pros
Lightweight
Non-sticky
Mild fragrance
Calms senses
Soothes scalp
Cons
This fractionated coconut oil is 100% pure and contains antiseptic properties. The hydrating oil penetrates deep into the hair shaft and nourishes it without feeling sticky or greasy. The lightweight oil is also odorless and colorless. It has a balance of saturated fats that aid in faster, stronger, and thicker hair growth. This formula does not contain any other chemicals, additives, or preservatives that cause irritation and damage. The antioxidants-rich oil is nourishing and helps get rid of dandruff, scaly scalp, cradle caps, and eczema. It can be used to heal burns and diaper rashes. The travel-friendly packaging comes with a free travel cap as well as a pump.
Pros
100% natural
Non-greasy
Non-staining
Calms itchiness
Promotes hair growth
Hydrating formula
100% natural
Preservative-free
Synthetic fragrance-free
Artificial dye-free
Toxin-free
Value for money
Vegan
Cruelty-free
Cons
None
The Tropical Holistic Extra Virgin Olive Oil is 100% pure, natural, and made of premium quality olives. It is rich in antioxidants and contains oleic acid that penetrates deep into the hair shaft and gives smooth hair and a hydrated scalp. In addition, it adds shine to your baby's hair, reduces dandruff, and provides ultimate nourishment. It comes with a dropper for convenient application.
Pros
Organic
Toxin-free
Eliminates dandruff
Calms itchiness
BPA-free
Fragrance-free
Dye-free
Preservative-free
Value for money
Cons
This baby hair oil by Mom & World is made with cold-pressed oils that ensure that the formula retains the maximum benefits of the oils. It contains potent ingredients like coconut oil, jojoba oil, olive oil, almond oil, castor oil, and avocado oil. The avocado and castor oil duo nourishes your baby's hair, provides strength, promote new hair growth, and prevent hair damage. The coconut and jojoba oil has hydrating properties, while the olive and almond oil combination provides deep nourishment to the baby's tender scalp. The antioxidants-rich oil further contains vitamins E, A, B, and D that help stimulate blood circulation, promote new growth, eliminates dandruff, and itchiness when massaged into the scalp.
Pros
Non-greasy
Lightweight
Clears dandruff
Gentle formula
Mineral oil-free
Preservative-free
Artificial fragrance-free
Artificial colorant-free
Vegan
Value for money
Cons
Give your baby's hair the goodness of enriching oils with the Mama Earth Nourishing Hair Oil. It contains a combination of coconut oil, jojoba oil, almond oil, and avocado oil for your baby's complete hair care. Coconut oil promotes hair growth; it also heals cradle caps and keeps your baby's hair smooth and healthy. Avocado oil helps stimulate blood flow in the hair follicles to promote new growth and is rich in vitamins A, B, D, and vitamin E. Almond oil provides your infant's hair with shine, strength and promotes thicker hair growth. The lightweight, non-greasy hair oil is free from harsh chemicals that damage or irritate your child's scalp. It is hypoallergenic and has a mild therapeutic scent of lavender.
Pros
Organic
Natural ingredients
Lightweight
Non-sticky
Mild
Dermatologically-tested
Toxin-free
Hypoallergenic
Paraben-free
Sulfate-free
Mineral oil-free
Vegan
Cons
The Mom's Co Natural Hair Oil is infused with a combination of twelve potent natural oils like argan oil, amla oil, bhringraj oil, marula oil, and avocado oil. Avocado oil is rich in antioxidants, vitamins, minerals, and essential fatty acids that help rejuvenate and hydrate your baby's hair. Marula oil has high levels of oleic acid and vitamin C that help strengthen the hair follicles for new hair growth. Bhringraj and amla oils help to stimulate hair growth, while argan oil is super rich in antioxidants, linoleic acid, and omega-6 fatty acids. In addition, this super absorbing oil is free from harmful toxins that cause damage or irritation to your baby's scalp.
Pros
Natural ingredients
Absorbed quickly
Lightweight
Non-sticky
Hypoallergenic
Dermatologist-tested
Sulfate-free
DEA-free
Synthetic fragrance-free
Paraben-free
Mineral oil-free
Phenoxyethanol-free
PEG free
Cruelty-free
Cons
None
The Himalaya Baby Hair Oil has a dermatologically tested mild formula that is safe for your baby's scalp. It is infused with fenugreek seed extracts, amla, bhringraj oil, almond oil, coconut oil, and olive oil. This potent combination helps stimulate hair growth and adds luster to your baby's hair. Fenugreek seed extracts, bhringraj, and amla oil help to prevent dandruff and stimulate hair growth. Almond oil and coconut oil provides your infant's hair with shine, strength and moisturizes their tender scalp. The formula does not contain any harmful ingredients that may irritate or damage your infant's hair and scalp. It is lightweight and does not leave a greasy or sticky feeling.
Pros
Non-greasy
Lightweight
Non-staining
Soothes itchiness
Value for money
Paraben-free
Mineral oil-free
Artificial Colorant-free
Alcohol-free
Phthalate-free
Cons
Choosing the best hair oils for your little one requires extra attention to details. Stay away from harsh, chemical-infused hair oils and choose products that are natural and organic. Pick from the above-listed baby hair oils and give your young one a safe and nourishing experience.
Frequently Asked Questions
What kind of oil can you put on a baby's hair?
You can use hair oils that are made from natural extracts and are cold pressed. Stay away from oils that contain chemicals and preservatives.
Is coconut oil good for babies' hair?
Yes! Coconut oil helps stimulate hair growth, induces shine, and improves the overall hair texture. It also has natural antioxidants and helps to eliminate cradle caps.
Can I leave oil in the baby's hair overnight?
Yes, it is okay to leave oil in your baby's hair overnight. However, avoid putting an excessive amount of hair oil to avoid it getting into the baby's eyes.
Can I put hair oil on my 2-month old?
Yes! It is fine to oil your 2-month old baby's hair. It helps keep your baby's scalp moisturized and dandruff-free.
Is olive oil good for baby hair?
Yes! Olive oil contains super hydrating properties and softens, strengthens, and nourishes your baby's delicate hair. It also helps remove cradle cap or flaky skin on your Infant's scalp.
Recommended Articles
The following two tabs change content below.