6 Best Baby Shampoos For Dry Scalp
Care for and cleanse your baby's scalp with these gentle, skin-friendly shampoos!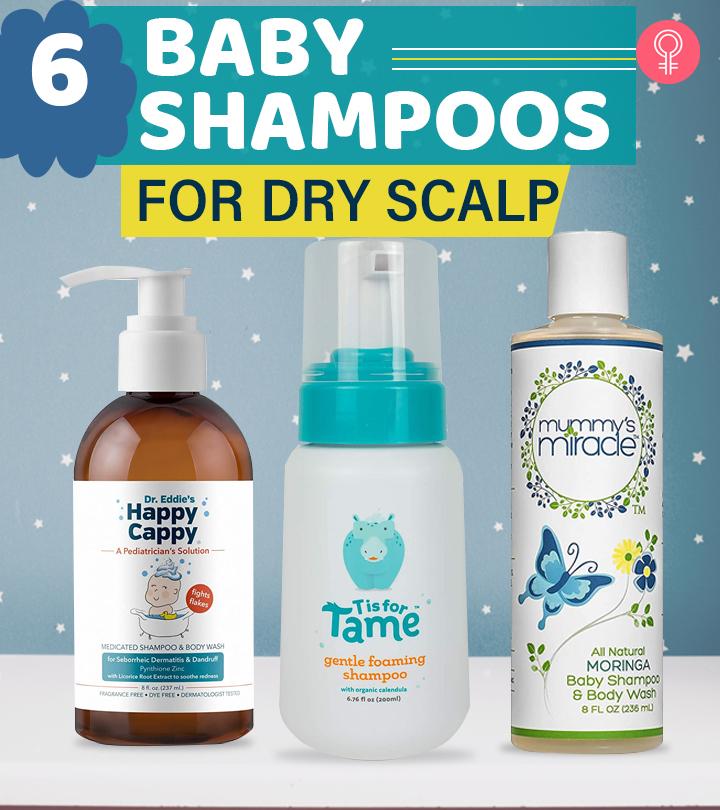 A dry scalp may cause itching, irritation and lead to cradle cap. Cradle cap is a common skin issue in some newborn infants that is painful and itchy and makes your baby fussy. So, you can try the best baby shampoo for dry scalp to treat such conditions.
Infants have soft and delicate skin prone to rashes, allergies, and irritation. So, we must be careful to select only the gentlest products. In this article, we have put together a list of the 6 best baby shampoos that will repair your baby's dry scalp and keep it moisturized and healthy. Keep scrolling to learn all about them!
6 Best Baby Shampoos For Dry Scalp
The Bella B Bee Gone Cradle Cap Baby Shampoo is one of the best baby shampoos for dry hair and scalp. It is infused with high quality and pharmaceutical-grade tea tree oil that soothes the dry scalp, unclogs hair follicles, and nourishes the roots. This hypoallergenic shampoo also contains oatmeal, shea butter, aloe vera, vitamin E, organic flower extracts, and amino acids.
The oatmeal exfoliates and cleans the scalp thoroughly to eliminate dry flakes and baby dandruff, while shea butter nourishes and moisturizes the scalp. Aloe vera contains proteolytic enzymes that help in repairing the dead skin cells and flakes on the scalp, and vitamin E reduces inflammation. The extracts of chamomile, lavender, and marigold help improve blood circulation to the scalp, reduce inflammation, clear flakes, and stimulate hair growth. This organic shampoo has a mild and refreshing fragrance and is free of parabens. Check out this video to know more about this product.
Key Ingredients: Tea tree oil, Oatmeal, Vitamin E, Organic shea butter, Aloe vera, and Organic flower Extracts
Pros
Gentle
Mild fragrance
Paraben-free
Hypoallergenic
Contains natural and organic ingredients
Value for money
Cons
Price at the time of publication: $9.99
Eliminate baby dandruff and dry scalp with the T is for Tame Gentle Foaming Shampoo. The scientifically developed formula cleanses your baby's hair and scalp and rinses away excess oil and flakes. It can help treat baby dandruff, eczema, and cradle cap.
This foaming shampoo contains organic calendula that soothes redness and irritation in the scalp. It also contains salicylic acid and rice extract, natural exfoliants that prevent and reduce dry scalp, flaking, and cradle cap, and coconut oil that moisturizes the scalp. This organic and natural shampoo is gentle, hypoallergenic, and contains no harmful chemicals.
Key Ingredients: Organic calendula, Salicylic acid, Rice extract, and Coconut oil
Pros
Gentle
Hypoallergenic
Vegan
Dye-free
Talc-free
Sulfate-free
Paraben-free
Silicone-free
Phthalate-free
Cruelty-free
Cons
None

Price at the time of publication: $11.99
The Baby Mee Bee Gentle Baby Wash / Shampoo is made with organic and all-natural ingredients. The formula has calming, soothing, and nourishing effects on irritated and dry scalps. It contains all-natural ingredients like organic aloe vera, organic chamomile flower extract, organic calendula flower extract, rose flower water, and pure honey that soothe and moisturize the scalp and reduce dryness, flaking, itching, and cradle cap. This tear-free shampoo can also be used as a body wash and helps soothe diaper rashes and dry skin.
Key Ingredients: Organic aloe vera, Organic chamomile flower extract, Organic calendula flower extract, Rose flower water, and Pure honey
Pros
Tear-free
Sulfate-free
Paraben-free
Silicone-free
Phthalate-free
Cruelty-free
Can also be used as a body wash
Cons
Overwhelming fragrance
Runny texture
Price at the time of publication: $15.99
Be it dry scalp, baby dandruff, or cradle cap, Dr. Eddie's Happy Cappy Medicated Shampoo & Body Wash will be your go-to! This clinically tested shampoo is highly recommended by doctors. It is also known as "A Pediatrician's Solution," as it combats all skin and scalp concerns, including itching, scaling, flaking, redness, and irritation, for children of all ages.
This shampoo contains pyrithione zinc that relieves dandruff and seborrheic dermatitis and licorice root extract that soothes redness. The product is dermatologically tested and makes the skin and hair soft and smooth. The vegan and cruelty-free formula does not contain dyes, alcohol, parabens, sulfates, fragrance, or BPA.
Tip: For best results, leave the shampoo on the scalp for a couple of minutes before rinsing thoroughly.
Key Ingredients: Pyrithione zinc and Licorice root extract
Pros
Gentle
Unscented formula
Dye-free
Sulfate-free
Alcohol-free
Paraben-free
BPA-free
Cruelty-free
Vegan
Can be used as a body wash
Suitable for children of all age groups
Cons
Price at the time of publication: $12.98
The California Baby Tea Tree & Lavender Shampoo & Body Wash contains tea tree and lavender oils that calm and soothe dry and sensitive scalps. It is also enriched with aloe vera and organic calendula extract to soothe and moisturize the skin. This baby shampoo for dry scalp derives its cleansing powers from organic soap bark and plant-based glucosides that cleanse the scalp without drying or irritating it.
This two-in-one shampoo and body wash tackles all skin concerns – dry scalp, allergies, sensitive skin, and rashes. It has a mild, calming fragrance and does not contain oats, dairy, gluten, and soy. It is also free of harsh chemicals, including parabens, sulfates, and formaldehyde carriers.
Key Ingredients: Tea tree oil and Lavender essential oil
Pros
Gentle
Gluten-free
Soy-free
Oats-free
Dairy-free
Nut-free (except coconut)
Paraben-free
Sulfate-free
Tear-free
No artificial fragrance
No formaldehyde carriers
Can be used as a shampoo and body wash
Cons
May make the hair brittle
Price at the time of publication: $18.99
Cetaphil Baby Shampoo and Body Wash is a 2-in-1 product ideal for parents looking for a better, gentler, and more effective hair-cleansing solution for their little ones. This formula is specifically designed to cater to infants and children's delicate and sensitive skin. It is free from harsh chemicals and ingredients that could irritate or dry out a baby's skin, making it a great choice for dealing with eczema, cradle cap, or other skin sensitivities. It is a tear-free formula that won't sting or burn your baby's eyes during bath time. It also contains a soap-free, pH-balanced formula, which helps maintain the skin's natural protective barrier. This helps to keep the skin hydrated and healthy while also preventing dryness and itching.
The product can be used to cleanse both the hair and body of your baby, making it a convenient and practical solution for parents. The formula is gentle enough for everyday use and can help to leave your baby's skin feeling clean, soft, and refreshed.
Key ingredient: Calendula, Aloe vera, and Glycerin
Pros
pH-balanced
Soap-free
Paraben-free
Non-irritating
Organic formula
Paraben-free
Gentle on skin
Cons
None
Price at the time of publication: $5.97
Many people are confused between a dry scalp and a cradle cap. While both look similar and are associated with flaky skin on the scalp, they are different.
Dry Scalp Vs. Cradle Cap
Dry scalp occurs when the scalp is stripped of its natural moisture. This results in dry, flaky skin on the scalp and baby dandruff. The skin turns yellow and feels itchy and scaly or rough to touch.
Cradle cap is also known as seborrheic dermatitis and is very common amongst babies. You might notice redness, scaly patches, and crusty, greasy bumps on the scalp. This condition might also affect the eyebrows. Cradle cap is slightly more severe, but it does not itch. Alicia Igess Jones, Hair Stylist, advises, "Do not scratch up the cradle cap or any buildup that may appear on your baby's scalp. Put the shampoo on and leave it on for a few minutes before gently massaging the buildup away."
Scroll down to the next section to understand what causes dry scalp in babies.
Why Do Babies Have A Dry Scalp?
Many factors can cause a dry scalp in babies. They are:
Weather Conditions: Changes in the weather or any transition in the climate from too hot to too cold could be one of the major reasons for your baby's scalp to dry out.
Using Hot Water For The Baby's Bath: Yes! Using hot water for bathing your baby for too long can lead to a dry scalp. This is because prolonged exposure to hot water strips off the natural moisture from the scalp.
Wrong Choice Of Shampoo: Not every shampoo is ideal for a baby's sensitive skin. Shampoos with ingredients and chemicals that are too strong for your baby's skin may cause product buildup and reactions like itching, dryness, flaking, and rashes.
Not Thoroughly Rinsing: Failing to fully rinse the shampoo off your baby's hair can cause the scalp to become itchy and dry. The shampoo residue left behind might irritate your baby's skin and lead to flakes, dry scalp, and itchiness.
When it comes to picking the best baby shampoo for dry scalp, there are a few things you should consider.
How To Choose The Best Baby Shampoo For Dry Scalp
Organic And Natural Ingredients
Organic products do not contain any harsh chemicals or harmful ingredients, making them safe for your baby. They are enriched with naturally sourced extracts that are gentle on the baby's scalp and soothe irritation and dryness. Look for shampoos enriched with vitamins like provitamin B5, which helps nourish, moisturize, and hydrate the baby's scalp and hair.
Go for a hypoallergenic shampoo to ensure there are no allergies or reactions to the product. Ensure it does not contain parabens, sulfates, phthalates, and formaldehyde carriers.
No Artificial Dyes Or Fragrances
Make this a thumb rule while shopping for any product for your baby. Read the label and check what the product contains and research what is safe and what is not. Check the ingredients list and make sure there are no artificial dyes or fragrances as they can cause allergic reactions.
Having a no-tear or tear-free formula shampoo is highly recommended. This will not only be a great option if you feel the shampoo might end up in your baby's eyes but also efficient to be carefree and wash the shampoo thoroughly from the baby's scalp.
Here are a few effective ways to treat your baby's dry scalp.
Tips For Treating Your Baby's Dry Scalp
Adjust The Shampoo Sessions: Shampooing often might lead to extreme loss of natural moisture and oils from the scalp, further drying the scalp. Babies have delicate hair strands that do not have the strength to hold on to the natural oils. Hence, shampoo your baby's hair once a week or once in two weeks.
Use Medicated Or Organic Shampoos: If adjusting the shampoo frequency does not help, you might have to switch shampoos. It is likely that your baby's delicate skin is reacting to a few ingredients in your shampoo. Shift to medicated or organic shampoos as they are formulated to address specific scalp concerns of babies. Also, the natural ingredients help in reducing or eliminating dry scalp. If you are using a medicated shampoo, leave it on your baby's scalp for at least two minutes to allow the ingredients to work their magic.
Do Oil Massages: Oil massage is one of the easiest and sure-shot ways of dealing with dry scalp. They help loosen dry flakes stuck on the scalp and prevent their recurrence. Gently massage oil onto your baby's scalp and let it sit for 15 minutes. Let the oil seep into the scalp to loosen the flakes and moisturize the scalp from within before you shampoo. Follow this procedure each time before shampooing, and you will see visible results within a few weeks. Once the flakes start to reduce, you can reduce the frequency of oiling. You can pick any mineral oil, olive oil, or coconut oil to massage.
Consult The Doctor: If none of these remedies seem to work, consult a doctor for appropriate treatment.
Why Trust StyleCraze?
The author, Shiboli Chakraborti, is a hair care enthusiast and loves to write reviews about various hair care products. She has carefully listed these baby shampoos for dry scalp based on user reviews and feedback available on multiple online forums and brand websites. These are soft and delicate on your baby's skin. They repair your baby's dry scalp and keep it moisturized and healthy.
Recommended Articles