The 12 Best Baby Soaps In India – Reviews
Gentle formulations enriched with the goodness of moisturizing ingredients.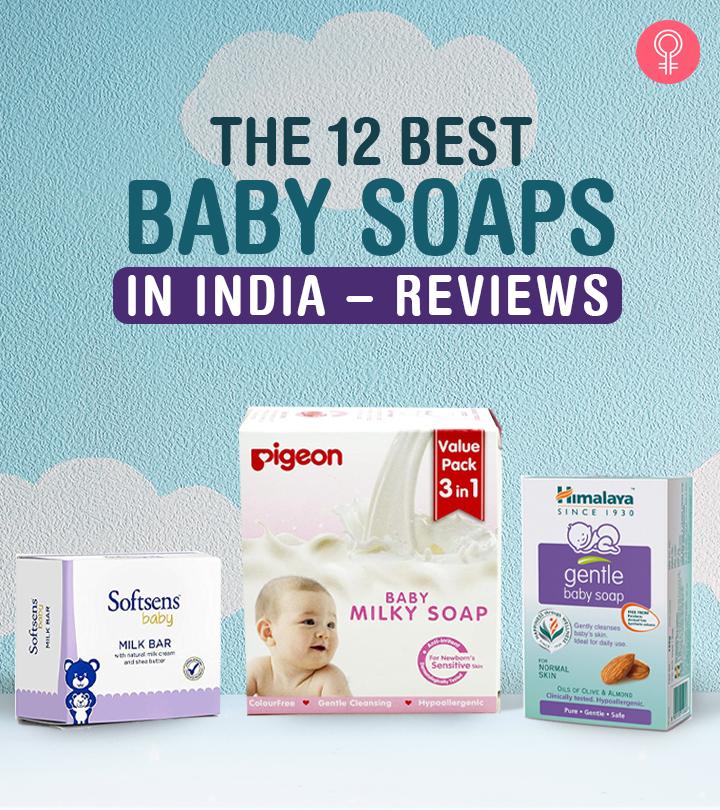 As a new parent, one of your top concerns is to scout for the best baby soap for your infant that keeps their skin soft and hydrated without triggering rashes or irritation. Unfortunately, regular soaps for adults contain heavy surfactants that may irritate the baby's delicate skin. Baby soaps are specially formulated with mild and gentle ingredients. These soaps clean their skin without stripping the natural oils and preventing redness, soreness, or itching. To help you pick the best for your baby, we have listed the 12 best baby soaps available in India. Scroll down to check them out!
Top Picks
12 Best Baby Soaps Available In India
The Himalaya Gentle Baby Soap has an extra mild formula that cleanses your baby's gentle skin, while conditioning it and retaining moisture. This pure, gentle, and safe soap has no artificial colors, and harmful chemicals, and is perfect to keep their delicate skin supple. It is formulated with olive and almond oils that rejuvenates and nourishes the skin. This baby soap is great for daily use.
Key Ingredients: Almond oil and Olive oil
Pros
Hydrating formula
Clinically-tested
Hypoallergenic
Paraben-free
Animal fat-free
Synthetic color-free
Mild fragrance
Cons
The Johnson's Baby Soap is one of India's top 5 baby soaps that most parents prefer for their kids. Its clinically proven mild and gentle Triple Baby Protection formula consists of 1/4th baby lotion and vitamin E. This soap hydrates and nourishes the skin and keeps it moisturized for about 24 hours. Vitamin E in the formula prevents skin irritation and rashes. The soap produces a rich lather, has a great smell, and rinses off easily. It comes in an easy-grip shape that makes bathing babies easier.
Key Ingredients: Baby lotion and Vitamin E
Pros
Lathers well
Long-lasting
Value for money
Soothing scent
Paraben-free
SLS-free
Synthetic dye-free
Alcohol-free
Cons
The cleansing bar from Sebamed has a 100% soap-free, pH-balanced, sugar-based formula that promotes the acid mantle development (protective barrier) on the baby's skin. Its tear-free formula is free from all irritants, and the refatting compounds in the soap prevent drying out the baby's skin.
This cleansing bar is high on the moisturizing quotient due to wheat germ oil, vitamins, and amino acids in the formula. These ingredients nourish and hydrate the skin and effectively lock in moisture. Panthenol in the formula stimulates skin cell regeneration, while chamomile has calming properties and soothes skin irritation. This best baby bath soap is ideal for infants.
Key Ingredients: Vitamins and Amino acids
Pros
100% soap-free
Alkali-free
Mild formula
Irritant-free
Pleasant botanical fragrance
Value for money
Cons
Mamaearth's Moisturizing Bathing Bar For Babies is perfect for a newborn. This soap mildly cleanses and moisturizes the baby's delicate skin without drying it. It has a hypoallergenic, toxin-free, and tear-free formula that does not irritate the baby's skin.
This bathing bar is infused with goat's milk, a rich source of vitamin A, and selenium that deeply nourishes the skin. It also contains vitamins E and F-rich shea butter that moisturizes the skin. Oatmeal in this baby bar soap absorbs excess sebum and dirt from the skin while gently exfoliating dead skin cells. The coconut-based soap helps in maintaining an ideal pH balance.
Key Ingredients: Goat milk, Shea butter, Oatmeal, and Coconut
Pros
All-natural ingredients
Mild formula
Moisturizing
Pleasant fragrance
SLS and SLES-free
Silicone-free
Paraben-free
Synthetic fragrance-free
Colors-free
Cons
Soap melts quickly
May irritate eyes
The Baby Dove bathing bar is a pH neutral and hypoallergenic product.  It contains prebiotic-rich 1/4th moisturizing lotion that prevents dryness and keeps the skin soft and supple. This soap mildly cleanses and provides essential nutrients to the baby's skin. This baby bar is perfect for daily use.
Key Ingredients: 1/4th baby moisturizing cream
Pros
Hypoallergenic
Tear-free
pH-neutral
Dermatologist-recommended
Pediatrician-approved
Lathers well
Mild fragrance
Dye-free
Phthalates-free
Paraben-free
Sulfate-free
Cons
The MeeMee Nourishing Baby Soap nurtures and protects the baby's delicate skin from dryness. It contains aloe vera and fruit extracts that soothe and calm irritated skin, while milk extracts hydrate the body and lock in moisture. The soap contains almond oil to keep the baby's skin smooth as silk. This hypoallergenic and dermatologically tested soap is free of parabens and is suitable for newborns.
Key Ingredients: Aloe vera, Fruit extracts, Milk extracts, and Almond oil
Pros
Lathers well
Hypoallergenic
Dermatologically tested
Pleasant scent
Paraben-free
Cons
Price at the time of publication: ₹28.5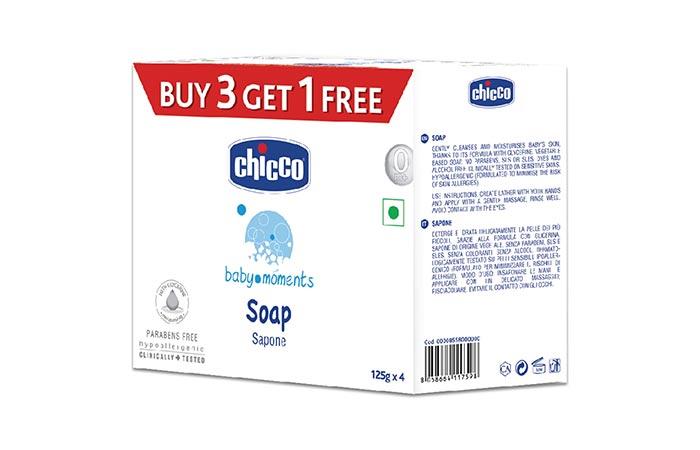 The Chicco Baby Moments Soap is a 100% vegetarian product ideal for hydrating the baby's skin and preventing dryness. It is enriched with glycerin that softens the baby's and keeps it smooth. Aloe vera in the formula soothes redness, rashes, and skin irritation while moisturizing the skin to keep it hydrated and fresh. This baby soap also contains olive oil that nourishes the skin and enhances its elasticity. The baby soap is free of all harsh chemicals.
Key Ingredients: Glycerin, Olive oil, and Aloe vera
Pros
Mild
Pleasant fragrance
Moisturizing
Dermatologically tested
100% vegetarian
Paraben-free
SLS and SLES-free
Dye-free
Alcohol-free
Artificial colors-free
Allergen-free
Cons
The Dabur Baby Soap is made of baby-loving herbs that protect their gentle skin, while cleaning the dirt away. This pH-balanced soap for babies is enriched with aloe vera that helps lock in the moisture and ensures complete hydration. Antioxidant-richambahaldi in the formula functions as an anti-irritant to protect the baby's skin from rashes, while almond oil prevents dryness. This baby soap is free of harsh preservatives and is suitable for a newborn's delicate skin.
Pros
Moisturizing
Effectively removes dirt
Creamy lather
Mineral oil-free
SLS and SLES-free
Paraben-free
Paraffin-free
Mild fragrance
Cons
The Pigeon Baby Milky Soap is specially formulated for a newborn's sensitive skin. It is enriched with vitamin A-rich milk protein and shea butter to keep the skin moisturized and improve its moisture-retaining abilities. Shea butter has a high concentration of vitamins A and E, and fatty acids to prevent excessive drying. The soap is hypoallergenic and has anti-irritant properties.
Key Ingredients: Milk protein and Shea butter
Pros
Butter-like texture
Long-lasting freshness
Mild soap
Lingering fragrance
Value for money
Color-free
Cons
The Softsens Baby Milk Bar effectively cleanses and nourishes the baby's skin. It contains shea butter and milk cream that moisturizes and softens your baby's skin. The essential oils like orange, lemongrass, and patchouli in the formula maintain skin health, remove impurities, and detoxify skin. The mild, creamy lather of the soap washes off the dirt and keeps your baby clean.
Key Ingredients: Shea butter, Milk cream, Orange, Lemongrass, and Patchouli oils
Pros
Refreshing fragrance
Ideal for newborn skin
Affordable
Lathers well
Moisturizing
Paraben-free
Allergen-free
Cons
The Goodness.me Baby Soap has a mild and gentle formula that cleanses well and leaves the baby's skin moisturized. This certified baby soap is super safe for infants and toddlers. It is enriched with organic jojoba oil that hydrates, rejuvenates, and protects the skin barrier. Additionally, the organic olive oil in the soap protects the skin from impurities and germs. It also contains organic chamomile extract to soothe dry, irritated skin.
Key Ingredients: Organic jojoba and olive oils, and Chamomile extract
Pros
Certified organic and natural
Affordable
Natural fragrance
Lathers well
Moisturizes the skin
Cleans deeply
Paraben-free
Alcohol-free
Synthetic fragrance-free
Mineral oil-free
Silicone-free
Phthalate-free
Dye-free
Cons
Omved Therapies' Mrudu Almond Milk & Saffron Soap has a mild and gentle formula infused with rich moisturizing ingredients like almond milk and luxurious Kashmiri saffron that nourishes the baby's skin and protects it from unwanted bacteria. The cold-pressed pure vegetable oils in the formula gives a creamy lather. Lastly, olive oil acts as a great moisture retention agent and prevents skin dryness. This all-natural baby soap also has castor oil that also helps in hydrating the skin well.
Key Ingredients: Almond Milk, Kashmiri Saffron, Pure Vegetable Oil, Castor Oil
Pros
Natural ingredients
Lathers well
Pleasant fragrance
Paraben-free
Sulfate-free
Value for money
Cons
A baby's skin is buttery soft and sensitive to harsh chemicals. Therefore, you will need to pay attention to the ingredients in a baby soap before you make a purchase. You can try looking for the below ingredients that are natural and safe for exterior application.
Ingredients To Look For In A Baby Soap
Look for nourishing ingredients like:
Almond Oil: Protects the skin from harmful microbes and nourishes the skin.
Coconut Milk: Gently cleanses and moisturizes the skin.
Vegetable Oils: Prevent infections and skin irritation
Aloe Vera: Has calming properties and can always soothe dry, irritated skin
Honey: Hydrates the skin.
There are a couple of things to take note of before you choose the perfect baby soap for your infant. Here are some pointers.
How To Choose The Best Baby Soap
A no tears soap is the best call, as the soap froth does not irritate their eye
A hypoallergenic soap is a safe buy as it ensures that the baby may not develop any allergic reaction.
A sulfate and paraben-free soap is a great choice as these harmful chemicals can irritate the baby's delicate skin.
Opt for all-natural soaps that contain plant-based ingredients and are certified organic and dermatologically tested.
Make baths an exciting activity for you to enjoy with your baby by choosing the best baby soap for them. A good soap bar creates a joyful bathing experience for the child and keeps their skin supple and soft. So, scroll up and choose the best one for your toddler!
Frequently Asked Questions
Do babies need soap?
Yes. Babies have sensitive skin that requires gentle cleansing to keep away the dirt and impurities. Baby soaps are best for cleaning their skin without irritation.
Are baby soaps safe?
Yes. Most baby soaps contain mild, gentle, and organic ingredients that are dermatologically tested and are safe to use. However, always check the ingredients list before buying.
Recommended Articles