11 Best Babyliss Flat Irons For Hair Straightening In 2022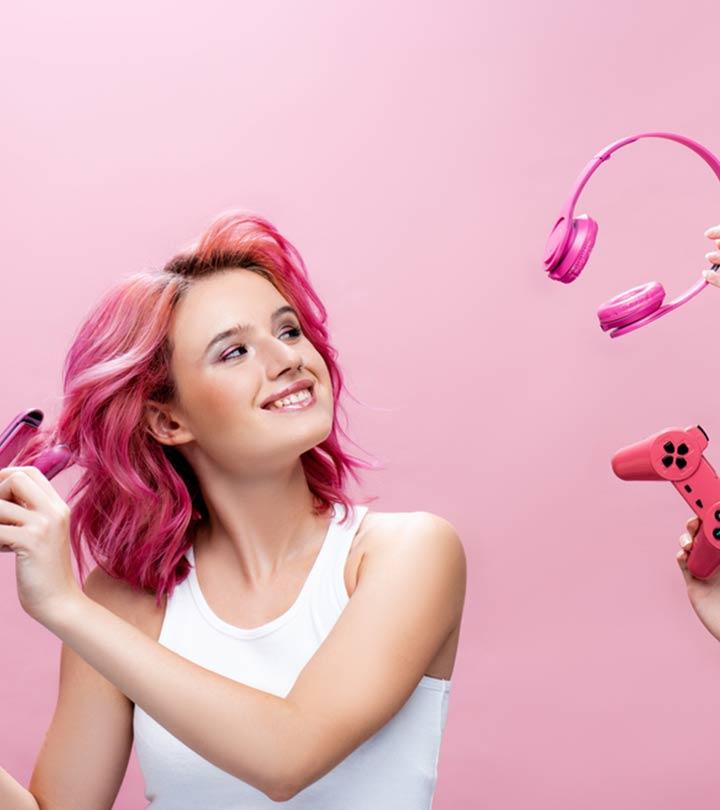 A flat iron is your weapon if you want sleek, straight hair. But not every flat iron gives you salon-like hairstyles at home. Hence, you can try the best BaByliss flat irons to achieve frizz-free, smooth, and sleek straight hair. These irons are durable, stylish, creative, offer high-performance, and provide you with trendy hairstyles. They offer long-lasting results.
Some of these flat irons even help to turn your hair into 70's Hollywood curls, beach waves, etc. In this post, we have specially curated a list of the 11 best flat irons that make your hair appear stylish. Keep scrolling to check them out!
11 Best Babyliss Flat Irons For Hair Straightening
The BaBylissPRO Nano Titanium Ultra-Thin hair straightener offers a fuss-free straightening experience as it is incredibly lightweight. With long, extended plates, this flat iron allows large sections of hair to be straightened at a time. It has 50 heat settings that go up to 450°F, and the titanium plates conduct ultra-heat and resist corrosion. You can use this flat iron to create multiple styles, such as curls, waves, or the currently hyped mermaid's hair. The ceramic heater in this flat iron allows instant heat recovery as well.
Pros:
Lightweight
50 heat setting
5-inch plates
Available in multiple sizes
instant heat up and recovery
Cons:
Here is a BaBybabyliss product that is compact and oh-so-easy to travel with. It is equipped with ceramic heating plates that provide instant and evenly distributed heat to the surface of your hair for fantastic straightening results.  These ceramic plates are coated with titanium to give your hair a super-smooth finish.  With superior heat retention, this product can heat up to 440°F on your command.
Pros:
Affordable
Compact
Flash heat up
Dual voltage
6-inch flat iron
Cons:
It may not eliminate frizz.
Are you on the lookout for a hair straightener that not only gives you the sleekest of looks but also controls your frizz? You can trust this flat iron to get the job done. In this straightener, ionic technology meets titanium-coated plates to form a perfect union. The ions reduce rizz while the ceramic heater produces instant heat. The titanium-coated plants conduct ultra heat and resist corrosion for a smooth finish. This makes sure that there are no damaging hot-spots on your straightener, giving your hair and your purchase a long life.
Pros:
Lightweight
Ultra-smooth titanium plates
Corrosion-resistant
LED temperature settings up to 450°F
Digital ionic technology
Ultra-slim to reduce hand fatigue
Cons:
This BaBylissPRO Porcelain Ceramic Straightening Iron uses porcelain ceramic technology to distribute heat evenly across the surface of the plates. It also generates far-infrared heat that is proven to be a gentle and more efficient heating method. The temperature dial on the flat iron allows you to select the desired heat temperature. The ceramic in the plates allow instant-heat-up and recovery, whereas the length allows you to work faster with a wider section of hair.
Pros:
Lightweight
Temperature dial with up to 450°F
Instant heat up and recovery
Infrared heat
Cons:
It may take a long time to heat up.
This straightener features a time-saving memory function that allows you to store frequently used heat settings for better efficiency. Designed to provide maximum precision and styling convenience, this product has floating plates that ensure 100% contact to deliver faster results in less time. The titanium plates eliminate hot-spots and provide an even heat distribution throughout the surface of the plates. 
Pros:
Instant heat up
Eliminates hotspots
Precision straightening
Digital temperature adjustment
Time-saving memory function
Cons:
This is the be-all-end-all product that will meet all your sleek styling needs for all our hair styling divas out there. Designed with cutting-edge technology, this product gets the work done with minimal effort. The stainless steel housing of this flat iron ensures that it is lightweight, corrosion-free, and warp-resistant, making it a long-term investment. It easily serves the purpose of a straighter and a curler, so you can create a multitude of sleek and trendy hairstyles. With aircraft-grade titanium plates, this flat iron heats instantly and maintains a constant temperature. The IonMultiplier Technology and
a dual-ceramic heating system ensures exceptional heat transfer smoother and shinier hair. 
Pros:
Heats up to 465°F
Lock function
Thumb rest and stand
Includes a thermal styling glove
Silicone cooling tips
Cons:
If used at high temperatures for long periods, the body tends to get hot.
This BaByliss hair straightener comes with an anti-static removable comb attachment that glides through your hair to enhance your hairstyling experience. The ceramic plate helps in distributing heat evenly. Together, the comb and ceramic plates help in achieving versatile looks, although they especially would be to create the perfect beach waves. The temperature dial setting makes it easy to switch from one heat level to another, making it ideal for all hair types. As the temperature can reach up to 430°F, it can even straighten the curliest hair.
Pros:
Durable
Affordable
Instant heat up
Ergonomic grip for comfort
Ceramic plates
Even heat distribution
Cons:
It does not feature a light indicator nor an auto shut-off function.
This product is for our readers who love a straightened look but want to reduce damage to a minimum With Porcelain Ceramic technology, this Babyliss flat iron evenly distributes heat across the plates of the straightener and the porcelain generates infrared heat that is gentle on the hair. The longer plates allow for a faster hairstyling experience by allowing you to straighten wider sections of hair at a time. It features a temperature dial and is incredibly lightweight and easy to use. 
Pros:
Lightweight
Temperature dial setting
Instant heat up and recover
Porcelain ceramic plate technology
Cons:
The handle tends to heat up.
With the U-Styler feature with curved side plates, this product is the only product you will need to meet all your curling, waving, and straightening needs. The curved plates make sure that you get the smoothest curls with just one flip. To add to the smoothening experience, the Sol-Gel technology creates stronger plates that glide off of each other like butter. With a Ryton housing, this Babyliss flat iron resists ultra-high heat, leaving you to enjoy the rubberized thumb rest and cool top with maximum comfort. With 3 heat settings and a slim body, the flat iron is easy to use. 
Pros:
Instant heat up
Easy to use
Side heating plates
Heat-resistant Ryton housing
Rubberized thumb rest
Cool tip
Cons:
If you are on the lookout for a basic hair straightener that just does the job, this is it but slightly better. In an eye-catching shade of red, this BaByliss hair straightener is here to make your life brighter. It leaves your hair smooth, shiny, and sleek. With ceramic plates, it distributes heat evenly, while the far infrared heat straightens hair gently. The hair iron also releases negative ions to fight the positive ions present in your hair to eliminate frizz.
Pros:
Affordable
Durable
Lightweight
Dual voltage for worldwide use
25 heat settings up to 450°F
Cons:
It may not be well-suited for 4C type hair.
Based on your own preference and talent, you can use it to straighten, curl, or create waves in your hair. The slim design and floating offer impressive control for maximum contact. The ceramic plates distribute heat uniformly and reduce hot spots and emit negative ions to leave your hair smooth and shiny. With 25 heat settings, is there really more we can ask for?  
Pros:
Long swivel cord
Instant heat up
Floating ceramic plates
Slim plates for versatile styling
Temperature rises upto 450°F
Cons:
Some found the plates too short for their liking.
After going through our list of the best Babyliss flat irons, we understand that you may be finding yourself in a pickle as the choices are fantastic. It is easy to forget what you are looking for and drool over the features of each product, which is why we are here. Tp help you get rid of that confusion, here is a useful guide.
Things To Consider When Buying A Flat Iron
1. Hair type
If you have fine hair, opt for a flat iron with ceramic plates. As titanium is a high heat conductor, it is ideal for frizzy, coarse, and textured hair.
2. Plate
Ceramic plates are the most common type of plates found in the market and evenly distribute heat. However, if you have unmanageable curly and coarse hair, we'd recommend looking for a tool with titanium or ionic plates.
3. Heat
Heat is one of the most important aspects of a flat iron. People with curly or coarse hair tend to require higher heat settings for reaching the desired result. Lucky for you, BaByliss flat irons tend to offer high heat settings in most of their products, leaving you with one less thing to worry about.
4. Hair volume
It is almost impossible to use 'sleek' and 'volume' in the same sentence when talking about flat irons. If you have naturally flat, straight hair and want some volume, keep an eye for products that can be used to achieve a beach wave look. If your hair is already voluminous, and you would like to tame it down, look for flat irons that are ideal for a sleek look.
Safety Tips For Using a Flat Iron
Now, before we leave you in the open to go all out on your hair with your new flat iron, it is important to discuss safety. A flat iron, as useful and handy a tool as it may be, it is not entirely risk-free. does have its risks. It gets warm and comes close to your face when you are busy straightening your hair, and this can lead to accidents. Do keep the following things in mind:
Do not use the iron close to your face or your neck.
Ensure your hands and hair are dry.
Use a heat protectant glove.
Use a heat protectant hair spray or serum.
Ensure that you buy a flat iron with a long cord.
Do not use it at maximum heat for long periods.
Switch the flat iron off as soon as you are done using it.
Keep it away from pets and children at all times.
We are confident that this is all you will ever need to know before you buy your next Babyliss flat iron! The buying guide will help you narrow down what you are looking for and the top 11 list will give you all the products you will ever need to look at. All you really need to do now is place the order! Are you excited, because we sure are! Like we've said before, a BaByliss flat iron is a long term investment that keeps on giving, not a mere purchase.
Frequently Asked Questions
Are BaByliss straighteners good?
Absolutely! BaByliss is a renowned brand in the hair and beauty industry. It manufactures professional level hair appliances that are often used in high-league salons. They not only produce flat irons that give results but ones that are long-lasting and are made from state of the art technology.
What kind of straightener is best for thick hair?
Our top pick and the best BaByliss flat iron on this list is easily the best straightener for thick hair, or any hair for that matter. Although the heat setting that goes up to 450°F helps in taming thick hair, other features such as the length of the titanium plates also contribute towards it.
Do straighteners make your hair thin?
There is a high possibility that if not used responsibly, straightening your hair endlessly can cause damage to your hair. The overtime damaged hair may eventually become brittle and give the appearance of being thin. However, it is always recommended to use less heat and use the best heat protectant products on your while styling to reduce hair damage.
Which is better titanium or ceramic flat iron?
Titanium and ceramic plates are the most common and popular plates for hair straighteners in the market. Between the two, neither is better or worse than the other; they simply are dissimilar and provide different features.
Pros of a titanium plate:
Titanium heats fast, whereas ceramic plates take slightly (45 seconds usually) longer. For frizz control, titanium is definitely better since it tends to produce more negative ions. However, frizz control also tends to make the hair flatter and without volume, which can be a con.
Pros of a ceramic plate:
Ceramic plates are much easier to use and therefore are ideal for beginners. In terms of durability, both products last long to give you your value for money.
Why Trust StyleCraze?
The author of the article, Sneha Manandhar, is a hair care enthusiast. She has curated a list of the best Babyliss flat irons for hair straightening to help her readers. The author has carefully researched the Babyliss flat irons and gone through hundreds of customer reviews online to put together this comprehensive list. These products are lightweight, quite affordable, and available in multiple sizes.
Recommended Articles
Best Flat Irons For Natural Hair
Best Flat Irons For Coarse Hair
Best Flat Irons For Short Hair – Reviews And Buying Guide
Best Flat Irons For Thick Hair