11 Best BaByliss Hair Dryers – Reviews And Buying Guide
Styling your hair now gets easier with the right styling tools at hand.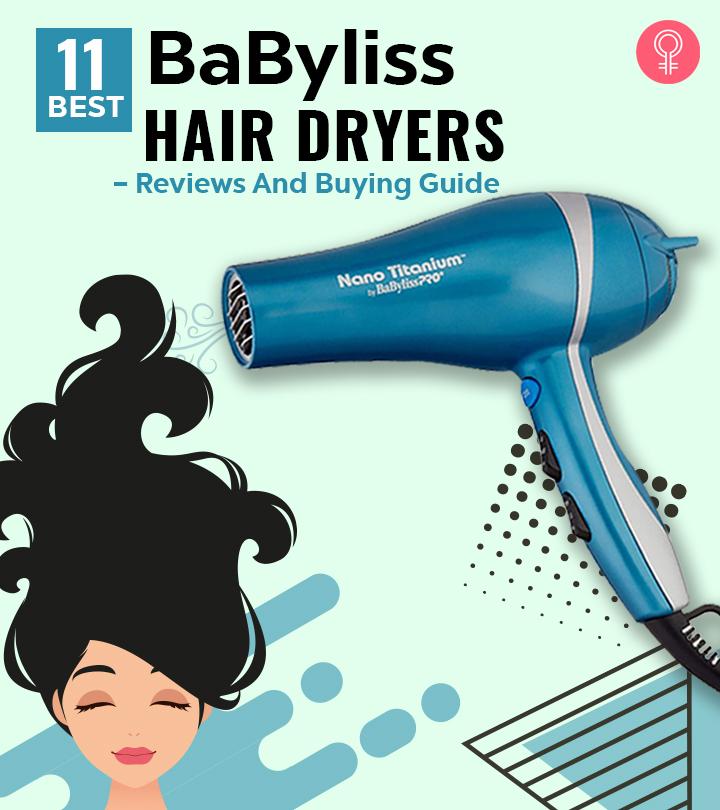 You can never go wrong with choosing the best Babyliss hair dryer! Known for their ability to churn quality hair care tools, you can blindly trust them, and this stands true even with their hair dryers. These dryers come in all shapes, sizes, and designs, and the best part is the durability thanks to the strong motors, which are very convenient for effective and neat drying. For those who love experimenting with their hairdos many times a week, it can be a good bet because it can also be used for styling. Here is our list of the top hair dryers from BaByliss, complete with a detailed buying guide and reviews.
11 Best BaByliss Hair Dryers – Reviews
The BaBylissPRO hair dryer from the Ceramic Xtreme range is built with a 2000 watt blow-drying technology. The lightweight motor and sleek design make this Babyliss hair dryer even more appealing. The high wattage motor delivers powerful hot air for a salon-like experience.
Product Features
2000 watt motor.
Extra-gentle and far-infrared heat protects hair from heat damage.
6 heat and speed settings.
Narrow barrel and concentrator nozzle for focused air pressure.
Rubberized housing for an anti-slip grip.
Cold shot button to lock in style.
9 feet long cord.
Pros
Lightweight
Suitable for all hair types
Comfortable grip
Delivers healthy and shiny hair
Even heat distribution
Reduces frizz
Cons
Gets overheated sometimes
Tricky to adjust the temperature settings
Price at the time of publication: $74.99
BaBylissPRO Nano Titanium Portofino Dryer is a high-performing styling tool that has a 2000 watt Italian motor. It is enhanced with Nano Titanium technology that evenly distributes heat for optimal results. It emits negative ions that diminish any static in your hair and lock the cuticles for a smooth and glossy result.
Product Features
2000 watt powerful Italian AC motor.
6 heat/speed settings.
2 changeable nozzles.
Nano Titanium technology.
Removable stainless-steel rear filter.
Available in 2 colors – Blue and Black.
Pros
Sleek, stylish design
Reduces frizz
Easy to clean
Long cord
Cons
Burning smell when it gets overheated
Slightly heavy
Price at the time of publication: $139.99
This BaBylissPRO hair dryer with Nano Titanium technology and a 2000 watt motor is powerful yet lightweight. Its ergonomic style makes it easy to handle and efficient. Thus, it is a must-have tool for anyone whose arms feel strained easily when blow-drying their hair. The Nano Titanium Ionic technology makes your hair dry faster and without causing any frizz.
Product Features
Powerful and stylish.
2000 watt power.
Nano Titanium Ionic technology.
1 detachable nozzle for focused airflow.
Removable filter.
Pros
Lightweight
Travel-friendly
Dries hair quickly
Easy to handle
Reduces frizz
4-year warranty
Cons
Nozzle keeps falling off
Slightly expensive
Price at the time of publication: $89.99
The BaBylissPRO hair dryer with Tourmaline Titanium technology is a travel-friendly dryer that is compact and easy to carry. It has dual voltage and a folding handle that makes it easy to store and pack while traveling. The tourmaline crystals emit ions that help in fighting the frizz-causing static in your hair and boost its shine and gloss.
Product Features
1000 watt power.
Emits millions of natural ions to diminish static.
Dual voltage.
Pros
Versatile
Foldable
As good as a full-sized hair dryer
Travel-friendly
Lightweight
1-year warranty
Cons
Price at the time of publication: $34.99
BaBylissPRO Tourmaline Titanium 3000 Dryer is a powerful hair dryer that is essential for thick hair. Its far-infrared heat and ionic technology make it perfect for quicker drying. It has a comfortable grip that makes it easy to hold onto the dryer without causing fatigue and strain on your hand or wrist.
Product Features
1900 watt motor.
Tourmaline Titanium technology.
Ionic technology.
6 heat and speed settings.
Rubberized finish and stylish design.
Concentrated nozzle for focused heat.
Pros
Promotes healthy hair
Ergonomic design
Eliminates frizz
Lightweight
Cons
Gets overheated
Red coating stains when it gets overheated
Price at the time of publication: $89.99
BaBylissPRO Porcelain Ceramic Carrera2 Dryer is built with Ionic and Porcelain Ceramic technology that enhances and locks the hair's luster to make it last longer. Its powerful 1900 watt motor ensures high heat and even distribution of airflow. The cold shot button locks the hairstyle in place. It also comes with a removable filter.
Product Features
Rubberized finish and stylish design.
6 heat and speed settings
1900 watt motor.
Ionic and Porcelain Ceramic technology.
High-heat airflow.
Even distribution of heat.
Anti-slip grip.
Pros
Easy to handle
Lightweight
Protects the hair's luster
Reduces frizz
Dries hair quickly
Long-lasting results
Cons
The BaBylissPRO 5000 Hair Dryer runs on the Tourmaline Titanium technology. It releases negative ions while you dry your hair, which helps in giving a smooth and silky finish to it. The far-infrared heat helps dry your hair faster and without any frizz. Its powerful motor is made for a professional styling and thick, coarse hair.
Product Features
Ultra-light 1900 watts powerful motor.
Ionic technology with tourmaline titanium.
6 heat and speed settings.
Comes with a concentrator nozzle.
Removable filters.
Pros
Easy to clean
Suitable for thick and coarse hair
Fast and powerful drying
Lightweight
Dries hair quickly
Cons
Thin hair might get tangled
Not very durable
Price at the time of publication: $109.99
BaBylissPRO Nano Titanium Travel Dryer is a travel-friendly hair dryer that you can easily carry on the go. Its nano titanium and ionic technology emits negative ions to reduce hair static and frizz. Its foldable handle and durable construction make it the perfect hair dryer for travel.
Product Features
1000 watt motor.
Nano titanium and ionic technology.
2 heat and speed settings.
Removable stand.
Removable filter.
Foldable handle.
Pros
Lightweight
Compact
Travel-friendly
Suitable for all hair types
Dual voltage
Durable and sturdy
Cons
Not very powerful
Only 2 heat and speed settings
Price at the time of publication: $34.99
9. BaBylissPRO Porcelain Ceramic 2800 Dryer
The BaByliss PRO Porcelain Ceramic 2800 Dryer is the perfect combination of Porcelain Ceramic technology and Ionic technology that takes styling to another level. This dryer emits gentle, even, far-infrared heat that allows your hair to dry faster and protects it from heat damage. The moment you turn the dryer on, clouds of natural ions surround hair to eliminate static and the result is healthier-looking hair with shiny, smooth styles.
Product Features
2000 watt motor
6 heat/speed settings
Ionic and Porcelain Ceramic Technology
Cold shot button
Concentrator nozzle
Removable filter
Pros
Lightweight
Reduces frizz
Allows even heat distribution
Dries hair faster
Cons
None
The BaBylissPRO BRX5572 2000 Watt Xtreme Hair Dryer is lightweight and works in extra-high wattage to give you fabulous hair. In addition, the ceramic technology offers even heat distribution and releases negative ions that reduce static electricity to give you lustrous and healthy hair. It is suitable for all hair types.
Product Features
2000 Watt motor
Negative ions reduce static electricity
Removable filter easy to clean
2 speed/heat settings
Narrow barrel and concentrator for focused air pressure
Cold shot button to lock your hairstyle
Porcelain ceramic technology
Pros
Lightweight
Suitable for all hair types
1-year warranty
Even heat distribution
Delivers healthy and shiny hair
Comfortable grip
Cons
Not very powerful for professional use
Price at the time of publication: $49.99
The BaByliss Pro Italo Luminoso Dryer is a professional hair dryer that ensures a powerful and superior airflow and air pressure. It dries your hair quickly and ensures that its natural hydration stays intact and lasts long. It is great for all hair types, including thick and coarse hair.
Product Features
2000 watt Italian AC motor.
Superior air pressure and airflow.
4 heat and speed settings.
Narrow concentrator nozzle included.
Ceramic heat technology.
Cold shot switch.
Pros
Long 9 feet cord
Does not dry out your hair
Dries hair quickly
Available in 7 colors – black, blue, green, yellow, orange, pink, and purple
Cons
May get overheated and release smoke
Heavy
BaByliss hair dryers are considered to be the best amongst professionals hairstylists for their fantastic range, powerful motors, and high-quality construction. Apart from that, here are other reasons why BaByliss is the best in its field. Check them out below!
What Makes BaByliss A Top Brand?
Experienced: For almost 5 to 6 decades, BaByliss has been well-known for being the best at satisfying their customers' needs and giving the best product ranges.
Wide Range Of Products: BaByliss has a wide range of hair dryers that suit and cater to every individual's personal needs. They strive hard to ensure that they keep up with new and upcoming technology to give updated and innovative products to their customers.
Quality: There's no doubt when it comes to quality. It's only due to their top-notch quality and performance that the brand is renowned across the global platforms.
Brand's Reputation: Over the years, BaByliss has built its reputation on being a go-to brand. With its wide range, durability, style, ease of handling feature, energy-efficiency, dependability, and affordability – this brand has a solid reputation.
Reviews: The fact that so many professionals hairstylists have been using BaByliss products over the years and that it has received the best reviews from customers is a testament to its quality.
Listed in the next section are a few top features that you should consider before buying a BaByliss hair dryer.
Things To Consider Before Buying A BaByliss Hair Dryer
While investing in a hair dryer, make sure that the motor power is higher than 1000 watts. The higher the wattage or motor power, the faster it can dry your hair. The ideal range for the motor/wattage power is 1300 watts to 2000 watts.
It is important to pick a hair dryer that is durable and built with high-quality materials. Also, the size and design of the hair dryer should be ergonomic to give you a comfortable grip while also being lightweight. Ensure that the size and weight are suitable for your use, the control buttons are easily accessible, and the design is sleek and compact.
Most hair dryers have 2 heat and speed settings. But BaByliss products have 4 to 6 heat settings to let you adjust it as per your hair type and the time required to dry your hair. Make sure you settle for nothing less than 4 heat settings for your convenience as different hair types require different levels of heat.
Convenient Storage And Operation
You don't want to struggle to operate a hair dryer with too many control buttons and features. Ensure that the operation of the hair dryer is easy and with minimal buttons. When it comes to storage, look for designs that have a sleek body with a hook to hang the dryer or a foldable handle to store it conveniently even while traveling.
Why Trust Stylecraze?
The author of this article, Shiboli Chakraborti, is a hair care enthusiast and loves writing comprehensive articles on the same. She curated this list of the best BaByliss hair dryers after carefully researching various products and going through multiple user reviews on trusted online forums. The durable dryers with strong motors are not budget-friendly, but they are also suitable for every hair type.
Frequently Asked Questions
Is BaByliss hair dryer worth it?
Yes. BaByliss hair dryers are durable, travel-friendly, and have easy-to-use designs that offer excellent results.
Is there really a difference in hair dryers?
Yes, there is a difference between various hair dryers. They differ in design, size, speed and heat control features, motor durability, and the technology used to dry hair.
How many watts is a good hair dryer?
A good hair dryer is generally around 1300 to 1800 watts.
Is BaByliss owned by Ferrari?
No, BaByliss is owned by Conair Corporation.
Is BaByliss made in Italy?
Yes, most BaByliss products are made in Italy.
Recommended Articles