10 Best BaByliss Hair Straighteners – 2023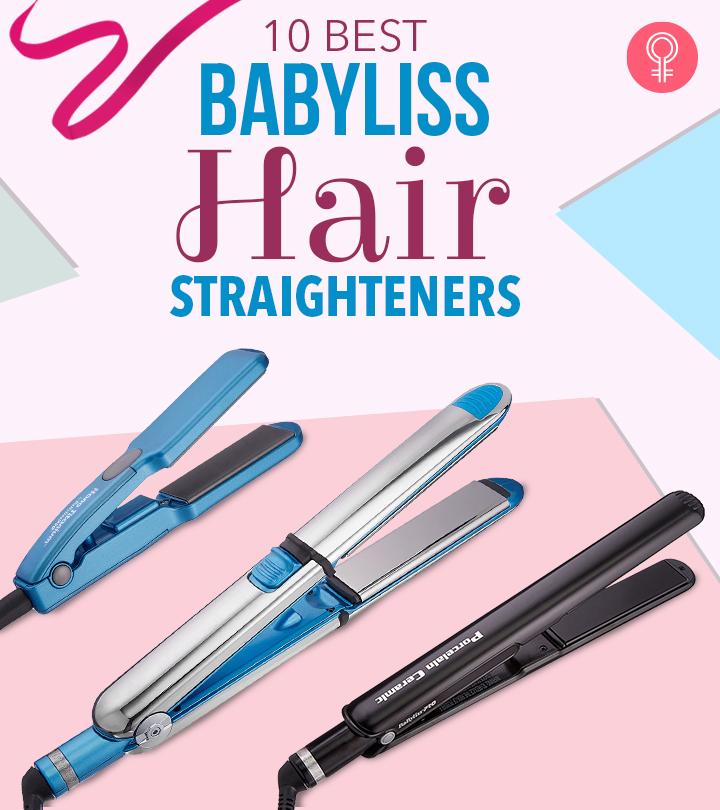 Trying to pick the best hair straightener can be daunting. Having sleek, straight, and shiny hair sounds like a dream. But, how can you know which straightener won't break or damage your hair? Irrespective of your hair type, it is essential that you make a wise investment while picking a straightening tool to protect your tresses. BaByliss hair straighteners have been performing well over the years with their advanced straightening tools. Hair professionals swear by these straighteners as BaByliss utilizes innovative technologies with new heating elements to ensure that they don't damage your hair while styling it.
Check out our reviews of the top 10 BaByliss hair straighteners listed below to make the best choice. Keep scrolling!
10 Best BaByliss Hair Straighteners Available Right Now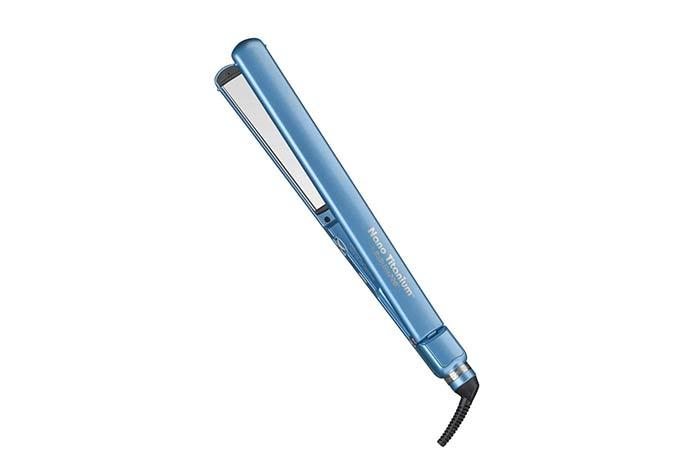 BaBylissPRO Nano Titanium Ultra Thin Straightening Iron is rated as the top choice for women with all types of hair. This straightening iron features ultra-smooth iron plates that conduct very high heat and resist corrosion. The plates are 5" long and allow quick straightening. They are coated with ceramic and titanium that provide instant heat recovery. This tool offers 50 heat settings with temperatures up to 450°F.
Pros
Straightens hair quickly
Lightweight
Glides smoothly through the hair
Long plates
Offers 50 heat settings
Cons
Price at the time of publication: ₹154.99
What makes BaBylissPRO Nano Titanium Mini Straightening Iron an exclusive choice for users? Well, it is a travel-friendly straightener that comes along with a thermal travel pouch. The tool is just 6″ long with 1″ titanium and ceramic plates. It works with dual voltage technology and heats up to 430°F.
Pros
Compact
Dual voltage technology
Travel-friendly
Comes with a thermal pouch
Heats up to 430°F
Cons
Not suitable for long hair
Price at the time of publication: ₹6054.76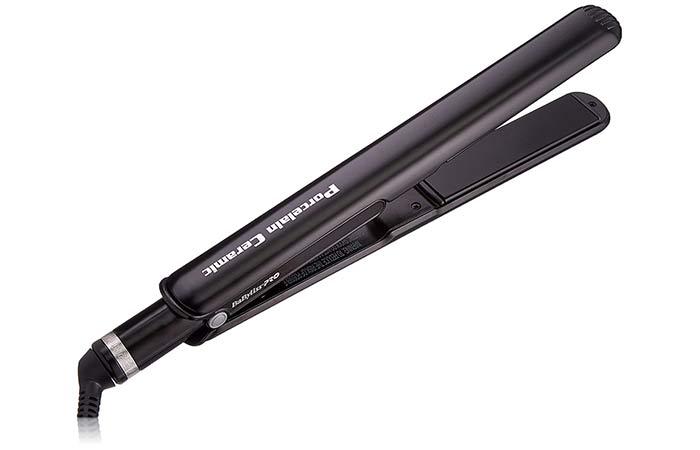 When it comes to styling, your hair needs advanced treatment. The BaBylissPRO Porcelain Ceramic Straightening Iron works on an innovative form of ceramic technology. Its heating surfaces are coated with commercial-grade porcelain ceramic that generates far-infrared heat, causing less damage to your hair strands. This 1″ straightening iron with extended porcelain ceramic plates offers temperatures up to 450°F. The high-heat ceramic heater provides instant heat recovery.
Pros
Glides smoothly through the hair
Prevents heat damage
Reduces frizz
Heats up to 450°F
Offers instant heat recovery
Longer plates for faster styling
Cons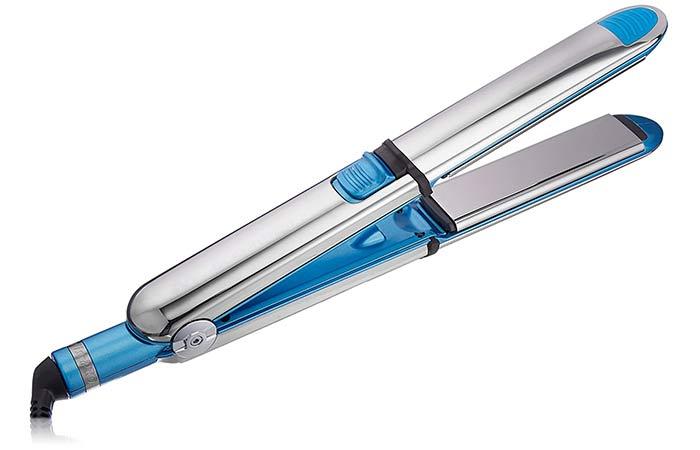 BaBylissPRO Nano Titanium Prima3000 Ionic Straightener is designed with cutting-edge features to offer you an excellent styling experience. Use this tool to straighten and curl your hair. It is designed with stainless steel housing to make it durable. The aircraft-grade titanium plates distribute heat evenly throughout your hair and offer temperatures up to 465°F. The Ion Multiplier Technology gives you smooth and shiny strands with beautiful and effortless styling.
Pros
Durable
Heats up to 465°F
Imparts shine
Smoothens the hair
Even heat distribution
Comes with a 3-finger glove
Cons
None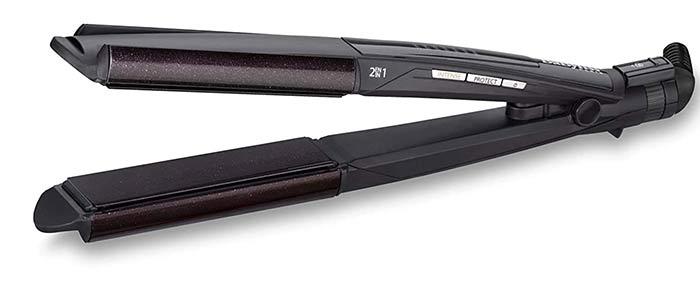 This 2-in-1 hair-styling tool by BaByliss is meant for both wet and dry use. The ceramic-coated plates can be heated up with 6 temperature settings. This straightener is easy to carry and safe to use. The LCD screen allows you to see the temperature settings of the tool. With a maximum temperature of 235°F, this tool helps you get ready in a jiffy with maximum efficiency. Its narrow straightening plates are meant for medium to long hair and can be used on wet and dry hair. The flat plates of this tool are suitable for straightening, and the curved outer plates are great for curling your hair.
Pros
2-in-1 styling tool
Can be used on dry and wet hair
Travel-friendly
Prevents hair damage
6 temperature settings
Cons
None

If you have medium to long hair and are looking for a straightener to style your hair in just a few strokes, the BaByliss IPro Hair Straightener is perfect for you. The extended straightening plates with diamond ceramic coating distribute heat very evenly throughout your hair. It offers 6 temperature settings and a maximum temperature of 235°C. It styles your hair without any damage.
Pros
Distributes heat evenly
Heats up in 60 seconds
Can be used on wet and dry hair
LED screen
Prevents hair damage
Auto shut-off feature
Lock system
Cons
None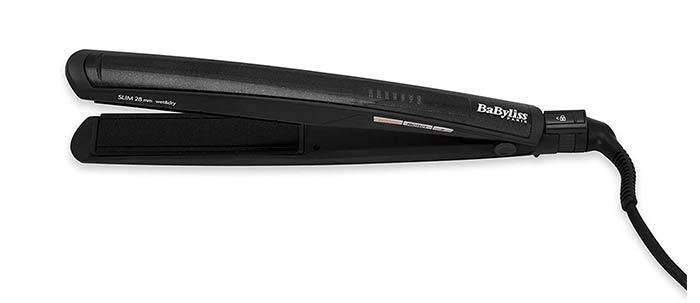 Straighten your hair quickly and effectively with the BaByliss PRO200 Wet & Dry Slim Hair Straightener. This high-tech straightener is equipped with ultra-smooth diamond ceramic-coated plated and 6 temperature settings to provide efficient styling. With this straightener, you can straighten your hair even when it is damp or wet. It reaches a maximum temperature of 235°C and is ideal for people with medium-length or long hair.
Pros
Reduces frizz
6 temperature settings
Suitable for both wet and dry hair
Universal voltage
Automatic shut-off feature
Easy lock system
Heats up in 60 seconds
360° swivel cord
Cons
None

Get gorgeous and shiny hair with the BaByliss Ceramic Plates Straightener. Its exclusive ceramic diamond-coated plates heat up to 140-235°C to give you perfectly straight hair in just one stroke. The floating plates make this tool easy to handle, and the ionic setting offers a frizz-free finish. This straightener can be used to style both dry and wet hair. It also comes with a heat insulation mat. The removable comb attached to the straightener provides even distribution of heat. 
Pros
Reduces frizz
Can be used on both dry and wet hair
Comes with a heat insulation mat
Even heat distribution
Prevents hair damage
Cons
May dry out your hair
Expensive

The BaByliss Ultra Slim Hair Straightener imparts maximum shine and softness to your hair as it glides smoothly through the strands. It is designed with ceramic technology and reaches a maximum temperature of 230°C. It heats up time quickly and straightens your hair in just one stroke.
Pros
Imparts shine
Softens the hair
Prevents hair damage
Heats up quickly
Straightens hair in one stroke
Cons
None

BaBylissPRO EP Technology 5.0 Straightener is made with nano titanium technology and Sol-Gel technology to perfect your hair from heat damage. Its superior heat management technology ensures damage-free hair styling. Its 5 heat settings range from 115°C to 230°C.
Pros
Advanced EP and Sol-Gel technology
Ensures damage-free styling
Even heat distribution
5 adjustable heat settings
Cons
None
Now that you know all about the best BaByliss hair straighteners available on the market, let's check out all the things that you need to consider before buying a hair straightener.
How To Choose The Best Hair Straightener – Buying Guide
Choosing the right hair straightener depends on the texture of your hair. All straighteners might not work for all hair types. If the natural texture of your hair is thick and coarse, consider buying a straightener that heats up to high temperatures. For those with fine hair, go for a straightener with a variety of heat settings. Straightening irons with adjustable heat settings and a temperature display allow you to choose an optimum temperature so that you don't damage your hair.
Ceramic irons are suitable for fine and thin hair. They reduce frizz and distribute heat evenly. You can choose ceramic irons with ceramic plates, ceramic coating, or tourmaline plates. Tourmaline plates also work like ceramic to reduce frizz and damage.
On the other hand, titanium hair straighteners are suitable for thick and coarse hair. They heat up faster than ceramic and hold the heat at a consistent temperature. This allows quick styling of thick, coarse hair.
Size Of The Hair Straightener
Hair straighteners are available in many sizes. If you have short and fine hair, go for a small and thin iron. These irons are also travel-friendly. Large and wide hair straighteners are meant for people with long, thick hair.
Nowadays, hair straighteners have different features that you can customize according to your needs. Instant-heat hair straighteners are the best for people who are in a rush in the morning and do not have much time to style their hair. Those with naturally thick and curly hair may prefer straighteners with in-built comb teeth or steam functions.
Now, let's answer the most important question.
Are BaByliss Hair Straighteners Safe?
If you are looking for a well-known brand with a variety of hair straighteners on the market, BaByliss is the best and safest option. The straighteners from this brand give you lush, shiny tresses. BaByliss straighteners have adjustable heat settings that prevent hair damage and allow you to style your hair at a minimum temperature.
Looking forward to getting perfectly sleek and shiny hair? Listed in the next section are some useful tips for you to achieve perfectly straight hair like a pro in no time!
Useful Tips For Straightening Your Hair Safely
Wash your hair with sulfate-free shampoo and conditioner.
Pat your hair dry gently with a towel. Avoid rubbing it aggressively with the towel as it can cause frizz, tangles, and breakage.
Use a blowdryer to dry your hair partially. This will smoothen your hair and allow you to get pin straight hair quickly.
Use a wide-toothed comb or a boar bristle brush for smooth, polished hair.
Always apply a heat protectant serum or spray before straightening your hair. It will protect your hair from heat damage and resist humidity.
Monitor the temperature display on the straightener. If you have long, thick hair, you can go for high temperatures. For those with thin and fine hair, keep the temperature to a minimum while straightening. Monitoring the heat will also protect your hair from damage.
Divide your hair into sections with the help of clips. Pick up one section at a time and glide the straightener smoothly through it. Taking smaller sections will enable quick and easy styling.
Wear a heat-resistant glove. As your straightener gets heated up to extreme temperatures, there is a chance of accidentally burning your fingers while styling. To prevent that, wear a heat-resistant glove.
BaByliss is the most acclaimed brand when it comes to straighteners. All the straighteners listed above have advanced features and will give you professionally styled hair at home. So, grab one right away!
Frequently Asked Questions
Are BaByliss hair straighteners good?
Yes, BaByliss straighteners are exceptional for your hair. They are equipped with innovative and advanced features and various heat settings that straighten your hair like a professional within minutes.
Which material is better for a hair straightener – titanium or ceramic?
Titanium straighteners work better for people with thick and coarse hair. Ceramic straighteners are suitable for those with thin and fine hair.
Do straighteners make your hair thin?
Certain factors may cause hair loss or hair thinning due to the use of straighteners:
Flat irons temporarily straighten your hair with high heat. Too much heat is bad for hair.
Frequent or daily use of straightening irons can cause hair damage, leading to split-ends and hair breakage.
No use of heat protectant spray is another cause of hair thinning. Before exposing your hair to so much heat, apply a heat protectant to it. It protects your hair from extreme temperatures.
If you love styling your hair every day, you should undergo some protein or moisture treatments because too much heat exposure leads to loss of natural moisture from your hair.
Does BaByliss offer a straightener-cum-curler?
Yes, BaByliss does have a straightener-cum-curler. It is the BaByliss PRO Titanium Prima Straightener.
Which BaByliss straightener is suitable for thick hair?
BaBylissPRO Porcelain Ceramic Straightening Iron with 4" long ceramic plates is the best BaByliss hair straightener for thick hair.
Recommended Articles
The following two tabs change content below.