30 Best Bachelorette Party Gifts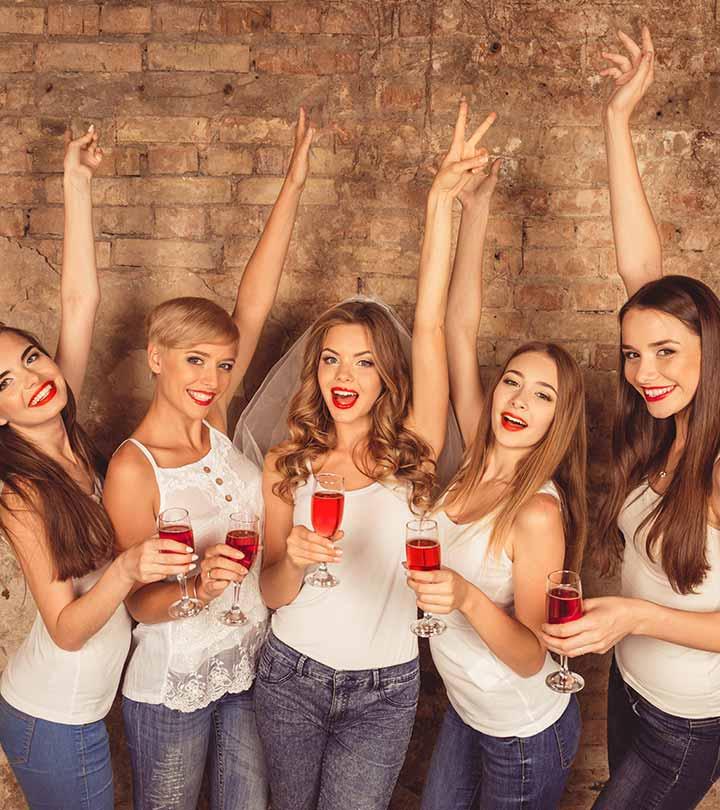 A bachelorette party is thrown for a woman who is to get married soon. The party is generally attended by friends, mostly the bridesmaids, the bride, and the maid of honor. Bridesmaids often choose night outs, a spa day, a campfire at a tropical location, a trip to the ultimate clubbing zone, etc. for bachelorette parties. Apart from the location and party ideas, bachelorette gifts are equally important.
The girl squad can come up with interesting and unique gift options for the bride-to-be, such as tiaras, sashes, couple gifts, special gift cards, etc. If you are about to attend a bachelorette very soon and are confused about the gift options, scroll and explore the best bachelorette party gift ideas for some inspiration. Some of these gifts are naughty, some are touching, and some are simply amazing!
30 Best Bachelorette Party Gift Ideas
Whitmore Satin Padded Hangers Bone Set is a classic bachelorette party gift idea. While it might seem like very casual stuff, it is actually a life-changing product for women who love their clothes laundered. These hangers are covered with satin padding to prevent any wrinkles or marks on your freshly ironed outfits. If your friend doesn't like to iron, fold, and arrange clothes every day, this bachelorette party gift will make her day. The hangers also come with a strong metal hook, and the ruching prevents the clothes from falling on the floor.
Key Features
Luxurious silk padding
Bow and satin fabric
Gentle satin padding prevents wrinkles and marks on the outfits
Luxurious, premium, and elegant gift
Whether it's a destination wedding or she's going to an exotic location for her honeymoon, this is the ideal bachelorette party gift for the bride-to-be. This compact and travel-friendly sewing kit is helpful in case of any last-minute emergencies. The kit comes with all the necessary DIY sewing tools, such as scissors, threads, sewing needles, tape measure, thimble, buttons, seam ripper, and much more. The bag is designed with elastic bands to hold all the items in place and prevent any falling out. Surprise your friend with this valuable sewing kit and enrich her travel experience in advance.
Key Features
Multi-utility sewing kit
Elastic bands to tuck in all the items properly
Compact and travel-friendly
Best gift for frequent travelers
No products found.
Gift these wonderful engraved flutes to the bride and groom. These are personalized wedding champagne flutes with an elegant design and are made of high-quality glass. These glasses can be used for wedding or reception toasts. You get free customized engraving with the last name of the bride and groom, along with the wedding date. What's better than these glasses for your friend to remember and cherish her special occasion? The flutes are packed in high-quality packaging to prevent any damage.
Key Features
Perfect for wedding and reception toast
High-quality glass
Elegant design and free customized engraving
Twisted stem pattern
What's a bachelorette party without those funky satin robes? If there's a bachelorette party coming up and you want to gift the bridesmaids lovely satin robes, the Eplaza women's satin robe and sleepwear kimono is a gift worth considering. The robe is available in various colors and patterns. It is a one-size-fits-all kimono, designed using smooth and durable polyester fabric. The fabric is breathable and comfortable. This is a great gift for sleeping, lounging, and bathing. The floral prints and refreshing and add a cheery vibe to the party environment.
Key Features
Highly durable, comfortable, and soft fabric
Appealing colors and prints
One-size-fits-all
Awesome choice for lounging, bathing, and sleeping
A straw hat is a priceless gift for the bride-to-be who is planning to honeymoon at an exotic beach location. Also, if the much-awaited bachelorette bash is planned at a beach, the Wide Brim Floppy Beach Cap is a great option. The floppy is super lightweight and foldable. The 6 inches brim covers almost the entire face and prevents any sun damage. The hat will complement various beach-inspired and party outfits. It is suitable for outdoor parties, pool parties, hiking, camping, vacationing, etc. From sultry maxi dresses to chunky swimsuits, this hat can help any outfit look amazing.
Key Features
100% paper
Broad brim coversthe entire face
Flexible and foldable
Goes with different types of outfits
These mugs are perfect for the couple that is addicted to coffee. The cups are excellently designed and are thinner and taller than usual coffee mugs. The pink and blue mugs have Mr. and Mrs. engraved in the front. They are made of high-quality ceramic and have a luxurious marble design. The metallic gold engraving on the mugs and the golden spoons enhances the overall look of this mug set. The mugs are packed in a silk finished interior and a classy box.  This is a romantic gift for the bride-to-be.
Key Features
Beautifully designed mugs with Mr and Mrs metallic engraving
Thin, tall, and large mugs
Made of ceramic
Attractive packaging
Try something unique and gift this fantastic stainless steel flask during the bachelorette party. This stainless steel flask has a ravishing brown leather cover, three cups, and a funnel.  It is a compact and stylish flask that can be used to pour different beverages. The bottle is coated with anti-slip leather. The bottle is spillproof and keeps the beverages safe. The flask also comes with hidden cups and a funnel to pour and share your beverage with your loved ones. This is a delightful product for your adventurous friends who love traveling, camping, hiking, or weekend tours.
Key Features
High-quality stainless steel and non-slippery leather fabric
Compact and stylish design
100% leakproof and quality controlled
Slips in your pocket easily
This is a unique gift for women who love to party. Present this happening gift to your friend and spice up her bachelorette party. This stylish bracelet bangle flask comes with a crystal lid and funnel for pouring and enjoying liquor. The bracelet is made of stainless steel and won't break even if you drop it hard. It looks like a piece of chunky jewelry but is a cool liquor flask. You can enjoy liquor at parties and concerts without anyone noticing you sipping it. It can hold up to 3.5 ounces of any beverage and boost your party experience.
Key Features
Crystal lid and stylish design
Can store up to 2 shots of any beverage
Comes in a classy black packaging
Ideal for concerts and parties
No products found.
Surprise the bride tribe and the bride-to-be with thesecute bride tribe cups. The 16-pack cup set comes with 14 bride tribe cups and 2 bride cups. You can pour 16 ounces of vodka or champagne or any other beverages and turn the party into pure delight.  The rose gold and frosted white cups look luxurious and chunky and are durable and will last all night. These are perfect sturdy cups for the bachelorette.
Key Features
Funky and large cups for the bride tribe and bride
Rose gold and frosted white cups
Can accommodate 16 ounces of beverages
Durable
What can be better than a bachelorette party veil and a stunning crystal crown for the bride-to-be? Thisparty veil andcrystal boho crown set will make your bachelorette memorable. The bachelorette veil with silver finish and metallic engraving is picture-perfect, while the stunning crystal crown offers all the sparkle a bride needs. The set comes inside a cute ready-to-gift packaging. Wear the headband for a night out or a pool party.
Key Features
Fancy bachelorette veil with silver base and metallic gold engraving
Crown studded with beautiful crystals
Cute and ready-to-gift packaging
This fabulous bundle of joy comes with a rose gold bride-to-be sash, 5' bachelorette banner, 1 sparkling rhinestone tiara, 1 gorgeous satin edged veil, and 10 cute bride tribe tattoos for the bridesmaids.  This is a rose gold and white themed kit with perfect bridal accessories and fun party props. Simply pass all the props to the bridesmaids and begin the party!
Key Features
Rose gold and white themed props.
Comes with cute bride-to-be accessories, including a tiara, sash, veil and banner.
Bride tribe tattoos are highly catchy and fun.
A perfect gift set for rocking a bachelorette.
Let your lovely bride-to-be have some fun with her bae with this interesting and naughty truth or dare game. This date night box set with conversation starters and flirty games is a kinky gift option for brides. Choose from Talk, Dare, and Flirt cards, and let the party begin. This is a special gift for parties as well to heat the things up. Surprise the bride-to-be with this thrilling game, and make her honeymoon naughty and memorable!
Key Features
Three game levels – Talk, Flirt, and Dare
Great for parties
Amazing gift for a newlywed couple
Planning a poolside or beachside bachelorette for your friend? Gift this sizzling one-piece swimsuit with 'Bride' engravedon it. It comes in different colors and sizes.  The swimsuit is made of polyamide fiber and is fully lined. It doesn't have any padding and looks sexy. Enrich your friend's bachelorette weekend with this promising gift.
Key Features
Highly durable and comfortable
Cool 'BRIDE' engraving
One-piece swimsuit
No products found.
There are plentiful of magical memories for the bride-to-be, from the proposal to the wedding. If you want to give a sentimental gift to the bride-to-be, this is it. This gift can help her cherish the beautiful moments of her life with her bae. Seal all the crazy stories, special toasts, fun pictures, and candid moments in this pretty book forever. It is a pretty blue book with an exciting cover.
Key Features
Compartments to store documents and pictures
Beautiful and elegant cover design
Perfect for wedding planning notes
Bridal journal with exciting fill-out spaces
Post-party hangovers are terrible, so help your bride rejuvenate with this cool post-hangover kit. These party hangover kit bags are made of cotton – natural muslin. The muslin bagsare sealed with a drawstring and have funny "Hangover" messages for your beloved friend. The bags contain aspirin/tablets, gum, hair ties, hand sanitizer, makeup remover, emergen-c, mini water bottles, and breath mints.
Key Features
Contains hand sanitizer, hair ties, makeup remover, water bottles, emergen-c, and things that your hung-over friend might need.
Drawstring pattern
Pure natural muslin fabric
Wedding emergencies can occur at any time, and the bride-to-be needs to stay prepared. Get the bride through her wedding with this amazing polka dotted wedding survival kit. This kit is full of things that can be required for any wedding emergency. The kit consists of a manicure kit with nail clippers for any last moment touch-up, tweezers for plucking uneven eyebrows, scissors, nail file to make your manicure pop, 4 stunning hair ties, 8 bobby pins, paper clothing tape, 12 oil-absorbing wipes to make the bride look fresh and pretty, and a mini sewing kit for any clothing-related emergency.
Key Features
Polka dot themed bag
Consists of bobby pins, hair ties, nail file, manicure kit, sewing kit, and paper clothing tape.
Compact
This cute Mud Pie tote bag is a great way to make the bride feel special while on her honeymoon. The bag is made of 100% jute and has a fabulous sequin metallic "Bride" tag. It can carry a lot of stuff without stressing the fabric or breaking the straps. The rustic and boho finish makes this beautiful tote bag look attractive. It is a deep bag to store ample of handy stuff on a flight or at a beach.
Key Features
Spacious and heavy-duty tote bag
Made using durable jute fabric
Good weight-bearing capacity
Sequin "Bride" tag
It's time to pamper your bride to be with this exotic and luxurious robe. She can wear it while getting dressed for the wedding and use it every day as nightwear. This stunning night robe is made using smooth and comfortable satin fabric. The robe has lace finish at the sleeves and the bottom. It also has a detachable belt and two side sea pockets. The gorgeous ivory shade makes it perfect for the wedding, and the lacy finish at the sleeves and hem makes it look pretty.
Key Features
Made with satin, polyester, and lace
Ideal for bathing, sleeping, and lounging
Cute lace finish at the sleeves and hem
Comes with 2 pockets and a chunky detachable belt
This amazing 12 oz stainless steel wine tumbler with a lid and straw is the perfect gift for a bachelorette party. The white insulated stainless steel glass is engraved with "Bride". It is unbreakable and travel-friendly. The bride can pour wine, coffee, mocktails, cocktails, ice water, tea, or any beverage in this glass. It is shatterproof and portable to take along on a vacation.
Key Features
Durable and insulated
Corrosion- and rust-free
Bride engraving
Travel-friendly and portable
Planning the entire wedding is hectic. To help your bride relax, you can gift these amazing all-natural bath bombs for the bachelorette. These bath bombs are all-natural and luxurious. They are crammed with essential oils to make the bride feel calm and peaceful. The ingredients like sea salt, shea butter, sunflower oil, vitamin e, cocoa butter, etc. promote healthy and glowing skin. Let your bride rejuvenate with these classic bath bombs before her wedding.
Key Features
Contain healing ingredients, such as sea salt, sunflower oil, vitamin e, cocoa butter, shea butter, etc.
Promote healthy and glowing skin
Relaxing
Consists of essential oils to create a spa-like environment
When the bride is getting married, there will be plenty of occasions to celebrate, and this is just the right gift for her. This luxurious and pretty diamond bottle opener consists of an acrylic diamond decoration. The decoration is placed on the silver-metal ring-shaped bottle opener. This is an amazing gift for bridal showers and weddings.
Key Features
Diamond bottle opener
Silver-metal ring
Durable
These cushion covers are an amusing addition to the newlywed couple's home. They are made of cotton linen and are engraved with "Mr" and "Mrs" tags. The covers are soft, durable, and very stylish. You can choose from a variety of attractive colors and patterns.
Key Features
Soft and comfortable
Removable
Washable
No products found.
This is the ideal bachelorette gift that will not only help her deal with the party hangover but also help her rejuvenate and prepare for her big day. This Happy gift card consists of gift cards for the Cheesecake Factory, Lord and Taylor, and Spafinder. The bride can go have some salad and cheesecake with her squad, do some shopping, and relax at the spa with these cards.
Key Features
Consists of amazing shopping and spa gift cards
Can be redeemed instore or online
Every bride wants a customized ring box that can make her special day even more memorable. With this gift, you can make the wedding ceremony special for the couple. The ring box comes with free engraving. It is a perfect box for 1 or 2 rings. You can get her and her bae's names engraved on the box with the wedding date. It is an adorable gift and will remain a great memory with the couple forever.
Key Features
Can accommodate 1 or 2 rings
Free engraving
Compact
This is a customized and pretty gift for the bride-to-be. The frame is coated with silver plated metal and can be given to the bride on her bachelorette. The bride can then put the wedding invitation and a wedding picture on the frame and create memories. This is an amazing gift for the bride that'll always remind her of the special day. The picture of wedding invitation and vows can be placed on one side, while a romantic picture of the couple on the wedding day can be placed on the other side.
Key Features
Cute silver-plated frame
2 sides – one for the wedding invitation, and one for the wedding picture
Durable and fancy gift
If your friend is getting married, she'll definitely need this compact and cute makeup bag. This bag can accommodate all makeup items the bride might need on her honeymoon. This multi-utility makeup organizer has adjustable dividers and is made of durable and high-quality Oxford fabric. There's plenty of space for storing makeup brushes, lipsticks, eyeshadows, hairbrushes, skin care products, etc. It is lightweight, waterproof, and compact.
Key Features
Separate compartments for makeup items
Spacious
Travel-friendly and easy to carry
Waterproof
These amazing aromatherapy scented candles will make the bride-to-be feel relaxed and calm. These candles are made of all-natural ingredients and are ideal for relaxing the bride who's undergoing a lot of hassle for planning the wedding. They are made of essential oils, lead-free cotton candle wicks, and soy candle wax. The candles last for 80 hours and can instantly freshen up the environment. These are cozy, warm, and inviting candles.
Key Features
Made with the natural ingredients
Contain essential oils
Creates a magical ambiance
Best to use during meditation and spa bath
If your friend messes up her hair ties, here is a fancy bachelorette gift for her. Let your bride friend and the bride tribe pull back their lustrous strands with a set of bride tribe hair ties. These are funky and durable hair ties. The girl gang can wear these funky ties and make the party memorable. The pack comes with 6 cute cards and 2 elastic hair ties, 1 for the maid of honor, 1 for the bride, and the other 10 for the bride tribe. These pink and pastel sequinned hair ties will make the bachelorette a delightful party!
Key Features
Cute and party style hair ties for the bride and her squad
12 beautifully designed hair ties wrapped on cards
Durable and chunky
This beautiful manicure kit comes with 12 pieces of manicure tools, pedicure tools, and facial care tools. The tools are made of high-quality stainless steel. They are useful for eyebrow shaping, nail filing, exfoliating, manicure, pedicure, etc. The toolset comes in a very stylish holographic pink box that is very compact and travel-friendly.
Key Features
12 different and helpful tools for manicures, pedicures, and facial care
Holographic pink box
Compact box
Durable
Surprise your friend with these funky and stylish Mr. and Mrs. luggage tags. These tags will quickly identify the luggage. They are gray and white for the bride and groom. The tags are made of vegan leather and have sturdy buckle straps that secure the tags to the luggage. They also have a privacy flap that opens and closes to protect personal information. These tags will not only help the couple identify their luggage but also add a smile on their faces while they are off on their honeymoon.
Key Features
Ideal gift for newlyweds
White and gray for the bride and groom
Sturdy
That was our round-up of the 30 best bachelorette party gifts. Weddings call for celebration, and there's no better way to celebrate than partying with your closest friends in honor of the bride. Take your pick from any of the above gifts, and watch your friend's face light up with joy!