15 Best Back-Smoothing Bras To Conceal Bulges
Change the way you dress with posture correction bras that are worth the hype!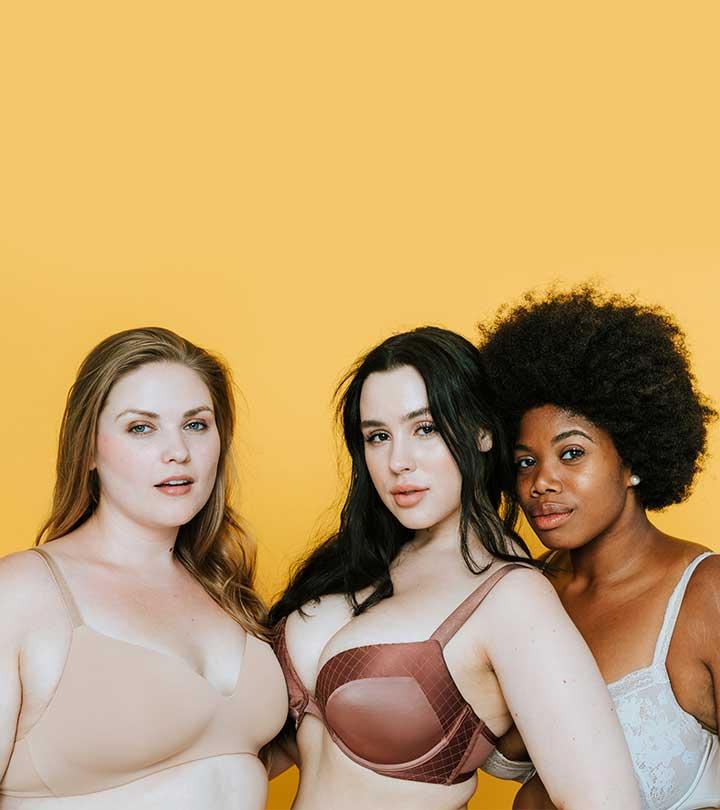 Wearing the best back-smoothing bras will help you hold your posture without investing in multiple posture belts. The whole idea of working from home has changed our lifestyle and how we used to present ourselves in public. We are so comfortable in our loungewear and loose clothes that even thinking about switching to formal clothes and sitting on a chair all day sends shivers down our spines. However, laying crouched on the bed all day has led to increased complaints of stiff neck and back pain worldwide. Besides correcting your posture through exercise and yoga, investing in back-smoothing bras can help you get back in shape while flaunting gorgeous curves. If you are not sure about what to choose, we are here to help. Here are the 15 highest-rated bras to choose from.
15 Best Back-Smoothing Bras Of 2022 That Hide Your Back Fat
Feel comfortable and confident while sporting your favorite body-hugging dress as this full-coverage back-smoothing bra hides your body fat without making you look bulgy. The no-wire design keeps you feeling comfortable all day long so much so that you forget that you have it on. You can cover your underarm and shoulder fat flawlessly with its silky smoothing 4-way stretch fabric. The wide shoulder straps come closer together at the back hooks to not slip off your shoulders. It offers full coverage and is perfect for everyday wear.
Pros
Full coverage
Wireless support
Stretchable fabric
Broad straps
Cons
Show off your curves and not your bulges with the Warner's Women's Blissful Benefits Back-Smoothing Push-Up Bra. Thoughtfully designed with 73% nylon and 27% elastin fabric, this non-wired bra gives you utmost comfort and covers your bulges, and lightly pushes up your bosom so that you can flaunt your shape. The cups have a gentle honeycomb texture and the silky smooth back comes with a hook and eye closure. Wear this all day long, and this back smoother bra remains soft on your skin.
Pros
Superior coverage
Natural lift
Wireless comfort
Smoothes bulges
Cons
The straps are not adjustable.
Get the perfect off-the-shoulder or strapless look without using bras with transparent straps that might probably make your shoulders look bulgy. Go fearlessly strapless with the Vanity Fair Women's Beauty Back Strapless Bra that gives a flawless look under your clothes. This strapless back-smoothing bra is designed with a non-slip silicone lining to keep the bra in place all day long. Your bosom will get a light lift with this bra's lightly lined cups. The 4-way stretchable fabric made of 78% nylon and 22% spandex makes you confidently go strapless without tugging and pulling up the bra frequently.
Pros
Wide back band
Double-layered fabric
Full-coverage
Comes with detachable straps for traditional, halter, suitable, and criss-cross strapping
Cons
Do you skip buying hook-and-eye bras because they might prick and annoy your back? Go hookless and yet have full coverage with this back and side smoothing bra. The pull-on closure of this bra seamlessly fits you and covers your breasts and back bulges without feeling too tight. Its straps and edges are as thin as paper to make you feel at ease all day and all night long. You will love the soft-padded cups that come with a netted flowery pattern and soft fabric to lift and shape your bosom.
Pros
Mega-stretchy fabric
Lightly-padded cups
Hookless coverage
Netted flower pattern
Cons
This bra does not support the bosom.
Be it an hourglass-shaped body or an apple-shaped one — pick this comfortable back-smoothing bra that strikes the right balance between offering you the right lift and covering up your bulges. The 2-ply modesty cups and broad back are made of super-stretchable 78% nylon and 22% spandex fabric to cover your bosom without digging into your skin to make it look bulgy. You get to adjust this bra both in the front and at the backside for that perfect fit. The criss-cross flexes in the front attached to the cups keep the bra in place all day.
Pros
4-way stretch fabric
Lightweight
Wide back
Light padding
Innovative smoothing design
Cons
The straps might not stay in place.
Lift and shape your bosom and yet get the free feeling of wearing nothing with this weightless racerback bra. Its wire-free pull-on style, along with the softest microfiber fabric, seamlessly smoothes back fat and keeps you comfortable all day long. The adjustable straps that give you the perfect halter neck style are attached to a soft-designer lace strap that descends downwards on your backline. Wear it with the provided detachable cushioned cup pads for better coverage, or simply remove these pads for that super-comfy feeling at night.
Pros
Softest microfiber fabric
Detachable pads
Hookless pull-on style
Machine-washable
Cons
There might be an issue with the lower bra band rolling upwards.
If comfort is your top priority, the Woweny Seamless Bralette can probably be the best back-smoothing bra for you. This seamless full-figure back-smoothing bra comes with a pull-on closure and super elastic fabric that moves with you while keeping your shape up. The broader back, along with the thin and wide arm straps, tuck in your arm and back fact perfectly and keep those bulges out of sight. A light and effective mesh fit in the cup region can shape the small breasts and minimize the big bulging breasts to make any tunic or dress look neat on your body. Wear the detachable padding or remove it according to your dressing needs and flaunt your curves and features with ease.
Pros
Paper-like straps
Stretchable fabric
Removable padding
Pull-on closure
Cons
The bra might make you feel sweaty.
The Playtex Back Smoothing Bra offers your breasts complete coverage and that much-needed perky lift without the support of a wire strap. Yes, this non-wired bra is designed to be one of the back-smoothing plus-size bras as it gives complete coverage of the underarm and back fat and helps you show off your bosom without any spillage. The back and shoulder straps are wide and very thin to avoid the bra digging into your skin. You can wear this bra for your body-hugging tees, and they would flawlessly make you look your best.
Pros
Lightweight fabric
Lay-flat shine
Soft and breathable on the skin
Machine washable
Cons
The straps are not adjustable.
Make the tee you are wearing look better on you without showing a thick silhouette of your bra. This minimizer back-smoothing bra is beautifully designed to give your breasts the proper support and no-spill coverage to keep you confident all day long. The underwired foam cups are super soft and slightly raise your bosom so that you can flaunt your curves. There is a flexible strap placed in between the cups to make the bra more elastic, and a small ribbon is added to this strap to make it look pretty. With the U-shaped back and double-lined mesh side and back band, your extra body fat gets sequestered, and you can look great in any apparel you wear.
Pros
Breathable design
Travel-friendly
Hook-and-eye closure
Adjustable straps
Seamless bands
Cons
The bra requires a delicate hand wash.
If you feel the need to cut down your bust line, the Le Mystére Smooth Profile Minimizer Bra can be your right choice. Made of 76% nylon and 24% spandex robust micro liner fabric, this back-smoothing minimizer bra conceals the back fat and bulging bosom to give you a smooth profile and stylish look. The extra-wide wings have floral lace and mech lines to seal the armpit fat too. You can easily fit into 1-inch smaller clothes when you wear this bra.
Pros
4-way stretch fabric
Breathable design
Perfect smoothing
Minimizes bustline up to 1 inch.
Cons
The padding is very thin.
Lounging around at home or slipping onto your favorite outerwear — the Natori Bliss Perfection Contour Cup Bra is one of those back-smoothing bras designed to cut down your bulges and lift your bosom to get you into a perfect shape. The stretchable cups are lightly foamed and attached to a lace band that keeps you so comfortable that you won't feel like taking the bra off. You can wear any deep neck dress and the sweet heart-shaped neck of the bra hides beneath it. It comes with adjustable straps and a 4-row hook to fit you perfectly.
Pros
Wire-free
Ballet back
Matted adjustable straps
Stretchable foam cups
Cons
The elastic band may leave marks
Shape and accentuate your bosom without making them look bulgy with this amazing smooth back bra. This luxuriously smooth and soft fabric deeply tucks in the extra bulging fat without making you feel uncomfortable. The side wings and the built-up back strap is designed to offer full enclosure and coverage so that you can fit into your favorite tops and dresses easily. With the elastic center and sheer straps that do not dig into your skin, you can wear this bra all day long at work and even to your bed at night.
Pros
Sheer finish
Super-soft fabric
Broad wings and back
Adjustable straps
Cons
Blissfully bid goodbye to that bulgy fat that makes you feel uneasy while getting into your favorite outfit. With the Olga back-smoothing bra, you can get your bosom into the sleek shape that you have been craving. The super-stretchable fabric is designed with extra side panels and a broad back to hide your bulges impeccably without disrupting your comfort. The adjustable side straps do not dig into your body and hold the bra in place perfectly. With the deep U-shaped back design, you can confidently put on the deep-neck outfits and flaunt your fashion goals.
Pros
Stretchable fabric
Dotted pattern
Machine-washable
Wider wings and back
Cons
The fabric is not breathable.
Don't just hide your bulgy-looking back, but also your protruding tummy and hit fat. This all-in-one shapewear is the perfect long-lining bra that tones your figure by effortlessly tucking in your fat. The 4-way stretchable fabric extends downwards below your waistline to give you that extra-smooth finish. Wear it all day while doing any activity or in any weather conditions, and the moisture-wicking fabric keeps you going.
Pros
Stretchable fabric
Complete back and tummy-smoothing
Machine-washable
Non-padded cups
Cons
The bra comes without a back fastening closure.
Tees can be the most comfortable outfits you can slip into, and the Le Mystére Second Skin Smoothing T-Shirt Bra helps you wear any T-shirt in style. Designed with soft microfiber fabric, the bra hugs your body and tucks in the armpit and back fat, and gives your body a smooth finish. The cups are made of plush hybrid foam that contours overspill and rightly shapes your bosom to get that curvy look. Feel comfortable all day long as the adjustable straps come close to the back closure to give your chest a perfect fit.
Pros
Natural lift
2 ply back wings
Sheer elastic
Full coverage bra
Cons
These are the most reviewed bras of 2022 that keep you feeling at your best all day long. Before you pick a bra from this list, read the below-buying guide that can help you choose the right one.
What To Look Out For In A Back-Smoothing Bra?
The first thing you need to look out for in a bra is the size. Pick a bra of the size that is 2 inches larger than your actual bosom size. Bras smaller in size will make you look bulgy. For example, if your breast size is 32 inches, go for a bra size of 34 inches. With this, you will have the best comfort and full coverage.
If you feel that your bosom needs a little push to get the right look, go for wired or supportive underwire bras. Wire-free bras with cups can have the advantage of supporting your breasts and keeping your bosom in place. There are bras that come with a very supportive back band, adjustable straps, and broadside wings to give the best support and comfort.
There are bras designed to reduce your bosom size or give it a lift to enhance your curves. Bras made with 4-way stretchable fabric can tuck your fat in and even hide away your overspilling breasts. For small breasts, get underwired bras or bras that have foam cups to give that little push to your bosom and give it a good shape. If you have a protruding stomach or lower back fat, get a full-coverage shape-wear bra that extends downwards to tuck your tummy and hip fat too.
Bras can be made from buttery-soft materials to stretchable interlocked fabrics. Cotton and microfiber can be the best fabrics for daily wear bras. If you are choosing a bra that keeps you going all day long, look for a breathable moisture-wicking one. To relax and lounge at home, the lace bras give you the best comfort.
Why Trust StyleCraze?
Chaitra Krishnan has a deep interest in fashion and loves writing about different products. After thorough research, she has provided a detailed list of the best back-smoothing bras. She went through numerous reviews and feedback on multiple forums and brand websites to help you pick the perfect product. The bras listed in this post can help you get back in shape while flaunting gorgeous curves.
Frequently Asked Questions
Do back-smoothing bras conceal cleavage?
Back-smoothing bras conceal back fat. However, the cleavage gets concealed if the cups have a flab-tucking fabric.
Is it okay to go to bed wearing a bra?
It is okay to sleep with a soft and lacy or wire-free cotton bra that is extremely weightless so that you do not get a feeling of wearing it at all.
Recommended Articles