11 Best Back Support Bras You'll Actually Love Wearing – 2022
Maintain your posture and support your shoulder muscles with the right lingerie at hand.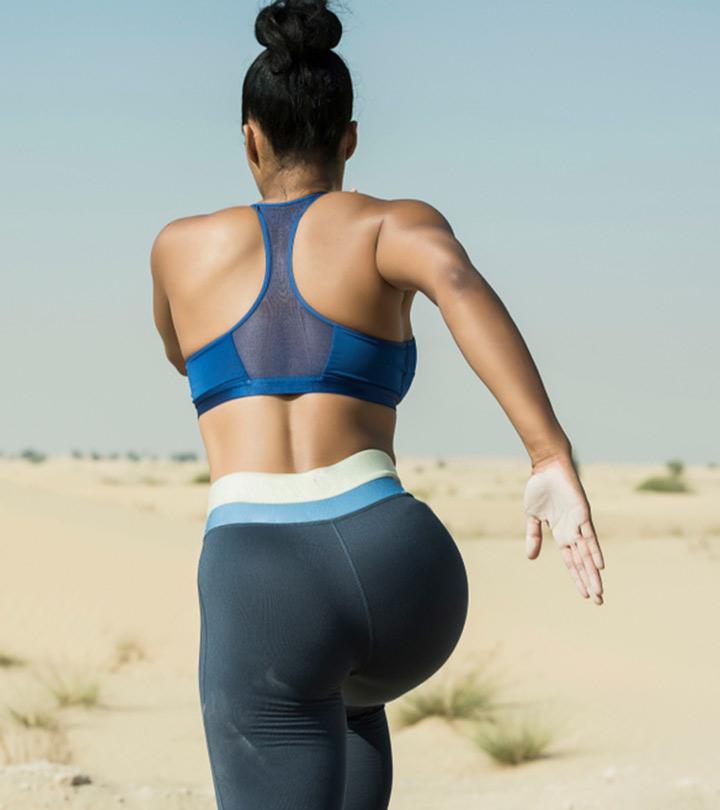 The struggle to find the best back support bra for someone with big busts or back issues is real. A good bra should provide adequate support to your bust and back and feel comfortable enough to wear all day long. Whether you are working throughout the day, going out, running errands, or trying to maintain a good posture, the right support bra is a necessity. Furthermore, it should be made of breathable fabric, have thicker straps, and offer enough front and back support and coverage. Back support bras are especially needed nowadays as we spend hours in front of our computers, slumped over our tablets, or looking down at our mobile phones. It can strain the neck, contributing to back pain and fatigue in the shoulders. Thus, finding a good back support bra is even more important for women with large and saggy breasts.
With so many options available on the market, picking the right one that suits your preferences might seem daunting. These bras are available in various textures, sizes, and colors. If you are looking to shop for one for yourself, find some of the best options on our list below. Keep scrolling!
11 Best Back Support Bra For Superior Hold Up In 2022
Looking for full figure bras with back support that are perfect for your workout and yoga sessions? The Wireless AKAMC sports bra comes with crisscross back straps that lend high support and also minimize the movement of your breasts during activity. Made of nylon and spandex, this back support bra features a pull-on closure, allowing you to twist with ease while the removable cups add shape and offer coverage. This bra for back support is also made with a lightweight moisture-wicking power fabric and mesh fabric lining, which together ensure comfort and coolness. The seamless design and removable soft padding will lend you maximum freedom of movement all day long.
Pros
Pull-on closure for posture correction
Soft and comfortable fabric
High support
Good coverage
Removable padding
Cons
From running, yoga classes, cycling to a myriad of outdoor sports — here's the best bra for back support that will provide you with high impact support and coverage. Made of polyester and spandex, this sports bra by Yianna also has added Lycra that allows the bra to stretch with you while retaining its shape over time. With an ability to provide medium support for great shape retention and long-lasting comfort, this back support bra combines fashion, function, and performance. Featuring moisture-wicking technology, this is one of the best back support bras for larger breasts that soaks up all your sweat while you're engaged in any physical activity and dries quickly for the ultimate ventilation. It also features a pull-on closure and soft inner mesh fabric to keep you cool and dry.
Pros
Padded support
Removable cups
Dries quickly
Provides ventilation
Pull-on closure
Retains shape
Breathable fabric
Cons
The underwire in bras can feel uncomfortable and cause pain and if you've been struggling with the former, consider this back support bra to be your knight in shining armor. This 360° support front-close posture-back bra by Glamorise features a MagicLift design which lifts, shapes, and supports your breasts with a painful wire underneath. The bra offers an inner-bust band, which helps in heavy lifting while a crisscrossed design goes under and over for more secure support. If you're searching for some extra posture support, count on the crisscrossed cotton and Lycra back panels to have your back (literally).
Pros
Hook and eye closure
Ideal for larger breasts
Multi-adjustable front hook
Machine-washable
Full coverage
Full support
No underwires
Wide, cushioned straps
Supportive underband
Cons
Not for small-chested women
Looking for an upper back support bra that is an amalgamation of both style and performance? This bra with back support by Running Girl won't disappoint you.
With a premium fabric that is sweat-wicking and provides a 4-way stretch, this sports bra will feel like second skin.
Whether you're running a 10k marathon or just completing your daily chores, this bra contours perfectly to your body while preventing random impromptu rollups. One of the best back support bras, it is engineered to offer a snug yet comfortable fit tight while minimizing bounce. The crisscross and cut-outs design at the back allows airflow, breathability, caresses your figure, and also prevents bra bulges.
Pros
Elastic closure
Removable cups
No sweat stains
Soft, breathable fabric
Available in many colors
Cons
May not offer the best fit for plus-size women
Ideal for your Pilates, Zumba, or dance classes, this sports bra by Angool comes with a microfiber body and a daring strappy back. Offering medium support and a high-elastic widened hem for more coverage, this bra with back support enables a full range of movement and great compression for your workouts. With a soft lightweight material, you can keep the worry of sweat stains at bay as the fabrics wicks away sweat and moisture giving you the ultimate breathability. The Angool Strappy Sports Bra also features adjustable straps for extra support, coverage, and a unique custom-fit experience. Available in 4 colors, you can trust this back supporting bra to keep you comfortable throughout the day.
Pros
Breathable fabric
Pull-on closure
Removable pads
Strong and durable
Adjustable straps
Easy to clean
Cons
The padding may move slightly
Need some quirky back supporting bras in different colors and patterns for your workout? Turn to Joyspels' range of offerings that will spoil you with choice. Made of polyester and spandex, this sports bra with back support will provide you with slick and low-friction support. From yoga, Pilates, jogging, running, biking, boxing, bowling, tennis, dance, walking to gym, or daily use — this is the best bra for back support which doesn't feel tight on the chest and shoulders. While the cups are made of environment-friendly materials, the fabric of the sports bra is smooth, breathable, and quick-drying. With an aesthetic of its own, the Joyspels Sports Bra will seamlessly transcend into your sartorial sensibilities in an instant.
Pros
Variety of colors and patterns
Removable cups
Pull-on closure
Lightweight and soft fabric
Not tight on chest and shoulder
Cons
Some may not like the length
If you're looking for a back support bra that delivers results without any discomfort, here's one of the best back support bras for your workout closet. Available in 2 aesthetically pleasing colors, the Lavento Strappy Sports Bra is made of nylon and spandex, making it ideal for a range of physical activities. This bra features a 4-way stretch for an ultrasoft feeling. With no clasps and hook, trust this creation to provide you with wireless comfort all day long. It has a breathable fabric which absorbs sweat and offers medium support and coverage.
Pros
Machine-washable
Pullover design
Customizable cups
Millennial friendly colors
Breathable fabric
No hooks or clasps
Cons
On the hunt for the quintessential racerback sports bra, which will beautify your back curve whilst providing support? The Litthing Racerback Bra not only protects your back from shocks but the design also prevents the bra from shifting and provides full coverage during workouts. Made with nylon and spandex, this racerback back support bra features a soft, stretchable, and super breathable material with quick-dry technology.
The back support bra also has a mesh detailing on the back for ventilation in order to keep you dry.
Pros
Built-in removable pads
Soft fabric
Lightweight
4 color options
Cons
Might not be true to size
The AVGO Sports Bra comes with an exclusive 2-way stretch which moves with you and prevents ride up. The breathable open-air mesh will keep you cool and dry with proper air-crossing as you indulge in high-impact sports and other activities. The soft elastic band in this sports bra will provide you with support that will keep your mind and focus on your activity! With proper padded cups, the bra has a cotton-like material which is soft and comfortable to wear on a daily use basis.
Pros
Padded shoulder straps
Full coverage and support
Adjustable back hook-and-eye closure
Moisture wicking fabric
Lightweight
No wires
Cons
May not be available in many colors
With a soft performance stretch fabric that will keep you comfortable and supported, this sports bra by Tasada provides medium support for great shape retention. The crisscross back and V-neck lends the back support bra its own signature style that is distinct. The perfect bra for yoga, exercise, fitness, or any type of workout — this is a great silhouette to be worn under your workout tees. The best part? The Tasada Mid-Support Sports Bra comes in a variety of colors like blue, black, pink, warm grey, white and more!
Pros
Removable pads
High-quality material
Lightweight fabric
Available in many sizes
Wide range of colors
Cons
Highly elastic, breathable, and comfortable — the Romansong Strappy Yoga Sports Bra is made with nylon and spandex which gives a smooth finish. With an alluring back design that allows you to twist with ease, this back support bra is perfect to wear under backless yoga shirts for that ultimate fitness girl vibe. The wide band hem provides comfortable support during activities which create low-impact for instance yoga sessions. This sports bra has a moisture-wicking fabric and also is wire-free, which allows you to remove pads and adjust the shape according to your requirements. Ideal for breast sizes, trust this sports bra for your everyday routine.
Pros
Moist-wicking
Wire-free
Comfortable and lightweight
Unique design
Removable padded cups
3 color choices
Cons
Some may find the material thinner than expected
Now that you have a roster of great bras that support your back, we're coming to your assistance with a buying guide. Here are a few important points to take into consideration when choosing a back support bra that are stylish, functional, and deliver high performance.
Things To Keep In Mind When Buying A Back Support Bra
When buying a back support bra, ensure that you're opting for a sports bra with proper crisscross detailing at the back. It is important to note that these straps are not just for design but also help in maintaining an upright posture. Hence, no matter the color, features or size, it is only this crisscross detailing that does the job of helping retain a good posture. Look for one that also offers the benefits of a shapewear posture corrector.
The best bras for back support always come with removable pads to ensure a custom fit. Hence, when purchasing a sports bra, it is crucial to look for bras that allow you to interchange your pads, so as to adjust your coverage and create a personal fit. Make sure that the side slits in the bras allow you to easily change the pads for a hassle-free experience.
The most important factor to keep in mind is the weightlessness and breathability of the fabric while buying a sports bra. Since you will be wearing a back support bra during workouts, it is essential for your bra to be moisture-wicking. This ensures that the bra soaks up your sweat to keep you cool and dry during your sessions.
Padded and adjustable shoulder straps
Bras can be very difficult to carry through the day as the straps can sometimes feel too irritating and itchy on skin. Hence, when buying a sports bra for your workouts, ensure to look for a back support bra that comes with padded and adjustable shoulder straps. This will create less friction and pressure on your shoulders while allowing you to move them according to your comfort.
Benefits Of A Back Support Bra
A good back support bra is important in every girl's wardrobe in order to help maintain a good posture. Since these sports bras often come with a back detailing like a crisscross or racerback design, this detailing helps to hold up the framework of the chest. This helps ensure that the posture is always upright.
When working out or indulging in other outdoor activities — a good back support bra is very important to lend support to back, chest and breasts. These sports bras are equipped with support providing qualities which help in good compression.
The most crucial advantage of a good back support bra is that it compresses breasts and minimizes the movement. This helps prevent shock and bouncing to your back as well as breasts. The long-term benefit of this is the fact that your breasts will not sag as you age.
Whether you're an adventurous soul who loves a good trek in the morning or has a penchant for investing time in your favorite sports, it is important to wear the right body gear. In order to minimize movement and maintain your posture, it is wise to invest in the best back support bra. Good quality sports bras are not only an essential that provide support but also lend confidence for a better walk and freedom of movement. So, take your pick from our round up of the best back support bra and achieve both — support, protection and a walk with panache!
Why Trust StyleCraze?
The author of this article, Chaitra Krishnan, is a fashion enthusiast. She has a keen interest in fashion trends and has conducted thorough research to help you pick the best back support bras for all-day comfort. Additionally, she browsed through many online forums to verify against user feedback to pick the right ones for her readers. These products help maintain a good posture and provide adequate support.
Frequently Asked Questions
Are sports bras good for back support?
Yes, sports bras are good for lending back support. These bras are specifically designed to minimize movement, prevent shock, and have back detailing like a crisscross or racerback design. It helps maintain posture, keep the shoulders upright, and provide back support for an added sense of confidence in the individual.
Does Medicare cover back support braces?
Yes, Medicare covers back support braces as long as the individual needs the brace for a specified medical reason. The Medicare Part B (Medical Insurance) covers medically necessary back braces under the durable medical equipment (DME) prefabricated orthotics benefit.
Can a tight-fitting bra cause back pain?
Yes, tight-fitting bras may cause posture issues and back pain. Instead, wear snugly fitting bras that do not dig into your skin.
Will a good bra help with back pain?
Yes, a good bra minimizes upper and lower back tension and reduces chronic pain.
Do posture correcting bras work for back support?
Yes, posture-correcting bras improve the positioning of your shoulders and neck without putting any pressure on your back. It also supports your back and reduces muscle imbalances.
Do minimizer bras help with back pain?
Yes, minimizer bras help eliminate shoulder and back pain.