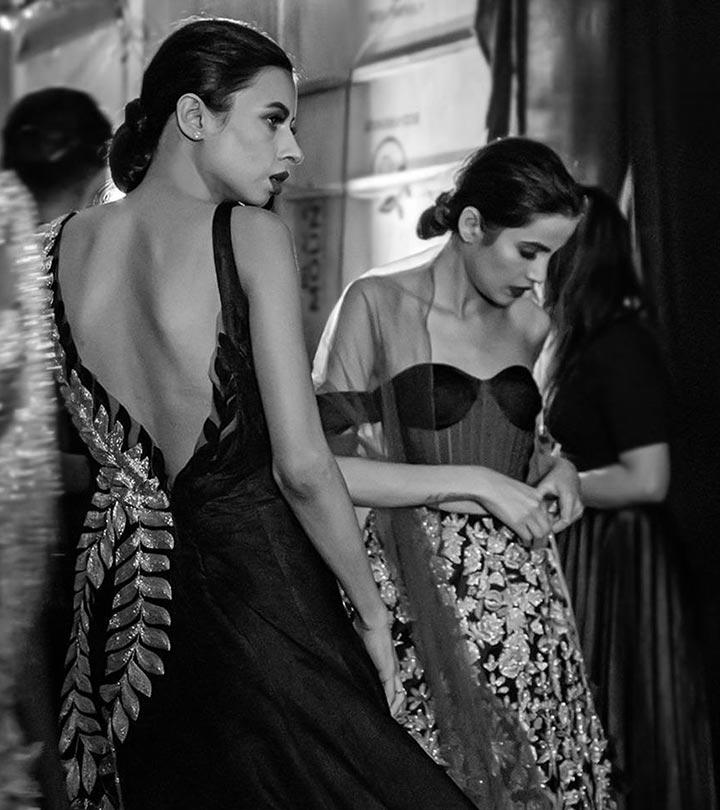 'Backless' and 'blouse' are almost synonymous, according to me. My mother hates me for it, that's another story. But there's nothing more sensuous or attractive than a backless blouse and for all the right reasons. You know what else is the best thing about a backless blouse? It goes with just about any saree and fabric, as long you can pull it off. But, I agree why some people think that these might look a little off. If they are not treated and designed well, it can look borderline sleazy.
Luckily for you, that's not something to fret over. We've chalked out a plan and hand-picked the best backless blouses from the latest trends that the internet is raving about right now. Let's take a look, shall we?
15 Latest Backless Blouse Designs
1. Backless Blouse With Doris For Lehenga Or Half Saree
What is a blouse without doris? Yes, most of us millennials cannot imagine a blouse without doris, which makes it the most exciting for us. Now, take it one notch up with the door hangers which is what our blouses are practically about. But, what if a blouse was just with doris. That's what makes a backless blouse smoking hot!
2. Satin And Sequin Backless Blouse
There is a subtle sheen to a satin fabric which makes it look great as it is. Thus, you hardly need to do anything over the top or even an embroidery. However, a simple backless design like this enhances the aesthetic and is fitting. And, with pastel colored blouses like these, you could mix and match them with crepe, chiffon or flowing sarees, and lehengas too.
3. Deep Square Backless Neck Design
People (read: parents) freak out with the very idea of backless, but they don't realize that more often than not, it's not quite literally backless as opposed to just being deep, broad and developing on the idea of backless. And, here's a blouse that explains it enough. Now, we can all get back to being a happy family again.
[ Read: 50 Latest Saree Blouse Designs – 2019 ]
4. Sequin Backless Blouse
Sequin blouses have always been a muse for most women. One, because it spruces up your outfit instantly without the need for any accessories and two, they go with just about anything. If you are a fan of sequin, backless or both, here's a simple yet stylish blouse that checks off all the right boxes for you.
5. Backless Blouse With Heavy Embroidery
If you are a bride-to-be and looking for an embroidered blouse for your lehenga or even a party wear saree, try this red backless and broad blouse design that is perfect for bridal wear. The doris tease around just enough when dolled up with a sheer dupatta.
6. Backless Blouse With A Bow
Who does not love bows? And, who does not like bows for their blouses? This is one of my favorite neck designs because it's sensuous, stylish and evergreen. You could add a decorative bow to a plain blouse or the other way round, but keep them in contrast so that the bow lifts up the backless design and balances it out.
7. Collar Style Backless Blouse Design
If you are a sucker for collar neck blouses and are always looking for new ways to incorporate it into your blouse designs, here's a fancy backless blouse with tiny straps that connect at the top and bottom, giving it a bare backless look. Tweak the front neck with a Chinese collar, and voila!
8. The Signature 'Nakhrewali' Backless Blouse
Ever since this uber-talented, coming-of-age designer – Gursakhi Lugani launched this backless blouse, it set everything on fire. Something that is a never-seen-before design, with a flap that is frayed with tassels and that one string that holds it all together is beyond brilliant.
9. Oval Shaped Backless Blouse With Patchwork Pattern
Mesmerizing is an understatement. An offbeat take on backless design pattern by combining a pure raw blouse with patchwork and a broad oval that makes this equal parts stylish and well like we Indians love to say sanskari.
10. Backless Blouse With Mirror Work
If you have been scouting for good blouse designs, chances are you already stumbled upon this one. A brilliant way to blend tradition and modern aesthetic elements into a blouse, isn't it? You can get this blouse in black or other neutral colors, and reuse it with a lot of other sarees too.
11. Multi-Colored Backless Blouse
I was never a fan of anything multicolored, but not anymore. This blouse changed my entire perspective and made me realize that anything that is dealt with in style and proportion can turn into a masterpiece. Be a little creative, or take it a step further by learning the color wheel, in a way that you can use it with a lot of sarees in your wardrobe, both plain and colored alike.
12. Backless Pattu Blouse For Silk Sarees
I started believing in love at first sight after I set my eyes on this saree-blouse combination. I agree it's a little superficial, but you know what I mean, don't you? Anyway, on a serious note, go with contrast colors and make simple changes to the design element of the blouse to recreate the magic.
13. Backless Brocade Blouse With Pompoms And Tassels
Wow! This just redefined backless-ness in a way that makes people want to talk but for all the right reasons. Wear this blouse and give them something nice to talk about. You just sit there and look pretty, or stand and look sexy, whatever works. Let those creative juices flow by customizing colors that suit your skin tone and saree.
14. Satin Backless Blouse With A Bow For Lehenga
If minimalistic and simple are your thing, so be it and let this blouse speak that too. Keep it all elegant and effortless in this satin embroidered lehenga and a deep backless blouse with a faux-bow.
15. Silver Backless Blouse For Lehenga
Call me old school, but I saved the best for the last. If you are a bride-to-be or even part of her tribe, show this to her or your fellow bridesmaids to get a backless blouse like this done for the sangeet party. Set the stage on fire with glamor, glitz and twirl around looking like a bunch of divas doing what they do best – Look gorgeous (drop-dead)
That was a spectacular list, wasn't it? I just cannot choose the best from this lot? Is that the case with you as well? Or, do you have a favorite from the lot that you fell in love with? Also, let me know if I missed putting in something here by leaving a text in the comment section below. Bye for now, beautiful!
Frequently Asked Questions
What kind of bra to wear with a backless blouse?
Honestly, gone are the days when you have to worry about looking for a bra to go with your backless blouses. Because backless blouses are invariably padded, with cups attached to the bodice, so you have nothing to worry about. If you already have a blouse that is non-padded and backless, look for silicon-stick on bras that are available just about anywhere, both online and offline.
Recommended Articles:
The following two tabs change content below.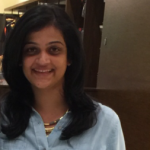 After working in Marketing and Business Development for a few years, Pratima Ati jumped ship to pursue two things she loved – fashion and writing. She's now a full-time Fashion & Lifestyle writer and has never looked back ever since. She sleeps early, reads often, and when she can't, she finally gives a closure to all the characters living in her drafts. Sometimes, they pass off as poetry too! That, and her training in Indian classical music and playing (learning) the veena keep her sane, civil, and bearable.