The 13 Best Backless Bodysuits That Are Bringing Sexy Back
Flaunt your sexy back with a complimenting attire that is comfortable.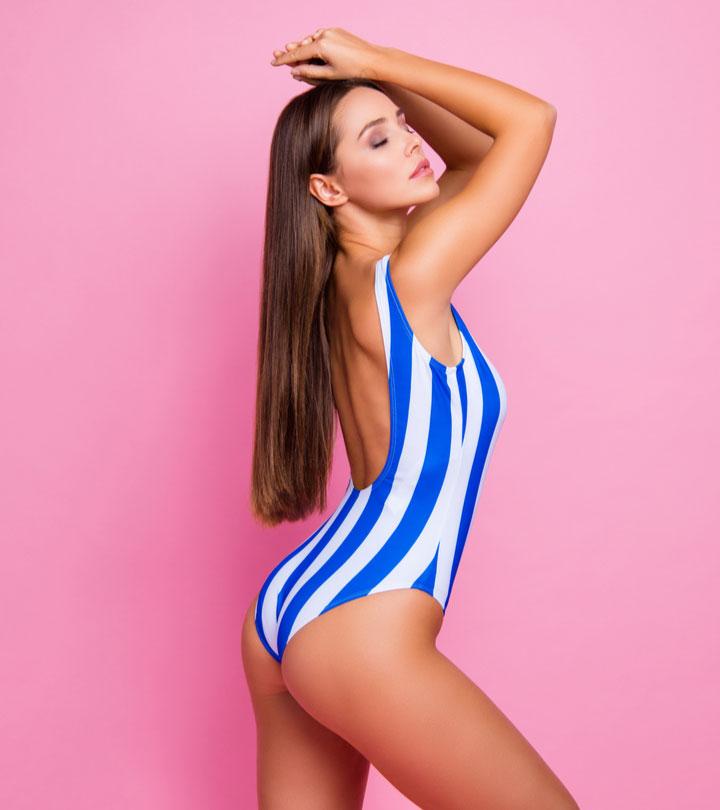 A backless bodysuit is a one-piece form-fitting undergarment that goes seamlessly under your clothing. It is generally used to flaunt your back muscles after a gym session or to wear under a backless blouse, top, or dress for any party. The best backless bodysuits are versatile and can be used throughout the year under most garments. In addition, they offer another level of comfort and lift to your breasts and buttocks. These bodysuits are super soft, lightweight, and often hug your body well.
However, a bodysuit can be uncomfortable if it is ill-fitting and not made of comfortable material. Some may like to layer up the clothes, while some can not withstand the concept. But, whatever be the case, there is no reason that you may deny wearing bodysuits or trying them on as they offer great comfort and are seamless. However, finding a bodysuit that complements your attire is challenging. So, we curated a list of the finest backless bodysuits that are ideal for all kinds of your clothing. Scroll down to check out our top picks!
13 Best Backless Bodysuits To Level Up Your Outfits In 2023
With Verdusa's black backless bodysuit crafted from 95% rayon and 5% spandex, its fabric remains stretchable and super-soft. The scoop neck lends your chest a flattering look while the web of straps in the back makes you look unbelievably sultry. Dual cami shoulder straps are sewn in that hold on to the skin without squeezing it, enhancing the width of your shoulders. Paired with heels and a pair of distressed jeans or shorts, this bodysuit makes for a stunning date outfit.
Pros
 Soft and stretchable
 Scoop neck design
 Dual cami shoulder straps
 Can be dressed up or down
 Doesn't rub against the skin
Cons
 The wrong size may cause the straps to dig into the skin.
Price at the time of publication: $21.99
Defitshape's open-back bodysuit is a shaper featuring a nylon-spandex blend along with a seamless design to stay put under your clothing without being visible. Silicone bands hold the whole suit in place, with some extra-long straps included if you want to adjust the fit. Not only can this bodysuit be worn with your favorite backless dress but it also goes well with tops that have plunging necklines.
Pros
 Stretchable
 Available in 3 colors
 Plunging neckline
 Silicone straps
 Padding present
 Offers bust support
Cons
 Might be slightly long for people with short torsos
Price at the time of publication: $22.99
This black open-back bodysuit is composed of 100% polyester, which makes it super-lightweight and buttery-soft to the touch. With its unique eyelash lace patchwork detailing and seamless construction, your back looks gorgeous and ready for an unforgettable night out on the town. The long-sleeved top can be paired with a pair of shorts or a cute midi skirt for casual events as everyday wear. The best part is that even though the back is open, the fabric keeps you warm for winter parties.
Pros
 Soft and warm
 Ultra-lightweight
 Beautiful lace detailing
 Available in 9 colors
Cons
 Might not be ideal for bigger breasts
Price at the time of publication: $25.99
If you are looking for invisible shapewear to streamline your silhouette, this is the smartest way to go about it. Shamay's open-back bodysuits feature a hook-and-eye closure along with a deep V-shaped neckline. To fit the length of your torso (and make bathroom breaks a non-hassle), the crotch area is supplemented with adjustable hooks. The bra cups are padded and come with underwires for added support. Made of 85% nylon and 15% spandex, this low-cut backless bodysuit offers great tummy control and shapes your figure.
Pros
 Available in 4 colors
 Adjustable crotch opening
 Hook-and-eye closure
 Plunging neckline
 Padded cups with underwire
 Offers tummy control
Cons
 Some may find the shoulder straps to be slightly slippery.
Price at the time of publication: $22.99
The highlights of Pintimi's black low-back bodysuit include a seriously low neckline with a soft scalloped lace trim design, which makes the bust look extra-sexy. Constructed with a blend of poly-acrylic, the fabric is soft, breathable, and smooth enough to give you the feeling of luxury. The snap crotch uses press buttons for easy wear and removal, while the adjustable criss-cross straps running along the back keep the bodysuit in place without putting too much pressure on your shoulders. Whether you want to spice up your days out or nights in, this sultry number is a flawless choice.
Pros
 Available in 4 colors
 Soft lace trim
 Highly breathable
 Snap crotch button
 Adjustable straps
 Soft and smooth
Cons
 Might not offer optimum bust support
Price at the time of publication: $9.99
The bra padding with underwire in this strapless backless bodysuit keeps your breasts perky and supported sans any sagging. The plunging openings in the front and back are ideal for low-cut dresses, and the transparent adjustable and detachable straps allow you to bare your shoulders with no worries about sliding straps. With a customizable hook clasp, the crotch area can be made to fit your torso and come undone easily for quick trips to the restroom.
Pros
 Has an incredible stretch
 Offers tummy control
 Seamless design
 Detachable and adjustable straps
 Available in 3 colors and 2 styles
Cons
 Might be slightly long for petite frames
Price at the time of publication: $21.99
Here's a beautiful backless black bodysuit that brings you the best of lightweight polyester and stretchy spandex with a sweetheart neckline for pronounced elegance. The fabric isn't just flexible enough to accommodate free movement but also lies smoothly against the body while being irresistible to the touch. Paired with a long skirt and sparkly heels, this bodysuit makes for an all-eyes-on-me kind of outfit that you can wear to swanky evening soirees.
Pros
 Available in 3 colors
 Breathable and soft
 Smooth under clothing
 Stretchable and seamless
 Elegant sweetheart neckline
Cons
 Doesn't have padding in the bust
Price at the time of publication: $28.99
This high-neck backless bodysuit is crafted with 100% polyester and features a halter neck for security. With sparkly sequins spread out over the front, it only makes sense to wear this dressy top to all the parties or concerts you've been itching to get back to now that things are gradually getting back to normal. Adjustable in the back, this bodysuit is also breathable and keeps you cool through bouts of sweating. Complemented with a smokey makeup look, the suit is going to transform any outfit into the talk of the town.
Pros
 Adjustable straps
 Breathable fabric
 Secure straps
 Non-irritating sequins
 Convenient snap crotch
Cons
Price at the time of publication: $18.99
Fashion Forms' nude backless bodysuit is built with nylon and spandex, a combination that keeps the garment deliciously soft and stretchable to give you a free range of motion. The reusable silicone adhesive cups stay put on your bust for adequate shaping and the underwire perks up the girls, enhancing your natural silhouette. A hook-and-eye closure coupled with a gusseted crotch provides ease of wear while the adjustable straps allow you to customize the fit and stave off any discomfort.
Pros
 Silky stretch front
 Invisible thong back
 Adhesive cups and wings
 Padding with underwire
 Adjustable straps for support
 Available in nude and black tones
Cons
 Might be slightly low on compression
Price at the time of publication: $31.99
This bodysuit combines 95% rayon with 5% spandex for a soft and smooth feel that also has optimum elasticity for movement. The spaghetti straps at the back offer a sexy look and also help reduce pressure on your shoulders. Snug on the body with minimal overall support, this shapewear can also transition into an outfit for clubbing nights. With both neutral and printed options available, you're going to want to stash every piece of this in your wardrobe ASAP.
Pros
 Soft and smooth
 Stretchable
 Lightweight
 Breathable
 Offers minimal support
 Available in 3 colors
Cons
 Might shrink slightly after the first couple of washes
Price at the time of publication: $17.99
FeelinGirl's bridal backless bodysuit is available in 2 neutral colors to show off your gorgeous figure through any kind of dress. A dual-layer fabric is used for superior tummy compression that also cinches your waist for a streamlined and slimming look. Removable and adjustable shoulder straps along with the hook-and-eye closure have been included to increase comfort and breathability. With the V-shaped neckline, your collarbones are accentuated and the chest well-supported, making the bodysuit ideal for one of the most special days of your life!
Pros
 Available in 2 colors
 Detachable chest pads
 Shapes the midsection
 Seamless and invisible
 Quick-drying and lightweight
 Breathable and skin-friendly
Cons
 The back might be slightly low for some.
Price at the time of publication: $19.99
SHAPERIN's nude and backless control bodysuit has a fabric composition of 84% nylon and 16% spandex, which is exactly what you need for maximum comfort and stretch. Easy to wear and remove with the help of crotch clasps, this bodysuit also has a built-in bra that offers your bust a mild, natural-looking lift. Clear and removable straps combine with the plunging neckline to give you sensual shapewear that disappears under your clothes and makes your silhouette even more flattering.
Pros
 Soft and lightweight
 Breathable fabric
 Transparent straps
 Stretchable material
 Available in 3 neutral colors
Cons
 Might not offer enough support for bigger breast sizes
Price at the time of publication: $29.99
SheIn's bodysuit for backless dresses is nothing if not elegance personified. It has a high-cut neck that hugs your chest for a beautifully streamlined look. With 4 solid color options available, you can wear them with your favorite kind of bottoms for any occasion from casual brunches to extravagant get-togethers. Cut higher than usual on the sides as well, this plus-size backless bodysuit gives you the illusion of longer legs. Pair it with delicate accessories when you want to dress it up and casual sneakers when you want to look effortlessly stylish.
Pros
 Available in 4 colors
 Streamlined look
 High-cut design
 Comfortable
 Ultra-lightweight
Cons
 Might not offer full bust support
Price at the time of publication: $22.99
Now that we have looked at some of the best backless bodysuits available on the market, let's learn how you can pick the right one for yourself.
How To Choose The Right Backless Bodysuit
Even though bodysuits are made to be worn under clothing, they must be comfortable so that you can move around freely. You should choose fabrics that are lightweight, breathable, and skin-friendly. Rayon and polyester with spandex blended in are the best options as they repel moisture to keep you cool and dry. The elasticity is also optimal so you can stretch with no limit.
Even though there is no coverage on the back, thin straps run along the sides and can sometimes be transparent to wear seamlessly with strapless tops or dresses. In this case, look for comfortable straps that don't dig into the skin or fall off repeatedly. Adjustable or detachable shoulder straps are a safe option to choose.
Women who have bigger busts most likely need support in the form of padding or underwires. If so, look for bodysuits that come with bras built-in. Otherwise, you can also opt for a separate silicone adhesive bra that can be attached to the skin before putting the bodice on.
Bodysuits are fastened at the crotch for easy removal, especially when you need to make a trip to the restroom. Between press buttons and hook-and-eye closures, it's up to you to choose what you are most comfortable with. Also, look for a crotch gusset sewn in to reduce incidents of irritation or chafing.
After you've bagged a backless bodysuit that you can't wait to flaunt, it's time to get it on!
How To Wear A Backless Bodysuit
 Step 1: If your bodysuit doesn't have a built-in bra, use sticky or adhesive strips for bust support.
 Step 2: Pull on the bodysuit over your head the same way you would a sports bra.
 Step 3: Smooth down the fabric and ensure that there are no wrinkles, creases, or bunching up.
 Step 4: If the shoulder straps are too loose or tight, adjust them in such a way that they are snug but don't dig into the skin.
 Step 5: Finally, pull the front and back ends of the bodysuit to fasten the hooks or clasps at the crotch.
After your backless bodysuit is up and running, it's time to mix and match it with other staples from your wardrobe to create some chic looks.
What Can You Pair With A Backless Bodysuit
To spice things up, you can pair something like a white backless bodysuit with some tight pants with heels. To sprinkle a hint of casualness, tie a jacket around the waist for a look that is ideal for vacation days. If you want a casual-meets-cute look, throw on your favorite pair of ripped jeans with some Chelsea boots to keep the edginess going.
For a cozy night in with your friends or a lover, you can wear a solid-colored strappy bodysuit and some trousers. Even though this look has full coverage, it is still sexy nonetheless. To stay in line with trends, try pairing your bodice with some printed pants in neutral colors. During summer days, this look is funky and adds personality.
If you're anything like us and head-over-heels in love with fall and autumn looks, you can wear thigh-high boots with a miniskirt in neutral colors. This look only needs a pumpkin spice latte in your hands to be photo-ready! Backless bodysuits that have long sleeves can be worn with skirts of your choice to events that are business casual. Pair them with some dainty accessories to add some elegance.
For nighttime events like high tea or evening parties, pair a lace-laden backless bodysuit with a long skirt that is lean or poofy. With a dramatic hairstyle and the right makeup to boot, this look is going to make your fairytale dreams come true!
Why Trust StyleCraze?
Priyam Gupta is a fashionista who believes in trying out clothes that flaunt your wonderful back and can go with any clothing. She has read through user reviews on several online forums and put together this list of the best and stylish backless bodysuits that are super comfortable and trendy. These bodysuits are light, soft, and hug your body just right, making them a must-have in your wardrobe
Frequently Asked Questions
What bra to wear with a backless bodysuit?
You can try wearing sticky or adhesive bras with backless bodysuits as they use silicone strips to hold your bust in place.
How do you wear a lower-back bodysuit?
Pull on your bodysuit the same way you would wear a sports bra and smooth it down your body to ensure there are no creases. Then stretch the front and back of the bodice to fasten the clasps at the crotch for a fit that isn't restrictive.
Do backless bodysuits make you look thin?
Yes, the right size backless bodysuit has a slimming effect and makes you look thin.
How is a backless bodysuit supposed to fit?
A backless bodysuit is supposed to fit you comfortably enough to avoid pinching or pulling when you sit down. Also, ensure that the fabric does not stretch to the point of becoming sheer. If the straps become loose once you sit, the sizing is too big for your body.
Can you wear backless bodysuits with leggings?
No. It is best to avoid wearing backless bodysuits with leggings as the material of the tight leggings may not be enough to hide the body suit lines.
Are bodysuits healthy?
Yes. But wearing a non-stretchable body suit may cause muscle cramping and lead to GERDs or acid reflux in the long run.
Recommended Articles