15 Best Backpacks For College Students To Organize Their Needs
Durable and stylish bags to carry if you want to be that popular girl in your college!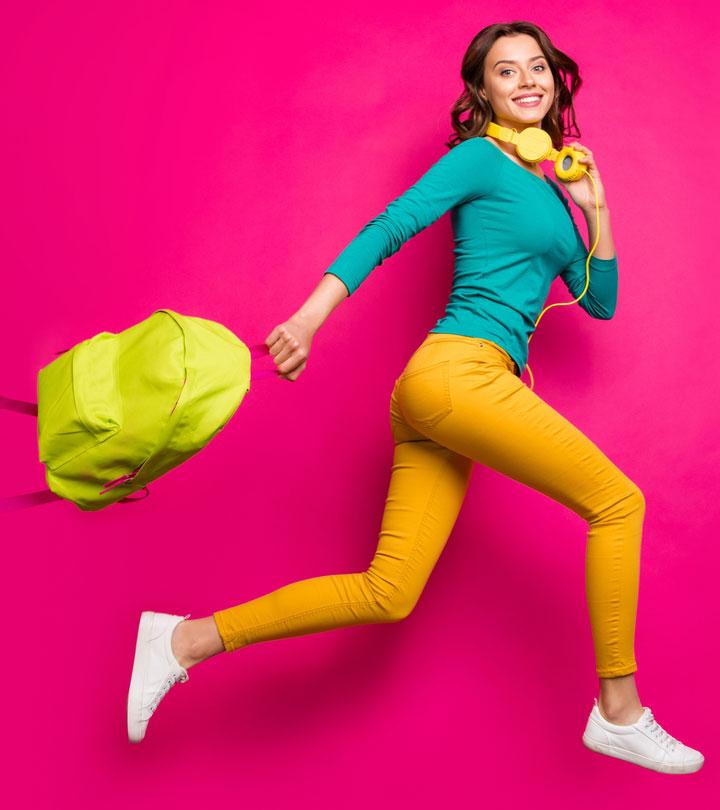 The college campus becomes a temporary home for some, while others commute for hours. The latter scenario becomes much easier if you have the best backpacks for college to organize your essentials. From your study materials and laptop to your lunch box, credit cards, and identity proofs, there are a lot of stuff you need to carry during your daily commutes. Therefore, a sturdy and spacious backpack becomes a necessity for every college-goer.
The high-quality backpacks in our list are designed to offer good resistance against wear and tear and feature padded straps for extra comfort. They are lightweight, making it easier to carry your belongings effortlessly. Also, these products have multiple compartments and side pockets to store the important documents at your arm's reach. Swipe you to read more details.
15 Best Backpacks For College That You Need For Better Organization
Matein's stylish backpack for college has a laptop compartment and 2 more on the front for all your stationery. Thick padding with multi-panel ventilation gives you back support along with wide adjustable shoulder straps to reduce pressure. On the backside, you will find an anti-theft hidden pocket to store valuables. Made with water-resistant polyester, this is one of the popular college backpacks that's also convenient for travel. You can fixate the bag on your luggage with the suitcase sleeve and the foam-padded top handle makes for easy carrying.
Pros
 Water-resistant
 Separate 15-inch laptop compartment
 Thick adjustable shoulder straps
 Anti-theft hidden pocket
 Suitcase sleeve
 External USB charging port
Cons
 The laptop compartment might not have padding on the bottom
Price at the time of publication: $29.99
Tzowla brings to you what is perhaps the most comfortable backpack for college with a password lock and durable zippers made of high-quality materials, so all your valuables stay safe. A pocket just for your laptop is present, along with one on the front for your tablet and other essentials. Not only is the polyester bag water-resistant, it also has a protective ridge around the exterior to remain damage-free after bumps or falls. A side pocket with a magnetic buckle can be used for a water bottle and rest assured that it remains secure. One of the most sturdy backpacks for college, this one by Tzowla is also resistant to tearing and scratching.
Pros
 360° protection
 Padded interior
 Water-resistant
 Password lock with metal zippers
 Available in 6 colors
 Tear-resistant
Cons
 Some may find it to be fairly small
Price at the time of publication: $31.95
The LOVEVOOK Laptop Backpack offers a portable USB charging port to conveniently charge your phone without opening the backpack. The multi-compartment backpack consists of a main compartment, a horizontal zipper pocket, a big front compartment, and a small front compartment. A big handle and anti-theft pockets with fixed password locks allow you to travel to crowded places safely. The waterproof and tear-resistant backpack is made of high-quality nylon fabric and has adjustable padded shoulder straps.
Pros
USB charging port
Multicompartmental
Antitheft pockets
Fixed password lock
Waterproof
Tear-resistant
Padded shoulder straps
Cons
Price at the time of publication: $29.68
One of the most trendy college backpacks for women, this one by Modoker is made of 600D nylon and features a polyester lining. The vegan leather trimming detail adds flair to the overall look. With a total of 6 pockets, you can easily stash your laptop, books, stationery, bottles, and other valuables in this durable backpack. To reduce undue pressure on the back and shoulders, the adjustable well-padded shoulder straps are crafted with honeycomb cushioning. Easy to clean, this is one of the most durable college backpacks you can choose.
Pros
 USB charging port
 Cushioned and adjustable shoulder straps
 Leather trimming
 6 pockets
 Easy to clean
 Soft inner lining
Cons
 Some may find it slightly bulky
Price at the time of publication: $29.99
Protect your laptop daily in a single compartment of the North Face Borealis School Laptop Backpack. It is designed with the FlexVent™ suspension system that offers a rounded back panel and comfortable shoulder straps, while the external bungee-compression system provides multiple pockets to organize your essentials conveniently. It is available in eight vibrant colors with a padded top grab handle, a sternum strap, and a removable waist belt to carry it anywhere.
Pros
Protective laptop compartment
Available in 8 colors
Multiple pockets
Water-resistant
Removable waist belt
Padded handle
Comfortable shoulder straps
Cons
Price at the time of publication: $98.95
Himawari carries some cute backpacks for college students that are made of water-resistant and scratch-resistant nylon. On the inside, you can stow away your laptop in the padded compartment and use the main pocket along with the 4 small and 2 side ones for other necessities. The double-stitched shoulder straps of this commuter backpack are well-made and reinforced with dual padding and are soft against your skin. Smooth and strong metal zippers, heavy-duty metal buckles, a sturdy top handle, and leather decorations make this the perfect college backpack.
Pros
 Available in 37 color combinations
 Water-resistant
 Scratch-resistant
 Shoulder straps with dual padding
 Smooth metal zippers
 Leather decorations
Cons
 Outer pocket is not functional
Price at the time of publication: $37.99
The durable, water-resistant, and quilted fabric of the BAGSMART Laptop Backpack is perfect for professional work or weekend getaways. It features two-way zipper closures for easy access and multiple storage compartments with a secured anti-theft lock system. The comfortable backpack offers adjustable padded shoulder straps, five different bright shades, and a unique charge slot to put your phone on charge while traveling. The multipurpose backpack is lightweight and looks stylish in pictures while you are in college, office, or on vacation.
Pros
Durable
Waterproof
Two-way zipper closures
Adjustable padded shoulder straps
Available in 5 colors
Unique charge slots
Lightweight
Cons
None
Price at the time of publication: $30.99
The best backpack for college girls comes from Vera Bradley and it is made with lightweight quilted cotton, which is also durable. You can keep your electronics neatly stored in the mesh slip pockets. With 2 zippered pockets and 2 side slip ones, you can also utilize a hidden back zipper pocket for your valuables. An easy-access front pocket, adjustable straps and a trolley sleeve make for a hassle-free experience. We think this is one of the best backpacks for college students with laptops.
Pros
 Lightweight
 4 exterior pockets and 9 interior ones
 Adjustable straps
 Trolley sleeve
 Available in 37 colors and prints
Cons
 The shoulder pads might not be sufficiently padded
Price at the time of publication: $93.75
On your lookout for good backpacks for college, this bag's exterior is made of a quilted polyester and twill blend. Not only is the surface water-resistant, the gold-plated sturdy zippers add a classy detail. The inner lining of a tear-resistant stripe polyester gives you comfort in this classy backpack for college. At the rear, you can find adjustable shoulder straps that take the pressure off your back and a trolley sleeve for hands-free carrying. Beverage pockets on the sides coupled with a top handle make Kenneth Cole's product one of the best backpacks for college girls.
Pros
 Water-resistant
 Tear-resistant inner lining
 Gold-plated zippers
 Adjustable shoulder straps
 Trolley sleeve
 Padded pockets for devices
Cons
 Might not hold shape when filled
Price at the time of publication: $57.47
Go on a hike or a picnic with the versatile Carhartt Backpack. It keeps up to 24 cans cold for over 8 hours with its completely insulated-base compartment. The backpack is made of Rain Defender® durable water-repellent technology with 600 denier polyester to withstand sudden rainfall so that you can finish your activity without any worry. It comes with contour-fit shoulder straps, a large main compartment with mesh pockets, two exterior elastic mesh pockets, a front zippered pocket, and two additional front slash pockets to carry the essentials conveniently.
Pros
Insulated-base compartment
Durable water-repellent technology
Contour fit shoulder
Mesh pockets
Available in 3 colors
Cons
Price at the time of publication: $64.99
The MAXTOP Laptop Backpack comes with deep storage for college students and working professionals. It features a USB charging port, a padded laptop compartment, a roomy compartment, and 10 pockets with an anti-theft lock system. The ergonomic back support system offers s-shaped soft padding to release stress from your shoulders and neck. The lightweight, sturdy material is long-lasting, so you can travel anywhere conveniently and comfortably.
Pros
Padded laptop compartment
10 pockets
Ergonomic
S-shaped soft padding
Lightweight
Wrinkle-resistant
USB charging port
Waterproof
Anti-theft lock syste
Cons
Price at the time of publication: $25.77
BROMEN's fashionable backpacks for college are made of high-quality vegan leather with coffee lining. A padded laptop pocket and an internal one with 2 slip pockets gives you ample storage space. Streamlined stitching keeps all the seams in place throughout usage and the accessories are made of gold alloy with an anti-corrosive finish. Available in 4 solid colors, BROMEN's girls backpacks for college will earn you lots of compliments.
Pros
 Made with vegan leather
 Padded laptop pocket
 Streamlined stitching
 Available in 4 colors
 Waterproof
 Anti-corrosive metal details
Cons
 Some might find the straps to be thin
Price at the time of publication: $89.99
The Lenovo Laptop Backpack is designed to carry any laptop securely and conveniently to your college or office. The modern and stylish design is made of water-repellent polyester fabric and has a padded interior to keep your essentials safe and secure. The quilted back panel makes the bag lightweight. The fully adjustable shoulder straps make it the best travel companion.
Pros
Lightweight
Polyester fabric
Waterproof
Stylish
Adjustable shoulder straps
Padded interior
Cons
Price at the time of publication: $16.95
The waterproof Kipling Seoul Laptop Backpack offers one main laptop compartment and four zipped pockets for college students to carry their essentials conveniently. The main features include adjustable shoulder straps, an ergonomic design, a bottle holder, and a handy top handle. This lightweight backpack is available in 9 stylish, trendy colors to grab the crowd's attention wherever you go.
Pros
Laptop-dedicated compartment
Adjustable straps
Ergonomic design
9 trending colors
Lightweight
Waterproof
Cons
Not suitable for big-sized bottles
Price at the time of publication: $83.3
One of the best JanSport backpacks for college, the Right Pack is made of cordura and features a suede leather bottom to keep all your belongings well-protected. If you've been wondering 'what is the best backpack?', rest assured because JanSport is a leading manufacturer. With a large compartment, you also get a padded laptop sleeve and a front utility pocket for everyday essentials. The straight-cut padded straps and web haul handle make carriage super easy wherever you may be headed.
Pros
 Secure laptop section
 Suede leather bottom
 Straight-cut padded straps
 Web haul handle
 Available in 15 colors
Cons
Price at the time of publication: $92
Now that we've looked at some of the best backpacks for college, let's learn how you can pick the best one out for yourself.
How To Choose A Backpack For College
Bags made of synthetic fibers like polyester are not only sturdy and durable but also water-resistant. While this means they aren't entirely waterproof, they will keep your belongings protected if you happen to be caught in a slight drizzle. Cotton is also pretty strong and lightweight but might not repel away moisture. When shopping for backpacks, choose polyester and other synthetic materials as they will withstand the elements.
Ensure that the back contains multiple compartments and pockets. You will do well with a separate laptop sleeve that is padded and can be fastened with a Velcro strap. Additional mesh and slip pockets for phones, wallets, and chargers are also ideal. If you like to carry your beverages with you, look for elastic mesh side pockets on the outside that can also be used for umbrellas. Sometimes, a few pockets can look functional but might be decorative. If you need more room, look for options that don't have this feature.
Good quality zippers hold the bag in place and look for sturdy metal ones with an anti-corrosive finish. Double zippers are your best friend because not only do they offer more security, but you always have a backup in case one happens to break.
No matter how heavy your backpack is, quality straps can help reduce the pressure on your shoulders and back. Look for padded straps that feel soft against your skin. Airflow design on the back of the backpack can also remove tension in your back. Ensure that the straps are also adjustable so you can customize how high or low the bag sits on your back.
One of the best ways to celebrate going back to school is to get yourself a quality backpack. This process might be a tad bit tricky as you might want to be fashionable but you also have to assess its sturdiness. Finding a bag that meets all these requirements might take a while. Our list of the 15 best backpacks for college combines style with practicality to bring to you some top-notch picks. You can choose from a plethora of designs, colors, and sizes to accompany you into the new semester. We recommend you go to college prepared, though, as all your friends might be envious of your new accessory!
Why Trust StyleCraze?
Our author, Priyam Gupta, is a fashion enthusiast who has considered the necessary parameters before curating this list of the best backpacks for college students. The products in the list offer great space to organize study materials needed and some are water and tear resistant. Not only are these backpacks great fits for students who carry laptops and other necessities, but they also have strong lock features to protect your belongings from theft.
Frequently Asked Questions
Do college students need backpacks?
Yes, a college-going student should have a backpack to carry and organize their books, laptops, or other study materials. These bags are comfortable, durable, and easy to carry for longer hours.
Are backpacks worth it?
Yes, backpacks are worth it.
•  They help you carry several things at once and make a secure place for all your belongings.
•  They keep your things organized and closer to you at all times.
•  They are lightweight and fit your body comfortably.
•  They are durable. So you don't have to worry about repurchasing for a long time.
•  Finally, they keep you hands-free.
Are North Face backpacks waterproof?
No, north face backpacks are not waterproof. But they provide a certain level of water resistance.
How big should my college backpack be?
The average size of a backpack is 20-30 liters.
Are Kankens still cool?
Yes, the Kankens backpacks are still trending. They have become a more popular choice among many students as the brand has come up with more stylish designs.
Recommended Articles