7 Best Badminton Racquets Available In India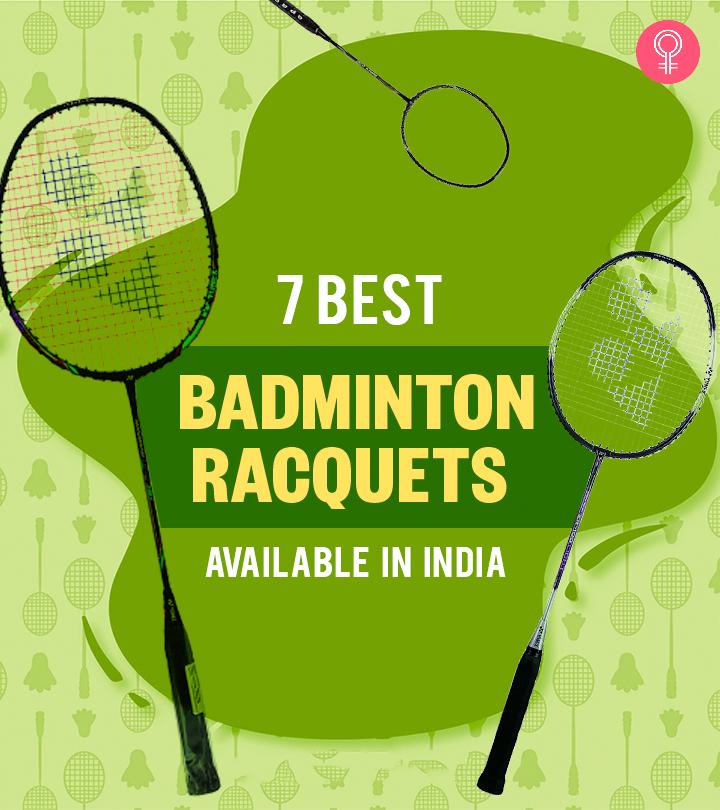 If you are a badminton player, you know how crucial it is to pick the best racquet. A well-built and durable racquet can polish your game and add more power to your shots. This article features a list of the 7 best badminton racquets available in India and a buying guide to help you choose the best one. Whether you are just starting out or are an advanced player, we have something for you. Scroll down to take your pick!
7 Best Badminton Racquets Available In India
The durable and light badminton racquet from the popular Yonex Voltric series is considered one of the best in the market. It enables the player to get maximum power while hitting the shuttlecock without losing the grip. The lightweight isometric frame allows the racquet to get maximum airflow while playing. The badminton racquet's tough build and low torsion steel shaft help improve the overall strength and enable higher string tension. The 3.5-inch grip makes it comfortable to hold while playing the game.
Specifications
Weight: U (99.9 g)
Material: Aluminum
Grip Size: G4
Head Shape: Isometric
Pros
Durable
Lightweight
Pre-strung
Beginner-friendly
Includes a cover for storage
Cons
Silver's Sb-414 gutted badminton racquets come in a pack of two, excellent for you and your playing partner. The lightweight badminton racquets are easy to handle, making them perfect for beginners and first-time players. The strong and sturdy grip makes them ideal for swift moves and easy swings with limited arm movement. These pre-strung gutted racquets let you get seamless shots with reduced wind resistance. Their frame is built with steel and can sustain heavy smashes and swings.
Specifications
Weight: U (99 g each)
Material: Steel
Grip Size: G4
Head Shape: Oval
Pros
Lightweight
Durable
Comfortable grip
Sturdy
Perfect for beginners
Includes a full cover for storage
Cons
The frame may rust eventually.
The Yonex Nanoray Light 18i Graphite Badminton Racquet is probably one of the best badminton racquets in India. Its lightweight, aerodynamic design helps you achieve stiff flex and unparalleled repulsion power for lightning-fast strokes without sacrificing power.
With 33 lbs of high string tension, this badminton racquet provides high support, more power, and better stroke control. The isometric head of the racquet, the carbon graphite shaft, and its built-in T-joint make the racquet durable and easy to use. The grip size is 3.5 inches, perfect for a comfortable and sturdy hold. 
Specifications
Weight: 5U (77 g)
Material: Carbon Graphite
Grip Size: G4
Head Shape: Isometric
Pros
Lightweight
Comfortable grip
Pre-strung
High string tension
Easy to use
Cons
Li-Ning G-Force Superlite 3600 Carbon-Fiber Badminton Racquet is a lightweight and durable product, perfect for intermediate and professional players. The high tensile slim shaft design boosts strength, stability, and better control. Its unique design and Aero Tec Beam System (ATBS) bring down wind resistance and drastically enhances the swinging speed for high intensity and stability.
The 7 mm diameter of the shaft provides effective balance for rebounds and anti-torsion performance and accurately transmits power and force while hitting the shuttlecock. This badminton racquet has a high tension of 30 to 32 lbs, which exhibits high strength and maximum force during the game. This racquet's military-grade full carbon graphite body is strong enough to avoid deformation and twisting.
Specifications
Weight: 5U (78 g)
Material: Military Grade Carbon Fiber
Grip Size: G2
Head Shape: Isometric
Pros
Durable
Lightweight
Easy to use
Comfortable grip
Pre-strung
Cons
The Apacs Vanguard 11 Unstrung Badminton Racquet is designed to give you sharper strokes effortlessly. It is ideal for intermediate and professional players who prefer medium to high flex power for an effective bounce and slingshot effect. This unstrung badminton racquet can be strung with a high-tension string.
The high modulus graphite body ensures sturdiness and durability. The light head and body let you swing the racquet for faster strokes and sharper execution. The sturdy frame is designed with muscle power frame technology for tighter and closer contact with the shuttlecock during the game. 
Specifications
Weight: 4U (84 g)
Material: High Modulus Graphite
Grip Size: G2
Head Shape: Isometric
Pros
Higher wind resistance
Sturdy
Durable
Lightweight
Comfortable grip
High repulsion power
Cons
Expensive
Needs to be strung.
The Young Fury 7 Professional Badminton Racquet has a flexible shaft and an elaborate balance point. It is known for its anti-torsion, ultimate flexibility, and strong grip. The badminton racquet lets you take a quick swing, fast play, and high-speed strokes. It is undoubtedly the best professional racquet on the market, with an allowable tension that goes up to 28 lbs and a high modulus graphite frame.
Specifications
Weight: 5U (75 g)
Material: High Modulus Graphite
Grip Size: G4
Head Shape: Isometric
Pros
Lightweight
Pre-strung
Flexible shaft
Faster swing speed
Comfortable grip
Wind-resistant
Value for money
Durable
Cons
The Apacs FINAPI 232 Badminton Racquet is a professionally acclaimed racquet known for its swift and fast shots. The unstrung isometric-shaped head with buildable string tension delivers sharp, neat, and clear shots. This racquet has a strong finish with an aero wide-body head. The frame and shaft are made using high modulus graphite material to achieve faster and versatile shots than most professional players expect.
Specifications
Weight: 3U (87 g)
Material: Graphite
Grip Size: G4
Head Shape: Isometric
Pros
Lightweight
Comfortable grip
Cons
Here are a few things you should consider while buying the best badminton racquets.
How To Choose The Best Badminton Racquets
Quality and durability play an essential role. When it comes to quality, pick badminton racquets that are made from sturdy materials like graphite, steel, alloy, or carbon fiber. These materials are exceptionally durable as they neither break nor bend easily nor rust.
Weight is another factor that plays a vital role while buying a racquet. Ideally, a badminton racquet should be lightweight, enabling faster and swifter movements. The ideal weight of a badminton racquet should be between 85 grams to 89 grams.
The weight is categorized by a number and a 'U' denoting how heavy or light the racquet is.
| | | | | |
| --- | --- | --- | --- | --- |
| 5U | 4U | 3U | 2U | U |
| 75-79.9 grams | 80-84.9 grams | 85-89 grams | 90-94.9 grams | 95-100 grams |
The balance point refers to the weight distribution of the racquet. The head heavy racquets add more momentum to the swing for a powerful shot and are ideal for professional players. The head light racquets come with heavy handles, enabling you to engage in fast drive exchanges. Balanced racquets are highly versatile, flexible, and perfect for all types of players.
The grip is a key factor while buying a racquet. To pick the perfect one, check the type and the size of the racquet's grip. Ensure you pick a racquet with a soft and sweat absorbent grip for better hold.
When it comes to grip size, here's a measurement chart that most racquet brands follow:
| | | | | |
| --- | --- | --- | --- | --- |
| G1 | G2 | G3 | G4 | G5 |
| 4 inches | 3 ¾ inches | 3 ½ inches | 3 ¼ inches | 3 inches |
The bigger grips are ideal for those who prefer a tighter feel to generate more power. And the smaller grip help and allow more flexibility and provide extensive maneuverability.
Apart from the ones mentioned above, you may also want to consider the flexibility of the shaft, the string tension, and the head shape of the frame. While these might not seem essential for beginners, they are worth considering for professional players.
Price is an important factor to consider while buying any product. If you are a beginner, start with a lower price range and then move on to a better and mid-ranged racquet. Ideally, the best badminton racquets cost around INR 500 and above, while the best professional racquets cost around INR 1500 to INR 2500.
That was our round-up of the best badminton racquets in India. Go through the points mentioned in the buying guide and the reviews and pick a suitable one to ace your game.

Recommended Articles