13 Best Baking Sheets In 2021 – Reviews And Buying Guide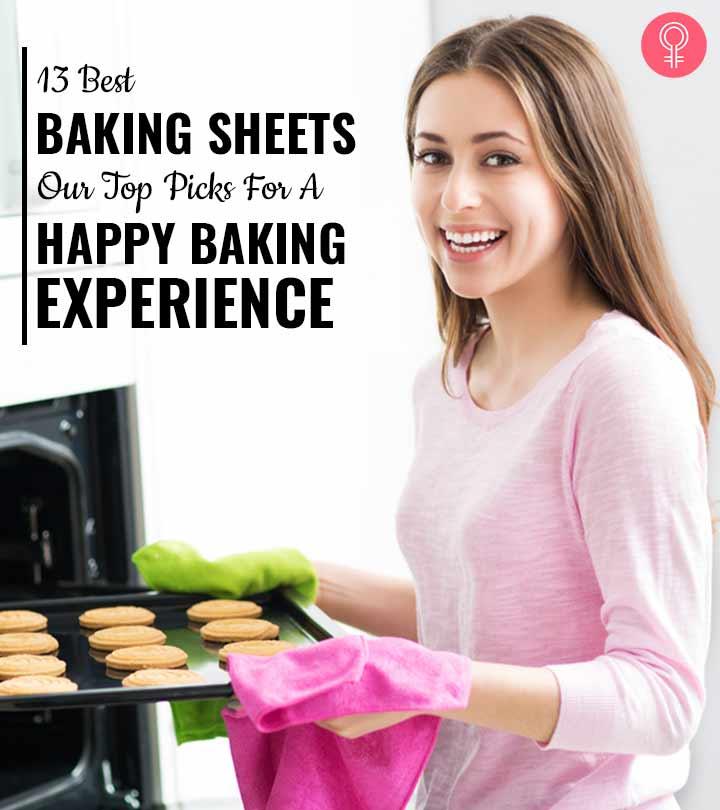 A good-quality baking tray or cookie sheet is a kitchen's essential to handle delicate baked goodies. A rimmed baking sheet should be durable and sturdy in design to withstand warping at high temperatures in the oven. Choose an oven tray that can be used for baking, grilling, braising, glazing, and making desserts.
After complete market research, we have listed our top 13 picks of baking sheets to available right now. Take a look!
13 Best Baking Sheets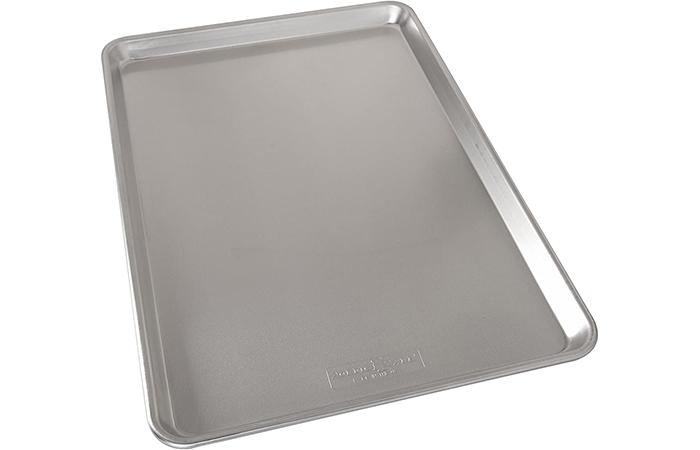 Nordic Ware Natural Aluminium Commercial Baker's Big Sheet is made of premium-quality aluminum to prevent rusting and increase durability. It is an excellent conductor of heat. The reinforced encapsulated steel rim prevents warping during quick temperature change. Its extra-large baking surface holds more baking goods than other standard sheets. This 21" x 15" x 1" baking sheet is compatible with most standard parchment paper and silicone baking mats. It is pretty easy to clean by simple hand wash.
Pros
Warp-resistant
Rust-resistant
Evenly heats all baked goodies
Affordable
Ideal for sweet or savory baking
Easy to wash
Heavy-duty
Withstands wear and tear
Cons
Gray substance left behind after wiping
Susceptible to scratches
KITCHENATICS Roasting & Baking Sheet is an oven-safe non-toxic baking tray. It is comprised of a quarter aluminum cookie pan tray with a stainless steel wire rack. This heavy-duty kitchen tool measures 9.6″ x 13.1″ inches and can be used for baking cookies and cakes. This durable and expertly designed rack is rust-resistant. Its tight grid pattern does not let the baked goods sag or fall. The unique multiple-welded 3-cross support bar makes this cooking rack sturdy for a long time. The tall 1" inch legs pf the cooling rack provide proper airflow for cooling baked goods. The rimmed edges are professionally designed to absorb the oil that drips when it is used for cooking or broiling meats.
Pros
Heavy-duty
Comes with a cooling rack
Durable design
Rust-resistant
Better ventilation
Easy to clean
No sharp edges
Non-toxic
Can be used as a drying rack
Ideal for serving 2-4 people
Cons
The French Pantry Baking Sheet is made with 100% commercial-grade aluminum that is a superior heat conductor for even distribution of heat for proper baking. This ergonomically designed three-piece baking set consists of a pan, a baking mat, and a cooling rack. The heavy-gauged aluminum pan is reinforced with a rolled rim to prevent warping. The silicone fiberglass baking mat measures 42 x 29.5 cms and can withstand extreme temperatures ranging from -40-500° F. The cooling rack is fully welded and the perfect choice for decorating, braising, and grilling. This fully welded combo baking set has a tight grid with no artificial coating and is easy to clean.
Pros
Heavy-duty
Rolled rim
Warp-resistant
Rust-resistant
Non-stick silicone mesh
Regulates temperature
Fully welded
Tight grid
Easy to clean
Non-toxic
No artificial coating
Cons
Thin baking tray
Discoloration after multiple uses
The Rachael Ray Bakeware Trays are rimmed with extra-wide handles to make them easy to pull out of the oven. They are made of non-stick material for excellent food release without creating any mess. They are made from long-lasting and durable steel that withstands warping. The edges are rimmed to keep the food from slipping off. The silicone handles provide excellent grip. These baking trays are safe to use up to 500° F.
Pros
Non-stick surface
Wide handles
Withstand temperature changes
Safe for use
Easy to clean
Durable
Available in different size variations
Cons
Non-stick coating wears off after multiple washes
Not rust-resistant
If you are looking for a warp-resistant baking tray, Checkered Chef Baking Sheet is the correct choice. It measures 18" x 13" with a depth of 1". This sturdy aluminum pan evenly distributes heat without burning and can withstand temperatures up to 500° F. It is created from thick, top-quality 304 stainless steel with a rimmed edge to prevent the baked goods from slipping off.
Pros
Rust-resistant
Oven-safe
Warp-resistant
Dishwash-safe
Easy to clean
Heavy-duty
Non-toxic
Sturdy and durable
Cons
The USA Pan Non-Stick Bakeware Set consists of a 17" x 12. 25" cookie sheet, 12. 5" x 9" quarter sheet, and a 17.25" x 12.25" half sheet baking pan for healthy yet tasty baking. The baking trays are built with globally sourced materials in USA. The patented silicone coating is PTFE-, PFOA-, and BPA-free that offers quick and easy release of baked goods along with minimal cleaning. They are made with high-performance aluminized steel that can withstand temperatures up to 450° F. This set comes with a lifetime warranty for happy baking. The unique fluted design helps in easy air circulation and adds strength with warp-resistant performance. These trays are fairly easy to clean by hand. Just wash them in warm water with mild dishwashing soap and wipe them with a sponge or nylon pad, followed by rinsing and drying thoroughly.
Pros
Non-stick
Silicone-coated
PTEF- and PFOA-free
BPA-free
Tolerate high temperature
Ergonomic design
Easy to clean
Warp-resistant
Durable and sturdy
Long-lasting
Cons
Warps under high heat
Expensive
Gridmann Aluminum Baking Tray is a lightweight commercial-grade baking tray made of 18-gauge aluminum. It measures 16″ x 21.75″ to give a restaurant-quality baking experience. The 1-mm thick galvanized wire-reinforced beaded rim provides quick heat conduction followed by cooling and helps prevent warping. This durable baking tray is easy to move around and clean.
Pros
Lightweight
Warp-resistant
Easy to carry
Fits into a convection oven
Durable
Easy to clean
Cons
None
Wildone Baking Sheet is the perfect replacement for an aluminum sheet. It is made of high-quality stainless steel without any chemical coating for hassle-free baking. Its durable and sturdy construction with a mirror finish reduces sticking of food. It also releases food easily and without any mess. The rust-resistant 1-inch deep rim with smoothly rolled edges is easy to hold and transfer to the oven. The deep and full sides all around the border prevent the overflowing of food juices. This tray is fairly easy to clean with a simple handwash.
Pros
Made of stainless steel
Durable and sturdy
Easy to carry
Easy to clean
Warp-resistant
Rust-resistant
Densely packed rods
Perfect size for oven
Cons
Umite Chef Baking Sheet Pan is made of high-quality stainless steel without any coating of other materials. It is a healthy, non-toxic alternative to aluminum coating for baking goods. This rust-resistant baking tray has a 1-inch thick smoothly rolled edge. Its versatile and ergonomic design has a mirror finish to prevent sticking of food. It is easy to clean without any mess or hassle. The smooth modern design requires very little greasing, making it a good option for health-conscious people.
Pros
Made of stainless steel
Rust-resistant
Warp-resistant
Thick edges
Easy to clean
Dishwasher-safe
Versatile design
100% quality assurance
No toxic coating
Superior mirror finish
Durable and sturdy
Cons
None
Chicago Metallic Non-Stick Cooking/Baking Sheet is a silicone-coated insulated cookie tray that facilitates hassle-free baking and easy cleaning. It is flexible enough to bake jelly rolls, bars, cookies, one-sheet pan meals, and roasted veggies. The outer pan measure 15.5″ x 10.5″ x 1″ and the inner pan measures 14.75″ x 9.75″ x 1″ with a 1-inch thickness to fit into all ovens. This full sheet pan facilitates easy heat distribution and disperses weight evenly for the best baking experience. The rim is reinforced to protect against warping. The non-stick coating is dishwasher-safe and easy to clean.
Pros
Non-stick
Ideal for baking a variety of dishes
Even heat distribution
Suitable for all types of oven
Easy to clean
Ergonomic design
Easy to store
Dishwasher-safe
Withstands temperatures up to 450° F
Cons
Not intended for broiler use
Not rust-resistant
KeShi Non-Stick Baking Trays are made of wrapped silicone material with no toxic chemical coating for healthy and enjoyable cooking. Their durable and sturdy design with wide edges is slip-resistant and easy to handle. The non-stick coating with a mirror finish is ergonomically designed for easy release of baking goods and hassle-free cleaning. The two baking sheets measure 16.7″ x 11.4″ x 1″ and 15.7″ x 11″ x 1″. The roaster pan measures 14.6″ x 10″ x 2″ and 12″ x 8″ x 2″ and is suitable for almost all the normal baking and roasting tasks. It is ideal for making brownies, lasagna, casseroles, and roasted vegetables.
Pros
Non-stick
Easy to clean
Non-slip handling
Warp-resistant
Stable wide edges
Multi-layer design with rounded lines
Resists temperatures up to 446°F
Dishwasher-safe
Non-toxic
Burn-resistant
PFOA-free
Rust-resistant
Cons
Warps at high temperatures
Not color-safe
Paula Deen 46249 Speckle Cookie Sheet measures 10" x 15". Its solid gauge stainless steel construction with a sturdy design offers easy food release along with quick clean-up. This durable bakeware has wide handles for easy gripping and rolled rims that resist warping. It is oven-safe up to 450° F without burning or charring of baked goods.
Pros
Durable
Steel construction
Warp-resistant
Rust-resistant
Non-stick
Wide handles for easy grip
Easy to wash
Available in a variety of colors
Cons
None
Taste Of Home Non-Stick Metal Baking Sheet is ergonomically designed to increase airflow and for even heat distribution for perfect baking. The easy-to-grip edges with non-stick coating ensure easy release of goods. This baking sheet is also easy to clean. The PTFE-free durable and sturdy design is suitable for all kinds of baking. It tolerates high heat without burning the food.
Pros
Non-stick
Easy-to-grip handles
Easy to clean
Sturdy edges
PTFE-free
Tolerates high temperatures
Dishwasher-safe
Cons
None
These are our top picks of baking sheets for an enjoyable and happy baking experience. The following section lists some things to consider when buying a baking tray.
Things To Consider When Purchasing A Baking Sheet
Weight: A high-quality baking sheet should have a lower gauge as it is at a greater risk of warping due to the lack of supporting rim. A thinner pan can warp easily. So, choose a stainless-steel cookie sheet with 10-to-12 gauge.
Material: Aluminum is a good conductor of heat. It heats up and cools down quickly. Lining an aluminum baking sheet with parchment paper or a silicone baking mat speeds up cleaning and maintains the flavor of the baked goods. It also lengthens the lifespan of the tray.
Non-Stick Coating: Insulated sheets with a non-stick coating are easy to wash. They also release foods easily without any hassle.
Round Edges: Round edges reinforced around a steel rim reduce the risk of warping at high temperatures.
Easy To Clean: The baking pan should be easy to handwash for effortless cleaning.
The most important part that cannot be ignored is taking care of baking trays for effortless baking. Check out the next section to find out how to care for baking sheets.
How To Care For Baking Sheets
To ensure the longevity of your cookie tray, it is important to handwash it either with a nylon pad or a soft cotton cloth to prevent scratching. Do not use harsh chemicals or hard soaps as they may discolor the baking tray and reduce its lifespan. Baking on parchment paper or using a silicone mat always helps prevent stubborn messes.
Choosing a good-quality baking sheet is important for a hassle-free baking or grilling experience. Look for baking sheets that are lightweight and have a non-stick coating.
Pick the best one from this list to elevate your baking experience.
Frequently Asked Questions
Are aluminum baking sheets safe?
Yes, aluminum baking sheets are safe, but they should be untreated and have a non-stick material for an odorless baking experience.
What is the best material for baking sheets?
Non-stick materials with silicone-coated handles are the best for baking sheets.
What can I use instead of a baking sheet?
Silicone baking pads can be used instead of a baking sheet.
Do all baking sheets warp?
Baking sheets with rounded rim do not warp. Most baking sheets are warp-resistant to tolerate temperature fluctuations.
What is the difference between a cookie sheet and a baking sheet?
Cookie sheets and baking sheets are almost the same. Cookie sheets have one raised edge for easy releasing of cookies, whereas baking sheets have four raised edges of 1-inch and can be used for multiple purposes.
Recommended Articles
The following two tabs change content below.