11 Best Bakuchiol Products For Smooth & Healthy Skin – 2023
Add this magic ingredient to your skin care routine to see the difference for yourself.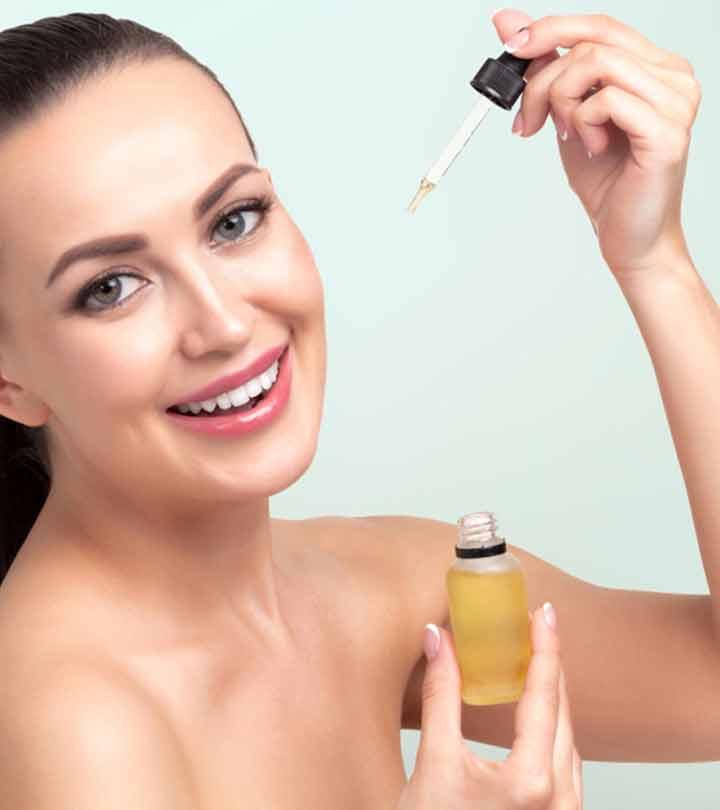 Bakuchiol is a plant-based derivative of vitamin A that works like magic on your skin. So, if you are worried about premature aging, increasing acne marks, unwanted dark circles and spots appearing out of nowhere, the best bakuchiol products may be the quick and the safest answer for solving your skin issues. It is an organic alternative to chemically-formulated ingredients that offer instant results to make your skin smooth and healthy.
Not many are aware of this, but Ayurveda has incorporated this ingredient in their products since forever. It is extracted from the Psoralea corylifolia plant, which grows in the rural areas of the eastern regions of Asia. Even today, these ancient practices hold their value in many skin care experiments and healing. Not to mention how bakuchiol smoothens the texture of your skin. Here are the top 11 bakuchiol products at your disposal for bright and flawless skin. Scroll down to pick your favorite product.
2022's Review Of The 11 Best Bakuchiol Products
Packed with the goodness of vitamin E, this bakuchiol anti-aging cream boosts hydration, reduces lines and wrinkles, and helps your skin's capacity to retain its natural moisture levels. Due to it being 99% natural as per the brand, it is a great alternative to retinol and can be used generously on the face and neck, during both day and nighttime. This cream works both as an intense hydrator for the skin as well as for anti-aging cream.
Pros
No parabens, phthalates, SLS, or petrolatum
Suitable for daily use
Can be used both during day and night
Anti-aging properties
Cons
Some may not like the fragrance.
Price at the time of publication: $11.92
This is a serum that uses a "dual-phase ampoule" for dual protection with the top layer rich in antioxidants while the second layer moisturizes in the form of a fast-absorbing serum. Both are mixed together to make it a vegan natural retinol serum. Eggplant, turmeric, holy basil, and bakuchiol are the main ingredients in this serum that can be used for ages and acts as a hydrating base for the rest of your skincare regime.
Pros
Vegan
Paraben-free,
Sulfate-free
Mineral oil-free
Cruelty-free
Contains antioxidants as well as hydrating ingredients
Suitable for ages
Cons
Needs an extra moisturiser as this is a serum.
Price at the time of publication: $13.47
This creamy serum is a mix of natural herbs and vitamin complexes like bisabolol and allantoin that helps nourish the skin and reduces damage from free radicals. A concoction of natural ingredients like green tea, white tea and chamomile help reduce the appearance of fine lines and wrinkles and restores a youthful glow to the skin. The creamy base of the serum helps in spreading evenly and an easy absorption into the skin, coupled with the brand's G3L delivery system.
Pros
Creamy base
Quick-absorbing
No parabens, soy, artificial colors or fragrances
Sulfate-free
Cruelty-free
Helps restores glow to the skin
Cons
Best suited as an evening serum
Price at the time of publication: $16.97
This is a serum that works as both a firming and lifting serum with both Granactive retinol as well as bakuchiol to moisturize and hydrate the skin while reducing the appearance of fine lines and wrinkles, dark spots, and even dark circles, to state a few of its functions. A mix of heavy-hitting hydrating ingredients such as geranium, aloe vera, jojoba, rosemary, honeysuckle, witch hazel, and dandelion helps decrease imperfections, pore size and redness.
Pros
Contains 3 kinds of retinol, including bakuchiol
Firms and lifts
Hydrates
Fights aging and other skin imperfections
Cons
May not be suitable for extremely sensitive skin
Price at the time of publication: $19.0
With 2.5% bakuchiol extract and other botanical ingredients like eggplant fruit extract and aloe vera extract, this facial oil helps in the regeneration of cells that reveal a smoother skin and a visible decrease of the appearance of fine lines and acne spots. This is a great bakuchiol for sensitive skin as it uses sugarcane derivatives and eco-certified squalane oil that help fight pigmentation, pores, and acne. It also fights blemishes, redness, and blackheads.
Pros
Suitable for sensitive skin
Fights acne, spots, blemishes, and pores
Anti-aging
Uses sugarcane derivatives that are skin-friendly
Lightweight light facial oil
Cons
May not tighten or firm the skin
Price at the time of publication: $19.9
According to the brand, this bakuchiol skincare serum uses 2.5% retinol and bakuchiol mixed with its NASA Stem Cell Technology that targets aging and softens the signs of wrinkles and pores. The serum also uses hyaluronic acid and squalane to soothe the skin, while preventing irritation and boosting skin health. This serum hydrates and helps to make the texture of the skin better and also aids in making the skin look plump.
Pros
Targets aging and enlarged pores
Soothes the skin
Non-irritating
Hydrates properties
Helps make the skin look plump
Petroleum-free
Sulfate-free
Paraben-free
Cons
Ideally requires an additional SPF and moisturizer
Price at the time of publication: $21.97
This serum combines 5 kinds of antioxidants and a proprietary blend of plant extracts that brightens and firms the skin. Isosorbide dicaprylate in the formula provides long-lasting hydration while the ophiopogon japonicus root extract boosts hydration levels in the skin. THD ascorbate contains vitamin C whereas the sesame extract helps smoothen the skin. 0.5% retinol and natural bakuchiol help in fighting aging and adding antioxidants to the skin.
Pros
Helps brighten the skin
Provides long-lasting hydration
Contains root extract to boost the natural level of hydration
Uses a proprietary blend of botanical extracts
Cons
May not be best suited for dry skin
Price at the time of publication: $122.0
Containing melatonin, bakuchiol and vitamin C, this is a serum-in-oil for nighttime application that helps restore the skin while you sleep. It helps repair the skin by stimulating natural antioxidants, restores the elasticity of the skin by boosting collagen, and brightens the skin by keeping it well-hydrated. The formula used in this product is also non-comedogenic, ensuring that it does not become greasy while clogging the pores of the skin.
Pros
Does not clog pores
Serum-in-oil formulation
Repair, restores, and brightens
Helps boost collagen
Cons
Suitable only for nighttime
Price at the time of publication: $165.0
With 0.3% retinol and 2% bakuchiol, this is a triple-action treatment that helps skin that is low on collagen to fight wrinkles and aging. It uses peptides that help support collagen in the skin and has the texture of a lotion for easy application. Collagen helps in reducing the appearance of lines and wrinkles and also supports sagging skin to make it firmer. The skin treatment also combats problems such as discoloration and dark spots.
Pros
Contains peptides that support collagen
Uses "mid-strength" retinol that targets wrinkles
Targets deep wrinkles
Lotion-like texture for easy application
Cons
Needs an SPF of 30 and above
Price at the time of publication: $62.0
This mud mask uses bakuchiol to exfoliate and target lines and wrinkles to give you younger-looking skin. The clay mud in the mask also helps beat acne and purifies clogged pores. It also brings clarity and brightness to the skin after application of this peel-off mask. Due to this being a mask, it removes dirt and helps reveal skin that is fresh, elastic and younger, and it is suitable for oily skin.
Pros
Peel-off mask formula
Helps exfoliate the skin
Minimizes pores
Fights acn
Cons
Price at the time of publication: $54.0
Using AHAs and bakuchiol, this rich nighttime cream rejuvenates and restores your skin while you sleep. Fine lines, wrinkles, and age spots are targeted as you sleep, reducing their appearance as you wake up to younger-looking skin. It also uses an Edelweiss stem cell that helps restore the elasticity of the skin. A combination of shea butter, lemon, sugarcane, sandalwood, licorice root, and chamomile extracts, this cream helps hydrate and nourish the skin.
Pros
Ultra-hydrating
Uses Edelweiss stem cell for restoring elasticity of skin
Uses AHAs and bakuchiol for better restoration
Sleeping cream that nourishes while you sleep
Cons
May be heavy for sensitive, oily skin
Price at the time of publication: $44.94
Now that we've looked at the 11 best bakuchiol products, a an alternative to retinol, here are are few things you must keep in mind before purchasing one.
How To Choose The Best Bakuchiol Products
With growing awareness about bakuchiol, the kind of products formulated with it are also increasing in number. Therefore, it is important to know what you're looking for. For sensitive skin, it is best to stick to bakuchiol-only products, preferably on a serum base while for drier skin, a cream base works best. For mature skin, using products with bakuchiol and more natural extracts that fight deep lines is advisable.
Keep your beauty regime in mind
Masks, creams, oils and serums – pick your kind of bakuchiol product for your skincare depending on your beauty regime and how much time you spend on yourself. Pick a cream for those who want to ideally ditch moisturizers, an oil or serum for those who don't mind going that extra mile, and a night or a day cream for those looking for specific uses. A mask is perfect for those who have the time to devote to their skin.
Why Trust StyleCraze?
Vaishnavi Kothuri is a skin care enthusiast who is passionate about researching products and reviewing them. Her interest in what goes inside the product has led her to study more about Bakuchiol and the different products made with it. Her recommendations are based on well-researched reviews and user feedback online. The products mentioned here help you solve the skin issues like acne marks, premature aging, and dark circles.
Frequently Asked Questions
Is Bakuchiol better than retinol?
Bakuchiol is a natural alternative to retinol and, therefore, is more largely suited for all skin-types as it does not irritate the skin.
Can vitamin C go with Bakuchiol?
Some bakuchiol products contain natural sources of vitamin C while some recommend a follow-up application of it but it is best to check what each brand recommends.
How long does it take for Bakuchiol to work?
Bakuchiol is said to be more effective than retinol and, therefore, targets signs of aging faster than its chemical counterpart as well, though there is no fixed time that can be stated.
Can I use Bakuchiol and retinol together?
Some products do use a mix of both but the use of retinol may not be suitable for all people with sensitive skin, while bakuchiol is safer to use for them.
What percentage of bakuchiol is the best?
Use 0.5% to 2% of bakuchiol to achieve the best results.
Can bakuchiol be used under eyes?
Yes, use bakuchiol under your eyes to reduce the appearance of aging signs and dark circles.
Can I use bakuchiol every day?
Yes, you may use bakuchiol every day. However, discontinue using it if you experience redness, inflammation, or burning.
What age should you use bakuchiol?
Start using bakuchiol from the age of 25 and 26 to address your skin concerns.