11 Best Balance Boards For Standing Desks For An Active Workday In 2022!
Relieve your stress caused due to prolonged standing and improve your posture.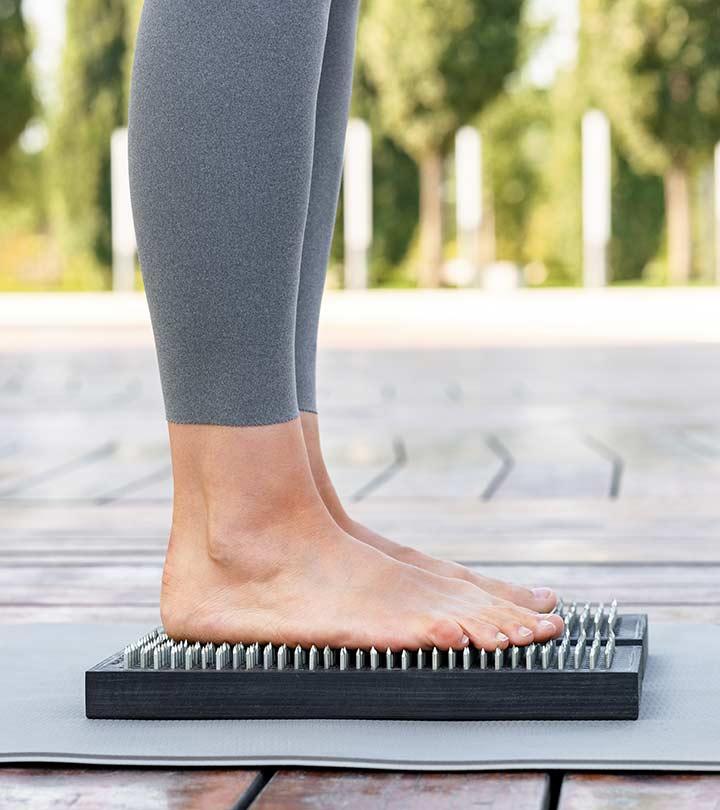 Did you know you could enhance your brain functions, improve your core muscles AND burn calories all at the same time? Oh, and did we mention the part where all of this happens during your usual work routine. Is this too good to be true, or is it just time to invest in a balance board for your standing desk? We think the latter! A balance board is just the thing you need to go along with your standing desk, especially during the era of work from home. Sitting in the same position for prolonged hours is not good for you. And now you don't have to!
A balance board is a divide that allows movement in all 3 axes. It is a great stress reliever, can help you strengthen your muscles, and helps improve posture while boosting metabolism. If you are ready to get one of these brilliant boards for yourself but don't know where to start, look no further. We have a specially curated list of the 11 best balance boards for a standing desk. Check it out!
11 Best Balance Boards For Standing Desks In 2022 Worth Buying
 Fezibo's balance board is ergonomically engineered to keep you steady, relax your muscles, and relieve stress. It comes with anti-fatigue foot massage points that keep you focused and relieve foot aches and pains. Hop on this wobble board with any footwear or barefoot— the choice is all yours! It has a non-slip natural rubber base which makes it super easy to use on any surface. Its elastic top is made of high-density latex that helps you to maintain traction. It requires no assembly and is ready to use on the go. It has a convenient carry hole for easy portability. You can use this board at home, at work or take it to the gym with you to do some plank exercises.
Pros
Stress reliever
Low-impact rocker movement
Anti-fatigue balance board with foot massage points
Premium natural hardwood
Non-slip elastic surface
5° tilting angle
320 LBS weight limit
Promotes microcirculation
No-assembly design
Textured surface
Cons
This rocker board by StrongTek has been designed to stimulate your core and help you improve your agility and reaction time. The wooden board is a great low-impact exercise board that can easily be used by everyone. It is portable and compact, so you can use it at the gym, home, for therapy, or even while traveling. It comes with an easy-grip surface that's gentle on your bare feet and prevents you from slipping. The board is made of Lauan hardwood, which means this is a board that lasts. The board helps you build your stamina and is specially optimized for planking and balancing. This board is the core trainer you've been looking for!
Pros
Improves agility
Enhances stamina
Compact
Portable
Slip resistant
Stable base
Easy-grip surface
Improves reaction time
350 LBS weight capacity
Cons
This wooden wobble board by Whirly Board features special triple half-sphere technology. This allows you to learn the basic mechanics of spinning and practice complete revolutions on 3 balance points. The balance board is made with high-quality 8 ply Canadian maple and is covered with grip tape. It helps you exercise, improve your agility, and work on balance. It is fun to use and challenging to master. The board adds complexities to your workouts, rehabilitates injuries, helps you practice your board sport skills, and more! You can take this compact wobble board with you to the gym, use it at home, carry it to the office, or take it wherever you go.
Pros
Portable
Effective for all skill levels
Full rotation
3 balance points
High quality
8 ply Canadian maple construction
Features grip tape
Half sphere technology
Cons
Your standing desk has definitely been lonely without this balance board from Gaiam! This rocker board offers subtle motion to keep you engaged so you can increase your focus and productivity. Ergonomically engineered, this board helps get you to that place of neutral positioning so your posture can be better. It comes with a honeycomb non-slip texture that gives you a secure base. The board is perfect for your standing desk and involves your core muscles with micro-movements. It also relieves stress, reduces fatigue, and prevents soreness and back pain from standing still on your standing desk. So if you must stand, stand on this! Watch this video to know more about the product.
Pros
Promotes proper positioning
Engages core muscles
Stabilizes muscles in the legs, ankles, and back
Honeycomb non-slip texture
Relieves stress and fatigue
Increases focus
Prevents soreness
250 LBS weight limit
Cons
FluidStance's balance board is crafted carefully to offer stability and movement for your body. This balance board lets you do so much at your standing desk. The micromovements are perfect for strengthening your muscles and soothing your stiff joints. It can increase your caloric burn by 19.2% and your heart rate by 15%. It will help you work out your core and glutes by offering a full range of motion. The board is durable, solid, and has a great grip. Its rubber bumpers act as natural stopping points, so you are adequately secured. It is lightweight and compact, and you can easily carry it with you. And that's not all! This board is made of 100% recycled low-emitting tire treads and recycled plastic. This video will give you more insights into the product.
Pros
Muscle strengthener
Soothes stiff joints
Has 360° tilt
Wide range of motion
Durable
Superior grip
Natural stopping points
Compact size
Eco-friendly
Cons
Not very hard for balancing

This professional anti-fatigue mat by Licloud is made of high-quality material, is non-toxic, eco-friendly, and has no off-gassing smell. And that's just the beginning! It comes with an exciting game that will keep you occupied as you engage with the micromovements that help your body and mind. It will adjust your posture and mobilize your upper body muscles, buttocks, waist, and legs to be completely energized so that you can focus better. You can take it with you to the gym, to the office, or keep it with your standing desk. It also has massage points to relax your feet and comes with anti-slip rubber backing so you are secure at all times.
Pros
High-quality material
Non-toxic
Eco-friendly
Mobilizes muscles
3-layered structure
Non-slip elastic surface
Premium natural hardwood construction
Weight limit of 400 lbs
5° tilting angle
Cons
Some may find it slightly slippery.
This Matladin balance board combines anti-fatigue theories with a balance trainer, and the result is nothing short of perfection. It comes with an 8.5° tilting angle and helps to keep your legs, core, and body focused. It reduces fatigue and any foot tension. It is affordable, comfortable, and durable. It has textured pressure points to help with soreness in your feet, so you are always energized. The balance board is portable and compact, so you can carry it with you wherever you want. The active board limits and reduces the chances of injuries and aches that come from leading a sedentary lifestyle. It can also be used with a wide variety of shoes.
Pros
Keeps legs, core, and body active
Improves focus
Reduces fatigue
Relieves foot tension
Textured pressure points
Portable
Non-Slip elastic surface
Weight limit of 450 lbs
Increases metabolism
Cons
Rubber might break off over time
This Gymmage Wobble Balance Board comes with handles! You can now do push ups; get that arm and chest exercise- all with your board! This multifunctional board comes with a 360° rotation and up to 15° tilting angle to let you do circular, side-to-side, and front-to-back drills. It is perfect for athletes, dancers, and even older people who need rehabilitative help. Its non-slip surface offers a steady grip which helps you use it as the ideal accessory for physical therapy. The board is lightweight and compact which makes it easy to carry it anywhere you go. The board is durable and helps you improve your balance, coordination, and become more flexible.
Pros
Improves balance
Enhances core strength
Improves coordination
Promotes flexibility
Better body posture
Anti-skid balance trainer
Good for rehabilitation
Lightweight
Weight limit of 300 lbs
Has handles for push-up exercise
Cons
Some may find it slippery.
 This compact and lightweight office balance board by Rolling With It is the best friend you must get home for your standing desk. Crafted with durable plywood with a birch wood veneer, this board is made to last. Its non-skid surface keeps you safe while you burn calories all day. You could even do some quick elbow planks with it! The rocker board is great for all ages, those who are pro athletes, and those who are just beginning their fitness journey. It stimulates your core for better balance, develops strength, and improves your agility. Using this board gives you an edge over others to play your favorite sport of choice, be it tennis or golf. This wobble training board provides the sensory-stimulating surface you need for post-rehab conditioning and more!
Pros
Burns calories
Weight limit of 350 lbs
Durable plywood construction
Compact
No assembly required
Improves strength
Stimulates core
Improves balance
Cons
Blue Planet's under-desk balance board is crafted with bamboo and has a 7-in-1 tool-less design. It helps to strengthen your core, enhance muscle growth, improve joint flexibility, and helps you naturally balance yourself better. The 3D balance modules each come with 2 curvations directions so you can get up to 7 configurations of different challenges and exercises. It has 3 non-slip deck grips, so you are safe and have traction while on the board. Its foam covering makes it perfect to use even while barefoot. The wooden balance board is sturdy and stops as soon as it hits the ground, so you are secure. It is wide enough to give you effective space but portable enough to be carried around.
Pros
Expertly crafted
360° balance radius
Bamboo construction
Core strengthening
Improves balance and posture
Enhances coordination
Encourages muscle growth
Improves joint flexibility
2 curvature directions
3 deck grips
EVA foam construction
Sturdy
Cons
This wooden rocker board by Logest comes with 23 different ways to use this fantastic balance board. It is a great way to enhance your balance, build your strength, and challenge your core. The board comes as a 3-piece set with a rocker board, round board, and foam pads. This board is crafted with high-quality material and is ideal for beginners and athletes. It is also great to rehabilitate injuries. It is lightweight and will fit easily in your gym bag, so you can carry it with you to the gym, to work, or use it at home. The board will help you stretch your legs, feet, ankles, quads, hips, hamstrings, and more!
Pros
Foam balance pad
Wooden rocker board
Improves balance
Portable
Lightweight
Improves posture
360° rotation
15° tilting angle
Weight limit of 275 pounds
Cons
May take some time getting used to
Now that we know about some good balance boards for standing desks in the market, let us check out everything you need to know before you go on to purchase one for yourself.
What To Look In A Balance Board For Standing Desk
There's nothing worse than getting an injury while trying to recover from one, or while trying to get through a regular work day. Make sure your balance board comes with a non-slip deck or surface to keep you securely placed on the board at all times.
Different boards come with different challenge levels. While some of them are crafted for athletes, others are easy to use by all. You should make sure to check this before making your purchase so you find the right board for you.
Different balance boards come with different weight limits. Make sure you check these limits as you set out to find the right board for yourself.
Innovative engaging designs
Some balance boards come with additional features to help keep you engaged. This includes innovative and unique game designs. If this interests you, check out a board that comes with special games with it.
Balance boards come with different tilting angles and you should pick the ideal one for you based on the type of drills you'd like to do on it and the amount of tilting you'd require as such.
Some balance boards come with foot massage points, while others have handles. You can choose the perfect board for yourself by looking at the features you want, or don't want.

We now know what to look for in a good balance board for a standing desk and have looked at the best options available, but do you know how to make the most out of the many balance boards for standing desk benefits? Let's check it out.

How To Use Balance Board For Standing Desk

Position your balance board on a smooth surface.
Press one foot down on one side of the board so that when you stand, you are on a slant and don't have to worry about balancing right away.
Gently press on the other foot on the other side until you find the centre. You can even put your arms out to help you achieve this.
Keep your knees soft and try to find the centre.
Keep at it till you are comfortable with maintaining the balance.
Now that you know all about the best balance boards in the market and how to buy the right one for yourself, do you know about all of the advantages your balance board can bring to you? Let's look at them!
Benefits Of Using A Balance Board
Micro-movements are way more useful than just sitting for long periods of time.
It keeps you alert and improves your focus.
It improves your balance and coordination.
It enhances your reaction time.
It helps with injury rehabilitation.
It strengthens your core and encourages muscle growth.
It helps you burn calories and improves your blood flow.
It soothes stiff joints and improves joint flexibility.
A balance board is a must-have partner to go with your standing desk. It not only helps make work more fun, but it also helps you strengthen your muscles. Does it get better than this? We think not.We hope our list of the 11 best balance boards for standing desks helps you find one that fits your requirements best. And with the best one that you choose, work hours will not just be about work anymore. You'll get to strengthen your muscles and get a toned body as you spend those 8 hours at your standing desk trying to get things done at work.
Why Trust StyleCraze?
The author, Shreya Vishwanathan, is a health and fitness expert. She has curated the list of the best balance boards for standing desks based on user reviews and feedback from trusted sources and brand websites. These balance boards help improve your balance, strengthen your core, and boost concentration and focus.
Frequently Asked Questions
Should I use a balance board with a standing desk?
Using a balance board along with your standing desk can keep you moving, and these micromovements can do a lot of good for you and your body. It will improve your agility and balance, improve coordination, focus, and help with injury prevention.
Is standing on a balance board good exercise?
Balance boards can be used as a fitness device that helps you with rehabilitation, enhancing your core strength, improving posture, balance and more.
How do you use a standing desk with a balance board?
Balance boards make a great addition to your standing desk. They keep you and your mind occupied, increase your productivity, your focus, and help reduce soreness and lethargy.
Can you stand on a balance board all day?
To put it simply, you cannot overtrain yourself on a balance board. The more time you spend on your balance board, the more your balance and coordination will improve.
Should you use a balance board at your desk?
Yes, a balance board for standing desks is a great way to relieve stress and tone your leg muscles even as you work at the office.
What differentiates a balance board for standing desk from other boards?
One thing that sets these boards apart from the rest is their versatility. They're also an affordable alternative and you'll easily find endless variants.