11 Best Ballet Flats That Are Most Comfortable And Stylish – 2023
Nothing elevates the glamour of an outfit better than a pair of comfortable and smart footwear.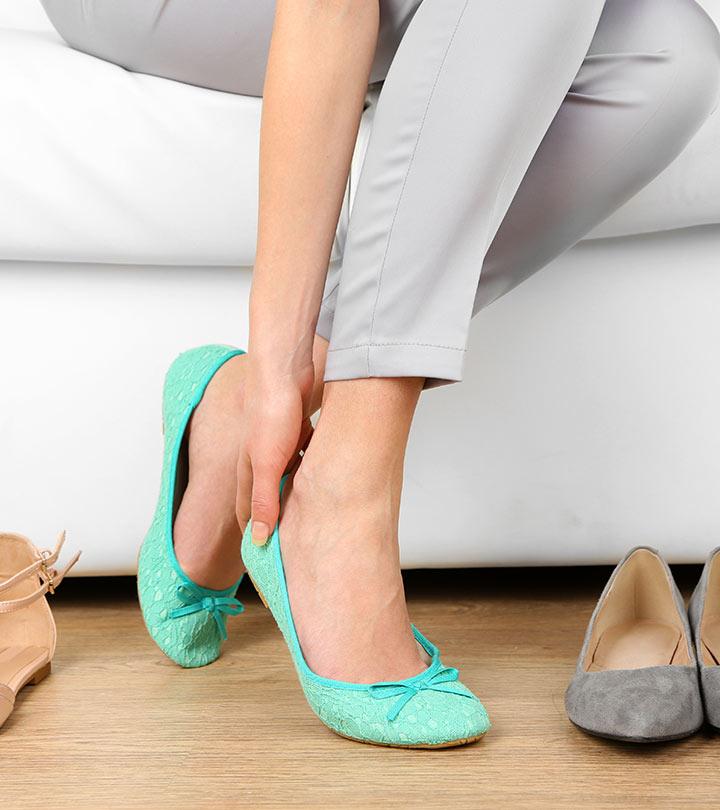 If you are not ready to step into knee-high boots, perhaps it is time to consider fall's most important shoes: ballet flats. They are the perfect footwear for those who are not fans of wearing heels. Raluca Oita, a fashion designer with a bachelor's degree from Westminster University, London, says, "With their sleek, elegant design and delicate aesthetic, ballet shoes are a versatile footwear choice that can be dressed up or down, depending on the occasion. Ballet shoes are also a fashionable accessory that can add a touch of sophistication and grace to any outfit. Whether you're a dancer or just a lover of fashion, ballet shoes are a stylish option to consider."
Read on to know more.
11 Most Comfortable And Stylish Ballet Flats To Try In 2023
Pros
Lightweight and flexible construction
Cross-string design
Does not cause any blisters or soreness
Available in a variety of pretty colors
Cons
Might not fit narrow feet
Completely flat sandals
Price at the time of publication: $24.0
Pros
Offer a comfortable fit
Breathable and roomy design
Less expensive
Cushioned inner sole
Long-lasting and durable footwear
Cons
Not available in different colors
Sizes may run small
Price at the time of publication: $41.25
Pros
Lightweight
Flexible construction
Ankle-wrap design
Stylish looking
Available in various color options
Cons
No arch support
Not true to size
Price at the time of publication: $51.56
Pros
Inner soft suede lining for added comfort
Slightly heeled for grip and support
Enchanting and catchy design
Stretchable top line for flexibility
Cons
Price at the time of publication: $79.95
Pros
Premium-quality material
Lightweight
Flexible design
Cons
None
Price at the time of publication: $31.99
Pros
Offers adequate cushioning
Slip-resistant outsole
Lightweight
Ideal for formal and casual wear
Cons
None

Price at the time of publication: $29.95
Pros
Available in 4 elegant colors
Made using Skech-knit and comes with a rubber sole for better cushioning
Breathable
Memory foam offers comfort and prevents blisters
Cons
Suitable for wide feet
The inner cushion may not last long
Price at the time of publication: $45.63
Pros
Lightweight
Durable
User-friendly design
Budget-friendly
Cons
None
Price at the time of publication: $35.99
Pros
Foldable and stretchy design
Comes with a dainty bow and metallic charm
Soft leather topline and comfy inner sole
Easy to wear and take off
Cons
Material may have a strange odor
Price at the time of publication: $116.95
Pros
Offers contoured foot support
Chic and sophisticated design
Available in a variety of colors
Micro heels for light lift and grip
Flexible and smooth sole
Ideal for running around the city
Cons
Less space for toes
Not suitable for wide feet
Price at the time of publication: $59.99
Pros
Available in different colors and half sizes
Lightweight and easy to wear
Long-lasting
Compatible with extra insoles or inserts
Cons
Price at the time of publication: $43.43
Save the heels for the fancy parties! Ballet flats are the new in-thing to keep the feet pampered while topping the fashion charts! If you want to be comfortable all day and also look like a fashionista, pick a pair of chic ballet flats. Here are a few factors to consider while picking the best ballet flats that are comfortable and stylish.
How To Choose The Best Ballet Flats For Comfort And Style
1. Construction
Material: The material must be comfortable and breathable to avoid excessive sweating and odor.The outer skin of ballet flats can be made of leather, suede, croslite, or synthetic fiber. A rich memory foam insole, suede, or suede leather lining or any soft sock lining keeps the feet cushioned all day. A hard inner sole, on the other hand, can cause blisters, pain, and discomfort. Rubber, plastic, or croslite are waterproof and work well during the rainy season.
Flexibility: Ballet flats can be of stiff construction or soft and flexible. The hard ones are good for formal use and conducive to a lot of walking. The soft flats take the shape of the feet and grip onto the feet with elastic borders. These shoes are foldable and can fit into any bag.
Arch Support And Grip: Make sure the ballet flats, whether of soft or hard construction, provide a good arch support and have a firm grip on the foot. This protects feet health, shape, and allows you to comfortably be on your feet for longer hours. If the feet and arch are not supported well, you may experience cramps, muscle pulls, and nerve stretches.
2. Design
Round Toe: The round-toe ballet flats are more informal and go well with casual outfits.
Pointed toe: The pointed toe-design looks good with formal skirts or pants. It is also suitable for people with long toes and it gives more room space for the toes to fit.
Snug Fit: Make sure the shoe is roomy on the inside so that the feet can remain relaxed all day.
3. Color
Ballet flats come in a wide range of colors. Neutrals like black, white, and beige are universal colors that go with every style of clothing. These look chic and elegant. Bright colors are good to match or contrast with particular outfits and look stylish and fashionable. Some flats also come with embellishments, bows, and laces or a glitter finish in case you are looking for fancy party-wear.
Did you find this post informative? Do reach out to us in the comments below!
Why Trust StyleCraze?
The author of this article, Srijita De, is a fashion enthusiast. She has curated a list of comfortable and stylish ballet flats after carefully researching and browsing through reviews online. Her list comprises ballet flats that are available in multiple colors, designs, and patterns. Not only are these ballet flats lightweight and flexible, but they also do not cause any blisters or soreness.
Frequently Asked Questions
What are ballet flats called?
Ballet flats are also called ballet pumps or ballet sneakers.
What do ballet flats do?
Ballet flats are stylish women's shoes ideal for spring and summer months. They feature thin soles that offer better foot reflexology and strengthen the muscles.
Do ballet flats hurt your feet?
No. Ballet flats allow easy foot movements and relax your feet. But, if you wear them continuously, they allow high impact on your knees, develop ankle sprains, and trigger hypertension.
Why are ballet shoes pink?
Ballet shoes are pink to match the skin tone of the white European ballerina. Pink ballet shoes give the illusion of barefoot dancing.
What color ballet flats should I get?
Opt for skin-color ballet flats to enjoy the illusion of dancing barefoot. But you can also invest in any color ballets of your choice.
Can I wear ballet flats with jeans?
Yes. Pair your ballet flats with baggy jeans to achieve a more chic and comfy look. Oversized silhouettes compliment ballet flats.
Should I wear tights with ballet flats?
Yes. Wear tights with ballet flats to protect your feet and absorb the excess sweat. Tights also allow your ballet flats to fit you better.
Should I wear socks with ballet flats?
Yes. Wear socks under ballet flats to protect your skin from cracks or bruises. They also allow for a firm grip on the flats.