17 Best Bamboo Socks For Women – Odor-Resistant & Nature-Friendly
Antibacterial, sustainable, and soft - these bamboo socks are the best invention ever.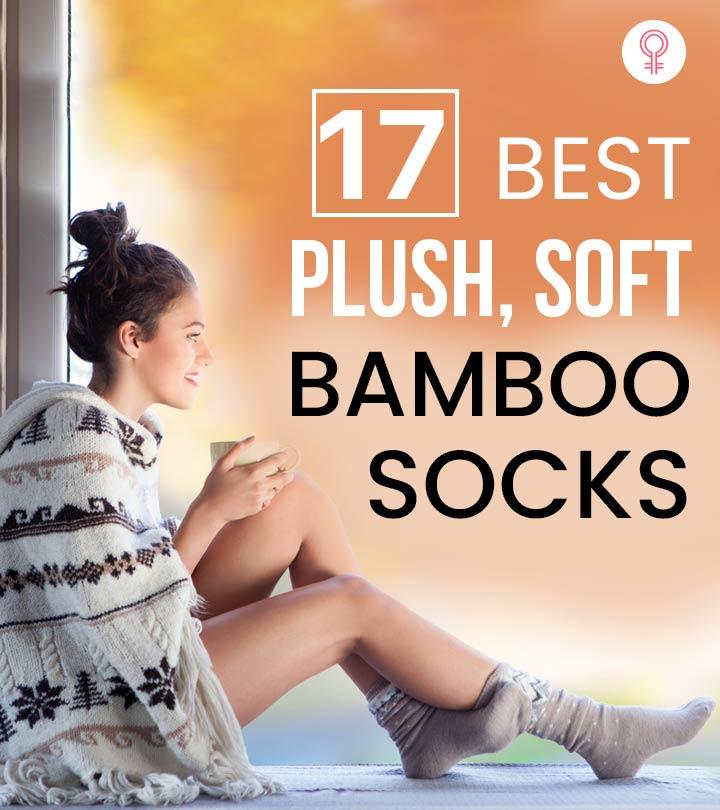 Bamboo is an extremely sustainable and renewable natural resource. We can use it to make a number of things, including the best bamboo socks. The list of advantages of using bamboo socks is a long one! Not only is this fabric purely vegan and environment-friendly, but also odor-resistant. Apart from that, bamboo fiber has antimicrobial and antibacterial properties as well. Bamboo socks are a great alternative to your regular socks. These are extremely soft and also maintain optimum body temperatures so that you can stay comfortable all day! They are also available in various styles to suit your occasions and moods. What's more? All this is on a pocket-friendly budget! Well, if you are sold on the idea of bamboo socks, go ahead and check out our favorite bamboo socks below!
17 Best Plush, Soft Bamboo Socks
Pros
Chaffing free
Breathable fabric
Moisture-wicking
Can be worn with types of shoes
Cons
Expensive
Slips and bundles around the ankle
Price at the time of publication: $32.95
People with diabetes are prone to develop foot infections or nerve damage due to excessive blood sugar levels in the blood. The bamboo socks from Hugh Ugoli are specially for diabetics with foot problems. These non-restrictive, close-fitting socks come with a seamless toe closure that alleviates pressure from the foot and prevents unwanted foot injuries or blisters. Plus, the micro-mesh fabric, made from 80% bamboo, 17% polyamide, and 3% elastane, is sweat-resistant, breathable, and keeps the foot fresh. In this pack, you get 3 socks in solid colors.
Pros
Seamless toe closure
Durable material
Close-fitting
Promotes blood circulation
Stretchable fabric
Machine washable
Cons
Sewing come off after a few washes
Price at the time of publication: $15.5
Pros
Durable
Breathable fabric
Silky texture
Machine washable
Budget-friendly
Seams don't rub on the toes
Polyester-free
True size
Cons
Price at the time of publication: $17.39
Pros
Non-binging top
Smooth feel
Stays up
Machine washable
Cons
Threading frays post wash
Price at the time of publication: $21.99
Pros
Machine washable
Seam-free toe
Silky texture
Budget-friendly
Cons
Almost sheer fabric
Slippery in shoes
Price at the time of publication: $16.99
Pros
Soft
Odor-free
Moisture-wicking
Durable
Machine washable
Seamless toe
Thermo-regulating
Cons
Price at the time of publication: $16.95
Pros
Skin-friendly
Lightweight
Available in multiple colors
Machine-washable
Suitable for any occasion
Sustainable bamboo material
Cons
Price at the time of publication: $19.99
Pros
Lightweight
Snug fit
Durable socks
Shrink-free
Polyester-free
Cons
Price at the time of publication: $25.95
Pros
Premium quality material
Super soft
Provide ankle support
Good cushioning
Seamless toe
Durable and lightweight
Quick moisture absorbing
Odor-free technology
Skin-friendly
Cons
None
Price at the time of publication: $9.99
Pros
Premium fabric
Stylish
Versatile
Comes in two chic colors
Odor-reducing
Cons
Price at the time of publication: $29.99
You can never have enough dress socks, and this set of solid color socks from Hugh Ugoli makes your collection more alluring. These socks are crafted from bamboo, polyamide, and elastane blend fabric that offers excellent moisture control, breathability, and comfortable wearing. Plus, the reinforced heels elongate the life of your socks, while the seam-free toe ensures no chafing and irritation. You can wear these dress socks throughout the year with both formal and casual footwear.
Pros
Cuff is soft and non-binding
Snug fit
Seam-free
Regulates temperature
Lightweight
No bunching
Color options
Cons
Price at the time of publication: $16.5
Pros
Stretchy fabric
Durable
Padded soles
Seam-free toe
Cons
None
Price at the time of publication: $25.95
Pros
Lightweight
Good quality
Machine washable
Ideal for sensitive skin
Soft stay up top
Moisture-wicking
Cons
Price at the time of publication: $15.99
Pros
Seamless toe
Mesh ventilation
No show
Zero-slip arch
Do not slid down easily
Cons
Price at the time of publication: $19.99
Pros
Soft
Comfortable
Casual
One size fits all
Doesn't slip easily
Good for casual look
Cons
Price at the time of publication: $19.95
Pros
Free of harsh chemicals
Versatile
Suitable for size 6-10
Odor-resistant
Suitable for all year use
Machine washable
Cons
Price at the time of publication: $24.99
Pros
Natural
Hygienic
Helps regulate body temperature
Comfortable
Soft
Cons
May become rough over time
Price at the time of publication: $18.95
If you are a green warrior, you must have made up your mind on at least one of these socks mentioned above. However, there are a few factors you need to consider before you invest in these eco-friendly socks.
How To Select The Best Bamboo Socks?
1. Method Of Processing: Bamboo fabric is extracted from hard bamboo cellulose after multiple rounds of processing – either chemical or mechanical. In the first process, bamboo pulp is soaked in chemicals before being spun into yarn. The fabric produced in this method is semi-synthetic. In the mechanical method, the bamboo cellulose is processed with natural enzymes. In the end, you get a silky, cashmere-like fiber that strong, lightweight, and safe for the environment. When buying socks, ensure the bamboo fabric was manufactured through mechanical method.
2. Padding At Heels: The padding at the heel offers cushioning and protection to the feet from blisters. Most sock manufacturers either increase the density of the weave in the region or add long-wearing material for padding.
3. Fit: Pay attention to how the socks fit in around the toes and heels. Too long socks can bunch up at the heels or toes, while shorter variants might feel too tight on the feet. Go for something that softly, hugs your feet without feeling too tight or lose.
Eco-friendly products are not a fad, they are indeed the only way to save the earth and we are happy to recommend these green, earth-friendly socks to you. If you are an eco-warrior, get yourself a pair of bamboo socks that will keep your feet and the planet safe and happy. From the collection above, we recommend the soft, lightweight Danish Endurance Bamboo Dress Socks. You can also try the Yomandamor Bamboo Winter Socks when the temperature dips. Eleonora Fiano, a seasoned fashion stylist says, "In addition to being antimicrobial and antibacterial, bamboo is particularly effective in reducing excessive sweating of the feet. The product is 100% environmentally friendly and biodegradable, and does not release harmful substances. This type of fabric is breathable, crease-resistant, dependable, antibacterial, and does not warp. Used strategically, socks can also give an interesting twist to your look by using patterns or bright colors, or stay basic if you choose more classic, neutral-colored pairings."
Why Trust StyleCraze?
Baishali Bhattacharya, is our certified in-house image consultant who knows what works best for your body shape and size! She believes that feeling comfortable in what you wear is key to feeling confident in your body! That's why she has gone through extensive online reviews and feedback before shortlisting the best bamboo socks for you to choose from! These are not only comfortable to wear with the right amount of stretch and breathability but help you stay warm and cozy at your optimum body temperature as well!
Frequently Asked Questions
Is bamboo good for socks?
Yes. Bamboo is a good material for making socks, as it effectively controls excessive moisture and keeps your feet dry for a long time.
Are Bombas socks made from bamboo?
No. Although the name sounds similar, Bombas socks are made of wool, not bamboo.
Are bamboo socks antibacterial?
Yes. Bamboo socks are antibacterial and do not let bacteria develop due to sweat and dirt.
Are bamboo socks better than cotton?
Yes, due to their impressive breathability, bamboo socks are better than cotton socks.
Do bamboo socks shrink?
Yes. If you overdry bamboo socks, it can damage the material and shrink.
Are bamboo socks good for cold weather?
Yes. Bamboo socks help regulate temperature, making them a good pick for winter.
Are bamboo socks good for hiking?
Yes. Bamboo easily regulates body temperature and keeps your feet warm on chilly hikes and cool on hot summer strolls. It drains moisture, so you can count on your feet to stay dry and refreshed all day.
Are bamboo socks good for diabetics?
Yes. Bamboo socks offer good circulation and might be helpful for people with diabetes.
Can you be allergic to bamboo socks?
No. Bamboo is not processed with harsh chemicals, so it will not cause irritation.
How often should you wash bamboo socks?
Wash bamboo socks after each wear, depending on your daily needs. However, wash bamboo socks inside out to maintain their quality.