9 Best Banana Clips Of 2023
Retro banana clips are back in vogue for creating versatile, iconic hairstyles.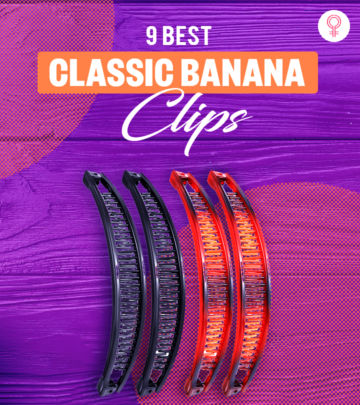 Wild hair may look fantastic in the movies, but they don't seem so appealing if you wake up with unruly hair. Thankfully, a basic hair embellishment like one of the best banana hair clips can save the day. These clasps are delightful and solid! You can make sleek and stylish hairdos with them as you tame your mane. This article holds up the 9 best banana hair clips so you can add some flair and drama to your hair. Look down to pick your top choices!
9 Best Classic Banana Clips
The Goody Women's Clinchers come in a set of four pieces and are five inches long each. They are made of sturdy plastic and available in an assortment of colors. They clip the hair gently without damaging it. The clincher, also known as a banana clip, is perfect for medium to long hair. It is constructed in such a way that it doubles up as a comb.
Pros
Comfortable
No snagging
Suitable for kids and adults
Value for money
Cons
Flimsy
Not suitable for thick hair.
Price at the time of publication: $2.85
The HairZing Banana Clip works great on thick, curly hair. It is adjustable up to six inches and does not cause creases or damage. This clip gives you easy and quick hairstyles while holding up your heavy or long mane. It is strong yet gentle and effortlessly holds up your hair all day. The banana clip has rounded and well-spaced teeth that offer frictionless separation and is easy to slide in and out of the hair. It does not stab the scalp or tear hair. It is safe for wigs and extensions and is comfortable to wear under headgears.
Pros
Stretchable
Lightweight
Doesn't flatten curls
No creasing
Can be used with wigs and extensions
Child-friendly
Cons
Price at the time of publication: $15.97
The banana hair clips from Lizzie Kay are the perfect hair accessories for a wedding or a party. They are 4 inches long and can easily hold medium to thick hair throughout the day. These clips work best for shoulder-length hair. The sturdy design of the clip holds the hair into a fluffy ponytail without leaving any crease marks.
Pros
Non-slip
Durable
Pretty design
Sturdy
Easy to use
Cons
Not suitable for long, thick hair.
Price at the time of publication: $9.99
The Willbond Banana Clips come in a set of six pieces in three colors. The classic design features a flat end and a swivel end that opens from the middle instead of either end. It is simple to use and does not break easily. Each clip is 5.9 inches long and 1.2 inches wide and can conveniently hold thick, voluminous hair. The densely situated teeth interlock perfectly without encouraging hair breakage.
Pros
Durable
Suitable for thick, straight, or curly hair
Sturdy
No breakage
Cons
Price at the time of publication: $6.99
These banana clips are made of plastic that is sturdy, durable, and not easy to break. They are best suited for curly hair as they hold your locks well in place without slipping or popping open. The metal teeth ensure that the hair can be styled easily without any creasing or snagging.
Pros
No creasing or pulling
Comfortable
Stretchable
For thick, curly hair
Cons
Price at the time of publication: $12.99
The Scuni Banana combs are a pack of three different colored pairs. Each clip is 5 inches in length and ¾ inches wide. They come in the following colors – black, tortoise, and opaque white colors. These banana clips are ideal for all hair types.
Pros
Easy to clean
Waterproof
Suitable for all hair types
Cons
Price at the time of publication: $4.8
The RC Roche banana clips are trendy and minimalist. They are shaped like a bow and have closely placed interlocking teeth to hold the hair securely. They can easily create a ponytail hairdo or hold a bun in place. The barrette design secures your hairstyle without snagging at the roots. These cute hair accessories are suitable for young girls and teenagers. Each clip measures 4.25x1x1.5 inches and suits all hair types.
Pros
Lightweight
Easy to grip
Non-slip
For all hair types
Cons
Price at the time of publication: $9.99
The Camila Paris banana clip is made with high-grade cellulose acetate and celluloid, which make them durable and strong. The clamp has a beautiful tortoise shell finish. The curved shape allows for good grip of the hair, and the side combs keep the strands neatly in place. The hair is held up tightly without any tugging or ripping. This banana clip provides an effortless and quick styling solution for every occasion. The spring is covered, and no hinges are visible. The 5-inch-long fish comb has a polished glossy finish that gives it a trendy and elegant look.
Pros
Elegant design
Secure grip
No tugging or pulling
Complements all hair colors
Cons
Price at the time of publication: $10
These crystal banana clips from Mollensiuer are made of plastic and rhinestones. The decorative hair clip comes in a pack of four pieces with two each in silver and gold colors and can hold both fine and thick hair. The elegant clips can be worn on special occasions and have interlocking teeth that hold the hair firmly.
Pros
Non-slip
Secure grip
Attractive design
Cons
Embellishments may fall off.
Price at the time of publication: $8.99
Why Trust Stylecraze?
The author of this article, Shiboli Chakraborti, is passionate about all things hair, from care tips to style and maintenance accessories. In this article, she lists the best banana clips to use to keep your hair in place and tied up. She listed these products after thoroughly researching them and their reviews. They were selected based on their material, cost, durability, and more.
Frequently Asked Questions
Are banana clips bad for your hair?
No. Good quality banana clips will not damage your hair. They are as safe and can help you manage your tresses.
Are banana clips from the 80s or 90s?
They were a fashion statement in the '80s which sailed through the '90s as well.
Are banana clips better than hair ties?
Yes, banana clips are much easier to use in comparison to hair ties. They do not create dents on your tresses and make your hairstyles look fuller.
What size banana clip should we get?
Medium-sized banana clips are the best. These clips go with any hairstyle or length, be it long or short.
Do banana clips work on thin hair?
Yes, banana clips work on thin hair. Their sturdy yet lightweight designs help to hold your thinning hair without tugging, pulling, and breakage.
Do banana hair clips cause breakage?
No, banana hair clips do not cause breakage. They maintain the health of your tresses without weighing your hair down.
Recommended Articles