13 Best Bandeau Bras You'll Want To Live In Forever
Comfort, convenience, and figure-flattering bras that are worth your investment.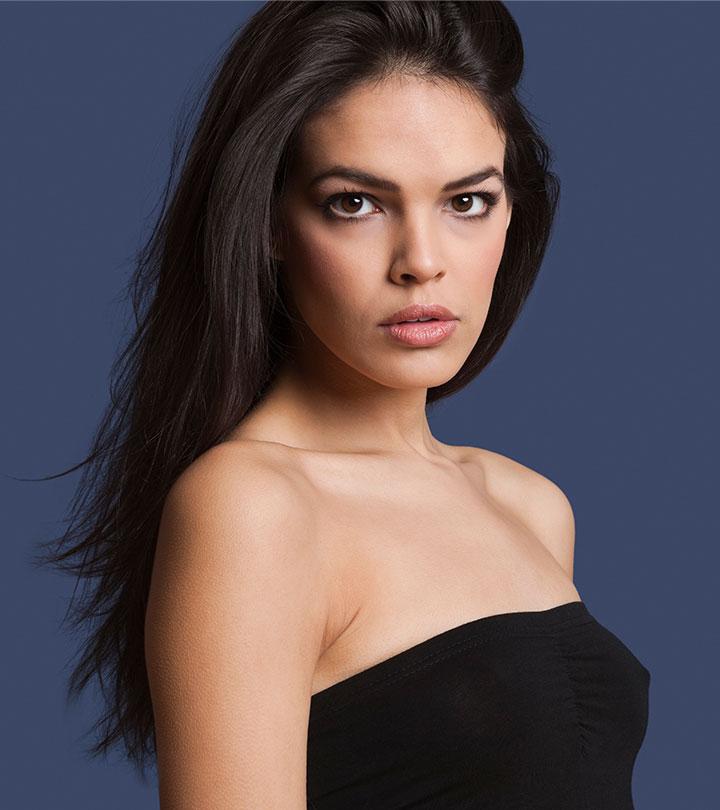 If you are tired of nip slips, sagging bras, and ill-fitted bras, it may be time to switch over to the best bandeau bra that fits right with your bosom as well as your taste. Experimenting with padded, underwire, sports bras, you name it, eventually leads us to one that works best with our figure. Well, if you are looking for one such bra, bandeau bras are one of the most loved ones due to their seamless comfort and ability to accommodate all breast sizes with ease. They are free of hooks and clasps, which you can just slip on with ease. There are 2 bands attached to the top and bottom area, which ensures that it remains firm and provides the much-needed support that your chest needs. They accentuate your curves instead of flattening them and make sure you rock any dress or top you want. You can find some with replaceable pad room to control your nipple show through clothing. Whether you want a simple non-padded finish or a fancy padded lace finish, we have compiled a list of beautiful bandeau bras for you to choose from without worrying about quality or high prices.
So, What's A Bandeau Bra?
Bandeau bras are strapless, stretchable, tube-like garments that are held together by thick bands on the top and bottom. The soft fabric gives your bust some breathing room while the elastic keeps the bra secure on your chest and waist. Unlike typical bras that need to be hooked or clasped, you can just slip in and out of a bandeau bra with ease. Because the function of bandeau bras is to provide seamless comfort, they come with removable padding, which makes them versatile enough to be worn at home and for fancy occasions. You'll find a plethora of neutral color options like white, black, and beige. However, it's not impossible to find one that adds a pop of color to your outfit should you choose to dress it up solo or under a jacket.
13 Best Bandeau Bras For Every Bust Size (With Buying Guide)
The Body Wrappers Bandeau Padded Bra showcases a tie closure at the back and is lightly padded inside the cups. It features a material composition of 82% matte nylon and 18% spandex. The shoulder straps are convertible, meaning you can wear them straight or in a criss-cross style. The bra comes with a concealed drawcord, and you can adjust its front per your choice. It has a stay-put design.
Pros
Padded bra
Convertible shoulder straps
Provides full coverage
Durable
Adjustable front
Cons
Price at the time of publication: $36.93
The Coobie Strapless Lace Coverage Cube Bandeau Bra has a seamless appearance with no hooks, underwires, or clasps. The front features intricate lacework, while the back of the bra remains smooth. As a result, you can wear this bra under any outfit of your choice. The material has a composition of nylon with spandex, and the bra can fit sizes between 32A to 36D.
Pros
Close-fit
Provides support
Luxurious lace details
Ideal for low-cut dresses and tops
Light front padding
Cons
Does not stay in place all the time
Price at the time of publication: $13.48
Unlike most minimizers, women with large breasts will love how smooth and supportive this bandeau bra is. Constructed from polyamide and spandex, the underwire bra has a unique anti-slip band along the cups that ensures a secure fit, while the mesh wings and side bones keep you cool as well as contained. There's no padding, which is ideal when you are trying to look a size or two smaller and squeeze into a fitted tank top. If you want an added layer of security, bring out the optional shoulder straps and transform the strapless bra into a traditional, halter, or cross-front one that can be worn under anything. As the ultimate do-it-all, this bandeau bra comes highly recommended for supporting bigger busts like a dream. This elegant bra is easy to wash as well.
Pros
Ideal for large busts (DD and above)
Gives you a smaller bustline
Anti-slip elastic band
Silicone-free construction
Non-padded with detachable straps
Available in 22 colors and designs
Cons
Slightly less supportive without the straps
Price at the time of publication: $27.99
The Mogan Seamless Bandeau Bra boasts a strapless shape with a pull-on fastening. The bra is ideal for wearing underneath strapless or off-shoulder clothing since it has a straight neckline and a cropped fit. This bra is also ideal to wear in summer and spring as a camisole top or bralette. It has an elasticized trim that is ribbed to lessen chafing, and there is no underwire or padding. This bra is available in several various colors and is one size fits all.
Pros
Good fit
Opaque material
Does not fall down
Does not slide around
Good-quality
Cons
Does not come with straps
Price at the time of publication: $8.99
Offering sleep-in-it levels of comfort, this wired bra has been crafted with a nylon-spandex blend that is super-stretchy in all directions and doesn't compress your chest. It features a ribbed elastic band for major support, so you don't have to feel conscious about it slipping or rolling down as you move. It might not be ideal for those who like a little padding, but if you're done with strapless bandeau bras that crush your ribs or demand constant yanking, definitely don't sleep on this. The fact that it's machine washable makes this trendy bra one of the rarest steals in the world of bandeau.
Pros
Nylon-spandex blend
Machine washable
Seamless 4-way stretch
Ribbed elastic bands
Available in 8 colors
Cons
Doesn't offer a lot of lift
Price at the time of publication: $18.4
The Aoxjox Women's Workout Bandeau Sports Bra is an imported bra that has a material composition of 75% nylon and 25% spandex with an elastic closure for ease of wear. It is a low-support bandeau sports bra, perfect for yoga, workouts, and running since it includes a single detachable cup and adjustable straps. It has a sheer but non-see-through material made of high quality. It feels quite cozy to run in.
Pros
Soft material
High-quality
Lightweight
Skin-friendly
Breathable
Moisture-wicking
Durable
Cons
Price at the time of publication: $25.99
The Malibu Sugar Girls Training Bra features a seamless design, made to remain invisible under any clothing while supporting your natural body shape with maximum comfort all day long. This non-restrictive training bra contains premium quality materials that can last for years. The bra is made using a high-performance material composition of 92% nylon and 8% spandex, making the fabric extremely comfortable, stretchy, and soft. It comes with a ribbed band at the bottom so you can get the ideal fit. It is fairly easy to wash and care for as all you have to do is hand-wash it in cold water and then air-dry it.
Pros
Made from premium quality materials
Non-irritating fabric
One size fits all
Comfortable
Soft material
Multi-functional design
Easy to maintain
Cons
Price at the time of publication: $16.99
This bandeau bra doesn't need an underwire to provide your girls with enough support to prevent flopping around. With a nylon-spandex construction along with ribbed elastic bands on the top and bottom, it hugs your curves like an old friend and stays put through the day. This wireless bra comes in a colorful 4-pack and pairs nicely with plunging shirts, ruffled dresses, baggy overalls, or cute shorts. These bras provide good coverage to your chest area and are invisible under clothing. If you choose to wear it to bed after a long day because it's that comfortable, well, you won't be the first. Just make sure to hand wash it instead of tossing it in the machine to preserve the quality.
Pros
Skin-friendly material
Super-stretchable
Non-padded and wire-free
Ribbed elastic bands
Available in 5 color combinations
Cons
Price at the time of publication: $13.99
If you are looking for a wire-free bandeau bra, then the Cosabella Women's Petite Say Never Flirtie Bandeau Bra should be your pick. It features a material composition of 93% polyamide and 7% elastane and has a pull-on closure. It is semi-sheer at the back. Its soft, stretchy, and scalloped lace lays mostly flat on your breasts, and the front side has been properly lined for full coverage. The bra also comes with an anti-slip silicone lining along the top and bottom ends to prevent slippage. This non-slip bra is available in a variety of different colors and sizes.
Pros
Versatile
Easy to wear
Extremely flattering
Comfortable
Soft material
Cons
The sides of the bra can feel too tight
Hand wash only
Price at the time of publication: $39
The Maidenform Women's The Dream Collection Bandeau Contour Bra has a material composition of 80% nylon and 20% elastane and features a pull-on closure for ease of use. It is available in a variety of colors such as black, white, silver, and Paris animal print. It is a bandeau contour bra that is lightly padded and provides enough coverage to your chest, maintaining its natural shape. The material is soft and smooth so that you can enjoy the perfect fit and flexibility. Since it comes with transparent removable straps, you can either wear it with straps or go strapless.
Pros
Comfortable
Provides proper support
Feels like a second skin
Full coverage
Variety of color choices
Cons
Does not feature cup sizes
Price at the time of publication: $17.6
You can bet on this one staying put through the day, thanks to the wide elastic bands and almost effortless stretch of the fabric. It comes with soft removable pads that give you a second-skin feel and offer support when you're biking, dancing, or working out. Available in single as well as 2- and 3-packs, the bandeau bra covers a wide range of sizes from S to 3XL. The nylon-spandex blend is super-breathable and skin-friendly, so those with sensitive skin don't have to worry about bumps or rashes. It also has a supportive underbust that holds the bra in place. It's comfy, form-fitting, and surprisingly supportive for a bra with no wires — what more can we ask for?
Pros
Breathable fabric
Wide range of sizes
Skin-friendly fabric
Removable padding
Firm elastic band
Machine washable
Available in 4 colors
Cons
Price at the time of publication: $13.98
This bandeau bra is the definition of minimalistic comfort. With a seamless design that offers the right amount of stretch while being incredibly soft to the touch, it's ideal to pair with off-shoulder dresses or fitted tank tops in the summer. Stretchable enough that it comes in only one size, the bra is intended for those with smaller or medium busts. The elastic bands are skin-tight and will stay secure no matter how much you move. It isn't machine washable, but that's not exactly a dealbreaker because of the well-stitched and low-maintenance fabric that lasts for eons despite everyday use. The best part? You don't have to settle for boring neutrals! From hot pink to sultry red, cobalt blue to neon yellow, the colors are on-trend and make the bra wearable solo.
Pros
Super-soft and stretchable
Unlined and wire-free
One size fits most
Ribbed elastic bands
Available in 13+ colors
Cons
Price at the time of publication: $9.99
Comfortable, flattering, and seamless on every side, this supportive bandeau bra will make you fall in love with its invisibility and no-nonsense design. Constructed from nylon with a hint of spandex, it offers the right amount of soft stretch while preventing slippage or rolled-down bands. The pads provide extra coverage so your nipples won't peek, but if you'd like to enjoy a little more swing, you can just nix them and set your girls free. It's also suitable for women who are nursing because of how flexible and easy to pull down the fabric is.
Pros
Nylon-spandex blend
Removable pads
No wires or side seams
Machine washable
Available in 5 colors
Cons
Not suitable for sizes above DD
Price at the time of publication: $20.53
From perking you up to setting you free, there's nothing a good bandeau bra can't do. Now that you've explored some of the best bandeau bras, here's how you can pick the one that's right for you.
Things To Consider When Buying A Bandeau Bra
In order to make sure your bra fits, you'll need to know your exact measurements. If you're unsure, we suggest getting professionally fitted or sizing yourself at home. All you need to do is wrap a measuring tape along the underside of your bust, holding it snug but not too tight. Convert the figure to centimeters. In case it's a decimal, round up to the next whole number. Then wrap it along the fullest part of your bust and convert once more. You can enter both these figures in a reliable online bra size calculator and find your size in seconds. However, different manufacturers follow varying charts that may require you to size up or down. So, check their instructions carefully before adding the bra to the cart.
Bandeau bras are either non-padded or come with removable and super-soft padding options. The former is ideal to pair with body-hugging outfits as there's no risk of visible outlines or peeking nips, while the latter is suitable for anyone who loves a multipurpose bargain. Just be careful to remove the padding while washing or the sponge might lose its shape. Generally, if your goal is to make your breasts look equal and slightly perky, a padded bra will do the trick better than a non-padded one.
The biggest draw of seamless bandeau bras is that you don't have to deal with wires that poke and irritate your skin. However, if you have a bigger bust and need a little extra support, opt for underwire or push-up bandeau bras as they have the ability to defy gravity and give the girls a subtle lift. Many women prefer to go wire-free because the bras tend to be machine washable and breathable enough to wear at night!
Since most bandeau bras are strapless, the only things holding them in place are the elastic bands on the top and bottom. Therefore, you might want to ensure the bands are slightly tighter than the ones in regular bras to maintain stability even through movement.
How To Wear A Bandeau Bra
Under off-shoulder dresses
What's the point of investing in a bandeau bra if you can't bare your shoulders? The absence of straps and heavy padding make it extremely easy for you to throw on that strappy summer dress or flowy tube outfit without worrying about slippage or nippage (as long as the elastic bands are tight enough). You can also pair it with fitted tank tops when it's time for a light workout and you can't be bothered with full-fledged sports bras.
High-quality bandeaus can easily double as a crop top and paired with a long or short skirt in contrasting colors. You can go short on hot, beachy days and long when you're feeling more fancy. If you're not a fan of skirts, you can replace it with a funky pair of shorts or pants for a date-ready look!
When you want absolutely nothing in the way of your comfort, you can wear the bra beneath loose, holey tees for an effortlessly punk look or a fitted tee if you want to seem a little more proper. Wearing it with a plunging top or a t-shirt with armholes is also super-stylish, especially if you've chosen a lace bandeau.
Why Trust StyleCraze?
The author of this article, Priyam Gupta, is a fashion enthusiast. She understands that bandeau bras are loved by all since they are comfortable and can give the proper support to busts of all sizes. She did extensive research by reading several customer reviews and compiled a list of the most amazing bandeau bras for her readers. These bras are of supreme quality, are affordable, and accentuate your shape.
Frequently Asked Questions
Are bandeau bras good?
Bandeau bras are great if you're looking for something strapless for all-day comfortable wear. They pair well with pretty much anything in your wardrobe and are lightweight enough to be worn for sleeping.
Do bandeau bras provide support?
That depends on the features of your bandeau bra. Most of them come with elastic bands at the top as well as bottom to prevent the bra from slipping or rolling down when you move around. Some use silicone that has slip-resistant qualities, along with side boning to provide extra support. For those on the hunt for the best bandeau bra for large busts, it might be better to opt for ones with underwire that don't compromise on support.
Can bandeau be used as bras?
Yes, you can use a bandeau as a bra. They are free of hooks and you can easily slip them on. They will provide your breasts with much-needed support.
How do I keep my strapless bra from falling down?
You can use safety pins to keep your strapless bra from falling. Pin the cups of your bra with the fabric of your cloth in a discreet way.
Do bandeau bras have padding?
Yes, most strapless bandeau bras have padding. They prevent a uni-boob look and help give a nice shape and look to your breasts.
How do you measure a bandeau bra?
Stand straight in the nude and measure around your body where the band would usually sit. This will give you an idea of what size bandeau bra you should wear.
Recommended Articles
Best Strapless Bras That Stay Up Best Longline Strapless Bras For Comfort And Fit In Best Strapless Bras For DD Cups Best Plus-Size Strapless Bra That Actually Stays In Place