20 Best Bantu Knots Hairstyles
Bantu knots are a protective hairstyle. They look like mini twisted buns. Bantu knots come to us from South Africa. The hairstyles that hail from there are truly magnificent. Those African women really know how to style their hair! A twisted (or braided) portion of hair wrapped around itself to form a bun is called a Bantu knot. Bantu knots are also used to coil or curl hair. The partitioning of hair plays quite an important role when styling Bantu knots.
How To Do Bantu Knots
Make sure your hair is washed and conditioned. Don't forget to detangle your hair.
For best results, make sure your hair is damp, not wet or dry.
Create partitions by sectioning off the hair.
Take the first section and apply oil, cream, mousse or gel to it. Do not use any heavy cream, oil or butter to your hair as this might lead to hair breakage.
Twist or braid all the hair in that section. You can add in extensions or colorful ribbons if desired.
Then, twist and tight wrap the hair around itself to form a bun. You can twist and wrap simultaneously; it depends on what you're comfortable with.
Keep coiling the hair around until you reach the end. Tuck the end off inside the bun and secure it in place with a pin. If your Bantu knots are tight, then your hair might stay in place without a pin.
Wrap the Bantu knots in a silk or satin head scarf. The next day, when you remove the Bantu knots, your hair will be in perfect curls. This hairstyle is called the Bantu knot-out.
20 Best Bantu Knot Hairstyles
1. Braided Triangular Bantu Knots
Braids, Bantu knots, and triangle partings come together to make this stunning hairdo. Split your hair into triangular sections. Take small portions of hair and braid two stitches, then separate that braid into two braids. Do this randomly on different parts of the hair. Twist the rest of the hair into Bantu knots and wrap the braids around them. Accessorize for effect!
2. Faux Tri Bantu Knot Mohawk
This hairstyle is a gorgeous three line faux Bantu knot mohawk with baby hair on the sides. The red color makes this hairdo look fiery. You can achieve this hairstyle with the help of hair extensions. Wrap the extensions around your natural hair, twisting them as you go, and make three columns (from the hairline to the nape of the neck) of Bantu knots.
3. Twists And Braids
Blend twists and braids to get this killer Bantu knot hairstyle. The braid going from the top to the bottom knot and the color adds pizzazz to it. Part your hair in square sections with a rat-tailed comb. In one square section, braid feed-in cornrows in such a way that all the braids point towards the center of the square. Braid your hair only a little in the beginning.  To make the Bantu knot, twist and wrap your hair around itself. Towards the end, braid some of the hair in the Bantu knot.
4. Basic Bantu Knots
These basic Bantu knots hairdo look terrific. Take a small portion of hair and twist it. Repeat the same with three or four other small sections, then merge those twists to form one Bantu knot. Repeat the same with all your hair to mimic this look.
5. Braided And Accessorized Bantu Knots
Braided and accessorized Bantu knots look amazing! Part your hair in triangular sections and braid each section of hair. Wrap each braid into a Bantu knot. You can accessorize these Bantu knots with clip on beads and trinkets of jewelry.
6. Cornrow And Bantu Knot Wheel
This wheel of down-to-up cornrows and braided Bantu knots looks so fierce! Part your hair in triangular sections and take a bit of hair from the sides of each section. These side sections of hair will make up the ten braids (two each on the sides and six making the wheel). Braid the rest of the parts and make Bantu knots, merging them with the six-wheel braids.
7. Frontal Bantu Knots
Bantu knots just on the front look laidback and chill. Part your front hair in three sections, making the middle section a triangle. In the middle section only, twist the hair into a Bantu knot. On the side sections, make smaller Bantu knots, how many is up to you.
8. Small Bantu Knots
Multi-colored small Bantu knots look uber cool. The half updo is sure to stun! Make a middle parting. Near the parting, braid two angular Dutch braids that will end in twisted Bantu knots. With the remaining hair in the middle section, twist a few smaller Bantu knots to complete the look.
9. Tall Bantu Knots
Tall Bantu knots look gorgeous. And we know how awesome braids and Bantu knots look together. Let me tell you how this random combination of braids and twists come together to form this chill hairdo. Make random partings all around your head while taking about an inch of hair on either side to make braids that will drop down. Twist the rest of your hair, leaving some sections. Braid the rest. Wrap all the twisted and braided parts together to form blended Bantu knots.
10. Small Braided Bantu Knots
Small Bantu knots look amazing!! Braid cornrows upward only half way. Twist the remaining part of the braids, merging three or four cornrows together to form one Bantu knot at the top. Repeat the same for all the other sections of hair.
11. Side Bantu Knots
These side Bantu knots are epic! Make a triangular partition on one side of your head. Divide that part into three sub-triangles. Twist and wrap the hair in each section to form three Bantu knots on the side. Fluff up the rest of your hair, and you are ready to win the world.
12. Mini Flat Bantu Knots
Mini flat Bantu knots are just stunning. Part all of your hair in two sections in a longitudinal middle parting. Divide your hair in each of those sections into four-parts. Twist each section into a Bantu knot.
13. Micro Bantu Knots
Micro Bantu knots all over the head look amazing. Section your hair in small diamond partitions, then twist and wrap each partition of hair into little Bantu knots. You can also braid your hair into Bantu knots. Once you remove these knots, you will have perfect curls to flaunt.
14. Twists And Big Bantu Knots
Twists and two big Bantu knots look incredible. Part your hair into alternate triangles. Twist all the sections of hair individually while adding extensions. Dip the ends in hot water to seal them. Wrap the top half twists in two big Bantu knots.
15. Halo Braids And Bantu Knots
Cornrows, halo braids, and Bantu are a brilliant combination. Cornrow your hair towards the center of your head. Once the cornrows are a few centimeters away from the center, merge them two-by-two or three-by-three and braid them. Section off the braids in such a way that the most significant braid is left out while the others are wrapped around into three Bantu knots at the center. Now, wrap the big braid around the three Bantu knots to form a halo.
16. Spirally Braided Bantu Knots
Spiral braids ending in Bantu knots look amazing. Part small sections of hair spirally and cornrow them. Wrap the cornrows around themselves to form Bantu knots.
17. Blended Bantu Knots
Small and long Bantu knots in rectangular partitions are here to dazzle! This hairdo is absolutely marvelous!
18. Four Bantu Knotted Mohawk
Stun with this Bantu knot mohawk. To mimic this badass hairstyle, section your hair into four parts. Twist and wrap each section into Bantu knots while adding in extensions.
19. Bantu Knots With Braided Ends
Braids left at the end to be twisted into Bantu knots are terrific. Part your hair into triangular partitions. Braid each section and wrap it around itself to make Bantu knots. Leave a hanging braid on each side to add to the style.
20. Reverse Braided Bantu Knots
Take the front half of your hair and make two Bantu knots. Then, braid two down-to-up braids and twist the ends around the Bantu knots. Very chic, wouldn't you say?
It is indeed awe-inspiring to see that traditions of old Africa are still being followed by the descendants. There were a lot of questions regarding Bantu knots. So, I've answered them down below to help you get some clarity.
Expert's Answers for Readers Questions
How long do you keep Bantu knots in?
Bantu knots are ideally kept in for one day and night.
What products to use for Bantu knots?
Use a cream, gel, mousse, oil or edge control cream to help smooth out your hair near the edges. Make sure not to overuse these products; you don't want your hair to be slippery.  Don't use heavy oils, pomades or butter on your hair as they will make it heavy.
Can Bantu knots damage hair?
Twisting your hair too tight while wrapping a Bantu knot can lead to hair breakage.
Is it wrong to tie Bantu knots every day?
Tying Bantu knots on a daily basis can cause hair breakage.
Can I do Bantu knots with natural hair?
Yes! Bantu knots are done on natural or straight hair as well. Just make sure your hair isn't dry as that will make your hair look frizzy rather than curly after you take the Bantu knots out.
Can I still do Bantu knots on hair that is not naturally curly?
Yes! Bantu knots are used to manipulate hair into being curly or wavy.
Do Bantu knots do a certain thing to your hair or is it just a style?
Bantu knots are not only terrific to look at but also a protective hairstyle. Bantu knots are also used to make hair curly or wavy.
What is Bantu hair?
Bantu hair or Bantu knot-out is how your hair appears after leaving a Bantu knot overnight.
Can I try Bantu Knots with wet hair?
Tying Bantu knots with wet hair can lead to hair breakage. Make sure your hair is damp while tying a Bantu knot.
What about transitioning hair?
If you want your hair curly, Bantu knots are perfect as they don't use heat to curl or wave the hair.
Is it safe to tie my hair with an elastic band when wrapping a Bantu knot?
Tying your hair with an elastic band might lead to hair breakage. It's better to secure your hair in place with a pin.
Now you know everything there is to know about Bantu knots. Whether you have straight hair, transitioning hair, white hair, colored hair, long hair or short hair, Bantu knots are a great hairstyle to sport. So what are you waiting for? Go rock those Bantu knots and dazzle!
Banner Image Credits: Instagram
Recommended Articles:

The following two tabs change content below.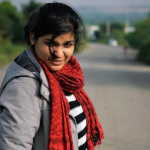 Latest posts by Anjali Sayee (see all)