9 Best Soaps For Acne To Treat Your Skin More Gently In 2023
Pamper your acne-prone skin with organically formulated soaps that are moisturizing.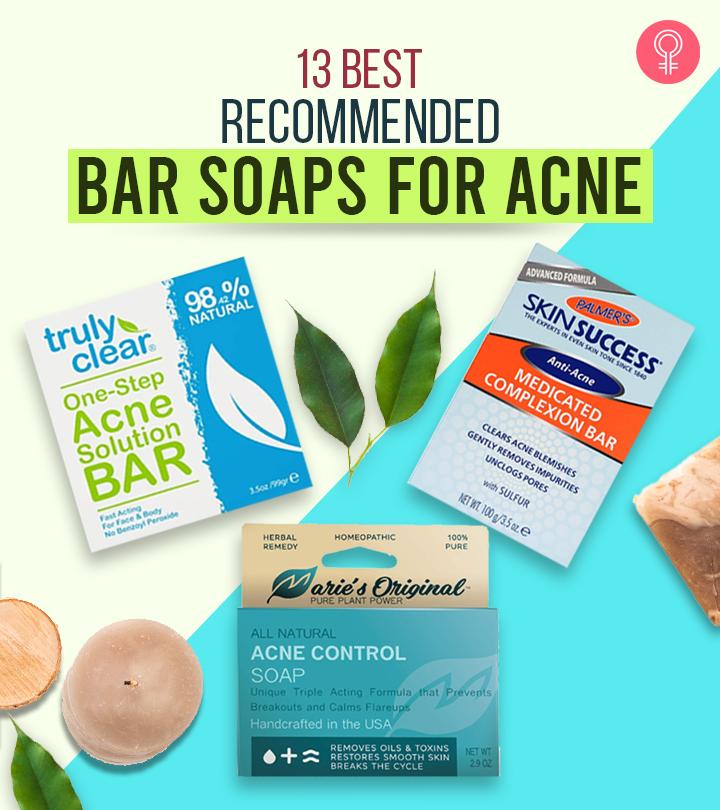 If you are wondering how to take good care of your oily and acne-prone skin, you can rely on the best bar soap for acne available in the market. Although traditionally, we don't associate a bar soap with facial care, advancements in formulas have made it possible. These soaps are endowed with ingredients that can address almost all skin concerns, and they can also balance the moisture and the hydration level of the skin. Sounds amazing, doesn't it! Knowing their importance, we have compiled a list of the 13 best-recommended bar soaps that are totally worth trying.
13 Best Recommended Bar Soaps For Acne
The African Black Soap from Wonderfully Natural is made from fair trade organic ingredients like a cocoa pod and palm oil that effectively treat skin conditions, such as psoriasis, dermatitis, eczema, and acne. This bar soap is formulated with unrefined shea butter, which contains vitamins A and E. They help combat breakouts, promote cell renewal, and reduce fine lines and wrinkles.
This soap is enriched with organic oils and has antibacterial and anti-inflammatory properties that fight against the free radicals and repair and soothe damaged skin. It is excellent for lightening dark spots and scar removal and locks in moisture to rejuvenate your skin, making it soft and smooth.
Key Ingredients: Organic palm oil, Organic coconut oil, Organic palm kernel oil, Unrefined shea butter, Cocoa pod ash, and Purified water
Pros
Soothes psoriasis and burns
Reduces scars
Organic ingredients
Long-lasting
Cons
Can be drying for sensitive skin.
Price at the time of publication: $19.99
The O Naturals African Black Soap is made from all-natural organic ingredients and formulated with shea butter to deeply hydrate and moisturize dry skin. It lathers well to gently cleanse the skin of toxins, dirt, excess oil, and makeup buildup, leaving it rejuvenated and refreshed.
This bar soap for acne is enriched with Dead Sea mud, olive oil, and lavender, and it reduces dark spots and dry patches while exfoliating and soothing your skin. It is rich in antioxidants and has anti-inflammatory and healing properties. The soap also stimulates collagen production to prevent premature aging.
Key Ingredients: Organic shea butter, Plantain skin ash, Olive oil, Dead Sea mud, Lavender oil, Coconut oil, Cocoa powder, and Palm oil
Pros
Vegan
Paraben-free
Sulfate-free
Cruelty-free
pH-balanced
No artificial fragrances
Cons
Stains the sink.
Not suitable for sensitive skin.
Price at the time of publication: $15.99
Pros
Long-lasting
Hypoallergenic
Non-GMO
Sulfate-free
Paraben-free
Cruelty-free
Cons
Stains the soap holder.
Dries out sensitive skin.
Price at the time of publication: $20.99
Pros
Dermatologically tested
Cruelty-free
Vegan
Gluten-free
Paraben-free
SLS-free
Phthalate-free
Petroleum-free
Silicone-free
No artificial colors or fragrances
Hypoallergenic
Cons
Dissolves quickly
Not suitable for sensitive skin.
Price at the time of publication: $8.58
The Fabulure Sea Salt Soap not only cleanses the face but can also be used as a shaving soap. It is formulated with sea salt and goat's milk and helps minimize open pores, control sebum production, and deeply cleanse the skin of all impurities.
This bar soap for acne is mild enough for daily use and has exfoliating and deodorizing properties. It also provides intense moisturization to the skin to give it a healthy glow. This product is suitable for adolescents as well, gets rid of germs that can cause breakouts, and takes care of all your acne problems.
Key Ingredients: Sea salt, Goat's milk, and Glycerin
Pros
Mild
Suitable for all skin types
Can be used as a shaving soap
Cons
Not suitable for sensitive skin.
Price at the time of publication: $9.79
Pros
Cruelty-free
Soy-free
Gluten-free
Long-lasting
Palm oil-free
Sulfate-free
Cons
Not suitable for sensitive skin.
Stains the washroom floor.
Price at the time of publication: $12.99
Pros
Suitable for acne and rosacea
Suitable for sensitive skin
Dermatologically approved
Unscented
Lathers well
Cons
Price at the time of publication: $11.99
Pros
Sulfate-free
MPG-free
Paraben-free
PEG-free
Preservative-free
Cruelty-free
No artificial fragrances
Vegan
Cons
Price at the time of publication: $7.89
Pros
Easy to use
Lasts longer
Lightweight formula
Sustainable
Paraben-free
Treats acne at its root cause
Reduces blemishes
Cons
Does not produce much lather
Price at the time of publication: $7.95
Pros
Eco-friendly
Prevents the skin from drying out
Repairs the skin's natural barrier
Cruelty-free
Organic ingredients
Suits all skin types
Cons
Price at the time of publication: $9.85
Pros
Brightens the skin
Kills acne-causing bacteria
Nourishing on the skin
Ideal for all skin types
Vegan and handmade
Cruelty-free
Cons
Price at the time of publication: $9.99
Pros
Paraben-free
SLS-free
GMO-free
Petroleum-free
Phthalate-free
Gluten-free
Chemical-free
No artificial colors and fragrances
Cons
Not suitable for sensitive skin.
Stains the bathroom floor.
Price at the time of publication: $8.49
Pros
Benzoyl peroxide-free
Propylene glycol-free
Gluten-free
Paraben-free
Alcohol-free
Titanium dioxide-free
SLS/SLES-free
Petrochemical-free
No artificial perfume
Non-comedogenic
Cons
Price at the time of publication: $34.95
Amongst the many treatments for acne available on the market, a gentle soap or cleanser is a must-have. Cleansing is the first step to any skin care routine. Given below are some factors to keep in mind while you choose the best soaps for acne.
Things To Consider While Buying The Best Soaps For Acne
Acne usually occurs in oily skin or dry-sensitive skin types. Look for a soap which is specially formulated for your skin type so you can get maximum benefit. Choose a soap that gently cleanses, treats, and moisturizes the skin.
Acne-prone skin requires some special ingredients that reduce the acne and improve the overall skin health. Here are some ingredients to include in your skin care rotuine.
Cleansing
Although a soap is primarily for cleaning, a soap with ingredients like activated charcoal or Dead Sea mud, sea salt, volcanic mud are exfoliators which can draw out toxins from the pores and soak in excess sebum. Goat's milk also provides deep cleansing and detoxification without stripping the natural moisture content of the skin.
Treatment
Ingredients like palm oil and cocoa can treat acne in dry skin. Some organic oils like neem, eucalyptus, and turmeric have anti-inflammatory, antifungal, and antibacterial properties that treat and reduce acne and other skin infections. Oils maintain natural pH levels also keep the skin smooth and soft. Ingredients like sunflower seed oil, lavender and rosemary have healing properties and promote collagen production.
Moisturization
Look for moisturizers like shea butter and natural essential oils which lock in hydration and keep the skin moisturized. Vitamins A and E help in combating breakouts and promote cell regeneration. Butters like cocoa are also excellent to soften and rejuvenate the skin.
Since acne and skin problems occur most in sensitive skin types, it also means the skin may react to strong chemicals and potent formulas. Look for soaps which are hypoallergenic, non-comedogenic, and organic in nature. These are gentle on the skin. Avoid sulfates, parabens, artificial fragrances and colors and potent palm oil in the formulation.
Why Trust Stylecraze?
Shiboli Chakraborti is a certified skin care coach and loves sharing her expertise by reviewing different skin care products for her readers. In this article, she has reviewed the most-recommended bar soaps for acne after thorough research into various options and consulting hundreds of user testimonials online. The shortlisted bar soaps gently cleanse your skin without stripping it off its natural oils and keeping it healthy.
Frequently Asked Questions
Is bar soap good for acne?
Yes. Bar soaps with active ingredients like salicylic acid and benzoyl peroxide effectively treat acne. They dissolve dead skin cells, unclog pores, and soothe acne. But, bar soaps that are not specially designed for treating acne can worsen the acne condition. They over-dry the skin, triggering the oil glands to produce excess sebum and clog pores.
Does bar soap dry up acne?
Yes. Bar soaps that are more alkaline; they dry up your skin and acne if used regularly.
Does bar soap expire?
Yes. Bar soaps expire. Natural or organic soaps usually have a shelf life of one year, while other soaps expire after two to three years.
How often should you use soap for acne?
Use soap twice a day to treat acne.
What ingredients in bar soap can make acne worse?
Toxic ingredients like parabens, dyes, fragrances, formaldehyde, and lanolin in a bar soap are harmful to acne.
What kinds of skin conditions are irritated by acne soaps?
Acne soaps can irritate the skin of people suffering from conditions like eczema, rosacea, and contact dermatitis.