7 Best Barbell Weight Racks Of 2022
Organize your home gym with durable, adjustable, and sturdy storing solution.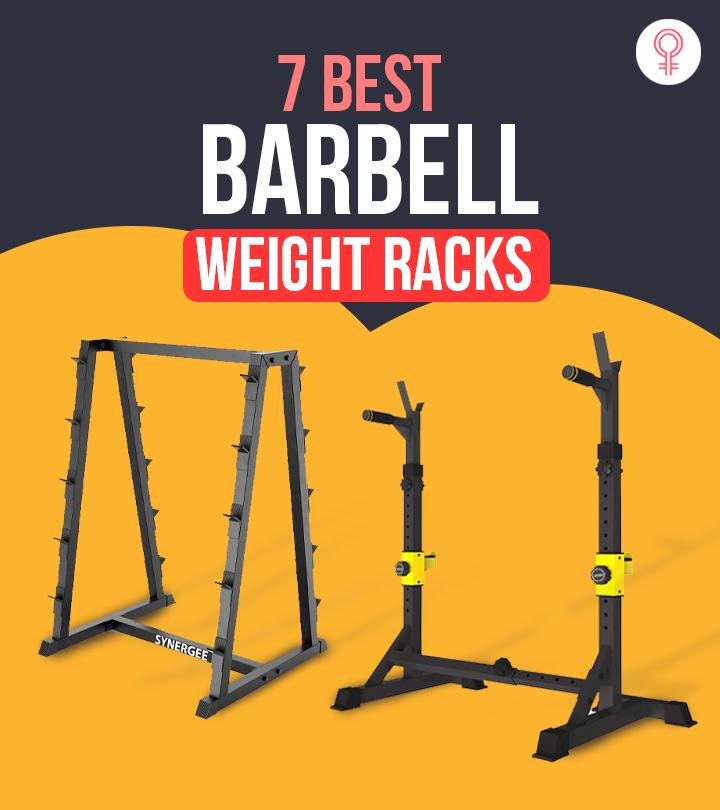 Gym owners, fitness enthusiasts, and even casual gym-goers are all too familiar with the barbell. This must-have workout equipment is of great value when you want to engage multiple muscle groups, but stacking them every day can be cumbersome. The best barbell weight rack takes this burden away by centralizing the weights in a single place, saving you tons of space and improving convenience.
To understand how barbell weight racks can help you in your fitness journey and which one to buy, scroll down for our top 7 picks!
7 Best Barbell Weight Racks Of 2022
The Synergee Fixed Barbell Storage Rack is made from solid steel with a black matte finish suitable for straight fixed bars and fixed curl bars. This rack can accommodate a total of 10 bars in an organized and accessible fashion to provide a neat look to your gym. Its shelves are accompanied by ribbed rubber to stack the bars securely and prevent scratches, while the titled angle prevents dropping. This storage rack is easy to assemble and comes packed with all the necessary screws, bolts, and nuts for fitting. It has a weight-bearing capacity of 1100lbs. This sturdy rack is capable of housing an entire fixed bar set. It has rubber feet to protect your flooring and make it more stable.
Specifications
Color: Black matte
Material: Steel
Max Load: 1100 lbs
Dimensions: 33 inches x 35.5 inches x 50 inches
Pros
Versatile
Non-slip
Scratch-free rubber grip
No metal-to-metal contact
Hassle-free customer service
Cons
None
Price at the time of publication: $329.95
The Uboway barbell rack is made with a heavy steel structure that can bear up to 550 lbs safely. This stable and durable weight rack comes with 12 adjustable heights from 36.2 to 55.1 inches and a width from 24.8 to 42.9 inches to let you set it as per your convenience. It features two storage racks with a multifunctional design for a versatile performance. Its T-shaped base offers more security and prevents it from tipping, while the 2X2 inches thick square tube adds more stability. This unit is pretty easy to assemble as it includes all the instructions and tools.
Specifications
Color: Black
Material: Steel
Max Load: 550 lbs
Dimensions: 33.2 inches x 22.25 inches x 5.3 inches
Pros
Adjustable
Stable and durable
Multifunctional design
Versatile
Balanced base
Easy assembly
Cons
Flimsy
Too low for a squat rack
Price at the time of publication: $93.99
The innovative and multifunctional design of Ollieroo Multi-Function Barbell Rack is compact and portable. It is made from high-quality and sturdy steel with a maximum load capacity of 480 labs with provided safety. This double adjustable height rack has a height bracket from 41 inches to 65 inches and a 31 inches to 49 inches base range. Its multifunctional and smart design is versatile and equipped with dual resistance springs for core strengthening and abs. It features abrasion-resistant and non-slip rubber end caps for safety and a firm grip. This barbell weight rack is convenient for home use and is easy to assemble as it comes with an instruction manual and hardware set.
Specifications
Color: Carbon black
Material: Steel
Max Load: 480 lbs
Dimensions: 26.4 inches X 30.3-48 inches X 40.6-64.2 inches
Pros
Firm and strong
Rustproof
Adjustable
Versatile
Abrasion-resistant
Non-slip
Easy to assemble
Cons
Price at the time of publication: $109.99
The Oristus Barbell Rack Stand has a sturdy structure that is perfect for home use. It can be adjusted between 40 inches to 66 inches and features 13 rack levels to organize every tool. It is fully safety-equipped and is pretty easy to assemble using the instruction manual. Its anti-skid design has anti-scuff rubber feet to prevent slipping and scratches. This heavy-duty barbell rack is made from solid steel that can hold a maximum weight of 550 lbs. This versatile piece is ideal for accommodating all your bench pressing and squatting gears.
Specifications
Color: Black
Material: Steel
Max Load: 550 lbs
Dimensions: 35.4 inches x 10.4 inches x 6.3 inches
Pros
Adjustable
Versatile
Anti-skid
Anti-scuff
Safe
Easy assembly
Cons
Price at the time of publication: $49.99
The Ollieroo Olympic Barbell Rack has a space-saving design since it can be installed on the wall. Its heavy-duty design is carved from Q235 carbon steel to offer a sturdy structure that doesn't collapse easily. Featured with superior powder coating, it has a hammered finish to prevent scratches. The rack can hold 6 bars at a time and offers a multi-function storage space to perfectly organize regular, as well as, Olympics-level bars. Plus, it can be easily mounted on the wall using bolting studs.
Specifications
Color: Black with silver enamel finish
Material: Carbon steel
Max Load: 440lbs
Dimensions: 34.6 inches x 3.1 inches x 2.2 inches
Pros
Heavy duty
Compact design
Wall-mounting design
Versatile
Anti-scratching
Rubber padding
Cons
Insufficient installation instructions
Price at the time of publication: $34.99
The Akyen Adjustable Squat Rack Stand is made from durable heavy-gauge steel with a powder-coat finish. Its durable and safe design is ideal for racking heavyweights for bench press, dips, squats, push-ups, etc. It is equipped with a T-shaped and triangular design for stability, while the rubber feet caps protect your floor from scratches. Its handgrips are made from UVA material to reduce fatigue and increase friction. It has 15 adjustable height levels ranging from 46-72 inches, whereas the 4 width-adjustable levels range from 25-43 inches. Its safety knot uses intelligent technology to ensure no shaking and firmness of inner and outer square tubes. The commercial quality steel used in construction has a 5 cm X 5 cm thick pipe, suitable for versatile. It comes with an instruction manual and assembly tools.
Specifications
Color: Black
Material: Steel
Max Load: 850 lbs
Dimensions: 28 inches x 23.3 inches x 46 inches
Pros
Adjustable
Versatile
Stable
Durable
Comfortable grip
Non-slip
Easy installation
Cons
Not suited for squat rack
Price at the time of publication: $139.99
Vanswe's Multi-Function Barbell Rack has a weight-bearing capacity of 550 lbs and is made of sturdy and robust steel. This barbell rack has 11 adjustments for height ranging from 35.4 inches to 55.5 inches and 10 adjustments for width ranging from 26 inches to 46 inches with. Its versatile design is best for squatting, dipping, pressing, and other movements. It features 1 Olympics sleeves-compatible plate storage peg in the front of each stand measuring 7.9″. It comes with an 8 position-adjustable bar catcher for resting bar during bench pressing. Its adjustable height holes are placed at a distance of 5cm / 2 inches to adjust to unique height requirements. It's long spotter arms ensure safety and the 2 width adjustable knobs offer better base stability. Its high-quality rubber end caps prevent scratches.
Specifications
Color: Black
Material: Steel
Max Load: 550 lbs
Dimensions: 34.65 inches x 33.86 inches x 4.72 inches
Pros
Adjustable
Versatile
Long spotter arms
Adjustable knob
Rubber end caps
Easy installation
Sturdy design
Cons
None
Price at the time of publication: $134.99
Eva Rodriguez, a NASM certified personal trainer and a Certified Life and Weight Loss Coach, says, "One of the most important things to keep in mind about training from home is to make sure that you have heavy enough equipment. You'll be surprised at just how quickly you progress and add more weight to your workouts. This is where the barbell racks come in handy. Keep in mind that the best and most efficient way to build muscle is by adding heavier weights to your workouts."
Why Trust StyleCraze?
Aditi Naskar, the author, holds a diploma in health and wellness. She has in-depth knowledge of the various tools, equipment, and accessories that can help enhance the benefits of your fitness regimen. She has gone through several health and wellness forums and scoured through valuable customer testimonials, before carefully curating this list of the best barbell weight racks for you. These products are rust-proof, adjustable, and sturdy and add to your convenience.
Frequently Asked Questions
What is a barbell weight rack?
Barbell weight racks organize your gym weights efficiently. It holds weights separately and stores other exercise equipment properly.
Is it okay to leave the barbell on the rack?
Yes. Always place the barbell horizontally on the barbell rack. However, store it vertically if the barbell weighs less and you need to save space.
Is the barbell weight rack worth it?
Yes. A barbell weight rack is a practical investment if you want to exercise at home. This versatile equipment helps you perform several exercises and arranges your gym equipment.
How tall should my barbell weight rack be?
The standard height of the barbell weight rack is 7 feet.
Are barbell collars necessary?
Yes. Invest in barbell collars to securely hold your removable weight plates on the barbell racks while performing other lifts. They reduce the risk of shifting weight plates.
Recommended Articles