10 Best bareMinerals Eyeshadows To Boost Your Makeup Game – 2022 Each bareMinerals eyeshadow is noted for how simple it can be and still be able to set the standard high in terms of quality. Their products have met the community's ever-changing demands and needs in terms of quality, purpose, and usefulness while remaining timeless and elegant. In today's world, every customer has access to knowledge regarding even the science behind their cosmetics. bareMinerals is one such brand that has listened to and catered to all of the makeup world's demands and wants!
But even with so much info at our disposal, let's face it, one of the most difficult aspects of makeup is figuring out how to acquire and apply eyeshadow. The possibilities are numerous and extensive, which should mean that we have more options, but it usually means that we have more uncertainty. Thankfully you can pick a bareMinerals eyeshadow and rest assured that it's going to be both high-quality and glamorous!
We'll be discussing eyeshadows that are suitable for a variety of styles, techniques, and skin tones. We hope that these evaluations will assist you in selecting the finest product for you!
Best bareMinerals Eyeshadows That Will Get You Hooked!
Trying out new eye-makeup trends can be quite a downer when you have hyperpigmented eyelids! This bareMinerals cream eyeshadow comes with a texture that is smooth and seamless. It can be used on light to medium skin tones. It can be difficult to get anything to last-long on hyperpigmented eyelids, but this eyeshadow lasts for 12 long hours and this you can count on! If you're looking for an eyeshadow to use every day, whilst giving an illuminating effect on the eyes, this is the one for you. It comes with a micro-shimmer formula which means it reflects light hence illuminating your eyelids. Candlelit peach is a subtle yet brightening shade that can be used as an eyeshadow or as a primer. Take a look at this video to know more about the product.
Pros
Long-lasting
Has SPF 15
Brightening and smoothing formula
Does not settle in lines or creases
Cons
It might not be very easy to blend.
Here's a sultry nude palette for the ones with light or olive skin! This bareMinerals eyeshadow palette comes with a matte, satin and metallic shades that are perfect to switch up from a day look to a night look. The selling point is that this palette also comes with a number of benefits, such as reducing puffiness and moisturizing your eyelids. It has cucumber extract to cool and reduce puffiness and cold-pressed bodega oil to nourish and moisturize. Finding makeup products with the goodness of natural ingredients is rare. This is an all-rounder you definitely have to get your hands on!
Pros
Intense pigmentation
Hydrating formula
Long lasting
Reduces puffiness
Can be used for the day and the night
Cons
This palette can give you a frosted makeup look.
For those fancy party looks where you want to keep it natural with a kick of "diva", this eyeshadow is perfect! This eyeshadow is a velvety smooth loose mineral powder. It not only feels soft but also blends just as seamlessly. It's perfect to use as an inner corner highlighter or even for a monotone makeup look. Due to the mineral formula it lasts long and keeps you looking vibrant and fresh. It can also be used as a transition shade due to the light color and ease of blending! Here's a powder bareMinerals eyeshadow that works like magic!
Pros
Blends easily
Soft color but highly pigmented
Mineral-based formula
Can be used in different ways and techniques
Cons
It might set in the crease and cause feathering if not blended properly
Even though nude eye makeup is huge right now, we know that bold eye makeup could never go out of fashion! If you feel like nude eyeshadow makes you look washed out and dull, this palette is perfect! It comes with a set of deep, richly pigmented colors that can make your eyes stand out even if you're going for a soft look. The dark shades give your eyes a beautiful depth and with that, definition. This product is also crease-resistant and thus lasts longer without settling down and causing feathering! You may check more about this product in this video.
Pros
Highly pigmented
Matte finish
Crease-resistant
Provides a great definition
Easily blendable
Cons
If you have sensitive skin, this might not be the one for you.
This bareMinerals eyeshadow palette is a dream for those with a dusky, tan skin complexion! It comes in six shades which are matte, satin and metallic to give you a perfect combination. Along with this, it is also crease-free and smudge-proof, which naturally means that it's perfect for those long night-outs! It comes with a mineral-based formula that has antioxidant-enriched algae that protect the sensitive area around your eyes from free radical damage. This eyeshadow palette works perfectly well for a nude makeup look but can also be used for a glamorous party look.
Pros
Long lasting
Enriched with cucumber extract
Pretty pigments
Versatile shades and textures
Blends easily
Cons
There could be some fall out during application
It's going to be difficult to talk about this product in just a few lines. This bareMinerals cream eyeshadow feels silky, but gives you a matte finish! This makes it long-lasting and works perfectly well for an everyday look. It works well as a primer alone, but looks divine when used as an eyeshadow if you're going for that no-makeup look! This eyeshadow also contains minerals and antioxidants making it great for sensitive skin. And due to antioxidants like, green tea extract and camellia leaf extract it also nourishes, keeping the skin soft and supple! We all know that antioxidants especially help with discolouration and pigmentation, so if this is the prime concern for you then look no further than this product!
Pros
Blends well and easily
Comes in a neutralizing shade for discolouration and a brightening shade for dull skin
Works well as an eyeshadow and can be doubled as a primer
Gives you a flawless matte finish
Last for long hours
Cons
It might settle in creases and lines if not blended well.
Been looking for eyeshadow for those grand days? Here's an eyeshadow with a high-quality sheen that lasts for hours! This eyeshadow can be used as the loose mineral powder for a touch of shine or glimmer, or it can be foiled. To foil this eyeshadow you can use a primer or a setting spray, foiling usually brings out the color and also lasts longer. Due to its silky smooth texture,  the application is easy and with one stroke you can get the perfect color. This also makes it fuss-free when it comes to blending. This eyeshadow is definitely fun to play around with!
Pros
High-quality sheen
Smooth texture
Easily blendable
Can be used as liquid eyeshadow through foiling
Cons
This could cause creasing and might even spread if not used carefully
This eyeshadow palette is THE nude eye palette, for those with a darker complexion. This eye palette has a mineral-based formula, which means if you have sensitive skin,  do not have to think twice! Along with minerals it also comes with cold-pressed bodega oil, which nourishes and prevents dryness. It has cucumber extract for a cooling and rejuvenating effect as well. But most importantly the pigmentation is absolutely to die for, the colors are earthy and warm, but we also have metallic ones for some shine and shimmer. Each of these palettes comes with a small step-by-step guide to create three different looks! We believe this eyeshadow palette is a hidden gem and boy are we glad we found it!
Pros
Highly pigmented
Works beautifully with darker skin tones but can be used for lighter skin tones as well
Great for sensitive skin
Last for long hours
Easy to blend
Matte finish
Cons
There can be some fall out so make sure to brush off the excess before using.
bareMinerals have done it again with this revolutionary eyeshadow palette that you don't need any brush for, just your fingertips would do! Yes, you heard that right, the formula is lightweight and buildable so it takes almost no effort and is easy to use! The shades in this palette are inspired by the glorious sky during sunset. They give you an illuminating effect but also give you depth, and a richness of color. This comes with a mineral-based formula that has been derived from naturally grown moss which gives it a smooth texture that can be easily blended. Along with this, it's also hypoallergenic and is safe to wear with contact lenses. This is the best bareMinerals eyeshadow for sensitive eyes!
Pros
Buildable and blendable
Smooth texture
Highly pigmented
No fallout
Hypoallergenic
Lightweight formula
Cons
Here's an eyeshadow combination that has been classy and never gone out of fashion! The bareMinerals Nude Eyeshadow palette is perfect for every skin tone. It helps in creating a minimal look but you can also get creative and add some glam with its metallic shades! It comes in three types of textures which are matte, metallic eyeshadow and satin. You can create a beautiful fall look with this palette and count on it to last for at least 12 hours! Due to its powder texture, this eyeshadow is easily blendable and works well to cover up any lines or creasing. This eyeshadow is a must-have for everyday use!
Pros
Long lasting
Matte finish
Perfect pigmentation
Versatile shades and textures
Suits every skin tone
Cons
Some may find the texture a bit hard
In case this long list has gotten you all confused, here's a checklist that'll help you choose the right eyeshadow for yourself!
Buying Guide
How To Choose Your Perfect bareMinerals Eyeshadow
Here are a few things you should keep in mind while picking out the perfect eyeshadow for yourself.
Each eyeshadow comes with an added unique benefit that you most likely won't find elsewhere. A few eyeshadows are cream-based so they are perfect for an everyday work look. If you are someone who stays out longer, then, of course, you'd have to look for something that lasts for a good number of hours. Some of these eyeshadows come with the benefit of also being crease-free and smudge-proof. While others work to depuff the eyes and give you a rested look. So based on the benefits you're looking for, you can choose the right eyeshadow.
Having a concern and knowing what can help solve that, always points you in the right direction. We know that eyeshadows mainly enhance your appearance, but if it can also help with a skin concern you have, there's nothing like that! You can find eyeshadows that have SPF in them, and they can also nourish and moisturize while making you look stunning. There are also a few which help with hyperpigmented eyelids, dark circles, and puffiness to name a few.
Each of these eyeshadows can be used in multiple ways depending on your skin tone. Some of the cream eyeshadows have an illuminating effect, so these can also be used as a highlighter for medium-darker skin tones. And when it comes to the eyeshadow palettes, each one enhances a different skin tone. The loose bareMinerals' eyeshadows come in a variety of colors that range from neutral to vibrant! There's an eyeshadow for each one based on your complexion, style and creativity!
How To Use bareMinerals Eyeshadow
We have three different categories of eyeshadows— cream, loose mineral, and powder pressed palettes. Cream eyeshadows are generally long-lasting because of their ability to stay on without looking washed out. However, if you are someone who has oily eyelids then make sure to use an eyeshadow primer before application. Most mineral loose eyeshadows come with rich pigmentation, so a primer won't be necessary. However, a good base is recommended to make the colors pop! With the palettes, you can either use concealer or primer to form your base, and you don't have to worry about anything else because they come with a look-book that has 3 looks for you to create, that should be enough to get you started!
Purchasing an eyeshadow might be an easy thing to do at first, with the number of options in the market, it can soon get complicated. Along with this at the end of the day, eyeshadows are also products that come in contact with your skin. Some that have a loose powder-based formula generally have fall out. When this excess settles in the pores on your face or cheek, it could lead to breakouts. This is a concern if you have sensitive or acne-prone skin. Having a checklist ready for this is always going to help. The eyeshadow range is supreme not only in quality but also in appearance, and versatility! Most of their palettes come with a perfect combination of colors, and textures to create your desired look.
Why Trust StyleCraze?
The author, Chaitra Krishnan, is a makeup enthusiast and loves to review different makeup products for her readers. After thorough research, she has provided a detailed list of the best bareMinerals eyeshadows. She went through numerous user reviews and feedback on multiple trusted online forums and brand websites to help you pick the best eyeshadow. The products in our list impart a smooth and seamless finish to your eyes.
Frequently Asked Questions
How long does bareMinerals eyeshadow last?
Cream eyeshadows last longer, upto 12 hours due to the texture and matte finish. Loose mineral powders need a good makeup base to last longer, so make sure you load up on concealer.
Are these eyeshadows hypoallergenic?
Not all, but the bareMinerals Bounce & Blur palette is hypoallergenic.
Are these eyeshadows gluten-free?
bareMinerals doesn't claim to be gluten-free however, some of their eyeshadows are gluten-free.
Recommended Articles
Best bareMinerals Skincare Products
Best Cream Eyeshadows That You Should Try
Best Makeup Products For Sensitive Skin
Best Recommended Makeup Products For Redness
The following two tabs change content below.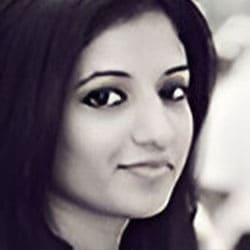 Chaitra has a triple main bachelor's degree in journalism, communicative English, and economics from St. Aloysius College, Mangalore, and a...
more