The 9 Best Barrier Creams For All Your Sensitive Skin Woes – 2022
Add a protective layer to your skin to avoid allergic reactions and heal scaliness.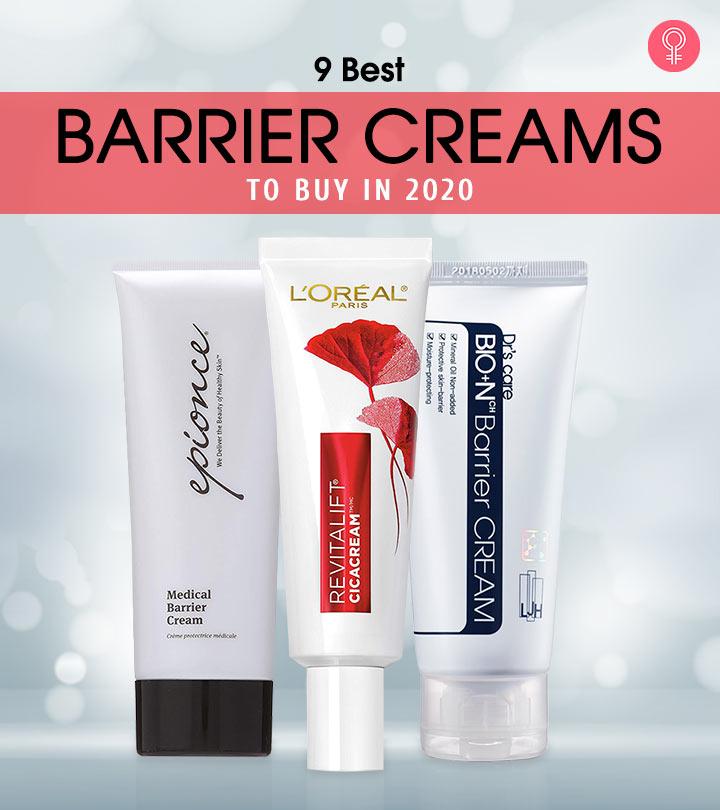 Many skin care products contain certain harsh chemicals that might trigger allergic reactions on your skin. But, that does not necessarily mean that you stop using those products. The best barrier cream acts as a protective barrier between any allergens or contaminants and your skin. They are made of specific topical solutions that prevent issues like inflammation, redness, and more.
Various barrier creams are available on the market, and you can use them differently. Some are anti-solvent gels, protective skin creams, and pre-work creams, while others work as shielding lotions and protective ointments. While many options are available online, we have compiled a list of the best barrier creams in this article. Keep scrolling!
9 Best Barrier Creams To Buy In 2022
The Epionce Medical Barrier Cream is a therapeutic cream that heals damaged and vulnerable skin. It helps heal scaly skin and treats all the symptoms related to it. The cream hydrates damaged skin and acts as a protective barrier on the skin that creates a suitable environment for healing. It does not contain sanitizers and preservatives, unlike most other standard moisturizers.
Pros
Hydrates skin
Restores the protective skin barrier
Non-comedogenic
Removes the signs of scaly skin
Best for skin that is resistant/allergic to sanitizers and preservatives
Cons
None
The Baza Protect Barrier Cream helps heal the damaged skin by providing hydration and protection barrier to the skin. It can be used to repair the cuts and redness on the skin that occur due to long bed rest. This cream may also treat the damaged skin of patients undergoing chemotherapy. It acts as a layer between the skin and the environment, thus protecting the damaged skin from further infections.
Pros
Absorbed fast into the skin
Prevents itching and burning of the skin
Recommended by doctors for healing major wounds and cuts on the skin
Cures skin redness
Cons
None
The Cavilon 3M Durable Barrier Cream is a fragrance-free therapeutic cream used to treat damaged skin. It gets absorbed in the skin in no time and protects the damaged skin from the external environment and body fluids. It promotes skin healing by giving it a proper environment. The cream does not get washed off easily. Hence, frequent reapplication is not required. Doctors recommend this cream for the dressing of wounds and cuts.
Pros
No scrubbing required
Easy to apply
Hydrates the skin and provides a protective barrier
Helps to heal cuts and wounds
Fast-absorbing
Does not require frequent reapplication
Cons
None
The L'Oreal Paris Revitalift Cicacream is enriched with Centella asiatica (also known as tiger grass). It is a formulation made with reference from Chinese skin care medicines. It helps strengthen the skin barrier, protecting the skin from external and internal environments. The Cicacream is an anti-aging barrier cream specially designed for facial skin care. It is a day and night cream that is applied after cleaning the face and before applying a moisturizer or SPF.
Pros
Strengthens the skin barrier
Fights the signs of skin aging
Dermatologist tested and approved
Fragrance-free
Alcohol-free
Paraben-free
Hypoallergenic
Gentle on dry and sensitive skin types
Cons
None
The Medline Soothe and Cool Inzo Barrier Cream is easy to use and easy to wash. It prevents dryness and itchiness. The cream protects the damaged cuticles and helps to heal them by protecting the skin from the external and internal environments. It prevents urine, fecal matter, and moisture from coming in contact with the skin.
Pros
Moisturizes the skin
Has a soothing effect
Dye-free
No fragrance
Contains vitamins A, D, and E that nourish the skin
Ideal for peri-wound skin to protect it from maceration damage
Non-greasy
Invisible moisture barrier
Cons
Does not list all ingredients.
The Etude House Barrier Intensive Cream provides gentle skin care to rough, damaged, and dry skin. It helps soothe skin irritation. The panthenol in the cream calms the skin down, and the madecasone the cream contains heals skin wounds.
Pros
Lightweight cream
Fast-absorbing
Provides a protective barrier to the skin
Provides a suitable environment to damaged skin
Unscented
Cons
None
The Dr's Cosmetic Bio+N Barrier Cream functions as a whole-day moisturizer, barrier, and anti-aging cream. It strengthens your skin barrier with moisture. It indirectly reduces wrinkles and dryness. It also protects the skin from external skin-damaging agents. The product is designed by dermatologists and is safe to use for all skin types.
Pros
Anti-aging, moisturizing cream
Provides 24-hour hydration to the skin
Contains the ingredients identical to the skin and skin moisture, i.e., it includes 85% of bio-mineral water in its formulation, and the rest 15% is purified water
Contains ceramide
Free of alcohol, parabens, synthetic fragrances, talc, and BHT
Cons
None
The CeraVe Facial Moisturizing Lotion is a sunscreen moisturizer with an SPF of 30. Apply it 10-15 minutes before exposure to sunlight and roam freely in the sun with no fear of tanning or skin damage. You need to reapply it every 2 hours. It gives daily UV protection to the skin by acting as a protective barrier. It is formulated by using the MultiVesicular Technology that ensures the moisturizing contents are absorbed slowly in the skin, resulting in long-lasting hydration.
Pros
Protects the skin against UV radiation
Contains microfine zinc oxide that renders broad-spectrum SPF 30 protection
Non-comedogenic
Includes three essential ceramides for nourishing the skin
Recommended by the Skin Cancer Foundation as adequate protection against UV light
Cons
Needs continuous reapplication every 2 hours.
Theraplex's Healing Emollient penetrates deep into the fissures and cracks of the skin. It gives your skin a durable micro-protection barrier. This barrier helps provide moisture where it is needed the most and does not leave a greasy feel. The lotion is amazing as a daily moisturizer. It is also used for skin care in chronic conditions like psoriasis, eczema, etc. Dermatologists have been using and recommending this product to their patients for over 20 years.
Pros
Suitable for dry skin
Irritation-free for eczema or other skin conditions
Long-lasting moisturization
Hypoallergenic
Non-comedogenic
Paraben-free
Gluten-free
Preservative-free
Cons
None
Why Trust StyleCraze?
Sakshi Bahal is a skin care enthusiast who finds joy in trying out various new products. She has a great deal of knowledge of what ingredients work best for your skin. She has done a fair amount of research and carefully reviewed many customer testimonials to choose the best barrier creams for her readers. These not only act as a protective barrier between any allergens or contaminants and your skin but are also made of specific topical solutions that prevent issues like inflammation, redness, and more.
Frequently Asked Questions
When should you put on a barrier cream?
You can apply a barrier cream directly or after applying a moisturizer to help soak in the goodness of the formulas.
Is Vaseline a barrier cream?
No, Vaseline is not a barrier cream although it works to create a mild barrier preventing the loss of moisture.
Where do you apply barrier cream?
You can apply barrier creams directly on the skin of your face, hands, and elbows.
What happens if you use too much barrier cream?
Too much barrier cream makes the skin susceptible to irritation caused by the hydrophilic sodium lauryl sulfate.
How long can you use a barrier cream?
You can use a barrier cream as long as your skin needs it. But they usually start showing results within three-four months.
Can you use a barrier cream every day?
Yes, if your barrier cream has a gentle formula, you can use it every day.
Does barrier cream stop itching?
Yes, a barrier cream maintains the skin's physical barrier and protects it from irritation caused by chemicals and environmental factors. Hence, they also stop or help reduce itching.
Recommended Articles