15 Best Base Coat Nail Polishes To Strengthen Your Nails – 2022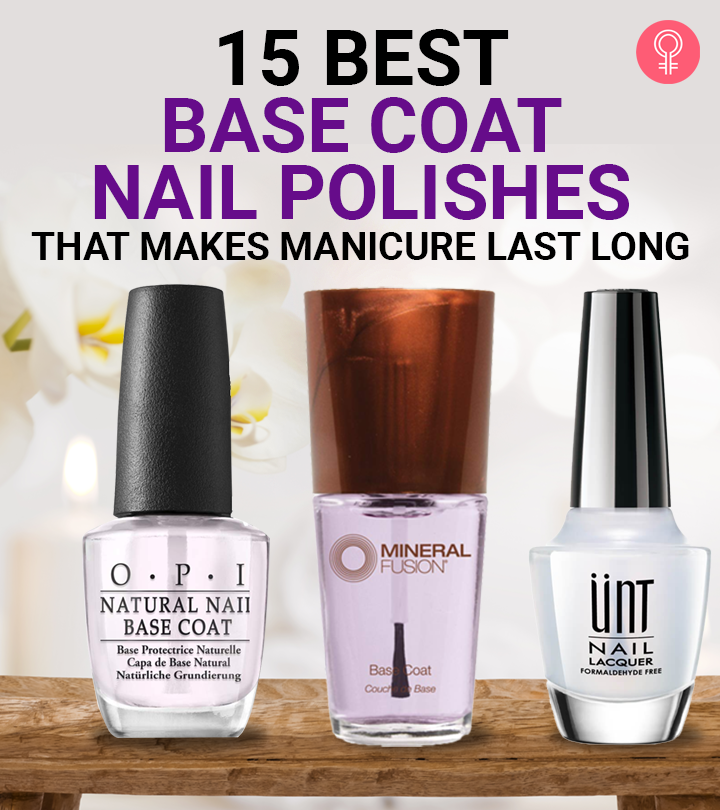 If you are looking for the best base coat nail polish, we got you covered! While nail paint can add that pop of color to your nails, a good base coat can help you make it last longer. It fills in the unevenness of your nail bed and provides that smooth, clear, and flawless canvas for your nail art. A good base coat not only strengthens your bare nails but also protects them from excessive chipping or cracking.
Formulated with essential proteins and vitamins, these transparent nail polishes nourish your nail bed, and help prevent any stains or residues as well. If you have been waiting to try that DIY nail art at home, pick any of the 15 options listed below, to get the fun started.
15 Best Base Coat Nail Polishes
This base coat nail polish from Mineral Fusion strengthens your nails, protects them from breakage and chipping, and stimulates their growth. This base coat is free from harmful ingredients and hypoallergenic. Apply this base cost only once before applying nail polish. The bottle is available in a pack of 0.33 ounces.
Pros
Strengthens the nails
Stimulates growth
Gluten-free
Paraben-free
Vegan
Fragrance-free
SLS-free
Phthalate-free
Camphor-free
Cons
O.P.I Natural Nail Base Coat seals in the natural color of the nail and creates a smooth base for nail lacquer. It is a favorite among salon and makeup professionals. This base coat has a thin consistency, making it easy to apply. You can wear it as a nail enamel to get a natural manicured look. It has a light pink hue that neutralizes the yellowing of nails. It is a perfect product that dries in 4-5 minutes. Watch this video for a thorough understanding of the product.
Pros
Prevents chipping
Neutralizes yellow color of natural nails
Glides on easily
Long-lasting protection
Easy to apply
Quick-drying formula
Prevents staining
Cons
UNT offers an awesome peelable shimmery base coat that is perfect for girls who love to change nail colors very often and do not prefer a nail polish remover. You can gently peel it off with a cuticle stick to get stain-free nails. Its formula is 10–free and does not contain formaldehyde, toluene, DBP, formaldehyde resin, camphor, xylene, and ethyl tosylamide. It is easy to use and worth it if you want chip-free and healthy nails. Click here to check out a detailed personal review of this product.
Pros
Dries quickly
Easy to apply
Peels off easily
Prevents staining
10-free formula
Non-glue formula
Cons
Seche Clear is the perfect choice for extending the life of your perfectly manicured natural nails and extensions. Its crystal-clear base formula seamlessly bonds gel, silk, or acrylic nails for a natural finish. It adds strength to weak nails and provides a shield against further damage. This base coat protects the nails from staining and yellowing too. Here's a review video to help you get a better understanding of the product.
Pros
Fast-drying formula
Easy to remove
Vegan
Cruelty-free
Triclosan-free
Sulfate-free
Phthalate-free
Paraben-free
Cons
This salon-quality base coat from Essie provides a smooth base for your favorite nail colors. It is enriched with adhesion that bonds the lacquer to the nail surface and extends the life of the manicure. It dries quickly and adds shine while strengthening your nails.
Pros
Long-staying
Chip-resistant
Protects nail color
Easy to remove
Protects the nails
Cons
This Revlon base coat is a gel-based formula that glides on smoothly and gives you flawless nails. It dries quickly and protects against chipping and yellowing to make your nail color last long. It is also free of formaldehyde, toluene, DBP, formaldehyde resin, and camphor. This base coat gives your nails a smooth and glossy shine.
Pros
Chip-resistant
Value for money
Quick-drying formula
Prevents staining
Glossy finish
Long-lasting results
Cons
None
This base coat nail polish from CND features a smooth and thick consistency with a rich, soft, luxurious texture. It has a light sea-green tint, is a 3-free formula, and promotes healthy nails. The special blend of ingredients used in this product enables the nail polish to anchor well to the nail, preventing it from flaking or chipping. Its long bristle brush offers seamless application.
Pros
Improves shade vibrancy
Prevents staining
Resistant to daily wear and tear
Lightweight
Cons
The Orly Bonder Base Coat, with its rubberized transparent formula, extends the life of your manicure by 2 weeks. It is quick-drying and offers complete protection to your nails against stains and harmful chemicals without leaving any streaks or residue. It serves as a UV inhibitor and prevents color fading and dull-looking nails.
Pros
Long-lasting
Adds shine
Promotes nail sturdiness
Sheer tint
Value for money
Cons
The clear base coat formula from Cuccio creates a suitable canvas for colorful nail art. The rich binding consistency bonds the polish to the nails and brings out the color vibrancy that you desire. This product can also be used as a top coat to protect your manicure.
Pros
Highly effective
Strong binding layer
Prevents peeling and chipping
Wider coverage
Stylish bottle
Travel-friendly
Cons
The dual-function Ellie Chase All You Need Top And Base Coat is perfect for everyday usage. It primes the nail surface so that your nail polish glides on effortlessly. The base is clear and gives a glossy finish, which lasts almost a week. This base coat prevents staining and provides an optimum base for a color application while the top coat enhances shine and protects nails from wear and tear.
Pros
Can be used as a top coat
Toluene-free
Formaldehyde-free
Formaldehyde resin-free
Camphor-free
DBP-free
Acts as color enhancer
Prevents staining
Cons
This base coat nail polish from Ella+Mila cares for your nails and forms a protective layer over them. It fills the ridges between the nails for a smooth and even canvas. This formula is 17-free and does not contain camphor, formaldehyde, bisphenol-A, parabens, phthalates, sulfates, toluene, xylene, formaldehyde resin, or gluten. It is also completely vegan.
Pros
Vegan
Cruelty-free
Chip-resistant
Prevents discolorations
17-free formula
Long-lasting
Dries quickly
Cons
This China Glaze base coat sticks the nail polish well to your nails. It enables your manicures to last longer and look quite attractive. The formula is DBP-, toluene-, and formaldehyde-free. This blend delivers the ultimate protection that your nails require to stay healthy and safe from harsh chemicals and pollutants. A single coat is recommended to be applied to bare nails and dried before applying the nail polish.
Pros
Long-lasting
High-quality materials
Fine brush
Does not peel off
Nail-friendly formula
Fast-drying formula
Cruelty-free
Cons
The Maxus Base Coat offers a glossy finish to your nails. This nail polish base coat strengthens the nails, preventing the edges from breaking, cracking, or peeling. With this base coat, there are no more worries about weak and brittle nails. Infused with the goodness of amino acid and tea tree oil, it offers protection from bacterial and fungal infections. All the ingredients are plant-based and cruelty-free. This base coat also traps in moisture, keeping your nails well hydrated.
Pros
Maximum nail protection
Facilitates nail growth
11-free formula
Paraben-free
Sulfate-free
Phthalate-free
Gluten-free
Sustainable formula
Vegan
Cons
Does not prevent staining
This clear base coat has a gel-based formula that fills the ridges on your nails. It creates an excellent foundation for nail polish. This ensures long-lasting manicures and pedicures as the nail polish attaches firmly to the gel base coat. The strong bonding enamel pigments protect against the yellowing of the nails. This product is free from 12 harmful ingredients.
Pros
12-free formula
Hydrates the nails
Vegan
Residue-free
Fast-drying formula
Cons
Makes the nail ridges noticeable
Probelle Hydrating Base Coat, enriched with vitamin E and keratin, repairs and nourishes your nails. Vitamin E restores lost moisture and keeps your nails well hydrated, while keratin helps repair and strengthen the nails. This product gives your nails a glossy, smooth finish. It does not contain formaldehyde, toluene, and DBP.
Pros
High-gloss nail treatment
Safe ingredients
Hydrating formula
Dries quickly
Cons
This base coat from Zoya is highly effective in filling the ridges on nail surfaces. Its fiber-like formula uniformly bonds with the nail surface, creating a smooth canvas for nail art. Its 3-free formula is effective in nail care treatments and repairing dull, damaged, and brittle nails. This base and top coat nail polish is among the longest-wearing natural nail polishes in the world.
Pros
Superior quality
Eliminates residue
Evens out the texture of nails
Chemical-free
Protects against pollutants
Non-discolorant
Does not stain nails
Cons
Why Trust Stylecraze
The author, Baishali Bhattacharya, is a certified image consultant and makeup artist who strives to provide her readers with products that help them look their best. After researching multiple products, she has shortlisted some of the best base coat nail polish in this article. She also sifted hundreds of user reviews online to handpick the top choices. The selected base coats provide a smooth canvas for your nail color, helping it stay longer.
Recommended Articles