13 Best Baseball Caps For Women That Look Stylish And Cute
Look all-set for your baseball game this season with these classic headgears.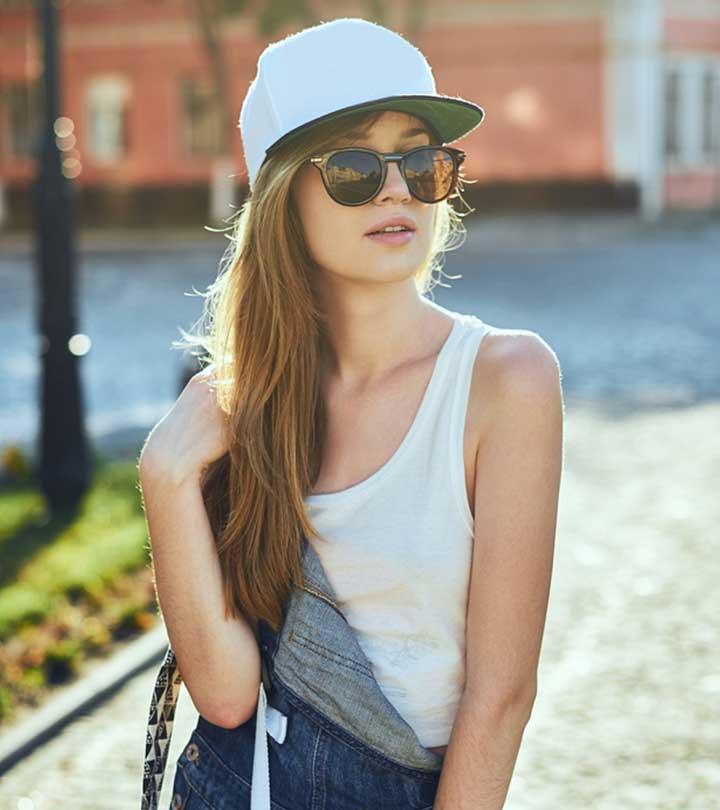 Baseball caps are one of the best accessories to nail the cool, casual look. They are best for the lazy days when you want to look effortlessly chic without doing much. Baseball caps add an easy-going vibe and go well with jeans, jumpsuits, leggings, sweatpants, and almost anything! Besides, they are your saviors on bad hair days and a wardrobe must-have for all. Keep scrolling to check out the 13 best baseball caps for women to pull the cool-casual look.
Fashion Designer, Raluca Oita, suggests, "A baseball cap is a must-have accessory for any fashion-savvy individual.The key to mastering the baseball cap look is all in the styling. Accessorizing is a must when styling a baseball cap. Add a pair of sunglasses, a watch, or a necklace to add a touch of personality and elegance. Alternatively, you can use a baseball cap with a bold pattern or logo as a statement piece to add a pop of interest to your outfit. The key is to use it as an accessory and to not overdo it."
Top Picks
The 13 Best Baseball Caps For Women
Pros
Elastic closure
Machine Wash
Easy fit
Sun protection
Made with recycled and renewable materials
Cons
Price at the time of publication: $24
Pros
Customizable
Adjustable back
Vintage
Breathable fabric
Durable
Lightweight
Cons
Price at the time of publication: $26.99
Pros
 100% cotton
 Adjustable strap
 Comfortable fit
 Breathable mesh
 Durable
 Lightweight
Cons
Price at the time of publication: $19.99
You can not go wrong with the vintage washed style of the Furtalk Vintage Washed Distressed Baseball Cap. This premium quality 100% cotton cap is thick, lightweight, breathable, environment-friendly, and skin-friendly. It is available in three sizes – M, L, and XL – to fit all head sizes while ensuring comfort. The super-absorbent cloth used in the cap makes it ideal for outdoor sports activities. The cap has a flexible brim that you can adjust to your liking, embroidered eyelets for added comfort, and cotton sweatbands to absorb sweat.
Pros
 Lightweight
 100% cotton
 Durable
 Adjustable metal buckle
 Comfortable
 Reasonably priced
Cons
None
Price at the time of publication: $14.89
Pros
Designed with curved visor and brim
Comfortable
Made with cotton twill
Breathable
Lightweight
Available in 6 colors
Cons
Color may slightly differ
Price at the time of publication: $21.95
If you love to keep it simple and sweet, you will love the KBETHOS Original Classic Low Profile Cotton Hat. It has an adjustable metal buckle closure, feels lightweight, and is breathable and durable. The cap has a soft texture, and the fabric stretches slightly for a comfortable fit. Its pre-curved visor, six-paneled design, and six embroidered eyelets add to the comfort levels and make it a perfect companion for all-day wear.
Pros
 100% cotton
 Durable
 Lightweight
 Breathable
 Adjustable strap
 Comfortable
 High-quality stitching
Cons
Price at the time of publication: $12.5
Pros
Adjustable strap
Comfortable
Color options
Wide square brim
Lightweight
Breathable
Cons
Price at the time of publication: $25.95
The Mission Cooling Performance Hat works along with your body's natural cooling mechanism to keep your head comfortable during the sultry summers. This water-activated cap can cool your head 30° below the average temperature. You have to wet the cap, wring and wave it, and wear it. Thanks to its strategically placed panel cooling zones, the cap remains cool for about two hours. It is made of moisture-wicking fabric and has an ergonomically designed cooling hat band. The cap is incredibly lightweight, and the adjustable hook and loop tab allows the perfect fit.
Pros
 Lightweight
 Has cooling panels
 Adjustable hook and loop closure
 Machine washable
Cons
 Poor velcro closure
 Runs small
 Small brim
Price at the time of publication: $19.88
The Mommy Jennie Unisex Vintage Dad Hat is a stylish yet affordable vintage-inspired option for you. This 100% cotton cap has a buckle closure system and is soft, durable, lightweight, comfortable, and smooth. Its height is 4.72 inches and perfectly fits all head sizes. The cap has a pre-curved visor, six embroidered eyelets, and a six-paneled design. The fabric stretches slightly and feels soft against the skin. The cap is washable, dries quickly, and does not lose shape.
Pros
 Stylish
 Affordable
 Durable
 Lightweight
 Breathable
Cons
 Color bleeds
 Visor may poke the forehead
Price at the time of publication: $13.99
Pros
Snug fit
Flexible
Soft
Easy to store
Cons
The Hat Depot Low Profile Hat Baseball Cap is crafted with 100% cotton that is cozy and comfortable, providing the perfect fit for daily activities. This washed, low-profile baseball cap has a buckle closure and is suitable for kids as well as adults. It is made of soft, comfortable fabric, has a great fit, and is perfect for kids when they go for their outdoor activities. It also provides protection from the harmful ultraviolet rays of the sun. This dad hat comes in a variety of bright colors and is easy to crush and pack for your kids. For the age group 2 to 3 years, the crown measures 3.5 inches and the curved seamed bill measures 2.5 inches, while for the age group 6 to 9 years, the crown measures 4 inches and the curved seamed bill measures 2 ⅝ inches. The cap is wind-resistant and can be worn day or night. This adorable, stylish hat with its simple design will match most outfits.
Pros
 Perfect fit
 Adjustable strap
 Child and adult sizes available
 Comfortable
 Sun protection
 Wind-resistant
 Stylish
 Color options
Cons
 Too big
 Crooked top seams
Pros
Water-repellent
UV protection
Strapback closure
Lightweight
Fast-drying band
Comfortable
Cons
Price at the time of publication: $95.23
Pros
Available in sizes and
Multiple color options
UV protection
Lightweight
Breathable
Snap closure
Great gift
Easy to clean
Cons
Price at the time of publication: $25.99
While all the baseball caps may appear similar, you need to consider a few smaller details before picking one. Here are a few tips.
Things To Consider When Choosing A Baseball Cap
1. Material: Look for natural fabric like cotton and make sure the cap feels soft and lightweight. Cotton caps ensure ventilation and keep your head comfortable.
2. Closure System: Go for an adjustable closure system. Tha way, it will be easy for you to get a proper fit. You may choose from straps, buckles, velcro, or a snap system.
3. Fit: Usually, baseball caps fit all heads, thanks to the adjustable closure. However, check the circumference and depth if you have a smaller head. The cap should not be too loose and drooping.
4. Ponytail Hole: This is an additional feature you may look for if you want to sport high buns or ponytails while wearing the cap. Usually, the opening above the straps can accommodate low ponytails.
5. Reviews: Check the user reviews to understand the color, fit, fabric softness, and durability of the cap. This is crucial when you are buying it online.
Why Trust StyleCraze?
The author of this article, Baishali Bhattacharya, is a certified image consultant and fashion expert. She likes to experiment with her looks and try out new trends and styles. Here, she has curated a well-researched list of the most stylish baseball caps for women. The caps mentioned in the list are comfortable to wear, lightweight, and made of breathable fabric. They can be paired with jeans, tees, sweatpants, and leggings.
Frequently Asked Questions
What is the difference between men's and women's baseball caps?
Most of the baseball caps are unisex. However, women's caps tend to be a bit smaller than men's caps.
Should a baseball cap cover the ears?
No. Baseball caps should rest right above the ears.
What are some simple outfit formulas for wearing a baseball cap?
You can style your outfit with a baseball cap in many ways. You can wear a beige color basketball cap with a white tank top and a beige short along with white sneakers. You can also wear a baseball cap along with a long winter coat or a short dress.
How should I wear my hair with a baseball cap?
You can opt to keep your hair loose or in a ponytail while wearing your baseball cap.
How tight should a baseball cap be?
Your baseball cap should mould onto the shape of your head without being too tight.
Recommended Articles: