12 Best Bath Bombs For Kids With Amazing Toys Inside – 2022
Make your child's bath time fun and relaxing with handmade and vegan products.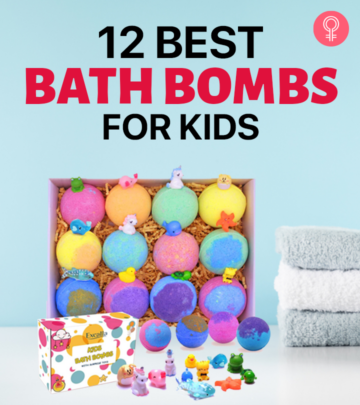 Looking for something to jazz up bath time for your kids? Pop down to your favorite store and ask for the best bath bombs for kids! These little gems, when mixed in the bath, give off a wonderful scent that relaxes your children's nerves. To top that off, these bath bombs contain little toys, which make bath time an adventure for your kids. Take a look at our list of the top bath bombs for kids you can buy!
Safety Measures While Using Bath Bombs For Children
Ensure the water is not swallowed by the child.
Avoid eye contact with the colored water.
The surprise toys inside may pose a choking hazard for little children, so supervision is essential.
Avoid over-soaking in the bathwater.
If bath bombs cause irritation, discontinue use immediately.
Let's now take a look at the 12 best bath bombs available for kids.
12 Best Bath Bombs For Kids
The Mineral Me California Jungle Safari set comes with 12 bath bombs, each with a different jungle toy inside. The bath bombs contain shea butter, bath salts, and essential oils that deeply relax and moisturize sensitive skin. They turn the water into various bright colors with lots of bubbles and fizz when held under running water. The child-friendly fruity fragrances of these 100% organic bombs give a spa-like aromatherapy experience to calm and soothe children aged three and above.
Pros
Handmade
Vegan
Natural fragrances
Non-staining
Artificial color-free
Cons
Crumble easily
Poor quality toys
The Aofmee Bath Bombs are crafted with handmade bombs that are cruelty-free and glitter-free. This set of uniquely crafted six bath bombs contain a toy inside each bomb to surprise the kid. These fizzy bath bombs contain shea butter, cocoa butter, and essential oils that moisturize, soften, soothe the kid's skin. The fruity fragrances and vibrant colors make bath time an exciting event for the kids. This is suitable for children over 3 years of age.
Pros
Gentle
Handmade
Cruelty-free
Glitter-free
Suitable for children over 3 years of age
Cons
The Excalla bath bombs set includes 12 fizzy balls, each containing a surprise toy revealed on dissolving. They are made from child-safe ingredients and essential oils with moisturizing properties to keep the skin soft and hydrated. These bath bombs for kids are infused with 12 natural fragrances like mint, strawberry, vanilla, lavender, etc. The assorted fizzies also have therapeutic benefits to soothe and calm children before bedtime. They color the water with delicate hues that do not stain the skin or the tub.
Pros
Handmade
Non-staining
Cruelty-free
Oil ring-free
Cons
The bath bombs from Two Sisters activate underwater pressure from the tub faucet to release maximum bubbles. There are various surprise treasures hidden inside each ball, like mini-figures, cars, water guns, and mini-puzzles to add a fun element to bath time. These bath bombs are crafted from natural, child-safe ingredients and do not stain the skin or the tub. They contain Epsom salt and extra virgin olive oil to detox and nourish the skin while promoting melatonin release for a peaceful sleep. This set of six has kid-friendly fruity fragrances like cherry, citrus, banana, fruit loops, berry, and grape.
Pros
Vegan
Handmade
Gluten-free
Nut-free
Phthalate-free
Cruelty-free
GMO-free
Cons
The 12 bath bombs set from Mineral Me California include various sea animal toys. They contain soothing essential oils, cocoa butter, and shea butter to gently moisturize and nourish sensitive skin. The bath salts relax tired muscles and promote peaceful sleep. The superior quality, natural ingredients do not stain the skin or the tub and have a no-tears formula. These fizzy balls add fun and excitement to your kid's bath time with a pleasant aroma and exciting colors.
Pros
Handmade
Gentle
Vegan
Natural fragrances
Non-staining
Artificial color-free
Cons
The Eco Time multi-colored bath bomb set has 6 large balls containing an exciting surprise to add thrill to your kid's bath time. They release vivid colors and lots of bubbles into the warm water while infusing the air with natural fragrances like sweet orange, lavender, green apple, cotton candy, bubblegum, and sweet strawberry. Organic ingredients like Epsom salt, shea butter, essential oils, and vitamins A and E cleanse and moisturize delicate skin.
Pros
All-natural ingredients
Handmade
Allergen-free
Paraben-free
Cons
The Premium Nature Bath Bombs are loaded with the goodness of shea and cocoa butters, Dead Sea and Epsom salts, and essential oils to moisturize and soften the skin and combat dry skin issues. They have healing properties, release colorful bubbles, and leave a long-lasting fragrance. These vibrantly colored bath bombs for kids offer a unique aromatherapy experience and have a surprise toy inside. Immerse them in a tub of warm water to release soothing agents that refresh and calm tired muscles.
Pros
Vegan
Toxic color-free
Natural fragrance
Cons
The Santrela Bath Bombs Set includes 12 handmade bath bombs. Each bath bomb contains a surprise toy to entice the kids. These no-stain bath fizzers are made with safe and organic ingredients that are gentle on the kids' skin and don't leave stains. Each bath bomb has a unique color and is assorted with a special fragrance that makes kids' bath time fun and playful.
Pros
Safe and organic ingredients
Handmade
Gentle
No stains
Cons
May not dissolve properly sometimes
The Pure by Rachelle Parker multicolored bath bombs provide an explosion of bubbles and color in the bathtub. They are enriched with a special mix of Epsom salts, essential oils, and other natural ingredients that help relax, soothe, and moisturize the skin, leaving it smooth and soft. They fizz away to reveal a surprise toy while coloring the water to make bath time exciting. These bath bombs for kids are infused with 12 innovative scents like watermelon, eucalyptus, rosemary, cinnamon, pineapple, etc. They also calm the senses and relax tired muscles.
Pros
Long-lasting
Non-staining
Safe colorantsHandmade
Paraben-free
Sulfate-free
Cons
None
No products found.
The Ideas4comfort bath bombs are individually packed in bubble wrap bags and gift boxes, making them ideal for gifting. These extra-large bombs are enriched with shea butter and essential oils to moisturize and hydrate delicate skin. They are packed with fun fragrances like sleepy lavender, wild banana, fresh strawberry, sour lemon, sweet watermelon, and deep ocean. The warm tub water activates the bath fizzies to release brightly-colored foam and bubbles with a surprise plastic toy.
Pros
Non-staining
Eco-friendly
Vegan
Paraben-free
Phthalate-free
Cruelty-freeGluten-free
GMO-free
Harsh dye-free
Cons
This set from Relaxcation has 12 multicolored, handmade, all-natural bath bombs packed with the goodness of essential oils. They infuse the bathwater with vibrant colors and exciting aromas, like lavender, bubble gum, candy crush, fruit loops, cotton candy, etc. These bath bombs are enriched with Epsom salts, apricot kernel oil, and vitamins A and E. They gently moisturize the skin while providing a new experience with every bath time.
Pros
Non-allergic
Dye-freeGluten-free
Phthalate-free
Paraben-free
SLS-free
Cruelty-free
Vegan
Cons
The Relaxcation Bath Bombs are handcrafted from natural ingredients to ensure they are allergy-free and irritant-free and suit a child's delicate skin. This set includes six brightly-colored balls that dissolve to reveal cute puppy toys. They are infused with kid-friendly scents like lavender, cocoa kiss, cotton candy, monkey farts, bubblegum, and candy crush. They add excitement and fun to bath time. The bath bombs contain Epsom salts, olive oil, and coconut oil that leave the skin soft and moisturized.
Pros
Non-allergic
Vegan
Handmade
Paraben-free
Phthalate-free
Dye-free
Gluten-free
SLS-free
Cruelty-free
Cons
None
Bath bombs come into direct contact with your little ones' sensitive skin. Therefore, it is important to keep the below-mentioned factors in mind while choosing one.
How To Choose The Right Bath Bombs For Kids
Fragrances: Artificial scents can be too strong for children. Try to choose bath bombs that have child-friendly fragrances.
Ingredients: Choose bath bombs that use natural and organic ingredients so that they do not irritate your child's skin.
Recommended age: Bath bombs are generally suitable for children above the age of three. Read the age -limit label to ensure your child's safety.
Themes: Most bath bombs have themed surprise toys hidden inside. Choose the ones that match your child's interests.
Why Trust StyleCraze?
The author, Shiboli Chakraborti, is a certified skin care coach. She has curated the list of best bath bombs for kids with a special focus. For this, she has conducted hours of research to understand the needs of kids and curated the list of best ones that are suitable for even the sensitive skin types. These products are safe and free from skin-irritating ingredients.
Frequently Asked Questions
Are bath bombs OK for five-year-olds?
Yes, bath bombs are considered safe for children above three years.
At what age can you use Lush bath bombs?
Lush bath bombs are gentle on the skin and can be used by children over six months under supervision.
Can I use a 2-year-old bath bomb?
It is not recommended to use a two-year-old bath bomb. After six months, bath bombs begin to lose their fizz and can also become harmful to the skin.
Do bath bombs clean your kid's skin?
Yes, many bath bombs contain hypoallergenic formulas that cater to your kid's sensitive skin and clean it thoroughly.
Why do bath bombs fizz for kids?
Bath bombs comprise two ingredients namely citric acid and sodium bicarbonate which dissolve in water and create a delightful fizz.
Recommended Articles