11 Best Bath Products For A Spa-Worthy Soak At Home – 2022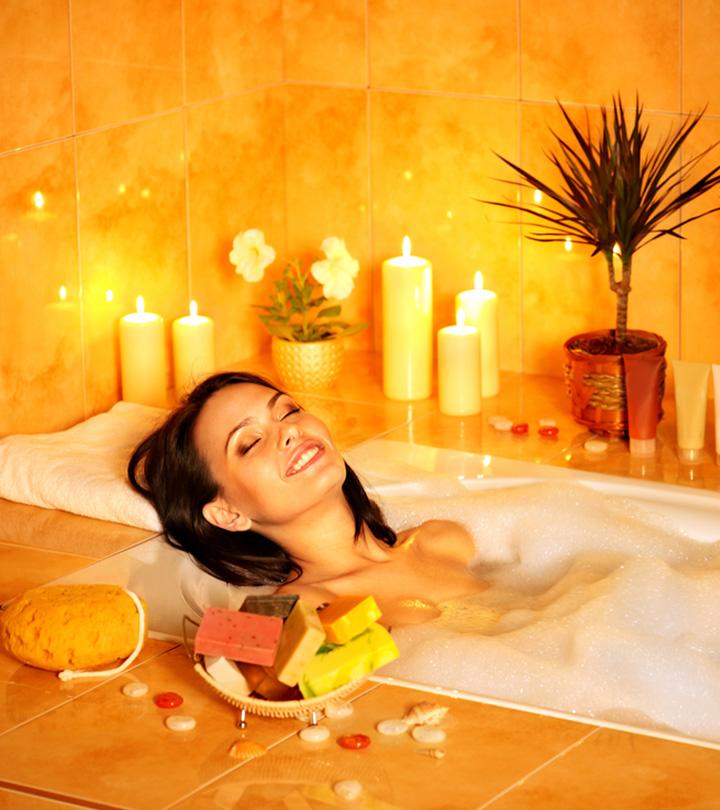 There is nothing as relaxing as taking a long bubble bath. It helps de-stresses you, improves your mood, and makes you feel refreshed. But are you using the best bath products? If not, this feeling of relaxation could be short-lived. Your skin may turn dry and irritated if the products you use are not made for your skin type. You may even risk worsening your existing skin conditions if you do not choose the right products. So, how do you choose the right bath products? What are the points to be kept in mind?
Well, it is all about choosing products with aromatic essential oils and other skin-friendly ingredients. Ideal bath products contain rich hydrating ingredients that aid skin rejuvenation and muscle relaxation. In this article, we have brought to you the 11 amazing and most effective bath products that calm your mind and improve your skin. Read on for more information!
11 Best Bath Products For Your Self-Care Routine
A bubble bath with this bath product will leave your mind and body at ease as your body soaks the goodness of it. This relaxing bath product combines the benefits of eucalyptus and spearmint infused pure epsom salt and essential oils for a calming and soothing bath experience. You will feel your tired muscles relaxing and your skin getting moisturized and healthier. This bubble bath product gently cleanses your body and enhances your sleep with the soothing effects of lavender essential oil.
Pros:
Moisturizes and nourishes
Alleviates muscle soreness and aches
Promotes better sleep
Aids in stress relief
Cons:
Offering long-lasting bubbles, this hypoallergenic bath and beauty product gently cleanses and nourishes your skin. Its rich-lathering gel infused with coconut oil, chamomile, aloe leaf juice, lavender, and lemon balm offers a spa-like experience at home for you, leaving your skin soft and smooth. The formula is 100% vegetarian and contains no harsh sulphates, phthalates, or parabens, and this amazing cruelty-free bath product can make you feel relaxed and beautiful inside-out.
Pros:
Controls dandruff
Helps prevent seborrheic dermatitis
Paraben and sulphate-free
Cruelty-free
Hypoallergenic
Cons:
If you belong to the category of those who do not really enjoy baths, this natural bath product is sure to change your anti-bath notions. Curated with natural resources, this cruelty-free bath product contains aloe vera, plant proteins, lemon peel oil, lavender oil and extracts, and lime oil that not only cleanse but also restore the health of your skin. The non-drying botanical ingredients work well on dry skin to make it soft and smooth. Give this biotic formula a chance and it will help soothe and calm your mind, body and soul.
Pros:
Cruelty-free and vegan
Non-GMO ingredients
Soft and smooth skin
Restores dry skin
Paraben-free
Cons
After a long tiring day at work, all you would look forward to would be a refreshing bathing experience. If you relate to this, add this luxury bath product straight to your shopping cart. It is infused with jojoba seed oil that moisturizes your skin and calms your body and mind with its herbal scent. It restores dry skin without causing any irritation and by locking in moisture to keep it hydrated for longer hours. If you want your skin to feel soft and supple, say yes to this bath oil.
Pros:
Silky smooth skin
Soothes dry skin
Retains moisture
Doubles as a bug repellant
Cons:
Some may find scent overwhelming
If you wish to enjoy a fresh flowery scent and feel your tension melt away with the magic of bubbles, this bath product is all you need. It has a fresh, delicate scent of white tea leaves and jasmine petals that help promote relaxation. It is concocted with skin-loving ingredients like shea butter, aloe vera, milk proteins, peach leaf extract, and orange fruit extract that deeply condition your skin to replenish and restore its natural texture. The vitamin E present in it repairs and protects the skin from damage. Include this in your bath and shower products list and give yourself a lush bubble bath.
Pros:
Cruelty-free and vegan
Repairs and protects skin
Hydrates your skin
Makes your skin ultra-soft
Cons:
If you plan to encourage your kids to take bath, get into that bath tub with your kids, splash some water on them and simply have fun with this baby-safe product. This natural bath product is suitable to use in hard water. Enriched with oils of argan, coconut, and aloe vera, and shea butter, it not only gives you an amazing bathing experience with soothing lavender scent but also a supple and soft skin. Its key ingredients that include essential oils of lavender, chamomile, eucalyptus, grapefruit, peppermint, rosemary, lime, orange, and lemon add moisture to even the delicate skin of your babies, ensuring they grow up with soft and healthy skin.
Pros:
Paraben and sulfate-free
Cruelty-free and vegan
Alcohol and gluten-free
pH balanced
Cons:
Some may find it less bubbly
You may forget about self-care when you are busy taking care of your family and managing work. However, this cruelty-free bath product is a gentle reminder for you to prioritize self-care. Give yourself a break to boost your confidence, and stay calm and positive with this bubble bath product. The arnica bath salts that are known to have been used for hydrotherapy treatments can relax your sore muscles and joints. It also has high levels of thermal spring salt which is extracted through traditional methods from the salt deposits of the ocean. It also offers aromatherapy and is suitable for color therapy sessions.
Pros:
Dermatologist-tested
Silicone-free
Cruelty-free and vegan
No mineral oils
Cons:
May not be suitable for everyday use
Muscles tend to get exhausted after a workout regime. If that's you every time you hit the gym, bounce back with full energy with this relaxing bath product. Infused with oils of clove, thyme, lavender, juniper, rosemary, and sea salt, this bath soak is specifically formulated to relieve and relax aching muscles and joints. Its milk formula soothes your body and senses and puts your mind at ease in seconds. All you need to do is add 3 capsl of the product in your warm water bath and focus on abdominal breathing for a few minutes for added relaxation.
Pros:
Re-energizes body
Contains antioxidants
Instant relief from muscle pain
Uplifts mind and body
Cons:
Give yourself the chill pill you need with this bubble bath product made with organic, sun-drenched verbena extract which is known to be antiseptic and also high in emollient properties. This helps stimulate and restore your skin texture. The powerful combination of this organic verbena extract and coconut and palm oil make for a great tonic for your skin. A smooth bubble bath with a citrusy fragrance is not just refreshing but also invigorating.
Pros:
Silky bubble bath experience
Soothing and soft skin
Antiseptic and emollient properties
Repairs skin
Cons:
If you are looking for a quick getaway from the harsh realities of life, you do not have to board a flight and travel far to some hill station. Try this natural bath product and step into your bathtub filled with delicate, fragrant bubbles for relief from your anxiety. Made with Himalayan pink salt infused with vitamins and minerals, this moisturizing bath product helps to heal and soothe your skin with deep conditioning. The therapeutic ylang-ylang essential oil and vanilla extract calm your senses and help you mentally drift off to your favourite holiday destination without having to splurge.
Pros:
Calms skin irritation and breakouts
GMO-free
Contains certified organic ingredients
Deep moisturization
Cruelty-free and vegan
Cons:
Some may find the scent a little overwhelming
During pregnancy, stress can affect your baby too. So, lay out a bath pillow, light some candles, play some music, and linger for longer in your bathtub with this pregnancy safe bath product. The blend of epsom salt, dead sea salt, baking soda, oats, arnica oil, plantain oil, comfrey oil, and lavender oil can help you relieve pain and reduce inflammation. This formula hydrates your skin, reduces appearance of stretch marks, relieves nausea, and relaxes the body. The robust bath salts in it speed up postpartum recovery and can help improve your sleep.
Pros:
Hypoallergenic
Non-GMO and gluten-free
Alleviates muscle and joint pains
Helps with postpartum recovery
Improves sleep
Soothes dry, itchy skin
Cons:
May not be suitable for extremely sensitive skin
It is important to get all things right when you prepare your bubble bath for the most relaxing experience. Here are the things you need to keep in mind when you are choosing the best bath products for yourself.
How To Choose Best Bath Products For Your Skin
Ingredients matter a lot. We recommend you choose a bath product which has ingredients that can help nourish your skin while helping you to unwind. Apart from de-stressing benefits, ingredients like verbena provide relief from clogging of pores, epsom salt can treat acne, and shea butter can soothe your skin.
Look for a non-irritating, hypoallergenic, and non-comedogenic formula, especially if you have a sensitive skin so it not only gives you relief from body and muscle pains but also nourishes your skin without leading to any irritation or other allergic reactions.
Bath products come in an array of fragrances like vanilla, lavender, lemony, and chamomile that can relieve your stress and relax your mind and body. So, choose the kind of scent that is your personal favorite for the most soothing experience.
Why Trust StyleCraze?
The author, Kirtana Divakar, is a skin care enthusiast who loves trying out new products to enrich the health of your skin. She has done in-depth research before recommending these top bath products. She has gone through various beauty and skin care forums to make sure you get to select from only the best! These bath products are enriched with skin-nourishing natural ingredients. All products included in the product list are safe for the skin.
Frequently Asked Questions
Do you really have to rinse off after an epsom salt bath?
It is important to rinse off after an epsom salt bath with a cool shower so that you wash away any excess salt and maintain the pH balance of your skin.
How long should a relaxing bath be?
It is recommended to set your relaxing bath time to be between 15 and 30 minutes. You can stay in longer but it can dry out your skin.
Recommended Articles: