12 Best Bath Salts Available In India – 2023
Step out refreshed with these physically and mentally relaxing soaking solutions.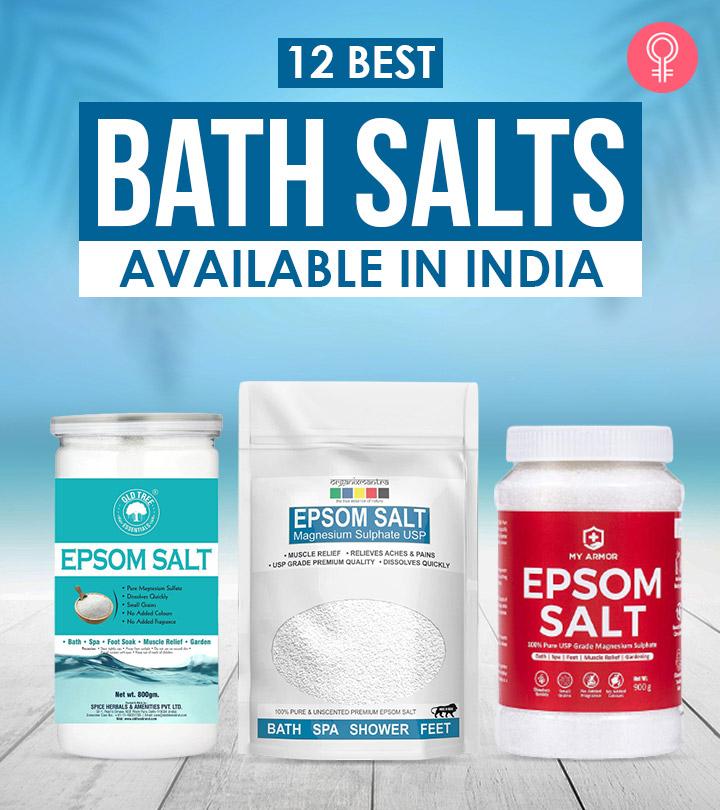 A good bath truly lifts your mood, soul, and spirit. Salt is a great natural healer, and mixing it in your baths can give you a soothing shower experience, improve your skin, and relieve mental fatigue. Bath salts are minerals dissolved in water that improve your skin texture, reduce muscle pain, and enhance the joy of bathing. They have been used as healing ointments since 3000 BC and are still popular today. Scroll down to check out the 12 best bath salts available in India that can lighten your fatigue and beautify your skin.
12 Best Bath Salts Available In India
Make your shower experience pleasurable with the pain-relieving Organix Mantra Epsom bath salt. It acts as an antimicrobial agent to eliminate bacteria and fungi. This salt also alleviates tiredness, aching, and itching while calming your mind. It triggers reverse osmosis in your skin to flush out harmful toxins, leaving you feeling fresh. It is unscented to ensure no allergies and irritation. Use this salt during your shower to soothe your aching body and get a new boost of energy.
Pros
 USP-grade
 Unscented
 A little goes a long way
Cons
 Not for oversensitive skin
Body pain and muscle tension are now things of the past with Old Tree Epsom Salt. It has high-quality natural ingredients and is mined under proper regulatory standards. This salt is readily absorbed by the skin and relieves muscle tightness. It also promotes the secretion of serotonin, a muscle relaxing agent, and reduces adrenaline impacts. This bath salt can be used as a scrubbing and exfoliating agent.
Pros
 Dissolves quickly
 Fine grains
 GMO-free
 Added color-free
 Added fragrance-free
Cons
None
The My Armor Epsom Bath Salt acts as a perfect shield and armor to fight muscle pain, sunburns, and skin dehydration. The rich combination of magnesium sulfate and silica gel keeps the skin fresh and hydrated. The bath salt is scent-free to ensure you have a pristine spa and shower experience. You can add a small amount of Epsom bath salt to warm water and soak your feet for a perfect pedicure. It gives you instant relief from tiredness and fatigue. You can use this salt for your garden plants to restore their green color and help them grow bushier.
Pros
 USP-grade
 Fragrance-free
 Dissolves quickly
 Fine grains
 Added color-free
Cons
None
The Epsom Salt from Healthgenie relieves your body from stress, pain, tension, and aches. It gets quickly dissolved in warm water and offers spa-like therapy. You can use the salt to clean skin pores, flush out body toxins, and detoxify your skin. The salt is loaded with highly beneficial minerals, such as sulfate and magnesium that help recharge your body and give it a dose of fresh energy. It exfoliates your skin, relieves muscle stress, and can be used to clean bathroom tiles. It is also beneficial for garden plants as a fertilizer and insecticide.
Pros
 Dissolves quickly
 Multipurpose
 Fine grains
 Comes in a resealable bag
Cons
Refresh and revitalize your soul and body with the Soulflower Lavender Bath Salt. The 100% pure salt comes with a mix of rich ingredients from the sea. It is enriched with lavender, vitamin E, and olive oil that enhance your skin and make it appear youthful. The salt is suitable for all skin types and provides quick stress relief while keeping the skin moisturized. It has a soothing light aroma and helps fight acne, scars, and dark spots.
Pros
 Gentle
 Suitable for all skin types
 Paraben-free
 Silicone-free
 Pleasing fragrance
Cons
None
Freshen your body and energize your mind with the Mamaearth Epsom Bath Salt. It gives a sense of comfort to your aching pulses and stinging solos. The salt is excellent for postpartum blues and contains magnesium that relaxes your muscles and lavender to calm your mind. It triggers reverse osmosis in your skin to oust harmful toxins. It relieves aching feet, helps pore cleaning, relaxes the muscles, aids skin detoxification, and makes your shower experience enjoyable.
Pros
 Dermatologically tested
 Hypoallergenic
 Dissolves quickly
 Non-irritating
 Paraben-free
 Sulfate-free
Cons
Expensive
The Nankings Lavender Bath Salt is enriched with Epsom salt and 100% pure lavender oil. It has relief and therapeutic qualities to ease stress and tension in your muscles. The Epsom salt gets rid of toxins on your skin and cleans the pores. Dissolve it in warm water to enjoy deep relaxation. Indulge in it after a hectic day at work and forget about cramping muscles or aching soles. It also gives a spa-like feeling to your skin.
Pros
 Gentle
 Dissolves quickly
 Smells good
 Value for money
Cons
None
The Dead Sea has been a soothing spiritual destination for ages, and the NutroActive Dead Sea Salt harnesses its qualities to alleviate skin conditions. It purifies your skin by getting rid of toxins and soothing conditions like psoriasis. This product contains a blend of 21 ancient and pure minerals that are highly beneficial for your skin and hair. It provides effective relief from arthritis, bone stiffness, and joint swelling. This salt also improves blood circulation for instant relief from soreness and fatigue.
Pros
 Gentle
 Non-irritating
 Suitable for daily use
Cons
The WishCare Pure Epsom Bath Salt contains high-quality natural minerals that are quickly dissolved in water and readily absorbed by your skin. It offers luster and hydration to your skin while easing pain and fatigue. The magnesium ions in the salt produce stress-relieving serotonin, which soothes your mood. This bath salt has medicinal and beauty benefits and can be used to clean your face, scrub your skin, and treat your scalp. It makes your shower experience pleasurable with a pleasing scent. It can also be used for your garden plants.
Pros
 Fragrance-free
 Preservative-free
 No added color
 Dissolves easily
 Value for money
Cons
The refreshing scent and skin-recharging properties of the Khadi Ayurvedic Herbal Bath Salt do wonders for your body. It gets easily dissolved in warm water to add glow and moisture to your skin. The salt has antiseptic, anti-inflammatory, and antifungal properties and can help heal sunburns, skin inflammation, and rashes. It comes with a refreshing geranium rose scent that relaxes your body, mind, and soul.
Pros
 Refreshing scent
 Ayurvedic ingredients
 Fine texture
Cons
None
The Himalayan Yogafy Pink Bath Salt ensures an excellent spa experience and provides body relaxation and pain relief. It releases valuable ions that detoxify your body by flushing out toxins. The salt is full of high-quality minerals to recharge your body, boost your metabolism, and heal your skin ailments. The bath salt attaches to your skin's upper layer and removes dryness by keeping it deeply hydrated for a long time. It is enriched with calcium and lactic acid to relieve cramps, aches, and stiffness. It also eliminates pains, acne, blisters, inflammation, and psoriasis.
Pros
 Fragrance-free
 Non-irritating
 Paraben-free
 Chemical-free
Cons
None
The Lavender Basil Bath Salt from Khadi Natural is a treat for tired muscles. It reduces aches and soreness, giving you quick relief after an exhausting day at work. The soothing scent and ingredients like aloe vera generate a feeling of freshness. The lavender bath salt helps soothe skin irritation and inflammation.
Pros
 Nice fragrance
 Dissolves easily
 Ayurvedic formula
Cons
 Not for sensitive skin
 May cause rashes
Before buying any of these bath salts, it is important to understand how they can help you. Keep scrolling for more information.
What Are Bath Salts And What Are Its Benefits?
Bath salts are a crystalline combination of minerals that have been pulverized. They are added to water during bathing sessions to ensure many medicinal and beauty benefits. These salts also help get rid of pain, fatigue, and soreness. Here are the essential advantages of using bath salts while having a shower:
 They detoxify, moisturize, and soften the skin to aid its rejuvenation.
 They heal body aches, muscle stiffness, and cramps.
 They reduce acne, burns, skin inflammation, and dark spots.
 They help you relax and boost your energy levels.
 They purify your skin, improve blood circulation, and reduce insomnia.
 They can help treat scalp issues.
Bath salts are highly sought after for their beauty and medicinal benefits. Listed below are the types of bath salts and their uses.
What Are The Types Of Bath Salts Available?
 Epsom Bath Salt: These are tiny crystals containing salts like sulfate and magnesium. They help in pain relief, skin exfoliation, and body detoxification.
 Dead Sea Bath Salt: As the name suggests, this salt comes from the Dead Sea in West Asia. It contains calcium, potassium, magnesium, and bromides. It is used to detoxify the skin, improve blood circulation, hydrate the skin, and for its anti-aging benefits.
 Himalayan Bath Salt: It is famously known as "Pink Gold." This salt is obtained from the ocean beds of the Himalayan mountains. It is more favored than Epsom and Dead Sea bath salts due to its low magnesium levels. This salt helps in relieving muscle aches and improves blood circulation.
Apart from these popular types, there are some lesser-known bath salts like ancient sea bath salt, Mediterranean bath salt, and solar salt.
Bath salts are simple to use and offer multiple benefits. Here is how you can use them in your shower and recharge your skin and mood.
How To Use Bath Salts
 Fill your bathtub with 2 cups of bath salt.
 Wait for a couple of minutes to let it dissolve completely.
 Soak your body and feet for around 30 minutes.
 You can also scrub the salt on your skin to exfoliate it.
 During the shower, you can mix it with oil and apply on the body.
 Rinse it off with water and pat your skin dry.
Here are a few things that you need to keep in mind before buying any bath salt.
What To Consider When Buying Bath Salts
The first thing to consider before buying a bath salt is your skin type. If you have tired-looking and dull skin, go for peppermint or rosemary bath salts as they help boost blood circulation and enhance the texture of your skin. For oily skin, bath salts that contain lavender work the best as they are gentle on the skin and help you relax. If your skin is dry or flaky, orange or almond bath salts are recommended as they help in hydrating and moisturizing the skin. For puffy or bumpy skin, seaweed bath salts work the best as they help in better absorption of nutrients by the skin and keep toxins at bay.
It is recommended to go for natural bath salts as they are rich in vitamins and minerals and offer better absorption. Bath salts made with pure sea salt are considered the best as they help rejuvenate and heal the skin.
The effectiveness of a bath salt can be judged by its grain size. It is better to go for one with small grains as they dissolve easily and get absorbed by the skin more quickly to offer maximum benefits.
Look for a bath salt that provides hydration to the skin without stripping away its natural oils. Crystalline bath salts are an excellent choice as they lock the moisture in the skin. On the other hand, bath salts made with sodium chloride can dehydrate your skin by reducing its moisture content.
The color of any bath salt tells a lot about it. Bathing salts that are cool in color usually offer soothing effects to the skin, whereas those in warmer shades help rejuvenate the skin. So, choose the color that suits your skin's requirement the most.
Bath salts are made for luxurious bathing. Therefore, their scent plays a vital role. Most of these salts come in herbal or essential oil-based scents like peppermint, rosemary, jasmine, green tea, etc. You can choose one as per your mood and preference. But if you don't prefer fragrances, fragrance-free bathing salts are also available.
Bath salts are an age-old, inexpensive, and highly effective way to pamper your skin and senses, get rid of body pain, and calm your mind. The bath salts in this article have made it to the list after our team went through hundreds of reviews to pick the best ones for you. Use any of them for a relaxing shower experience.
Frequently Asked Questions
Can I use bath salts every day?
Yes, you can use bath salts every day during your shower for beauty, therapeutic, and medicinal benefits daily. They contain natural ingredients that are beneficial to the body and mind.
Can I use bath salts at night?
Yes, using bath salts after an exhausting day lifts your mood and ensures a sound sleep.
Can it be used on the face?
Yes. Bath salts contain natural ingredients like minerals, magnesium, sodium, and vitamins. Some brands also infuse olive oil and aloe vera in the formulas. They cleanse your skin pores, helping your face glow.
Are there any side effects of using bath salts?
There are no apparent side effects as bath salts have more natural ingredients. However, people with sensitive skin and those prone to allergies must use these salts with care. In a few cases, people have complained of dizziness and nausea after using bath salts. These cases are, however, sporadic.
What is the difference between salt and bath salts?
The key difference between salt and bath salts is that regular salt is typically used for cooking or seasoning, whereas bath salts are formulated with added minerals, fragrances, and skin-nourishing properties for use in bathing.
Do bath salts expire?
Yes, bath salts can expire because they contain other ingredients in addition to salt minerals. Check the product packaging for the expiration date and follow the manufacturer's guidelines for storage to ensure their effectiveness.
Which is better, bath bombs or bath salts?
The choice between bath bombs and bath salts is a matter of personal preference. Bath bombs offer fizz and exciting colors, while bath salts are preferred for a relaxing and skin-nourishing soak.
Are there any age restrictions or guidelines for using bath salts?
Bath salts are generally suitable for people of all ages. However, children should be supervised, and people with certain skin conditions or allergies should consult a doctor before using them.
Can bath salts be used in hot tubs and jacuzzis?
Bath salts can be used in hot tubs and jacuzzis, but it is essential to check the product's instructions to ensure whether they are suitable for such use. Certain types of bath salts or additives may not be recommended for use in warm water, so it's best to follow the manufacturer's guidelines.
Recommended Articles: